From the Open-Publishing Calendar
From the Open-Publishing Newswire
Indybay Feature
View other events for the week of

3/11/2018
Rally & March: 7th Anniversary of Fukushima Meltdown
Import into your personal calendar
Date

Sunday March 11

Time

3:00 PM

-

5:00 PM

Event Type

Protest

Organizer/Author
No Nukes Action
Location Details
SF Japanese Consulate
275 Battery Street/California, SF

3/11 will mark the 7th Fukushima Meltdown anniversary-Join The Rally & March

This coming 3/11 will mark the 7th Fukushima Meltdown anniversary.

The world situation around this time is harsh, and is facing the possibility of nuclear war.

Japan is buying the tons of war hardwares from USA. USA has been producing the most destructive nuclear weapons and bragging about it.

The reason Japan never can give up the nuclear power plants is to hold the potential making the nuclear weapons any days.

After 7 years of the disaster, people are still making the huge mistakes to continue operating nuclear power plants and creating more and more nuclear weapons.

We must raise our voices.

Please join our 7th anniversary and 68th 3/11 rally.

The Fukushima Response supported this rally and promised to join us, thank you John!

Hope all of you can make it this coming 3/11 rally!

Please let me know if you could join us and please speak out 5 min. of your concerns.

7th Anniversary, 68th 3/11 Anti-Nucler Weapons and Power Plants NNA Rally

Date : Sunday, March 11, 3:00 pm Speak out and read out the letters to PM Abe

3:45 pm Start to march to Justin Herman Plaza

4:00 pm dismiss

Place : The front of SF Japanese Consulate

275 Battery Street, SF 3-4 blocks from the BART Embarcadero station

Initiated by No Nukes Action nonukesaction.wordpress.com

Radiation levels in Fukushima zones still above government target despite cleanup: Greenpeace Japan

https://www.japantimes.co.jp/news/2018/03/01/national/radiation-levels-fukushima-zones-higher-2017-2016-still-government-target-despite-cleanup-greenpeace-japan/

KYODO

MAR 1, 2018

ARTICLE HISTORY

PRINTSHARE

In the wake of the 2011 nuclear crisis, radiation levels at homes and areas nearby in a Fukushima village remain around three times higher than the government target despite cleanup work having been performed, an environmental group has said.

In some areas of the village of Iitate and the town of Namie, levels of radioactivity detected at some points among tens of thousands checked in surveys last September and October were higher than they had been the previous year, Greenpeace Japan said in a report released Thursday.

Most of the six houses surveyed in Iitate, located around 40 kilometers northwest of the crippled Fukushima No. 1 complex, logged radiation levels higher than the government-set target of 0.23 microsieverts per hour, ranging from 0.2 to 0.8 microsieverts per hour.

Some areas in the village had seen radiation levels rise from 2016, Greenpeace said. "There is a possibility (the environment) was contaminated again as radioactive materials that had accumulated in nearby forests may have moved around," it said.

One house, located near a municipal office with slightly wooded areas nearby, marked lower radiation levels compared with the 2016 survey, but levels at another five houses — which are near forests that have yet to be cleaned up — have remained almost the same.

The points surveyed covered areas in Iitate and Namie where evacuation orders have been lifted as well as some parts of Namie that remain designated as "difficult to return" zones following the Fukushima nuclear disaster, which was triggered by the massive March 2011 earthquake and tsunami.

The survey also showed that the effects of cleanup work conducted in 2011 and 2012 in the Tsushima district of Namie, located 40 km northwest of the Fukushima plant, had been limited, with one house there logging radiation levels of 5.8 microsieverts per hour at the highest readings and 1.3 microsieverts per hour on average.

The district is among areas designated as special reconstruction zones by the government. The state plans to carry out cleanup work and promote infrastructure development intensively at its expense to make such areas livable again.

Japan Court told ex-Tepco Execs were informed barriers could prevent tsunami flooding at Fukushima plant

https://www.japantimes.co.jp/news/2018/02/28/national/court-told-ex-tepco-execs-informed-barriers-prevent-tsunami-flooding-fukushima-plant/

JIJI

FEB 28, 2018

An employee with a subsidiary of Tokyo Electric Power Company Holdings Inc. testified in court Wednesday that the unit reported a need to install tide barriers to prevent flooding from a tsunami well before the March 2011 nuclear accident at Tepco's Fukushima No. 1 nuclear plant.

According to the worker, the Tepco unit produced an estimate in March 2008 on the basis of long-term assessments released by a government organization, saying that a tsunami could occur with a height of 15.7 meters, which is above ground level at the nuclear plant site.

The estimate was presented at a meeting in June the same year that was attended by Sakae Muto, a former Tepco vice president.

The worker testified during a hearing at the Tokyo District Court that the Tepco unit estimated the tsunami height to reflect the latest information on a possible massive earthquake off Fukushima Prefecture, home to the now-devastated nuclear plant.

After finding that the nuclear plant site was vulnerable to flooding, the subsidiary reported at the meeting that installing 10-meter tide barriers would provide protection from a tsunami, the worker said.

The worker gave the testimony as a witness in the trial of three former Tepco executives, including Muto, 67, who were indicted in February 2016 for allegedly neglecting to take measures against massive tsunami. A prosecution inquest panel comprising ordinary citizens has overruled decisions by public prosecutors twice not to charge the executives. In the indictment, they were charged with professional negligence resulting in death and injury over the accident.

Lawyers appointed by the district court to act as prosecutors have said that former Tepco Chairman Tsunehisa Katsumata, 77, and former Vice President Ichiro Takekuro, 67, were also informed of the tsunami estimates on separate occasions. The lawyers claimed that the three former Tepco executives could have foreseen that a massive tsunami might hit the nuclear power plant.

The former executives denied the claim during the first hearing in their trial in June 2017, saying that the company would have been unable to prevent the accident even if measures were taken based on the estimate.

Fukushima nuclear disaster: Lethal levels of radiation detected in leak seven years after plant meltdown in Japan

http://www.independent.co.uk/news/world/asia/fukushima-nuclear-disaster-radiation-lethal-levels-leak-japan-tsunami-tokyo-electric-power-company-a8190981.html

​The Independent February 2, 2018​

Fukushima nuclear disaster: Lethal levels of radiation detected in leak seven years after plant meltdown in Japan

Expert warns of 'global' consequences unless the plant is treated properly

Jeff Farrell

Workers of theTokyo Electric Power Co, which is tasked with the job to decommission the nuclear power plant in Okuma, Fukushima EPA

Lethal levels of radiation have been detected at Japan's Fukushima nuclear power plant, seven years after it was destroyed by an earthquake and tsunami.

The Tokyo Electric Power Company (Tepco), which operated the complex and is now responsible for its clean up, made the discovery in a reactor containment vessel last month.

The energy firm found eight sieverts per hour of radiation, while 42 units were also detected outside its foundations.

Experts told Japanese state broadcaster NHK World that exposure to that volume of radiation for just an hour could kill, while another warned the leaks could lead to a "global" catastrophe if not tackled properly.

A sievert is defined as the probability of cancer induction and genetic damage from exposure to a dose of radiation, by the International Commission on Radiological Protection (ICRP). One sievert is thought to carry with it a 5.5 per cent chance of eventually developing cancer.

It came as Tepco said the problem of contaminated water pooled around the plants three reactors that is seeping into the ground has caused a major headache in its efforts to decommission the plant.

Thousands of workers have been hired by the company to as it attempts to secure the plant, which was the scene of the most serious nuclear accident since Chernobyl in 1986.

Three of its reactors went into a meltdown after the earthquake and tsunami which killed at least 15,000 people.

Tepco has admitted that it could be until 2020 until the contamination issue is resolved. Only then can it move onto the second stage of removing nuclear debris at the site, including the damaged reactors.

Richard Black, director of the Energy and Climate Intelligence Unit, said the high levels of radiation found in and around the reactor last month were "expected" and unlikely to pose a danger.

He told The Independent: "Although the radiation levels identified are high, a threat to human health is very unlikely because apart from workers at the site, no-one goes there.

"The high readings from fuel debris would be expected – the higher reading from the foundations, if confirmed, would be more of a concern as the cause is at present unclear. But as officials indicate, it might not be a genuine reading anyway.

"What this does demonstrate is that, seven years after the disaster, cleaning up the Fukushima site remains a massive challenge – and one that we're going to be reading about for decades, never mind years."

But Mycle Schneider, an independent energy consultant and lead author of the World Nuclear Industry Status Report, said that Tepco "hasn't a clue what it is doing" in its job to decommission the plant.

He added that the contaminated water that is leaking at the site could end up in the ocean if the ongoing treatment project fails and cause a "global" disaster, he told The Independent.

"Finding high readings in the reactor is normal, it's where the molten fuel is, it would be bizarre if it wasn't," he said.

Mr Schneider added that the radiation leaks coupled with the waste from the plant stored in an "inappropriate" way in tanks could have global consequences.

"I find it symptomatic of the past seven years, in that they don't know what they're doing, Tepco, these energy companies haven't a clue what they're doing, so to me it's been going wrong from the beginning. It's a disaster of unseen proportions."

"This is an area of the planet that gets hit by tornadoes and all kinds of heavy weather patterns, which is a problem. When you have waste stored above ground in inappropriate ways, it can get washed out and you can get contamination all over the place.

"This can get problematic anytime, if it contaminates the ocean there is no local contamination, the ocean is global, so anything that goes into the ocean goes to everyone."

He added: "It needs to be clear that this problem is not gone, this is not just a local problem. It's a very major thing."

The Independent contacted Tepco for comment, but the energy giant had not responded at the time of publication.




Added to the calendar on Wednesday Mar 7th, 2018 10:35 AM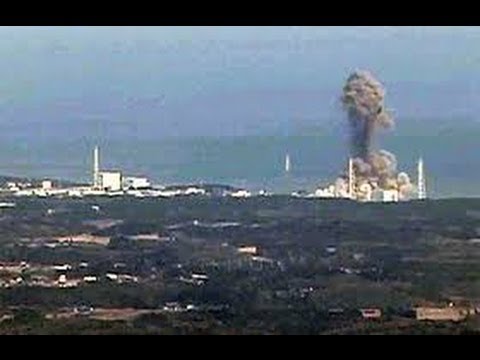 The explosions at the nuclear power plants at Fukushima released radioactive material in Fukushima, Japan and the world. The government still has not been able to remove the radioactive melted rods from the reactors despite claims that Fukushima has been "decontaminated".
A painting against nuclear power in Japan at anti-nuke rally
We are 100% volunteer and depend on your participation to sustain our efforts!
Get Involved
If you'd like to help with maintaining or developing the website, contact us.