From the Open-Publishing Calendar
From the Open-Publishing Newswire
Indybay Feature
Dispersing the Homeless from San Lorenzo Benchlands: Suggestions for the Victims
Below is a double-sided flier I circulated today and will do again tomorrow, energy willing. The San Lorenzo Benchlands area contains scores of tents which now face eviction. The "humanitarian" cover for this removal operation is a $90,000/month fenced off area on the edge of town at 1220 River St. with unclear access policies and three levels of policing (internal hosts, First Alarm Security outside, and a nearby mobile Police Substation).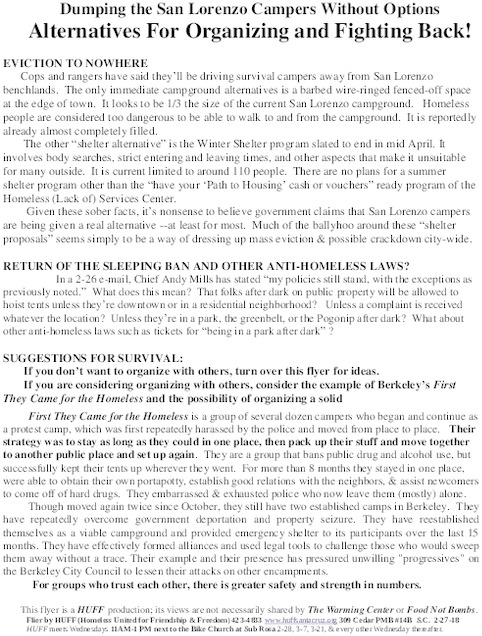 The deadline for eviction tomorrow, according to workers at the River St. campground, is 11 AM. While I found numerous City-funded workers helping move homeless property from San Lorenzo to River St. today, there is clearly no place for most homeless people in the City to go.
Most survival campers will be outside both campgrounds and the law. They will be struggling to reestablish the relative security, privacy, and community that some had in the San Lorenzo benchlands.
The folks staffing the project under City Manager Martin Bernal are well-intended and some have experience with survival camping themselves. However the small size of the area, the peculiar ("no walk in") rules, and the failure to allow continued Benchlands camping until another area at least as large is designated gives away the game: to remove campers from the San Lorenzo Park as a first priority, regardless of their well-being.
To save face, in search of positive public opinion, and to avoid lawsuits, the City has funded this "boneyard" Campground as a temporary 4-month cosmetic behind barbed wire for a limited number of Benchlands campers. The rest are left to scramble for places to set up their tents--if that will even be permitted or possible elsewhere.
Police and rangers can choose to resume enforcement of the notorious anti-homeless Sleeping Ban and Park Closing laws. They can simply say "hey, we sent them to the River St. campground to get on the Waiting List" as they enforce the latest NIMBY anxieties against visible homeless people, providing paper rather than real alternatives.
I encourage the community and the campers to look to Berkeley where First They Came for the Homeless [
https://www.facebook.com/firsttheycameforthehomeless/
] has successfully connected with the community despite the repeated assaults of the police to establish continuing viable "sanctuary villages" there. I suggest the deported community from San Lorenzo, city-created refugees, should consider their example.
I present my suggestions in the double-sided flier which I attach to this article.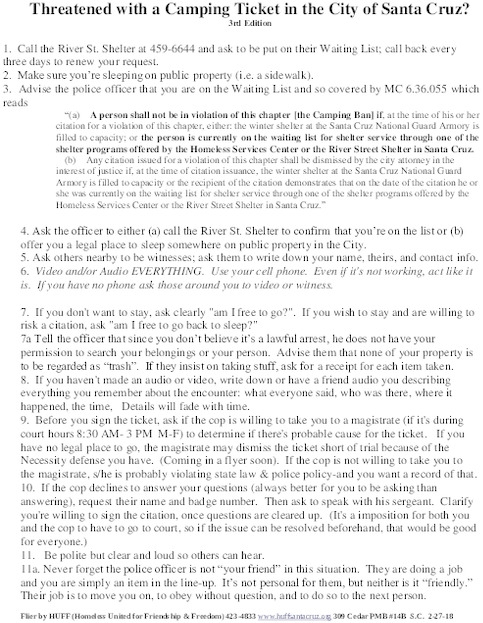 Some thoughts from a non-lawyer on fighting back against one of the cruelist of Santa Cruz laws.
We are 100% volunteer and depend on your participation to sustain our efforts!
Get Involved
If you'd like to help with maintaining or developing the website, contact us.