From the Open-Publishing Calendar
From the Open-Publishing Newswire
Indybay Feature
Remembering the Pan African Spirit of the Buffalo Soldier
This 170th Anniversary of the California Gold Rush, the Pan African Spirit of the Buffalo Soldier is worth putting in context of the broader California experience. San Francisco History Days will provide an amazing opportunity.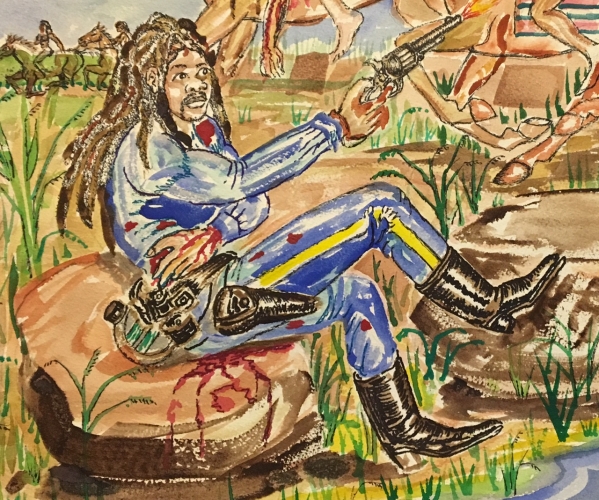 San Francisco, California ~ By an act of Congress, September 21, 1866, established law allowing full time US Army soldiers of African ancestry creating the 10th U.S. Cavalry and additional regiments at Fort Leavenworth, Kansas.

Soldiers of African ancestry served in all U.S. wars since the American Revolution, however Federal legislation was essential to allow former US Colored Troops who served during the Civil War, and new recruits to join the Regular Army.

On August 7, 1867, the regiment completes a transfer to Fort Riley, Kansas. In September 1867, Pvt. John Randall of Troop G, 10th United States Cavalry along with two civilians, was attacked by 70 Cheyenne Indian warriors.

The two civilians were killed instantly and Randall's horse was shot out from under him. Randall single handedly held off the fierce Cheyenne warriors until help arrived from a nearby military camp. In the process Pvt. Randall suffered a gunshot wound to the shoulder an 11 Indian lance wounds.

As the legend grows, when the Cheyenne returned to their camp, they told stories of this new type of American Soldier they had encountered. "Buffalo Soldiers," likening soldiers of Pan African descent, to the "sacred bison" due to their ferocity, endurance, dark complexion, and thick hair.

John Randall represents the type of heroism that was typical of Buffalo Soldier and for his valor received the Congressional Medal of Honor.
Josiah Holland, a poet writing in the 1800's said, "A time like this demands strong minds, great hearts, true faith and ready hands… men who possess opinions and a will… men who will not lie."

To that was added, leaders who have a "Buffalo Soldier" spirit.
This new type of Soldier, who "fought like a cornered buffalo, who like a buffalo suffered wound after wound yet did not die, and who like a buffalo had a thick and shaggy mane of hair."

Besides settling the west, the 10th Cavalry goes on to play an important role in the Spanish-American War, the Philippine-American War, the Mexican Expedition, and World War II, before being disbanded in 1944.

On July 26, 1948, President Harry S. Truman signed executive order 9981 by establishing the President's Committee on Equality of Treatment and Opportunity in the Armed Services, committing the government to begin integration.

In 1958, well after desegregation of the armed forces, the 10th Cavalry is reactivated today as a racially integrated unit, and it uses the buffalo patch in reference to its legendary historical roots.

We are 100% volunteer and depend on your participation to sustain our efforts!
Get Involved
If you'd like to help with maintaining or developing the website, contact us.