From the Open-Publishing Calendar
From the Open-Publishing Newswire
Indybay Feature
Tantra & The SF Two-Spirit PowWow
A personal account of the 3rd of February 2018 San Francisco Two-Spirit PowWow. Put on by BAAITS (Bay Area American Indian Two-Spirits).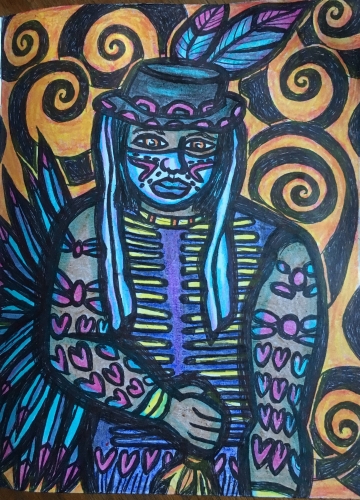 A Tantra lifestyle is in every breath I take; I've learned this from my relationship with my mate. Since I've been with him, I usually no longer envision strong overpowering emotions exclusively as old anxieties or stored up stress from my past or what scientists call PTSD. Now, it is a beautiful release of clogged Tantra chakra energy. Which although often uncomfortable, I'm still very gratified in picturing everything in this additional new way. How? Well, as I have my strong emotions, my chakra points running up and down my whole body, in essence, are popping open gleefully and unsticking themselves. Although I may have an emotional hangover from this afterward, and be tired, I'm blessed with a very sensual full body experience and a tingling vulva ready for more loving.

I'm being whisked to a PowWow, this sunny and warm, late Saturday morn, 3rd of February, 2018. We zip along San Francisco's waterfront. I inhale the fresh sea air and hear seagulls squawking. I keep trying to focus on my lush surroundings out the window of the vehicle but I can't push back the fearful panicky feeling overwhelming me. Time to call my sweetheart; we can have arguments over little things but never over the big stuff. And this is coming in as large.

I recount to him how I had trouble getting out of bed and he says for him that can be a sign he is now uncertain about an event. No. I relate how my anxiety is mounting and heading off the charts. He asks what does it make me think about. I say it reminds me of last year, when I had to check a box on this form, before we could enter The Women's Pop-Up Village (It's like a very fun and portable mini fair for lower-income women's health and rights).

I panicked then, like now. The box simply said: "LGBTQ status." Only two boxes were after it: "Yes" or "No." I sweated but I checked "Yes. " My partner whispered in my ear: "I think you just came out baby. I'm so proud of you!" I had a tumultuous childhood, forced into prostitution with men and women, which caused me to be bisexual. So, I pleaded with the people handing out the forms at that women's fair, "Why wasn't there a Bi-box!?" But I finally had to accept whether by conditioning or from my genetics that it is absolutely clear I am LGBTQ. I always told myself I'm straight and just a little Bi. I mean I slept with gals and guys in my twenties and haven't with women after, so, but, but ...

My stream of tears and chocked-up voice, is helping us both realize, that going to the Two-Spirit PowWow today was forcing me to open "the closet" door again big time. Two-Spirit, to over simplify, is a LGBTQ PowWow. Now with this assistance from my sweetheart and our detective work together I am able to override my panicky fears. Again we were agreeing, another Tantra chakra clearing experience! Damn! As soon as I get off the phone, the driver of my paratransit vehicle and another passenger, who I both know well, ask me if I'm alright. I clarify my phone conversation and they give me tons of warmth and support and respond too with their own personal stories showing how they can relate!

The paratransit mini disability bus delivers me to the gigantic barn-like door of the festival pavilion, nestled cozily on a pier directly over the lapping waters of San Francisco Bay. I freeze at the opening, feet as if suction-cupped to the asphalt. Hell, more chakra clearing to get me through the friggin' entrance! To give myself a push I call my three friends on my cell phone and tell them I'll meet everyone up front as close to the Native dancers as I can get.

The enticing tummy-growling aromas, of two gigantic stalls of Indigenous fresh fruit and fry bread deserts and lots of yummy food, distracted me momentarily from my personal difficulties. But not for long, I literally pull myself along the wall, fingers inching painfully forward, waterworks streaming under large dark shades--I'm callin' these my Tantra sunglasses from now on. Okay! I'm going in! Watch out!

I wipe away tears and stride forward, my folding bar stool chair under one arm and my snazzy cane in the other--I've got this part down! An Indigenous gal, in lovely full regalia from one of the Native shimmering jewelry booths, and her little niece, grab my seat and kindly escort me to the almost deafening drummers. The intoxicating deep rhythmic tones vibrate through the floor into my toes and fizz up my body, pleasantly tantalizing all my tired chakras to my lips, where they cause them to tremble ever so softly. My mind imagines rubbing my lips along my love's long furry body. Chakra clearing pays off, hurrah!

Wow! Guys from a giant drum circle see me with my cane and flag me down! They are in one of six around the periphery of the enormous clearing space for the PowWow dancers. These drummers are the only ones with two wheel chairs and canes. I blush and set my chair up alongside. I start to feel at ease, breathe deep and settle in just as the dancers race into the performers' circle with passionate fervor.

I had sadly missed the Ohlone opening spiritual ceremony, honoring the Ohlone diverse tribes of many names and languages, who were the very first people of the San Francisco Bay Area. I reflect on how I am on their land and how it used to teem with waterways, marshes, oodles of animals and skies full of birds.

LGBTQ fluidity may be new in a sense for we modern inhabitants of the U.S. these last few centuries, but not at all, for most, very ancient Indigenous cultures here! They/we, were accepted as an important, integral and sacred part of the community at large.

LGBTQ U.S. Veterans of all sorts, in dancing plumage or not, now stand valiantly in the center with warmth and solidarity beside the LGBTQ Water Protectors of Standing Rock. Homage cheers resound for the Water Protectors of the Dakotas who peacefully "fought" against the oil pipeline, and in return were attacked, tortured and imprisoned by the authorities. We all scream and shout out to honor them and the U.S. Veterans to the max!

More Indigenous LGBTQ performances follow in spectacular festive garments; I sketch rapidly in my drawing book, capturing some very precious moments. The first intertribal dance commences. Some of the drummers beside me and their partners and children join in. They wave for me to come along. I shyly oblige, cane and all, but keep a respectful distance. There is no escape. I am startled by yet another friendly Indigenous stranger, not belonging to the drum group, who gestures for me to dance beside him. He is in this fabulous buckskin outfit. Bless Tantra and cleared chakras, I stomp, twirl, and whoop it up in the thick of the dancers; I am quivering from head to toe, ecstatically lost in the zone! This feels like sexy Kundalini Tantra energy blasting out! My friends cheer me on from the bleacher seats further back.

One of the guys I drew in my sketch book (see illustration) takes the floor and effortlessly glides and stomps in the mixed categories dance. His outfit is naturally regal and the lower half of his face is strikingly painted white. As I watch him I spy the gentleman I danced with sitting beyond, all snuggled arm-in-arm with his handsome partner. The white-faced painted Indigenous man breaks into some new moves. I want to splash paint on my face in some kind of Two Spirit PowWow baptism of sorts; I feel so welcomed here! Also, I realize that, literally here, in this unique world I am very lucky to be Mexican and Bi. The Indigenous people in the U.S., I first found out via my partner, that most seem to automatically welcome Latinos, because we are originally of mixed Indigenous blood somewhere in our lineages. I so want my love to be here to share all this with him but alas he could not make it. Here, all tribes are absolutely welcome to dance in The Mixed Tribal, even straight Caucasians.

The competition schedule unveils itself loosely and out of order a bit, but nonetheless, the participants are humble and enthralling in heartfelt performances. Some Aztec dancers, with the most enormous long feathered headdresses, take center stage. Elders in their very finest follow and then the most adorable tiny tots accompanied by some of their parents. The teens take the field, and proudly, and some shyly, strut their stuff. Everyone is encouraged by lots of claps and cheers. Winners cry out waving pieces of fruit like tangerines and wads of cash!

At this PowWow the stronger emphasis is put on just showing up and bravely being yourself, far more so than actually competing. There are many shy people dancing in the big circle barely moving their feet. And I found myself unfairly judging them at first until I finally realized that this PowWow circle was an especially safe and sacred space. Here everyone was invited to be completely and exactly themselves in this precious moment.

I have to pack up to catch my paratransit mini bus ride home. I haul my chair with my cane past colorfully decorated booths about health care (particularly for women and children), preserving sacred sites, sustainable living, an environmental workshop stall, more remarkable jewelry and clothing, and one devoted to dream catchers of every size-many with huge sculptured animal motiffs.

I'm going to miss more great performances and unfortunately the very special tribute to "#MMIW" the Murdered and Missing Indigenous Women (and little girls). This has been getting worse and has been going on for many, many years, and now has spread more and more to wider areas of U.S., Canada and Mexico. Very few people in the media, law enforcement and among our populations seem to care at all.

I say goodbye to all my new acquaintances! And head out, grateful, inspired, connected, refreshed, renewed in an almost unbelievable way--breathing Tantra and chakras cleared and all tingly!
We are 100% volunteer and depend on your participation to sustain our efforts!
Get Involved
If you'd like to help with maintaining or developing the website, contact us.