From the Open-Publishing Calendar
From the Open-Publishing Newswire
Indybay Feature
Related Categories:

East Bay | Health, Housing & Public Services | Police State & Prisons | Racial Justice
Black Solidarity Week in Oakland: February 17-24
Community READY Corps, an Oakland-based organization dedicated to the upliftment and empowerment of Black people, has called for a week of solidarity in the Black community in the City of Oakland from February 17 - 24, 2018.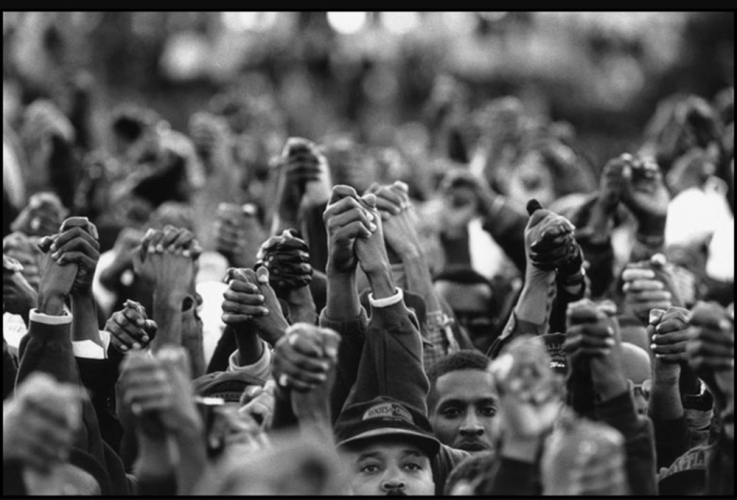 From police brutality run rampant, to mass incarceration, to displacement, to the egregious miseducation of our children and manufactured representation of a dysfunctional culture by mainstream media Our communities have been robbed of the benefits of effective functional solidarity, either through external attacks, predatory design, or internal disputes that have been manufactured or manipulated. We are obligated to ask the question: what are the factors that keep us from getting to functional, effective solidarity? Operating on the wisdom that we win or lose one generation at a time, the Community READY Corps calls for a week of Black Solidarity beginning February 17th through February 24th.
"The time is now. We must set the example for the generations of doers, thinkers, teachers and leaders that come behind us," said Tur-ha Ak of Community READY Corps. "We make this call rooted in the understanding that small steps can lead to great things. If we can achieve solidarity for one week it's possible, to do for one month, if one month, then one year, if one year then a lifetime can be achieved."
The Community READY Corps operates in nine Areas of Self-Determination and Components of Culture: Politics, Economics, Family, Health, Education, Art, Media, Traditions & Ways, Self Defense. The weeklong schedule of events, programming, and materials will identify with one of the 9 Areas.
CURRENT EVENT LIST
2/17/18 11AM-2PM 107th Avenue & International: Minister Huey Newton Black Solidarity March The call is for 1000 Black people moving through the streets of East Oakland in BLACK Solidarity & Harmony (1000 STRONG). We will begin our march at 107th Avenue, marching along (East 14th) International Blvd. and end at 73rd Ave.
2/17/18 3PM-5PM 1333 Peralta Street Oakland: Honoring Dr. Huey P. Newton We will gather at a newly revealed mural in West Oakland and pay tribute to the contributions of Minister Huey
2/17/18 6PM-8PM First Congregational Church of Oakland 2501 Harrison Street: Surviving Smash and Grab. Join leaders from the Anti Police-Terror Project and special guests Mama Akua Njeri and Chairman Fred Hampton Jr. for an evening of radical truth telling, solidarity building, and self-defense.
2/18/18 1PM-3PM Geoffrey's Inner Circle 410 14th Street Oakland: Post News Group Salon for Jobs & Justice
2/21/18 6:30PM-8:30PM Eastside Arts Alliance - APTP General Meeting: Resurrecting the Legacy of Malcom X (El Hajj Malik El Shabazz) Join us as we commemorate the assassination of this great leader and honor families who are survivors of state violence
2/22/18 9M BART BOARD MEETING 344 20th St Board Room 3rd Floor: JUSTICE FOR SHALEEM TINDLE Join the family of Shaleem Tindle who was murdered by officer Joseph Mateu at the BART Board meeting and demand justice
2/22/18 6PM-10PM Rock Steady 1741 San Pablo: Artist & Flow
Bay Area photography, spoken word and a live DJ set
2/22/18 7PM-9PM Laney College 900 Fallon Street Room D200 Oakland Targeting the Movement: The FBI's Black Identity Extremist Designation and Black Liberation Join Center for Political Education and the National Lawyers Guild for a panel discussion with local activists, organizers, and lawyers on what the BIE designation means for movements for Black liberation and self-determination in the Bay Area.
2/22/18 6PM-8PM SoleSpace 1714 Telegraph Avenue, Oakland: Mr. Davis' Classroom Come learn your Black history with educator, activist and artist Hodari Davis
2/22/18 6PM-10PM Rock Steady 1741 San Pablo Avenue: Art & Soul Celebrate art and media at this Photography and Spoken Word event with Live DJ.
2/23/18 7PM-9PM First AME Church of Oakland 3701 Telegraph Oakland The Oscar Grant Foundation Hosts …. A Mother's Day for Justice : Join mothers from California and beyond who have lost their children to police and communal violence
2/24/18 11AM-1PM Hoover Elementary 890 Brockhurst St Oakland: Collard Greens and Community with Wanda Stewart This is a hands on/hands dirty, farm-to-table-to-you presentation. In the collard green oasis of West Oakland's Hoover Elementary School, Wanda welcomes you into its garden to experience the plant firsthand. The plants and the people – both originating in Africa – are ideal models for our future health, resilience and survival as a culture.
2/24/18 11AM-1PM 1600 San Pablo Iron Sharpeners Meeting Adamika Village
#STOPKILLINGOURKIDS
& B.O.S.S will be hosting an open discussion and panel to hear conflicts and resolutions within African American youth in our community(Village). Speakers will address the impact of social media, rap, Hip Hop on African American youth, the influence of gang/human trafficking activity in the community and African American youth having healthy relationships
2/24/18 11-3 Door Knocking 3:30-7 PM 2240 47th Avenue Oakland Equity in Cannabis Campaign & After Party
2/24/18 12PM-3PM East Oakland Youth Development Center 8200 International Blvd., Oakland: #SIS: Sit In Solidarity - A Black Girl Event: This space was created for and by Black girls to talk about issues of race and gender and how it impacts their lives. Geared toward young women ages 12-24, this event includes a screening of Dark Girls followed by a youth panel discussion on self esteem and how to create positive, collective support systems in a society that devalues blackness.
We are 100% volunteer and depend on your participation to sustain our efforts!
Get Involved
If you'd like to help with maintaining or developing the website, contact us.