From the Open-Publishing Calendar
From the Open-Publishing Newswire
Indybay Feature
Worldwide Actions Commemorate Ahed Tamimi's 17th Birthday, Demand Freedom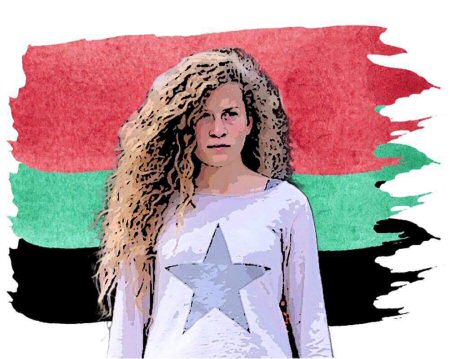 Ahed, 17, was seized by occupation forces in a pre-dawn raid on her family's home in the Palestinian village of Nabi Saleh, near Ramallah, where she and her family are leaders in the anti-colonial indigenous land defense and resistance movement. The village's land and even its spring have been confiscated by the illegal colonial settlement of Halamish and the village is regularly subject to invasions, raids and arrests. Ahed's mother, Nariman, a strong activist in her own right, was arrested by occupation forces later the same day.
Ahed's confrontation with occupation forces invading her family's land, in which she slapped a heavily armed occupation soldier seeking to use the land to repress a demonstration in the village, was video recorded live and streamed on Facebook; Ahed and her family were already well-known in Palestine and internationally for their role in years of organizing in their village. The abduction of Ahed Tamimi and her mother by occupation forces has sparked worldwide and widespread solidarity, and she has become a young symbol of Palestinian resistance.
She is one of over 350 Palestinian children imprisoned by the Israeli occupation and one of nearly 6,200 Palestinian political prisoners in Israeli jails. Each year, around 700 Palestinian children are brought before Israeli military courts, and 25 Palestinian children have been subject to administrative detention – imprisonment without charge or trial – over the past two years.
Ahed's 17th birthday inspired a call for days of action around the world – for her freedom, the freedom of all Palestinian prisoners, and the freedom of the land and people of Palestine. The actions are continuing in the coming days, with weekend actions in cities throughout New Zealand; Antwerp, Belgium; Fort Lauderdale, FL; Clermont-Ferrand, France; al-Khalil, Palestine and elsewhere, leading up to the next military court hearing for Ahed and Nariman Tamimi on 6 February and ongoing until Ahed – and Palestine – is free.
Events and actions for Ahed Tamimi during the global days of action:
Catalonia
Unadikum Catalonia hosted several screenings of the film, "Radiance of Resistance," focusing on the lives and struggles of Ahed and her younger cousin, Janna Jihad Ayyad, in San Feliu de Llobregat and Barcelona. on 26 and 27 February.
Dublin
On 25 January, the Ireland Palestine Solidarity Campaign (IPSC) organized a protest outside the Dail Eireann – the Irish Parliament – demanding freedom for Ahed Tamimi as she turns 17 inside Israeli prison. "The protest was well attended with many members of the Irish parliament attending including TDs Dessie Ellis, Maureen O'Sullivan, Pat Buckley, Richard Boyd Barret, Gino Kenny, Paul Murphy, Aengus Ó Snodaigh, Maurice Quinlivan, John Brady and Joan Collins, and Senators David Norris, Padraig MacLochlainn, Alice Mary Higgins, Niall Ó Donnghaile and Grace O'Sullivan. Ibrahim Halawa, the Irish citizen was arrested aged 17 and spent four years in an Egyptian prison, also attended," noted the IPSC.
On 31 January, Ahed's birthday, the struggle of Ahed and her fellow Palestinian political prisoners – and the Palestinian people – was featured as part of a "Bloody Sundays" protest by Anti-Imperialist Action Ireland. Approximately 100 people participated in the event, highlighting "ongoing Imperialist war crimes in Ireland and around the world..It was attended by a broad range of progressive forces including Irish Socialist Republicans, The Independent Workers Union, Saoradh, The Irish Republican Socialist Party, The 1916 Societies, the Anti Internment Group of Ireland and the Free Tony Taylor Dublin Committee as well as Independent Activists and other progressives," noted the organizers. The event included a collective "Happy Birthday" song for Ahed.
San Rafael, California
Activists in San Rafael in California's Marin County gathered on 26 January to call for freedom for Ahed and her fellow child prisoners in Israeli jails. 15 people joined the protest where they distributed hundreds of flyers to nearby drivers. They urged people to contact their member of Congress to support HR 4391, the Promoting Human Rights by Ending Israeli Military Detention of Palestinian Children Act.
Perth, Australia
Friends of Palestine Western Australia (FOPWA) organized a protest on Saturday, 27 January at the Murray Street Mall in Perth, calling for freedom for Ahed and all Palestinian prisoners in Israeli jails. They distributed leaflets and organized solidarity images greeting Ahed on her birthday.
Adelaide, Australia
Australian Friends of Palestine Association held their 373rd protest on 27 January, which they dedicated to Ahed in advance of her birthday. In the mid-summer weather, they distributed information to shoppers and received widespread interest and support.
Buenos Aires, Argentina
On 27 January, Izquierda Socialista (Socialist Left) held a discussion on Palestine focusing on the case of Ahed Tamimi and the struggle for her freedom. The event included a panel presentation by Laura Marrone, a legislator in the City of Buenos Aires, and Nicolas Nuñez.
Tyne-on-Newcastle, UK
The Revolutionary Communist Group and Fight Racism! Fight Imperialism! held a tabling event and demonstration in Tyne-on-Newcastle on 28 January. They highlighted the case of Ahed Tamimi and demanded freedom for all Palestinian prisoners as well as demanding that UK banks stop funding and profiting from the Israeli arms industry and occupation.
Foggia, Italy
On 28 January, activists working with the CREO cultural association joined with supporters of Amnesty International to organize a tabling day and a photographic action in which people stood with signs urging freedom for Ahed Tamimi and fellow imprisoned Palestinians.
Bratislava, Slovakia
The Iniciatíva za spravodlivý mier na Blízkom východe joined with Amnesty International for an action on the evening of 29 January, in which participants distributed information, signed petitions and held a birthday celebration for Ahed Tamimi.
Derry, Ireland
On 30 January, activists with the Ireland Palestine Solidarity Campaign and other organizations came together to demand freedom for Ahed Tamimi. Gathering at the famous Free Derry Corner that continues to represent the Irish anti-colonial struggle, participants carried signs and banners calling for freedom for Ahed and her fellow Palestinian prisoners in Israeli jails.
Athens, Greece
The international days of action for freedom for Ahed Tamimi and all Palestinian prisoners coincided with the visit of Israeli president Reuven Rivlin to Greece, meeting with strong protests in both Athens and Thessaloniki. In Athens, the Solidarity Initiative for Palestine – including the Ghassan Kanafani Front and a number of other organizations – organized a mass protest in Monastiraki Square on 30 January for freedom for Palestinian prisoners and the Palestinian people.
Thessaloniki, Greece
Simultaneous with the Athens protest, the Ghassan Kanafani Front, the Friends of Palestine Association and other Thessaloniki groups organized a demonstration outside the U.S. Consulate to demand freedom for Ahed Tamimi and all Palestinian prisoners as well as to denounce ongoing U.S. crimes against Palestine and the position of the Greek SYRIZA-ANEL government. The protest also came in rejection of the visit of Reuven Rivlin to Greece.
Toulouse, France
Organizers with Coup Pour Coup 31, the anti-imperialist collective that is also affiliated with the Samidoun Network, distributed literature and information about Palestinian political prisoners and the Palestinian struggle for liberation on 30 January, marking 16 years of imprisonment of Ahmad Sa'adat, the General Secretary of the Popular Front for the Liberation of Palestine, and the 17th birrthday of Ahed Tamimi.


Amsterdam, Netherlands
As part of ongoing actions at Dam Square in the center of Amsterdam, organizers have compiled a series of collages and photos of Amsterdam residents and visitors expressing their solidarity and support for Ahed Tamimi. The photos were gathered as part of continuing protests for Boycott, Divestment and Sanctions (BDS) against Israel and support for the Palestinian people.
Rome, Italy
On 30 January, activists from various groups and associations forming part of the "Rome Network of Solidarity with the Palestinian People" did a flash mob/"banner drop" action on Rome's historic Ponte Sisto bridge, and circulated an electronic greeting card in support of Ahed and fellow imprisoned Palestinians.

Gijón, Spain
Organizations in Gijón organized a demonstration as part of the international day of action to free Ahed Tamimi on 30 January, gathering in the city's center to demand freedom for Ahed and all Palestinian prisoners in Israeii jails.


Valencia, Spain
Activists with BDS Pais Valencia organized an action on 30 January in Valencia, Spain in support of Ahed Tamimi and all palestinian political prisoners. They projected images of Ahed and demands for the freedom of Palestinian prisoners on iconic landmarks, including Serranos Gate/Towers, the main monument of València City, former prison.

Berlin, Germany
The Coalition Berlin organized a birthday celebration for Ahed Tamimi in a local cafe, with cakes, music and discussion to support Ahed and her fellow Palestinian political prisoners. The evening event followed a series of protests and actions in Berlin in support of Ahed, including a strong contingent at the Women's March on 21 January.
Gothenburg, Sweden
Activists in Gothenburg organizing as Frihet åt Ahed Tamimi Göteborg demonstrated on 30 January at Gustav-Adolfs-Torg in the center of the city to highlight Ahed's case and demand freedom for Palestinian prisoners. The demonstration was joined by several youth organizations and included speeches demanding an end to ongoing European military and security trade and cooperation with the Israeli state as well as emphasizing the importance of building the BDS movement.
Exeter, UK
The University of Exeter Friends of Palestine Society organized a solidarity evening for Ahed on 30 January, congratulating her on her birthday and calling for action for her freedom.
We are 100% volunteer and depend on your participation to sustain our efforts!
Get Involved
If you'd like to help with maintaining or developing the website, contact us.