From the Open-Publishing Calendar
From the Open-Publishing Newswire
Indybay Feature
Turning Point USA, the Professor Watch List and The Campus Free Speech Act
The Reichpubs and Turning Point USA promote Campus Censorship Act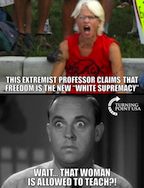 The Reichpubs have a new plan that has not hit the news much. It is called Turning Point USA, an alt-right, billionaire astro-turf organization, headed by a 24 year old, former Breitbart writer and Bannon supporter named Charlie Kirk.
https://www.indybay.org/newsitems/2017/04/19/18798596.php
Besides stealing and buying elections for Student Government at major universities with Dark Money; running a Professor Watch List for professors that do not heave and ho for the free marketplace or are considered un-American, Turning Point USA (TPUSA) is busy with state legislators working in 21 states to pass "The Campus Free Speech Act", a gross inversion of free speech under the canopy of protecting free speech.
These efforts, coming on the heels of a TPUSA member that was outted by Jane Mayer and the New Yorker for stating, "I hate all black people. Like fukk them all... I hate blacks. End of story."
https://www.newyorker.com/news/news-desk/a-conservative-nonprofit-that-seeks-to-transform-college-campuses-faces-allegations-of-racial-bias-and-illegal-campaign-activity
President Trump was told to tweat his support for the group right after the comment was exposed.
http://thehill.com/people/donald-trump
THE PROFESSOR WATCH LIST
The Professor Watch List now stands at 227 professors throughout the US and is growing. Many professors have been threatened, harassed and are in fear for their safety and have reached out to their unions and provosts, but to not much avail. Seems the administration at many campuses are worried that Turning Point USA and their high-paid legal counsel(s) might sue their colleges.
I personally know a teacher that has been harassed by fascist Ivan Throne on several ocassions.
https://www.youtube.com/watch?v=sYkCla1MuDk
Throne spoke at a TPUSA event
https://darktriadman.com/2017/03/03/ivan-throne-turning-point-usa-mountain-west-regional-conference/
There are many more living and teaching in fear. This is all part of Bannon's strategy of tension.
Running a Professor Watch List that is used by on the ground fascists like Ivan Throne to harass and intimidate professors, and drafting legislation that prevents free speech in the name of free speech is vomit inducing, even for hard core Orwellians. That it is defended by Trump, comes as little surprise.
INVERTED TOTALITARIANISM: The Campus Free Speech Act
Turning Point USA is busy involved with drafting 'gallows speech' legislation for campus free speech in 21 states and counting that will mean the noose for students, professors, teachers and the US public.
The bill has two parts below and as you will see the corporate demos will be cornered and then kidney punched into accepting it, or they face the wrath of the field day, fifth columnist movement that Bannon, Breitbart, Trump, and the fascists have started among disenfranchised youth.
From Turning Point News regarding the Campus Free Speech Act:
According to Aiden Mattis, a student and TPUSA member at Penn State, Ohio where TPUSA has been gaining ground, a bill he is working on has provisions that allow students or organizations on campus to file complaints against their institutions of higher learning in state court if they believe the institution has censored their legally protected speech.
"Legally actionable offenses include establishing free speech zones on campus, penalizing "hate speech," charging prohibitively high security fees for events or banning student groups because of ideology."
http://www.collegian.psu.ed
...
Mattis is clone of Charlie and it seems Mattis himself has a soft spot for fascists.
https://voat.co/v/Identitarian/1692846
One shouldn't be surprise, Richard Spencer has a large presence at the rust-belt state campus.
http://www.collegian.psu.edu/news/campus/article_27a91588-b79b-11e7-8187-4ff0e2da19ee.html
https://www.turningpoint.news/florida-ban-free-speech-zones/
According to educational researcher and investigator, Dahn Shaulis who has read the bill and provided the majority of research for this article and many others:
"The model legislation presented and explained in this brief does several things:
• It creates an official university policy that strongly affirms the importance of free expression, nullifying any existing restrictive speech codes in the process.
• It prevents administrators from disinviting speakers, no matter how controversial, whom members of the campus community wish to hear from.
• It establishes a system of disciplinary sanctions for students and anyone else who interferes with the free-speech rights of others.
• It allows persons whose free-speech rights have been improperly infringed by the university to recover court costs and attorney's fees.
• It reaffirms the principle that universities, at the official institutional level, ought to remain neutral on issues of public controversy to encourage the widest possible range of opinion and dialogue within the university itself.
• It ensures that students will be informed of the official policy on free expression.
• It authorizes a special subcommittee of the university board of trustees to issue a yearly report to the public, the trustees, the governor, and the legislature on the administrative handling of free-speech issues"(
https://www.linkedin.com
,
collegemeltdown [at] protomail.com
).
Same thing is going down in Nebraska where the legislature is bought off with Koch brothers money and TPUSA influence.
http://journalstar.com/legislature/unl-faculty-say-free-speech-bill-an-attempt-to-squash/article_c0c8690b-ed27-5f9b-8280-685aaaf37dee.html
It already passed in North Carolina
http://www.newsobserver.com/news/local/education/article194210559.html
Here's the model legislation
https://goldwaterinstitute.org/article/campus-free-speech-a-legislative-proposal/
Yep, the Goldwater Institute.
http://www.collegian.psu.edu/news/campus/article_5f50908c-022e-11e8-8abf-d73d75d78aed.html
And you thought they were hiding?
BILLS SEEK TO BAN STUDENT PROTESTS: The Heckler's veto
The proposed legislation is so onerous that it also bans student protests with what is called a 'heckler's veto'. The group is trying to stop people from protesting at alt-right speeches on campus by clamming their speech!
From Turning Point News regarding the Campus Free Speech Act:
"The Campus Free Expression Act not only seeks to enshrine freedom of speech in all outdoor spaces on campus, but it also looks to defend individuals from the so-called "heckler's veto."
According to Adam Sabes of Campus Reform, this is to be done by banning protesters from disrupting any scheduled events, and "imposing a fine of up to $100,000 for a single violation, plus reasonable court costs and attorney fees."
https://www.turningpoint.news/florida-ban-free-speech-zones/
All in the name of freedom of speech.
Right now, Turning Point has $8 million dollars and they haven't even started. They are a running right wing sore that moves by leaps and bounds at campuses all over the US, with 1,300 HS and Colleges and Universities under their money belt. Their donors range from the DeVos family, to Roger Stone the Nixon fixer and bully man for Trump, major foundations and billionaire philanthropirates.
You can take a look at some of their supporters here:
http://www.ibtimes.com/political-capital/who-funds-conservative-campus-group-turning-point-usa-donors-revealed-2620325
But this hardly reveals the extent of the Dark Money the group receives.
Their phony claims as to not having the freedom to speak is a ruse that doesn't even pass the smell test. TPUSA and their billionaire supporters are using Turning Point to pass legislation that makes censorship free speech and harassment liberty.
A lawyer for the group, Sally Wagenmaker, denied that the group violated any laws.
"Turning Point USA works diligently to comply entirely with all relevant laws and regulations governing not-for-profit organizations. Turning Point USA focuses on fiscal conservatism, free market economics, and related student education and advocacy, all completely within applicable Section 501(c)(3) legal constraints," she said.
Trump praises conservative group one day after report alleging racial bias
Alliance for Defending Freedom has handled Turning Point USA's legal problems in the past. They are a ginned up, right wing Christian group. Seems that they have their bases covered with billionaire and religious largess.
https://www.washingtonpost.com/news/grade-point/wp/2016/05/13/maryland-college-settles-suit-with-student-who-claims-it-banned-her-conservative-group/?utm_term=.7c49265d3197
That this group would qualify for, and call itself a charity is unconscionable and legally actionable.
A public interest attorney must come forward to help with the costs and time needed to legally confront TPUSA.
But more than a lawsuit to stop their use of the government tax code to promote their agenda, they must be met with resistance from both the administrations of colleges and more importantly, by a united coalition of professors, students and working people throughout the US.