From the Open-Publishing Calendar
From the Open-Publishing Newswire
Indybay Feature
Why I Support Public Banking
Public Banking Benefits the Community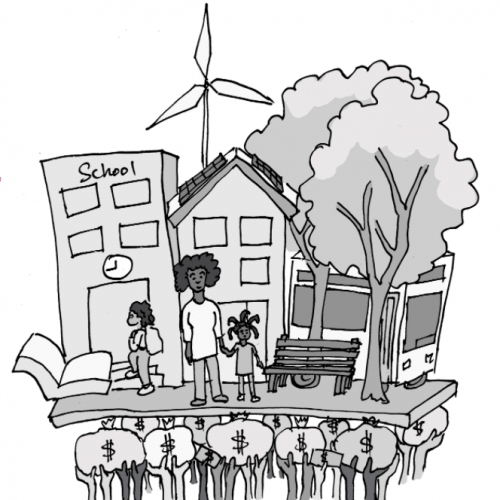 Across the country, community activists, mayors, city council members, and more are waking up to the power and the promise of public banks. Such banks are established and controlled by cities or states, rather than private interests. They collect deposits from government entities—from school districts, from city tax receipts, from state infrastructure funds—and use that money to issue loans and support public priorities. They are led by independent professionals who are accountable to elected officials. Public banks are a way to build local wealth and resist the market's predatory predilections. They are a way to end municipal reliance on Wall Street institutions, with their high fees, their scandal-ridden track records, and their toxic investments in private prisons and pipelines. They are a way, at long last, to manage money in the public interest.

Here in California, Treasurer John Chiang wants the state to consider creating a government-owned bank that could serve cannabis businesses, one of several recommendations aimed at helping bring those businesses into the financial mainstream. One of the major recommendations suggests there may be ways for California to help cannabis businesses pay their taxes and open bank accounts. But public banking would not only help our soon to be flourishing Santa Cruz cannabis industry honor their tax obligations, it may work to confer a significant public benefit in other ways as well. One such, is sustainable energy production.

At a recent forum at Oakland City Hall, experts from the public banking and community energy sectors explored how the creation of a public bank could help communities transition to clean energy while creating economic opportunities. "We need to build a more sustainable world, we need to be using energy that is positive for the environment and community, and we need to do it a way that support local jobs," said Rebecca Kaplan, Oakland City Councilmember Rebecca Kaplan who is leading the public bank creation efforts.

The forum took place in Oakland, California, just days after the approval of a resolution to fund a feasibility study by the City Council, with support from neighboring cities. The first and only public bank in the U.S. is the Bank of North Dakota. "A public bank can really create community wealth in ways other institutions are not capable off," said Gregory Rosen, the founder of High Noon Advisors, a local consulting firm with experience in clean energy investing. "It can help people of different backgrounds and income levels come together, for the good of the community."

A representative from Germany's public banking sector, Wolfram Morales, explained how public banks played a central role in the country's energy sector. Germany's energy transition from centralized fossil fuel energy to diverse renewables has been successful and gets between 38-41 percent of its electricity from renewable resources, according to figures provided by the East German Savings Bank Association. "The government says about us, that the Sparkassen finance group is one of the largest financiers of the energy transition," said Morales, who is the head of the Office of the Executive President at Sparkasse, an association of public banks in Germany. So not only would public banking help maximize the positive economic impact of our local cannabis industry, it could help us kick start our local Climate Action Plan and move our community closure to widely available sources of sustainable energy.

But even with the many potentially public benefits public banking could provide, the question more often asked is not should we consider municipal public banking, but can we legally do so. California Government Code §23007 is the state law that prohibits counties from giving or loaning credit to private individuals or corporations but this has never been found to apply to cities. Banks lend their own credit rather than their deposits, so it's not even clear this law would prohibit any government entity from running a bank. This brings us to an even larger point: California's charter cities possess many lines of authority that can contravene or bypass not only California statutory law, but certain constitutional provisions. Legal experts in the state, such as San Francisco Deputy City Attorney Thomas J. Owen, conclude that even if Article XVI prohibited the state legislature from lending credit, such a prohibition would not apply to charter cities. That's consistent with other exceptions carved out for charter cities, including the ability to impose real property transfer taxes and public financing of election campaigns, two proposals long supported by this writer. The United States Supreme Court has held that under the Tenth Amendment, "political subdivisions" (municipal governments) are protected by the same constitutional guarantees of local rule as states. California makes these protections even more robust through its charter city law. And guess, what, Santa Cruz is one of many charter cities in California.

In point of fact, the reason that there aren't more public banks around the country has nothing to do with any legal problems. Courts have never prevented states from implementing public banking, and states with strong home rule laws like California would not interpret their constitutions or general laws as prohibitive of public banks. From a policy standpoint, North Dakota proves public banking works. Indeed, the lack of public banks in America has everything to do with political will and the resolve to stand up to the pressure brought to bear by the private banking industry. California, and so Santa Cruz, is uniquely suited to stand up to such pressure. The people of the state are increasingly determined to chart their own course independent of Wall Street and, where necessary, independent of the federal government. There has never been a better time for a city council and active citizens to push back against Wall Street lobbyists and implement a model of sound and ethical financial policy. Not so long ago, the Occupy Movement shined a light on the monopolistic practices of the big banks, practices that did nothing to benefit the public good. We now have a second, and perhaps even more readily available and practical opportunity to move our community away from banking practices that do not contribute to the common good and toward a model of banking that is founded on the principle of promoting the public good. And what's even more encouraging to this writer, we seem to also possess the political will to get it done.

That's why I support public banking.

We are 100% volunteer and depend on your participation to sustain our efforts!
Get Involved
If you'd like to help with maintaining or developing the website, contact us.