From the Open-Publishing Calendar
From the Open-Publishing Newswire
Indybay Feature
Cold Temperatures Prompt Inmate Rebellion in Santa Cruz Jail
Inmates locked in the Santa Cruz jail armed themselves, and created booby traps and barricades in their cells, as they staged a masked rebellion this week over cold temperatures within the facility, according to authorities.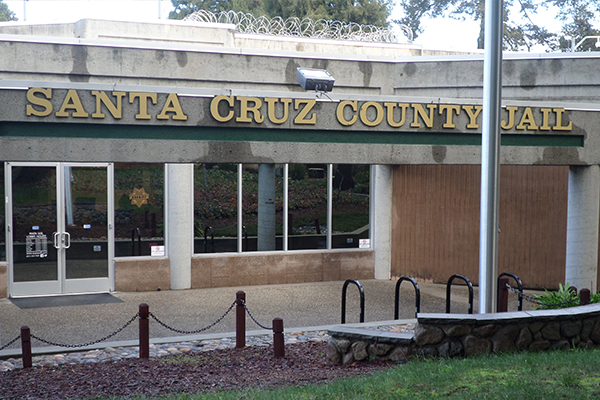 26 men in the west-wing L Unit of the jail complained about the cold temperatures, and on Tuesday afternoon they, "tied trip lines from ripped jail-cell sheets, covered their arms with socks, hid their faces with makeshift masks," and, "armed themselves with soap, a radio, mop, books and bottles of liquid," according to the Santa Cruz Sentinel. They also created "trip lines," and "covered the unit floor with soap and water and blocked stairwells and walkways with mattresses as they tried to pelt the guards with books and soap," according to a jail official.
The rebellion left over $1,000 in property damage in its wake.
A press release issued by the Santa Cruz County Sheriff's Office on January 16 titled "Jail Disturbance Resolved" read:
"Over the last several days, male inmates residing in a housing unit at the Main Jail became increasingly concerned about the unit's ambient air temperature. Maintenance has been actively working to increase the temperature above 70 degrees and Jail staff provided extra blankets in the interim. Over the last 24 hours, the inmates became increasingly non-compliant to the point that they refused Correctional staff directives, used mattresses as makeshift barricades and prepared tools for offensive and defensive use. Despite hours of Correctional staff attempting to resolve and deescalate the disturbance, the inmates ultimately refused to follow lawful directives.
"Shortly before 2 pm this afternoon, Sheriff's Office staff entered the housing unit to restore safety and order. None of the inmates or Sheriff's Office staff suffered any serious injuries."
Read more:
Masked inmates use booby traps in Santa Cruz County Jail skirmish
http://www.santacruzsentinel.com/article/NE/20180117/NEWS/180119719
Masked Inmates Booby Trapped Entire Cell Block At Santa Cruz Jail
http://sanfrancisco.cbslocal.com/2018/01/18/masked-inmates-booby-trapped-santa-cruz-jail-cell-block/