From the Open-Publishing Calendar
From the Open-Publishing Newswire
Indybay Feature
SF TWU 250A Union President Eric Williams Takes Jobs With MTA After Pushing Concessions
SF TWU 250A President Eric Williams was given a job by the MTA management for helping to push a concession contract and refusing to defend the drivers who have been attacked on the job.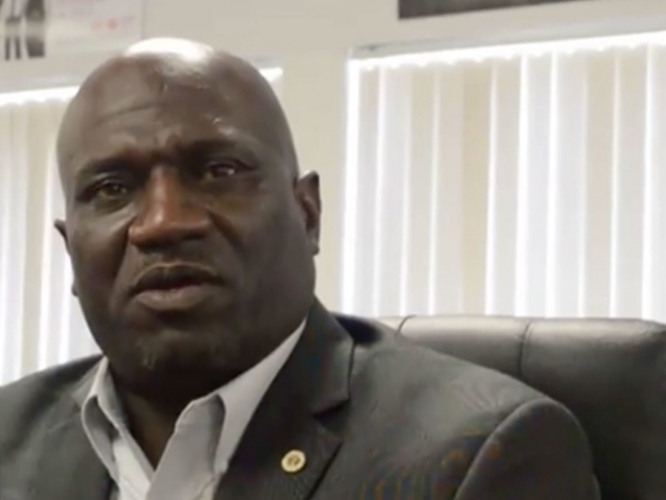 SF TWU 250A Union President Eric Williams Takes Jobs With MTA After Pushing Concession Contract "The fiery president"?
Union president who oversaw 'Muni sickout' to work for SFMTA management
"He probably sold his soul to management," Lum said. "Why would management give him a job?"
"Williams' record in negotiations was shaky in winning concessions for union members, Muni operators previously told the Examiner."
http://www.sfexaminer.com/union-president-oversaw-muni-sickout-work-sfmta-management/
Eric D. Williams was the head of Muni's operator union during the 2014 multi-day "sickout," when hundreds of employees called in sick during contract negotiations. (Courtesy San Francisco Bay Guardian)
By Joe Fitzgerald Rodriguez on January 18, 2018 1:00 am
For six years, Eric D. Williams led Muni's operator union and oversaw what San Franciscans may recall as Muni's most infamous snarl: the "sickout" pseudo-strike of 2014, when hundreds of employees called in sick during contract negotiations.
Now, Williams is hanging up his hat as president of the Transport Workers Union Local 250-A and joining Muni management, who he once opposed across the bargaining table, the San Francisco Examiner has learned.
John Haley, director of transit at the San Francisco Municipal Transportation Agency, confirmed Williams will be hired into a "middle management" position, though he has no exact title yet.
"Eric has skills as a result of what he did before," Haley told the Examiner. "He knows the system, he knows the people, at a time when we're trying to look at what programs to put in place that can build good will with the employees."
Williams did not respond to requests for interview.
The fiery president previously worked in Muni's cable car division, where he was known for outspoken and critical views of San Francisco government policies that catapulted him into the union presidency, the Examiner reported in December 2011, when Williams was first elected.
But Williams' record in negotiations was shaky in winning concessions for union members, Muni operators previously told the Examiner.
In 2014, his contract negotiations with then-mayoral Chief of Staff Steve Kawa came to a standstill, leading The City to call in former Mayor Willie Brown to help. The result of those negotiations was a contract where new Muni operators reach full pay after five years on the job, instead of 19 months.
Past Muni union president Irwin Lum said Williams bungled those negotiations and was highly
critical of Williams' move to the SFMTA.
"He probably sold his soul to management," Lum said. "Why would management give him a job?"
After the Examiner reported growing passenger attacks on Muni operators, Williams started a public service announcement campaign against operator assaults. He also worked to protect operators from surveillance by SFMTA management during their breaks.
Haley said that "perspective and insight" prepared Williams for his new job, which may involve overseeing some transit operations.
Williams stepped down as union president in December. An election was held that month, but the results were contested. SFMTA will negotiate a new contract with the operators' union in 2019.
SFMTA workers struggle to meet basic needs under concession contract pushed by TWU 250A officials "Some of Muni's newest TWU 250A drivers are struggling to make ends meet, under a contract which cuts their pay to about half what new drivers previously made."
SFMTA workers struggle to meet basic needs "
http://www.sfexaminer.com/sfmta-workers-struggle-to-meet-basic-needs/
A woman exits the 28-19th Avenue Muni bus on 19th Avenue and Lawton Street on Wednesday, July 8, 2015. Some Muni drivers are saying they do not make enough to pay for basic needs, with some relying on second jobs. (Michael Ares/Special to S.F. Examiner)
By Joe Fitzgerald Rodriguez on December 28, 2015 1:00 am
Some of Muni's newest drivers are struggling to make ends meet, under a contract which cuts their pay to about half what new drivers previously made.
These drivers are increasingly leaning on other means to live — including second jobs driving for Uber, or other transit companies — and moving farther away from San Francisco, which operators say may impact the safety of Muni riders.
In interviews with more than 10 bus and train operators, a former union head, and information gleaned from union meetings, the San Francisco Examiner has learned San Francisco Municipal Transportation Agency drivers are struggling, and unrest within their union is growing.
Most spoke anonymously due to fear of retribution. Many described an inability to pay for basic living expenses as new Muni operators.
One full-time Muni operator said he makes about $2,100 a month, after taxes.
Despite also combining his income with his wife's, he said, he still struggles to support his daughter. Like many parents, he makes tradeoffs.
"I get up and go to work every day. It's not like I don't have a job," he said. "My daughter's birthday came up. I can't even get her a happy birthday cake. She's looking at me like 'Daddy, it's my birthday, are we doing anything?'"
He was at a loss for words for his daughter.
"How do I explain to her? She's 5 years old," he said. "She wants cake and ice cream for her birthday."
He makes less than most Muni operators, due to a quirk in a contract between SFMTA and its union, the Transit Workers Union Local 250-A. Muni operators at one time made their full salary after 19 months on the job.
Under the 2014 contract, which is still in effect, Muni operators hired after July 1, 2014, start at 63 percent of their full pay, which increases in steps over five years. That's five years until they earn about $32 an hour.
Irwin Lum, a former TWU Local 250-A president, said that's about about $53,000 a year. The Examiner has previously reported that with overtime that can top $70,000 annually.
TWU Local 250-A President Eric Williams, who did not answer calls for an interview, has previously publicly said the majority of Muni operators — as many as 85 percent — do not live in San Francisco.
Estimates of median rent in San Francisco vary, but in August Priceonomics pegged two-bedroom apartments at $4,400 a month.
"With the most recent contract, the new wages place our operators in the top five earners for operators throughout the country," said Robert Lyles, a spokesman for the SFMTA.
He also added operators make "generous benefits," including: comprehensive citywide health care coverage for themselves and their families, which starts with a 93 percent employer contribution.
The contentious contract was negotiated in the wake of the notorious "sick out," when hundreds of drivers didn't show up to work in unison.
According to the SFMTA, 818 Muni operators were hired after July 2014. That's 818 operators who will make a fraction of their full salary for five years.
Operators starting out under the five-year rule start at $19.81 an hour.
One Muni operator, who is also a student, told the Examiner he calculates the pay to be much less than that because of Muni's split shifts.
Peak rider hours are far apart, so SFMTA often requires operators to take long, unpaid breaks so operators can drive when rider demand is greatest — which is also the subject of current litigation.
"We're on the board for 10 hours, but we're being paid for eight hours," the operator said. "You do the math, it comes to 12-14 dollars an hour."
That operator said leaner years during school means he'll accrue more debt.
Lum said this means "they're barely making minimum wage."
Some drivers are picking up second jobs, operators told the Examiner. Outside a 250-A union meeting in December, one new driver told us he works three jobs.
"I could give up one of those jobs if I were at full pay [at Muni]," he said. A San Francisco native, he now lives in the outer Bay Area to afford housing for his family.
Another operator has three children, and told the Examiner a similar story of working two jobs. "I love the bus, I love driving it. I was born and raised here, it's my city," he said. But he isn't sure how long he can drive while exhausted from overwork.
One operator, who trains new drivers on the light rail, said he's seen "a lot of people quit," and he's seen drivers moonlight as Uber drivers.
Another operator said one of his coworkers drove a bus for Bauer's Intelligent Systems, a private bus company.
Muni operators must report second jobs to the SFMTA, according to the agency's policies, and those hours count against their Muni driving hours. The exact number of drivers with second jobs is difficult to pin down, as SFMTA won't release that information, citing legal employee protections.
In an email, Lyles said operator safety is "not a question of the number of jobs, it is a question of consecutive hours without rest."
In fiscal year 2012, Muni vehicles had five collisions for every 100,000 miles driven, according to SFMTA. That number increased each year, and in 2015 Muni vehicles experienced 6.5 collisions per 100,000 miles.
Lyles attributed the rise in collisions to increased service, which means more Muni buses on the roads and a booming economy, meaning more traffic.
But Lum said working a second job on top of driving for Muni means "the possibility of being exhausted and accident-prone is that much greater."
SFMTA annually honors its safest drivers. This year the agency honored 280 drivers who safely navigated city streets for 15 years without an incident, Lyles said.
One of Muni's safest drivers of 2013, Anthony Parker, told the Examiner that he's driven safely for 25 years.
As for his new coworkers who make near minimum wage, he said "I do know people that are doing other jobs. It's obvious, if you're only making $18 an hour, you can't live in this region."
"If you have kids, they better be able to balance a basketball," he said, because without other means of making money, newer Muni drivers — especially those with families — won't make ends meet.
joe [at] sfexaminer.com
Union Busting Newsom Pushed Attack On SF TWU 250A MTA Transit Workers
TWU 250 A Muni drivers win ruling on Prop. G Pushed By Former Mayor Gavin Newsom Attacking Transit Worker Rights
http://www.sfchronicle.com/bayarea/article/Muni-drivers-win-ruling-on-Prop-G-4487856.php
By Michael Cabanatuan
May 4, 2013
Officials for the union representing Muni drivers hailed a ruling Friday that struck down sections of a Muni reform measure designed to curb costly work rules.
Donn Ginoza, administrative law judge for the state Public Employment Relations Board, ordered San Francisco to rescind two portions of the City Charter that were part of Proposition G, which city voters approved in 2010.
The sections in question gave the agency the discretion to make staffing and scheduling decisions in the contract unless the union could show "clear and convincing" evidence that their interests outweighed the public interest, and prohibited any past rules or practices from continuing unless favored by the agency.
Prop. G eliminated a City Charter guarantee that Muni operators would be paid the second-highest salaries in the country and changed or eliminated a number of work rules and practices. It also created an arbitration process that favored "public interest" and gave the city considerable leverage.
The Municipal Transportation Agency, using those new terms, negotiated a contract with Transportation Workers Union Local 250-A, which represents its operators, in 2011. Agency officials said then that deal would save Muni $41 million over the three-year life of the contract. The contract was overwhelmingly rejected by operators but imposed on them by an independent arbitrator using the Prop. G rules.
Challenge to Prop. G
Local 25o-A sued in state court, challenging the legality of the negotiations under Prop. G and also sought to have the federal government withhold funds for the Central Subway because of the dispute. Both efforts were unsuccessful. The union joined with other unions that represent Muni workers to file an unfair labor practice complaint with the Public Employment Relations Board, which administers collective bargaining laws for unionized workers in state public agencies.
Ginoza's proposed decision, which can be appealed, found that the requirement to prove drivers' interests outweighed the public's illegally interfered with the union's right to bargain on behalf of its employees. Eliminating past agreements and practices had the same effect, he ruled.
Neither the union, the transportation agency nor the city attorney's office were clear about the implications of the ruling, which was issued April 30 but received late Thursday. Officials with the operators' union said the decision supported their contention they were illegally targeted in Prop. G.
"It was a calculated attack on our members, the people who make the system work day in and day out," said Eric Williams, president of Local 250-A.
Kenneth Absolom, an attorney for the union, said the ruling would definitely affect the union's next negotiations, which will take place in 2014. But he was uncertain of their effect on the current labor agreement.
Union gains leverage
"At the very least," he said, "this gives the unions some leverage in their dealings with the city."
City officials said they were still reviewing the decision and considering their options.
"The ruling only dealt with a limited portion of Prop. G," said Paul Rose, a spokesman for the MTA. "We expect to proceed as normal as we determine how the agency will proceed with the ruling."
Michael Cabanatuan is a San Francisco Chronicle staff writer. E-mail:
mcabanatuan [at] sfchronicle.com
Twitter: @ctuan
Read more:
http://www.sfchronicle.com/bayarea/article/Muni-drivers-win-ruling-on-Prop-G-4487856.php#ixzz2SKX8tkO3
Thursday, October 14, 201030 Comments
Proposition G and the Fix Muni Syndrome
http://sf.streetsblog.org/2010/10/14/proposition-g-and-the-fix-muni-syndrome/
by Matthew Roth
Photo: Myleen Hollero/Orange Photography
As the November election draws near and the bunkers are dug on either side of San Francisco's Proposition G, the Fix Muni Now ballot measure spearheaded by Supervisor Sean Elsbernd, the rhetoric is escalating, with Mayor Gavin Newsom, the San Francisco Chronicle's Editorial Board and Elsbernd on one sidedecrying Muni operators for taking raises during a recession, while the San Francisco Bay Guardian and the Muni operators union have focused on Elsbernd, implying he's a racist pawn of downtown business interests on a mission to erode the power of unions.
While the acrimony is likely to increase, it is unclear just how far Proposition G will go toward "fixing" Muni. If the measure passes, it will eliminate the City Charter provision guaranteeing Muni operators' salary and benefits are pegged at the average of the top two transit agencies in the country. It would also compel Transit Workers Union (TWU) Local 250-A, which represents Muni operators, to re-write its memorandum of understanding (MOU) with the agency, likely removing a number of work rules and side letters, or components of a contract agreed to by both sides that make stipulations for parking perks, absenteeism and sick-day policies, among others.
"I think that it's plain good governance to not have a minimum salary set in a charter," said Dave Snyder, organizer for the Muni Transit Riders' Union, which has not taken a position on the measure. Snyder noted that even a competing Muni ballot measure proposed by some on the Board of Supervisors and supported by the TWU eliminated the charter provision. That measure never made the ballot, though, as Board PresidentDavid Chiu voted against it in a compromise with Mayor Gavin Newsom on the city's budget.
Snyder cautioned against believing that the ballot measure would transform Muni overnight. "Taking the salary calculation out of the charter is not going to make sure all the buses leave the yard on time, all the time," he said. Though he stopped short of saying the phrase "Fix Muni Now" was misleading, he said the public shouldn't be confused about the limitations of the measure.
Even one of Proposition G's co-sponsors acknowledged the measure wouldn't fix Muni. "It's important not to oversell Prop G. Yes, it's absolutely necessary, but it won't fix Muni," said Gabriel Metcalf, executive director of the San Francisco Planning and Urban Research Association (SPUR), which also helped pass Propositions E and A to merge Muni with the Department of Parking and Traffic to create the San Francisco Municipal Transportation Agency (SFMTA) and then to increase its autonomy from the Board of Supervisors.
Metcalf said Proposition G was merely one part of SPUR's larger SFMTA reform agenda, but a necessary step toward delivering better transit service. "Prop G is not the first step in improving Muni and it's not the last step either," he said. "We have in the last 10 years done a long list of things to try to get San Francisco the kind of transit system it deserves."
Supervisor Elsbernd disagreed, saying the measure would fix Muni and arguing management at the SFMTA has its hands tied because of the charter guarantees. "I think that [Proposition G] will absolutely improve Muni and free up dollars that are currently not going to service," he said. Elsbernd noted If the measure passes, negotiators with the SFMTA would likely start preparing for collective bargaining for a new contract with the TWU, given that the current contract expires at the end of June, 2011.
Without the charter rules, said Elsbernd, the SFMTA would immediately save $16 million if it eliminates the trust fund it has set up to pay drivers when their benefits don't meet the second highest national benefits package and it doesn't have to give the operators the scheduled raise next year. He also estimated eliminating a number of work rules would save the agency at least $10 million more annually.
Elsbernd highlighted language in Proposition G that he said "was one of the best parts of the measure," where in the case of arbitration over contract impasse, the arbitrator would be required to consider how the contract would impact Muni service. If the SFMTA felt the arbitrator had not sufficiently addressed the impact of a work rule or salary provision on Muni's service, the SFMTA could take the issue to court, where a judge would preside over the dispute.
"This should be about making service better, not about making a union happy," said Elsbernd. "Why in the world should we provide transit service where service is not the most important priority? [Proposition G] gives the riders a seat at the table and the city is there to defend them."
While TWU President Irwin Lum said the charter provision for their salary had been "working well since 1968," he said the union supported removing it and bargaining collectively. He bristled, however, at the arbitration language and said it handicapped the union from the start in any negotiation, tipping the balance to management before they'd even sat down at the table. "No other city employee union has it where it tells the negotiator or arbitrator" to account for how the contract would affect the service the membership provides, such as police officer pay tied to crime reductions.
Lum said the ballot measure was little more than "a blame game," that it deflects attention away from failures at the management level. He also said it wouldn't compensate for the lack of political will from the SFMTA Board and the Mayor's Office to come up with a dedicated funding stream for Muni, such as transit tax assessment district. "All it will do is make drivers seem like the only reason why Muni doesn't perform better."
He said the SFMTA could stop paying work orders to other agencies, which have increased significantly since the passage of Proposition A in 2007, and the agency would save over $60 million a year, far more than would be saved if Proposition G passes.
Lum also criticized SFMTA CEO Nat Ford's salary, which, at more than $300,000 base, is the highest of any city official, and compared it to the salaries the operators receive. "At $27.91 an hour, that wage is not over and above Bay Area transit wages," said Lum "We're not overpaid and we're not underpaid. It's a living wage." He lamented that voters didn't have the same opportunity in the measure to vote on Ford's salary or other members of his executive staff and assumed the public would not pay them as much if they had the option.
According to SFMTA figures, Muni's 2,000 operators make a combined $200 million in salaries and benefits, while the 100 managers that make up the Municipal Executive Association make $20 million in salaries and benefits. The agency's annual operating budget this fiscal year is approximately $750 million.
Metcalf declined to say what he thought the senior executives should make, but he noted current salaries are comparable to the industry standard. Dorothy Dugger, BART's General Manager, made nearly $350,000 in 2009, while John Inglish, head of the Utah Transit Administration, which is much smaller than the SFMTA or BART, made the same last year. Metcalf also said he didn't think the operators' salaries would plummet if Proposition G passed.
Metcalf and Snyder argued once the contract was negotiated, the real work would begin, both to improve cooperation between management and the operators' union, and to identify a steady source of funding for Muni over the long run. There are numerous revenue generating actions the SFMTA board of directors could take to bring in more money, but the body has so far not pursued them. Extending parking meter hours on evenings and Sundays, for instance, was projected to generate $10 million annually, but the board has dropped the idea.
While Sacramento appears willing to leave the state diesel tax alone this year [pdf], sending hundreds of millions in money to transit agencies across the state instead of using the money to backstop the general fund, there is no guarantee the raids won't resume under a new governor (unless state Proposition 22 passes). The SFMTA had been deprived of nearly $180 million in state money over the past three fiscal years.
"[Proposition G] is necessary, but a lot more is going to have happen. Management and workers are going to need to work together to create a culture where everyone is working toward the same goals of providing great transit service," said Metcalf. "We're going to have to do a lot of hard stuff after this, too."
http://sf.streetsblog.org/2010/06/23/mayor-newsom-slams-muni-union-leaders-again-decries-work-rules/
Wednesday, June 23, 201032 Comments
Mayor Newsom Slams Muni Union Leaders Again, Decries Work Rules
by Matthew Roth on June 23, 2010
Photo: Myleen Hollero/Orange Photography.
Keeping with his public recriminations of TWU Local 250-A, the union representing Muni operators, Mayor Gavin Newsom launched into a tirade today after a press conference, decrying the leadership of the union for "misleading" the rank-and-file. Newsom called the second rejection of wage concessions a mistake and said the entire workforce would be affected by the selfishness of a few at the top.
Newsom had been discussing the various concessions made by other public service unions with reporters when he volunteered his opinion on TWU: "These guys have no respect for reality," he said. "What they're doing is thumbing their nose in the face of every other public employee in this city that has stepped up to preserve services and preserve jobs. They're saying no, we're better than you, we're special, we don't need to do this."
Newsom said several members of TWU's Executive Board should be ashamed of themselves, "one in particular," who did "everything to undermine this." He didn't elaborate on which board member, however.
Rather than point fingers at the Board of Supervisors, as he did last week, or call for a re-vote in the union, Newsom seemed resigned to let voters have their say in November, when a voter initiative to strip operator pay, benefits and work rules provisions from the City Charter could be on the ballot. He urged every San Franciscan to sign the petition to qualify the measure and vowed it would pass with an overwhelming majority.
When Chronicle reporter Rachel Gordon asked the Mayor if he had signed the petition himself, he admitted he hadn't. "I helped draft it," he said. "I say helped, meaning [Chief of Staff] Steve Kawa in my office was very much involved with a deliberative process with the supervisor to make sure that we were all on the same page in terms of what this initiative called for."
As he got in to the specifics of the ballot measure and its impact, he said he was more concerned with work rules than he was about collective bargaining for salary.
"The collective bargaining component, to me, was always de minimus, it wasn't that important, because you can collectively bargain and you're gonna end up marking to market, which means you're not going to dramatically change the wage schedule," he said.
But by changing the work rules, the agency would be able to realize efficiencies that would save service and keep fares stable, he argued.
Despite the rhetoric, though, he didn't provide specifics about if or when service would be restored, a fundamental concern of the Board of Supervisors and one that could preempt a drawn out battle over rejecting Muni's budget. The supervisors have threatened to reject any budget that doesn't restore service.
Had the operators accepted the wage concessions, the San Francisco Municipal Transportation Agency, which runs Muni, would have saved $18.7 million over two years, which the SFMTA said it would use to reverse a recent ten-percent service cut in part by September 4 and in full by summer 2011.
Supervisor Sean Elsbernd, one of the primary authors of the ballot measure, has been out collecting signatures with an increasingly visible cadre of volunteers at BART stations and public events.
Elsbernd recently told Streetsblog they would collect signatures to qualify the measure regardless of any vote by the union.
Appointment of Board Members
On a different tack, Newsom admitted he was still struggling to find a second person to appoint to the SFMTA's Board of Directors, which has been short two members since the end of April.
While he said he had chosen one member from the public who had applied to be on the board, he wasn't having luck with candidates he had been targeting for appointment.
"I'm 0 for 2 with the two people that I wanted," he said. "One had a conflict that we couldn't deal with, one said they prefer their existing life and they don't want to actually do this. I'm still trying to find that final person."
When asked if he would consider appointing one member while searching for the last, to prevent further cancellations of Board Meetings for failure to attain quorum, Newsom said he would likely take that course of action and make that announcement shortly.
SF Demos Chiu And Compos Push Anti-Labor Ballot Issue Against SF Muni TWU 25A Drivers
http://www.sfgate.com/cgi-bin/article.cgi?f=/c/a/2010/07/01/BAVI1E7AUQ.DTL#ixzz0sUlzCGE0
S.F. budget talks go late into the night
John Coté,Rachel Gordon, Chronicle Staff Writers
Thursday, July 1, 2010
San Francisco Mayor Gavin Newsom and members of the Board of Supervisors worked late into the night Wednesday trying to strike a budget deal after a day of whirlwind negotiations at City Hall.
Even with the lack of an agreement for the fiscal year that starts today, the board's budget committee and board President David Chiu continued late-night negotiations with the Newsom administration to add back funding for mental health services, substance abuse treatment and other programs the mayor had cut from his $6.5 billion budget.
It remains to be seen whether that funding will become reality, though.
The budget still must be approved by the full board, which takes its first of two votes July 20. Further negotiations with the mayor are expected until then.
"I'm hopeful that things will work out for the best," said Supervisor John Avalos, who chairs the budget committee.
And they usually do, if past budget negotiations are any indication.
Supervisors were still trying to plug a $39 million hole and had identified all but from $5 million to $10 million to do the job, sources said.
$13 million windfall
Part of that was an unexpected boost when $5.2 million in property transfer tax revenue was announced Wednesday, bringing the larger-than-expected property transfer tax haul to $13 million.
That wasn't enough to prevent talks primarily involving Newsom, Avalos, Supervisor David Campos and Chiu from stalling Wednesday over proposed ballot measures impacting the budget and the balance of power between the mayor and the board. Those ballot measures were being used as bargaining chips for service restorations.
"We are confident we can reach a balanced budget, but only if the supervisors step back from the brink with these reckless proposals that shred the city's fiscal solvency and balance of powers," Newsom's spokesman Tony Winnicker said.
The most contentious issue appears to be a proposed November ballot measure cosponsored by Chiu and Campos. It would force Muni operators into collective bargaining for their contract rather than guarantee they remain at least the nation's second-highest-paid transit workers, and it creates a $40 million set-aside for the transit agency from depleted city coffers and transfers to the supervisors some of the mayor's power to appoint Municipal Transportation Agency board members.
Limits on mayor
Two other proposed measures would strip the mayor of some power in appointing Recreation and Park commissioners and Rent Board members. Supervisors have also proposed three tax measures for the November ballot that the mayor opposes, saying they'll crush a local economy trying to get on its feet.
Newsom has placed his own measure on the November ballot that would prevent elected city officials from also serving on the Democratic County Central Committee, the local arm of the Democratic Party. It's seen as a slap at the mayor's more liberal rivals on the board, four of whom also have seats on the committee.
Negotiations over those proposed ballot measures are intertwined with weeks of hearings in which department heads fought their cases for more funding, and residents pleaded for their programs to be spared.
It often comes down to the hours leading to the budget committee's vote, with supervisors holding closed-door sessions with mayoral staffers in rounds of high-stakes negotiations.When a scheduled 5 p.m. budget committee meeting was postponed, city Controller Ben Rosenfield, who was serving as referee between supervisors and the mayor, passed a group of City Hall reporters and remarked, "Go get dinner. This is probably going to be a long one."
E-mail the writers at
jcote [at] sfchronicle.com
or
rgordon [at] sfchronicle.com
.
SF Mayor Newsom, MTA Bosses, Demo Supervisors and City Union Tops Want Muni Drivers To Make Concessions
http://www.sfgate.com/cgi-bin/article.cgi?f=/c/a/2010/05/28/BAUP1DLO9I.DTL
Newsom: Muni operators key to restoring cuts
Rachel Gordon, Chronicle Staff Writer
Friday, May 28, 2010
More than half the Muni service cuts enacted earlier this month could be restored if the city's transit operators agree to cost-saving concessions that their union leaders have tentatively agreed to, Mayor Gavin Newsom announced Thursday.
The rank and file, however, still needs to ratify the proposed deal. Operators rejected a different concessions package in February.
The announcement of a new agreement came less than three weeks after Muni cut service 10 percent - the deepest in agency history - to save an estimated $29 million a year.
Transport Workers Union Local 250-A, with about 2,000 members, is the last city employees union to agree to requested givebacks to help Muni close its deficit.
A date for the ratification vote on the proposal has not been revealed.
If the givebacks are approved, Muni officials say they could restore 55 percent of the lost service Sept. 4, and all the service by July 2011.
Late-night service and community routes, such as the 35-Eureka and 66-Quintara lines, would be restored first, said Muni chief Nathaniel Ford. Express routes also would be bolstered.
The proposed concessions for Muni operators are projected to save close to $19 million over the next two years, Newsom said.
In addition to drivers needing to approve the pact before the service restorations can be made, Newsom said the Board of Supervisors, acting as the Transportation Authority, also must fulfill its promise to give Muni $7 million in sales tax revenue if at least half the service cuts enacted May 8 were reversed.
"I would project we're very close," said Supervisor Ross Mirkarimi, chair of the Transportation Authority.
The Board of Supervisors has threatened to reject Muni's $750 million budget proposal for the new fiscal year that starts July 1, in part, because of the deep service cuts that have affected virtually every line in the system that has about 700,000 boardings daily.
Muni operators are set to receive an automatic pay hike July 1 amounting to about $9 million, and are in line for a similar raise next year.
While the operators would still get their raises, the additional pay would be offset by savings that include diminishing labor-friendly overtime rules and making it easier for Muni to use part-time drivers, which the union has long opposed, according to sources familiar with the proposed agreement.
Union representatives were not immediately available for comment.
Three months ago, union negotiators for Muni operators reached a different tentative agreement with the mayor's office on a concessions package valued at nearly $15 million over two years. But members defiantly rejected the proposed deal.
Newsom said the climate is very different, with the Muni operators now being boxed in because they are the last to agree to givebacks.
All of the other public employees unions have agreed to concessions "worth well north of a quarter billion dollars" over the next two years, Newsom said.
The union is under pressure from Newsom, members of the Board of Supervisors, and leaders from other city unions whose members have given back what amounts to a 4 percent-plus salary cut.
In addition, Supervisor Sean Elsbernd is collecting signatures for a November ballot initiative that would remove from the city charter the pay formula that guarantees Muni operators' wages are at least the second highest in their industry nationally. Under his plan, pay would be set through collective bargaining, with the idea that management would have more leverage to negotiate cost-saving work-rule changes.
Elsbernd said Thursday that he welcomes news of the tentative agreement but has no plans to abandon his initiative drive, which he said is focused on the long-term viability of Muni and not just the short-term fiscal crisis.
Mirkarimi and several of his colleagues are also crafting a ballot measure that they say is also designed for long-term reform. As now drafted, it would force operators into collective bargaining, funnel more money into Muni, and give the Board of Supervisors more authority over Muni while curtailing the mayor's.
In assessing the situation for Muni operators, Newsom said, "They have a lot at stake. I don't expect to see what we saw with the last tentative agreement."
E-mail Rachel Gordon at
rgordon [at] sfchronicle.com
.
Proposed initiative aims at Muni drivers' pay "To just focus on operators isn't right and isn't fair,"
http://www.sfgate.com/cgi-bin/article.cgi?f=/c/a/2010/03/09/BAIV1CCO8N.DTL
Proposed initiative aims at Muni drivers' pay
Rachel Gordon, Chronicle Staff Writer
Tuesday, March 9, 2010
Michael Macor / The Chronicle
Muni patrons are facing 10 percent service cuts and price increases for some riders beginning May 1.
A San Francisco supervisor is following through on his plan to curb Muni's labor costs and on Monday submitted a proposed initiative for the November ballot.
The plan takes direct aim at a controversial salary formula enshrined in the city charter that for more than four decades has guaranteed Muni drivers their spot as the second highest-paid transit operators in the nation.
It also would eliminate a trust fund for Muni operators that has resulted in yearly payouts of up to $3,000 for full-time operators. The fund originally was established to help defray health care costs for dependents, but operators can use that money any way they choose.
Under the proposed charter amendment, the city would be required - in the first contract only - to provide the same health coverage to Muni operators as the majority of other city employees.
Supervisor Sean Elsbernd believes that by making the big-ticket costs of salaries and benefits part of contract negotiations, management may have more leverage to enact changes in work rules, such as scheduling and discipline, to make the system more efficient.
Elsbernd turned his proposal over to the city attorney for official review Monday and hopes to start collecting signatures by month's end to qualify it for the fall ballot.
He has until July 6 to collect the valid signatures of nearly 47,000 voters registered in the city.
Supervisor's stance
"In order to protect riders against unfair fare increases and unnecessary service cuts, passage of this charter amendment is critical," Elsbernd said.
While there may be plenty of rider outrage, there are no guarantees when it comes to taking on powerful unions in a pro-labor town.
Elsbernd tried to get the Board of Supervisors to place the proposal on the June ballot, but failed to secure the necessary political support from his colleagues amid opposition from the drivers' union, the firefighters' union and the San Francisco Labor Council.
Irwin Lum, president of Transport Workers Union Local 250-A, which represents Muni operators, said Elsbernd's plan unfairly targets drivers instead of addressing a systemwide reform plan that focuses on Muni's chronic money problems - most recently driven by deep cuts in state funding - as well as management and oversight issues.
"To just focus on operators isn't right and isn't fair," Lum said. "What this will do is divide people instead of dealing with the bigger issue of funding."
Elsbernd, however, is convinced that changing the way operator salaries are determined is a crucial step to Muni reform.
Currently, the salary for Muni's approximately 2,000 operators is based on the average of what operators earn at Santa Clara Valley Transportation Authority and the Montgomery County Transit System in Rockville, Md. That amounts to a base wage of $29.19 an hour for San Francisco operators.
Automatic raises
In the new fiscal year that starts July 1, Muni operators are set to get automatic raises totaling about $8 million. Driver wages and benefits account for about a quarter of the transportation agency's $768 million annual operating budget.
Mayor Gavin Newsom and Muni management negotiated a tentative agreement with the operators' union leadership last month that would have cut labor costs by about $15 million over two years to help offset the raise, but the plan was soundly rejected by the rank and file.
Soon after, Muni's governing board approved 10 percent service cuts to take effect May 1, a hike in the price of monthly Fast Pass for riders who use express buses and cable cars, and an increase in parking fines and fees. Those changes came on top of service cuts and fee increases implemented last year.
Initiative's backers
Elsbernd has the backing of the San Francisco Chamber of Commerce and the San Francisco Planning and Urban Research Association, a civic think tank, but many at City Hall and in the transit-advocacy community are taking a much more cautious approach.
"TWU needs to help us address the Municipal Transportation Agency budget situation, and we can do it one of two ways - at the negotiating table or at the ballot box," said Board of Supervisors President David Chiu, who has not taken a position on Elsbernd's proposal.
He said other ideas may be put forward in coming months to address Muni's ongoing problems and will have to be considered individually and as a package. "Labor is only one aspect of the structural reform that's needed."
Next steps
-- After the charter amendment is reviewed by the city attorney's office, Supervisor Sean Elsbernd must gather at least 47,000 signatures of registered voters in the city by July 6.
-- If enough valid signatures are gathered, the proposed amendment would be on the Nov. 2 ballot.
E-mail Rachel Gordon at
rgordon [at] sfchronicle.com
.
SF Muni TWA 250 A Drivers "Resoundingly" Reject Concessions Pushed By Union Officers and Management
http://www.sfgate.com/cgi-bin/article.cgi?f=/c/a/2010/02/17/BA3J1C2MGG.DTL
Muni operators reject concessions
Rachel Gordon,Michael Cabanatuan, Chronicle Staff Writers
Wednesday, February 17, 2010
Muni operators resoundingly rejected on Tuesday a package of negotiated labor concessions intended to save nearly $15 million in operating expenses over two years - money intended to stop a proposed increase in discounted passes for seniors, youth and the disabled and to blunt service cuts, according to the agency's top official.
"I'm very disappointed with the outcome of the union membership's vote regarding the labor negotiations," said Nathaniel Ford, executive director of the Municipal Transportation Agency. "We are trying to avert fare increases and further cuts that will affect our riders."
Union President Irwin Lum had signed off on the deal after several days of closed-door negotiations with Mayor Gavin Newsom, Muni management and the union's executive committee.
After the ratification vote, Lum said a majority of his members believed that benefits to riders - especially seniors, the disabled and youths - were not guaranteed and would be short term.
He also said operators wanted protections against layoffs, which were not part of the proposed deal.
"Our members have made it clear from the vote itself that these are concerns and issues that are bottom line for us before anything can be ratified in the future," Lum said.
Ford provided the tally to The Chronicle: 575 in favor and 857 against. The union represents about 2,000 operators.
Ford said he has a meeting scheduled with Lum today and will see what, if any, additional steps can be taken to try to salvage the plan.
Muni's governing board is scheduled to vote Feb. 26 on a budget-balancing plan to close a projected $16.9 million deficit for the current fiscal year. Later, directors must address a projected $53 million deficit for the budget cycle that begins July 1.
Agency officials had wanted to use the proposed labor concessions to undo this year's plans to double the cost of the discounted passes to $30 and to reduce the proposed 10 percent systemwide service cuts to 8 percent.
The biggest cost saver under the proposal would have required operators to make a one-time contribution to their pension fund that would save $8.9 million.
Another component called for a change in overtime rules that would have prohibited drivers from earning higher overtime pay until they first log 40 regular hours on their weekly timecard.
As it now stands, Muni operators still will receive an automatic raise next year totaling $8 million.
Their salary is set by a formula outlined in the City Charter that guarantees them the second-highest salaries among transit operators in the nation.
Supervisor Sean Elsbernd said he will start collecting signatures for a ballot initiative to undo the minimum salary mandate and force Muni operators to negotiate their pay through collective bargaining.
"Now we're going to go out there and hit the streets," Elsbernd said. "City Hall has proven it's not up to the challenge, but I guarantee you it is something that the public wants us to do."
E-mail the writers at
rgordon [at] sfchronicle.com
and
mcabanatuan [at] sfchronicle.com
.
NO more givebacks.
Our 18 month wage freeze was enough. When we refuse to make concessions, the
State then finds other money and other options. Let's stay firm!
NO more dis-information.
This is not an economic crisis, it is a strategic economic attack - on us!
The "City" is not in dire straights, working people are in dire straights
NO more phony union solidarity
Union Solidarity does not mean "shared giving back" and "shared guilt tripping"
It means shared struggle and fighting back. It means setting the right example!
NO shortage of money
$1 trillion to rich white bankers
$700 million per day to kill Iraqi and Afghani working families
millions for the police to attack and arrest Black and Mexican youth
millions for prisons to lock up Africans and Latinos
$2 billion for high speed rail
millions to gentrify Trans Bay Terminal
millions for management salaries and benefits
tax breaks for developers of high end condos
free land in Hunters Point/Bayview for the Lennar Corporation
Billionaire Residents Rule San Francisco
ARE THEY SHARING THE PAIN? ARE THEY EXPERIENCING AN ECONOMIC CRISIS?
Norman Stone, heir to insurance tycoon , 27xx Broadway St.
Peter Haus, Levi Strauss heir, $2.2 billion 28xx Broadway St.
Peter Sperling, U. of Phoenix heir, 28xx Broadway St. - $1.5 billion.
Larry Ellison, Oracle founder, 28xx Broadway ST. $18 billion.
Gordon Getty ,Getty Oil , 28xx Broadway St. $2.5 billion - NEWSOME "Godfather"
George Jewett, Weyerhaeuser heir, 29xx Broadway St.
Name: Larry Page--Net Worth: $15.8 * Name: George Roberts -Net Worth: $6
Name: Bechtel Family - Net Worth: #11 - WAR PROFITEERS
Name: George Lucas - Net Worth: $4.0 * Name: Ray Dolby - Net Worth: $2.9
Name: William Randolph Hearst III Family - Net Worth: $5 billion - OWNS THE EXAMINER
Name: John Pritzker Net Worth: $1.9 -FAMILY ADVISOR TO OBAMA CAMPAIGN
RESIDENT S.F. BILLIONAIRES CONTINUED ... Forbes.com - Google - Wikipedia -zombie.com
Name: Donald Fisher Family - Net Worth: $6 * Name: James Coulter - Net Worth: $2.1
Name: Thomas Steyer - Net Worth: $1.5 * Name: Peter Thiel -Net Worth: $1.3
Name: Walter Shorenstein & family - Net Worth: $1.3 - SAN FRANCISCO REAL ESTATE
MULTI-MILLIONAIRE BOSSES OF SAN FRANCISCO
THE DEMOCRATIC PARTY CONNECTION
( is their "City" in dire straights? )
-Diane Feinstein and Richard Blum
In 1980, she married Richard C. Blum, an investment banker. In 2003, Feinstein was ranked the fifth-wealthiest senator, with an estimated net worth of $26 million. By 2005 her net worth had increased to between $43 million and $99 million.
-Nancy Pelosi
The Pelosi family has a net worth of nearly $12.5 million as of 2008 . In addition to their large portfolio of jointly owned San Francisco Bay Area real estate, the couple also owns a vineyard in St. Helena, California, valued between $5 million and $25 million. Pelosi continues to be among the richest members of Congress.
-Gavin Newsom
On June 14, 1991, Newsom and his investors created PlumpJack Associates L.P. In 1992, the group started the PlumpJack Wine Shop on Fillmore Street in San Francisco with the financial help of his family friend Gordon Getty. Getty treated Newsom like a son . The business grew to a multi-million dollar enterprise with over 700 employees. Newsom's annual income was greater than $429,000 from 1996 to 2001. In 2002, his business holdings were valued at more than $6.9 million.
He is currently the president in absentia of Airelle Wines Inc., which is connected to the PlumpJack Winery in Napa County (the Pelosi's also own vineyards). Newsom earned between $141,000 and $251,000 in 2007 from his business interests
WORTH READING
One Africa, One Nation - Omali Yeshitela
Overturning A Culture of Violence - Penny Hess
The Shock Doctrine - Naomi Klein
A Little Matter of Genocide - Ward Churchill
The American Holocaust - David Stannard
Bury My Heart At Wounded Knee - Dee Brown
From A Native Daughter - Haulani Kay Trask
Slavery By Another Name - Douglas Blackmon
Complicity: How the North Profited from Slavery - Anne Farrow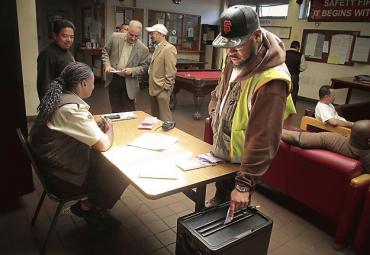 TWU 250a Drivers Opposed a Concession Contract Pushed by TWU 250a Pres Eric Williams and former mayor Willie Brown
We are 100% volunteer and depend on your participation to sustain our efforts!
Get Involved
If you'd like to help with maintaining or developing the website, contact us.