From the Open-Publishing Calendar
From the Open-Publishing Newswire
Indybay Feature
The 22nd year of Fresno Food Not Bombs Saturday serving celebrates with a fundraiser Sunday January 14th, 2018.
For 22 years now, a local group known as Food Not Bombs has delivered a meal every Saturday at Roeding Park that takes place at 1:00 PM near the the entrance at the tennis court cul-de-sac. There being such a thing as a free lunch means a great deal to those who enjoy these high quality gourmet dishes and world class vegan chili beans made by individuals who continually strive to set higher standards and raised expectations. These meals and the occasional availability of clothing or sleeping bags and so forth actually make a very big difference in lives that are spent surviving out of doors most of the year.

To a degree, that might seem obvious. No one passing through Fresno is unaware of our exceptional homelessness issues. Whether people realize it, these folks are lifetime residents with numerous tragic causes leaving them alone on the streets. Considerable efforts are made by numerous volunteer organizations and individuals every year, but headway seems a difficult task. Every tent or sleeping bag donated is subject to immediate theft and vandalism, perhaps by other needy and unscrupulous individuals, perhaps by those paid to "serve and protect", perhaps by clean up crews of hired homeless taken out to clean up unauthorized camp sites. As if there was another kind.

Because a group of local activists came together in response to indifference and enmity exhibited by conservative policy makers and pundits who continually cut services and mock compassionate care in this bottomless downward spiral, Food Not Bombs became a thing in Fresno, California in 1996. And it was good. They probably never suspected it would continue for 22 years, but clearly their intentions were enduring and the accomplishment incredible.

With the long time continuing support of Wesley United Methodist Church and the use of their kitchen, a remarkable meal has been produced every Saturday since, using food donated by Whole Foods and other generous suppliers. This seven or eight course meal is built upon a staple of brown rice and pinto beans regularly donated by volunteer Mary Ann Quann, and a world famous salad, made with magic, love and skill, something that is always assured when Gail McCabe and Robin Landseadell show up. And show up they have. They have showed up for more Saturdays than anyone I know, which is to say just about every single, for a very, very long time. Devilish doorstep Angels who have done more for the folks who come out to eat at Roeding Park than anyone, without a stitch of recognition or acknowledgement. Their endless duties include cleaning the kitchen after opening it first thing in the morning and receiving donations, starting the rice, beans and soup and working the produce selection.

Taking extra steps to amplify extraordinary flavors from limited options, drawing admiring remarks from passing noses, and when the serving begins people return to the line as quickly as they taste their first cup. The heartfelt thank you's and satisfied palates rarely see the two people who spend the most time on the meal, because their responsibilities and the logistics of the meal keep them in the kitchen until the meal has been served.

Considering how emotional and powerful the reception is to their work, it is a shame that experience has to be relayed. Considering how much time and skill they bring to this thankless volunteer career they have forged together, it only adds to the mystique of these juggernauts that they soldier forth AND NEVER COMPLAIN. Most people might, and certainly the delivery driver does.

Lately the delivery driver has been complaining about breaking both available trucks to the point of having nothing to haul with. Let alone drive. Knowing the timeframe for repair and replacement, it becomes a question of borrowing vehicles suitable for hauling the impressive amounts of food, tables and serving equipment. The real downside of borrowing and wearing out someone else's vehicle is the amount of time it adds to the daily procedures picking up and returning a vehicle, which cuts further into time available for patchwork or permanent repairs to tired expired steeds.

While this is not the worst obstacle in our path, it brings to mind the tenuous strand of required elements in a regular serving. Were sickness or injury or some other emergency to befall, right now, there might be no real substitute for transportation. It could happen and we would like to expand our circle of participants to reduce that risk.

If there are people in the Fresno area who would like to be involved performing an effective service for the homeless community that lives near Roeding Park, we need you to let us know. The bottleneck of transportational logistics has limited what we can bring out and in particular impacts the opportunities for providing blankets, sleeping bags, tents and clothing. These winter necessities should be better provided, but the quantity of food being moved in one vehicle restricts even water or tea from being taken along. That is the sound the deliver driver makes when complaining.

There is another sound you can hear if you listen carefully. Voices telling their stories. How being hit by a car and hospitalized was bad enough. Getting out of the hospital and being beaten unconscious outside the Poverello House by pushy drug dealer. Waking up back in the hospital being intubated, resisting refusing and walking out with a sheet to sleep in front of the Park trying to make sense of life's insanity, truly hungry and cold.

And the sound you hear when told about waking up to a miraculous Food Not Bombs serving and access to needed blankets, food and friendship in the aftermath of that nightmare. That is a bell ringing in your head, letting you know how two Angels got their wings, and the reasons for doing what they do are now, clear as a bell. Thank you Gail and Robin for the patience you show other people who have yet to figure out why this needs to be done, and the work you do.

Please join the remarkable crowd of supporters, participants and volunteers of Fresno Food Not Bombs at the Full Circle Brewery this very Sunday, January 14th, 2018 for the latest annual fundraising extravaganza for our Saturday meal. The costs of providing safe serving containers and quality meals are met for most of the year because of these incredible concert/potluck/chili contest/talent expositions put on by the heartily undersung Blake Jones and the bad boys who work up the room like nobody else THE TRIKE SHOP!

These characters need no introduction, but they do need to be recognized for their endless string of mind blowing concert events staged for our benefit. This kind of support is really hard to describe. Mr Jones and company have done something so significant for what appears to be 15 years now...

What can you say about it that holds a candle to the actual deed? These are the people that need to hear the words of thanks and see the difference they make. That they do it without the relentless positive feedback they generate is a testament to the bell they already heard.

Join us for the best time this year in Fresno at the Full Circle to see these wondrous creatures and enjoy the dishes they will bring. Vegan chili beans and cornbread will be waiting with any number of sweet surprises, all surrounded by spectacular music and delicious beverages on tap at the Full Circle Brewery.

Treat yourself and a friend to a great time, and help support the weekly meals served at Roeding Park!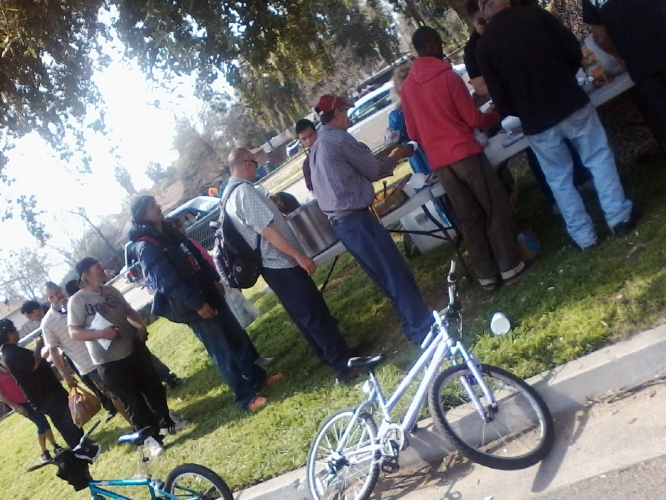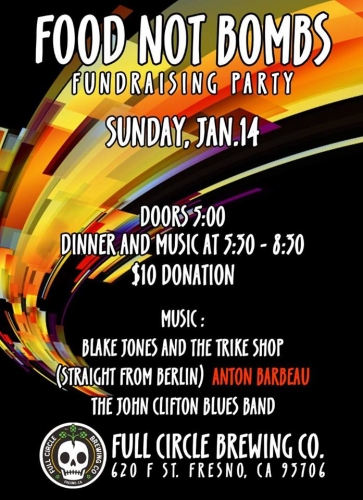 We are 100% volunteer and depend on your participation to sustain our efforts!
Get Involved
If you'd like to help with maintaining or developing the website, contact us.