From the Open-Publishing Calendar
From the Open-Publishing Newswire
Indybay Feature
Related Categories:

Santa Cruz Indymedia | Police State & Prisons
New Year to See Fuller Body Worn Camera Deployment
Rialto and Las Vegas Studies Informative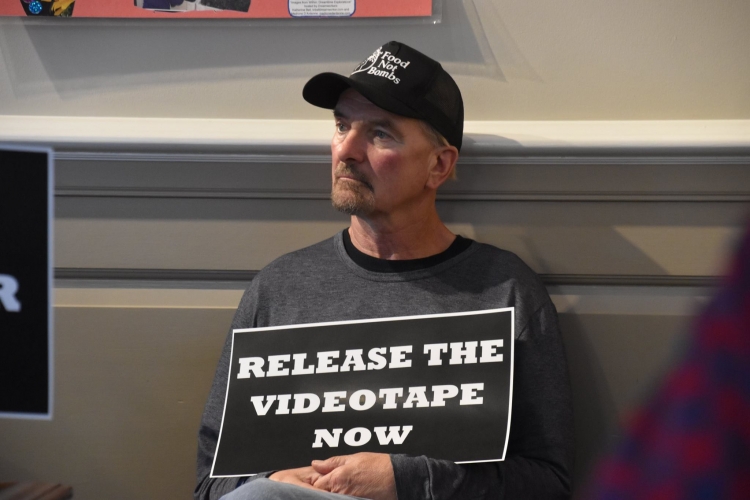 At the May meeting of the Chief's Advisory Committee, members provided citizen input into a draft policy of use for body worn cameras. A month-long pilot program for body worn cameras involving 11 Santa Cruz Police Department (SCPD) officers was begun in July and the results of that program have now been reviewed by command staff. A larger deployment of body worn cameras will come on line at the beginning of 2018 and it is a particularly appropriate time for the community to review the efficacy of this policing tool. Readers should note that the Santa Cruz County Sheriff's Department rolled out their body worn camera deployment in January, 2017 and the City of Capitola has been using this technology since July, 2016.

In recent years the use of police body-worn-cameras by police has received extensive media attention. These devices are commonly believed to achieve several aims, including: reducing police use-of-force and excessive complaints against officers, enhancing police legitimacy and transparency, increasing prosecution rates and improving evidence capture by the police. The publicity has been so great that many go on to assume that cameras can fundamentally change 'flawed' police practices. Indeed, deployment of body-worn cameras has been suggested as a means prevent racial profiling and as a mechanism through which "dented public confidence" could be restored. Although racial profiling by our department has not been a glaring issue, certainly past events have "dented" both public confidence and trust.

In terms of the prospective benefits to both the department and the community with respect to more accountable and transparent police practices, a study undertaken by Rialto, California is very instructive. Although Rialto is half again more populous than Santa Cruz at roughly 100,000 residents, their number of sworn officers at 115 compares favorably our departments 96. Their experiment tested, for the first time, the effect of mobile cameras on police use-of-force and citizens' complaints. The outcomes suggested a reduction in the total number of incidents of use-of-force compared to control-conditions. They observed nearly ten times more citizens' complaints in the 12-months prior to the experiment, compared to any of the three years prior to the experiment. In practical terms, the study provided law enforcement agencies with a methodology that may substantially reduce force responses, as well as reducing the incidence of complaints and may positively affect police-public encounters. The study acknowledged that the deployment of body worn cameras may raise ethical issues as well as pose problems of privacy and confidentiality, but the study concluded that, on average, the benefits of using body-worn-cameras outweigh the costs.

Another perhaps more relevant study was undertaken on Las Vegas. As a preliminary observation, it is interesting to note that in response to an office involved fatal shooting in 1997, communities throughout the Los Vegas Metro area, including communities of color, joined in a successful effort to establish an independent citizen police review board with subpoena powers and the authority to recommend sanctions for police misconduct. Establishment of a local citizens review board could provide the kind of oversight that could make body worn cameras more effective as a police misconduct deterrent tool.

A yearlong study of police body-worn cameras shows Las Vegas Metro Police officers were less likely to use force while wearing the recording devices. The Las Vegas study was conducted by UNLV and the Center for Naval Analyses in conjunction with Metro from September 2014 to October 2015. It placed body-worn cameras on 200 Metro patrol officers, while tracking 200 other officers without cameras. Among those wearing cameras, the study showed a 37 percent reduction in the number of officers involved in at least one use-of-force incident and a 30 percent reduction in the number of officers with at least one complaint filed against them. The study estimated the cameras could save Metro $4 million a year as the result of fewer complaints and the quicker resolution of complaints.

"Our research supports the notion that body-worn cameras produce positive benefits for police departments and the communities that they serve," said James Coldren, managing director for justice programs with the Center for Naval Analyses.

"They contribute to safety, produce significant efficiencies for police departments and enhance accountability for officers and civilians alike," Coldren said.

Officers wearing the cameras issued 6.8 percent more citations and made 5.2 percent more arrests than officers without cameras, the study found. The demographics of the two study groups were similar in terms of gender, ethnicity, age, length of service and the number of previous complaints filed against them. "This gives us great confidence in the findings and allows us to assume that what we found regarding the officers in the study applies to the entire patrol division," Coldren said.

Each body-worn camera costs between $828 and $1,097 a year, which includes one-time and recurring costs. The study estimates each camera will have a net annual savings to the department of $2,909 to $3,178.

"They say a picture is worth a thousand words and in law enforcement, that picture — or video in this case — is often the only thing that can prove or disprove something happening," Clark County Sheriff Joe Lombardo said. "Body-worn cameras are now a standard piece of equipment for our patrol officers," said Lombardo, noting that Metro has deployed 1,950 cameras.

"What is unique is how we are using the information to inform our public about the most controversial incidents we deal with, such as officer-involved shootings," the sheriff said. "Footage from body-worn cameras is also being used to find training weaknesses and strengthen our tactics." Some officers were initially skeptical about the cameras, fearing they would be too intrusive, but most have come to embrace the technology, Lombardo said.

Over the last year, body-camera footage has cleared 462 officers of alleged wrongdoing. There were 42 incidents that required further investigation, some of which required discipline, and one officer was terminated as the result of video evidence. "They quickly found out they became their best eyewitness," Lombardo said. "The fear shouldn't be what happens if you release the footage; it should be what will happen if you don't."

Metro has routinely released body-camera footage from high-profile and controversial incidents, including officers responding to the Oct. 1 mass shooting on the Las Vegas Strip. "Some of the general public has never had any insight on law enforcement, other than being arrested or dealing with them in a negative way," Lombardo said. "Body-worn cameras have brought out the positive in law enforcement and the professionalism of this department."

"The more important piece for me is the accountability associated with body-worn cameras, bringing transparency to the department and public trust," he said. "I think we have achieved that with the project, and we will continue into the future."

We are fortunate that our community is policed by a department that has no historical pattern of excessive force or brutality. Yet, instances like the tragic officer involved death of Sean Arlt raised serious questions about accountability and transparency that may have been militated had body worn cameras been in department-wide use at the time. Moreover, the participation by our department in Department of Homeland Security inspired ICE raids and the incomplete and misleading reports that followed highlight the need for a visually recorded account of police procedures generally. The leadership of Chief Andy Mills and the clear department narrative with respect to operational transparency and non-cooperation with ICE is both hopeful and encouraging, but the need for such transparency and accountability remains. In my view, the deployment of body worn cameras will move our department and our community closer to the full accountability and transparency we owe to those who protect and serve and to ourselves as a law-abiding community. This is a shared responsibility that serves both public safety and public policy.

We are 100% volunteer and depend on your participation to sustain our efforts!
Get Involved
If you'd like to help with maintaining or developing the website, contact us.