From the Open-Publishing Calendar
From the Open-Publishing Newswire
Indybay Feature
View other events for the week of

1/ 4/2018
Intern Day Of Action To Defend Framed Lac-Mégantic Rail Workers-Stop One Person Trains
Date

Thursday January 04

Time

12:00 PM

-

1:00 PM

Import this event into your personal calendar.
Location Details
San Francisco Canadian Consulate
580 California St. San Francisco, California
Event Type

Press Conference

Organizer/Author
RWU-WSAN

1/4/18 International Day Of Action To Defend Framed Lac-Mégantic Railway Workers-Stop One Person Crews And Destruction Of Health & Safety Standards in Transportation System

1/4/18 Thursday Jan 4th, 2018

Press Conference and Rally in San Francisco on Thursday Jan 4, 2017 at 12:00 noon at the

San Francisco Canadian Consulate 580 California St. San Francisco, California

Additional information about actions in the US and internationally will be forthcoming.

On Thursday January 4, 2018 there will be an international day of action to defend three USW Canadian railway workers. Locomotive engineer Tom Harding is one of three former Montreal, Maine and Atlantic (MMA) railroad employees along with operations manager Jean Demaître and railway traffic controller Richard Labrie who were each charged with 47 counts of criminal negligence causing death in connection with the deadly derailment and explosions at Lac-Mégantic that killed 47 people. As a direct results of the elimination of crews leading to a one person crew, this disaster was man made by the corporations which are eliminating railway safety protections and who control the politicians. The Canadian government in fact like the US government is controlled by these same rail bosses who are only interested in more profits at the cost of lives, communities and the environment.

Increasing rail wrecks and explosions throughout North American are endangering workers, members of the community and creating havoc. These so called "accidents" around the world are a direct result of deregulation, privatization and the attack on transportation workers and their unions.

Not surprisingly, no charges were brought against MMA owner Ed Burkhardt or against the federal Conservative government that allowed the use of single-worker train crews without an inquiry into the implications of its decisions.

The scheme to blame the workers for these disasters is a cynical ploy to shift the real responsibility for the growing number of transportation catastrophes taking place in North America and in country after country.

We call for the dropping of charges and for the real criminals who are the executives of MMA and the government officials to be prosecuted for endangering the community and the workers.

Put the real criminals on trial!

In San Francisco there will be a press conference and protest at the Canadian Consulate at 12:00 noon. The consulate is located at 580 California St. San Francisco.

This international day of action has been endorsed by

Workers Solidarity Action Network

https://www.facebook.com/workerssolidarityactionnetwork/ http://www.workerssolidarityactionnetwork.org

Railroad Workers United

http://railroadworkersunited.org

United Public Workers For Action

http://www.upwa.info

Additional media:

http://railroadworkersunited.org/lac-megantic/ https://static1.squarespace.com/static/505b96a8c4aa40a37a143c49/t/5814d3da37c581849ea8c40e/1477759962784/If+you+Care+About+Rail+Safety+Yoiu+Must+Support+Tom+Harding.pdf http://www.cbc.ca/beta/news/canada/montreal/mma-lac-megantic-trial-jonathan-couture-1.4423964 http://www.themilitant.com/2015/7905/790553.html http://www.cbc.ca/

…/lac-megantic-criminal-trial-begins-sher…

http://www.newswire.ca/

…/steelworkers-local-gives-70000-to-…

https://www.ble-t.org/pr/news/headline.asp?id=39797 http://hardingdefense.org http://www.newswire.ca/news-releases/steelworkers-local-gives-70000-to-railway-workers-defence-fund-515129641.html http://www.cbc.ca/news/canada/montreal/lac-megantic-criminal-trial-begins-sherbrooke-1.4315201 http://jordanbarab.com/confinedspace/2017/10/24/lac-megantic-trial/

WW12-26-17 EPA And Workers Under Attack, Richmond Bans New Charters And Rail Workers On Trial at Lac-Mégantic In Frame-up

https://soundcloud.com/workweek-radio/ww12-26-17-epa-richmond-charters-and-rail-workers-on-trial

WorkWeek radio examines the growing crisis at the EPA and the need to have labor united to defend our air, water and environment. We interview Kathy Setian who is a delegate on the SF Labor Council from IFPTE Local 20.

Next we look at the action of the Richmond City Council to pass a zoning moratorium on all new schools. We interview Arto Rinteela who is president of Fairmede Hilltop Neighborhood Council President and a member of UBC Millwrights Local 102

Lastly we discuss the railroad workers campaign to free framed up rail workers as result of the Lac-Mégantic wreck that killed 47 people. We interview Railroad Workers United RWU and Workers Solidarity Action Network WSAN member Mark Burrows who is a retired SMART 1433 Canadian Pacific railroader and is helping to organize the defense campaign. We also interview Fritz Elder who is a veteran Locomotive engineer, and chair of the Lac-Mégantic rail workers defense committee and a special rep for Railroad Workers United RWU.

Three workers have been criminally charged from this event and unionists are organizing an international defense campaign.

Additional media:

https://www.nytimes.com/2017/12/22/climate/epa-buyouts-pruitt.html https://youtu.be/gDGZHVu908k https://www.youtube.com/watch?v=t2iLwKGimHA http://hardingdefense.org/ http://railroadworkersunited.org/lac-megantic/ https://static1.squarespace.com/static/505b96a8c4aa40a37a143c49/t/5814d3da37c581849ea8c40e/1477759962784/If+you+Care+About+Rail+Safety+Yoiu+Must+Support+Tom+Harding.pdf http://www.cbc.ca/beta/news/canada/montreal/mma-lac-megantic-trial-jonathan-couture-1.4423964 http://www.themilitant.com/2015/7905/790553.html http://www.cbc.ca/

…/lac-megantic-criminal-trial-begins-sher…

http://www.newswire.ca/

…/steelworkers-local-gives-70000-to-…

https://www.ble-t.org/pr/news/headline.asp?id=39797 http://hardingdefense.org http://www.newswire.ca/news-releases/steelworkers-local-gives-70000-to-railway-workers-defence-fund-515129641.html http://www.cbc.ca/news/canada/montreal/lac-megantic-criminal-trial-begins-sherbrooke-1.4315201 http://jordanbarab.com/confinedspace/2017/10/24/lac-megantic-trial/

Production of WorkWeek Radio

workweek [at] kpfa.org https://soundcloud.com/workweek-radio

Added to the calendar on Wednesday Dec 27th, 2017 11:28 AM
The Lac-Mégantic train wreck which killed 47 people was a disaster waiting to happen as a result of deregulation and attacks on health and safety of workers on the job. The government is now put the railroad workers on trial for the deaths that the companies and their captured government have created.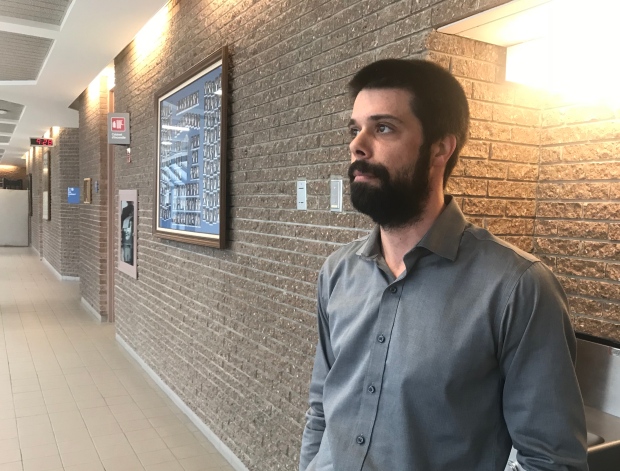 USW locomotive engineer Thomas Harding is one of three possibly facing prison for a Canadian government frame-up for a accident made by the companies drive for greater profits at the cost of lives. The growing number of train wrecks with Amtrak in WA and other wrecks throughout the US are a direct result of lack of funding and attacks on health and safety conditions of the workers.
We are 100% volunteer and depend on your participation to sustain our efforts!
Get Involved
If you'd like to help with maintaining or developing the website, contact us.