From the Open-Publishing Calendar
From the Open-Publishing Newswire
Indybay Feature
San Francisco's Own Da Vinci Code Reviving the Sacred Feminine
Controversial book just published about an ancient code in Haight Ashbury San Francisco Victorian architecture and art telling the historical identities of Jesus and Mary Magdalene and their children and descendants. A completely new and original angle on a very ancient story that myth busts standard Holy Grail theories and new age workshops. San Francisco's own real life Da Vinci Code and temples to the Sacred Feminine sitting in plain site for over a century. Keep reading for discount coupon codes …
http://www.blurb.com/b/8374797-coded-history-haight-ashbury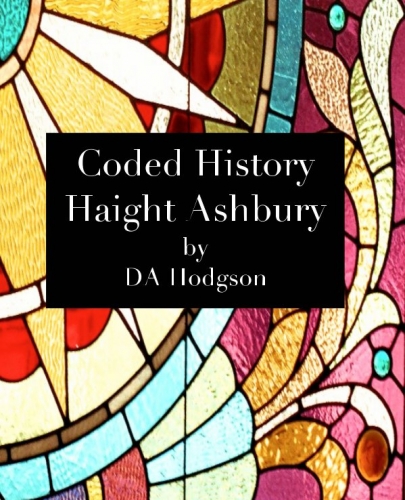 Coded History Haight Ashbury is a code book about symbols in art and architecture in Haight Ashbury and the Palace of the Legion of Honor Museum of Art in San Francisco. The symbols tell the real identities of the historical people that literary Jesus and Mary Magdalene of the Bible were based upon. It also tells the identities of their children and descendants and how to track them in history to present day… Plus more hidden histories and coverups about the Knights Templar coming to California 700 years ago and the ancient cult of the Sacred Feminine.
Coded History Haight Ashbury is researched, authored, and photographed by Australian art historian and blood royal descendant DA Hodgson, who has been living in Haight Ashbury for 18 years.
"There is a symbolic code we learn the basics of as children, it is called heraldry. As I grew up my observations and art history study increased to turn it into a language alike to Egyptian hieroglyphs. Add that to insider knowledge about royal family customs and a different version of history to the mainstream emerges. A version of history that puts Jesus and God and the Goddess into a more reality based perspective. The information is from art history research, as well as genealogical research from real royals who are descendants, and royal family insider traditions and family history research. The information goes against the mainstream movies and Sunday School Bible history and is very controversial, but it is family history and art history that can be tracked, not scholars' theory or Da Vinci Code fan fiction."
Coded History Haight Ashbury is also a fabulous travel photo album of the whimsical Victorian houses in the infamous Haight Ashbury neighborhood where the Summer of Love was revolutionized and the USA Knights Templar Commandery No. 1 was located.
Over the last couple of decades more Victorians have been restored to bring out their original ornate beauty and secret symbolic code celebrating the real Jesus and Mary Magdalene and the Sacred Feminine. The decodings of each symbol not only build a story of the historical Jesus and Mary Magdalene, but also their children and descendants. Coded History Haight Ashbury also decodes, myth-busts, explains, and puts into perspective many popular fairytales and folklore throughout the ages, such as Halloween pumpkins, black cats, angels, laughing skulls, Goddess worship, and more.
The book is a delight to read or to just browse through the original images of Victorian architecture and leafy character filled streets of Haight Ashbury and La Belle Epoque art.
An app is also in the works. A new form of entertainment and design research that instead of repeating old legends and myths it decodes them into real history. Based on the book Coded History Haight Ashbury, 7 years research by Australian art historian DA Hodgson, resident of Haight Ashbury.
A tour app that identifies symbols in art and architecture and tracks them to legends and people the legends were inspired by. Legends such as the Holy Grail, Knights Templar, Halloween, Greek, Celt, and Egyptian Gods, the Bible and Da Vinci Code.
Delivering surprising controversial alternative histories for real adventure to keep users enthralled. To sample the controversial results get the first book now at
http://www.blurb.com/b/8374797-coded-history-haight-ashbury
The app has multiple educational, research, and commercial applications and global markets in design, architecture, interior design, fine arts, heritage restoration, literature, tourism, and real estate. Plus fun original entertainment for fans.
Many USA friends have been through bush fires, hurricanes, and other disasters recently, I googled some discount coupons to Thank You for your support and to say Happy Christmas and Happy Holidays…
Discount Coupons for your Readers
1) Buy the book Coded History Haight Ashbury here
http://www.blurb.com/b/8374797-coded-history-haight-ashbury
2) Go to CodedHistory.com and click Shop for instructions for Holiday Discount Coupons
And like us on
http://facebook.com/codedhistory
Author's Web Site
http://CodedHistory.com
We are 100% volunteer and depend on your participation to sustain our efforts!
Get Involved
If you'd like to help with maintaining or developing the website, contact us.