From the Open-Publishing Calendar
From the Open-Publishing Newswire
Indybay Feature
Expanding Participation with the 2017 Ag Census in the "Farm to Fork Capitol of America"
California Black Farmers and Agriculturalists have an ongoing community based partnership with the National Agriculture Statistical Service. We encourage active civic participation by new, returning and seasoned Agriculture producers to identify gaps in service delivery necessary to reduce gaps of economic parity and epidemic levels of health disparities that ravage our communities.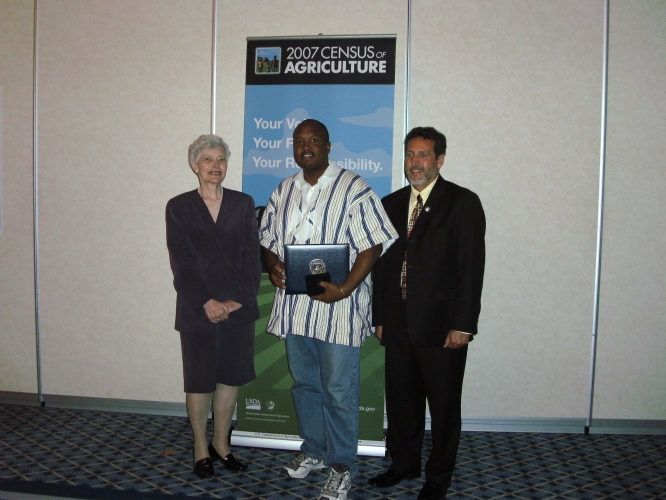 Federal, State and Local leaders in our "Farm to Fork Capitol of America" are proud to showcase efforts to encourage participation in the 2017 Census of Agriculture.

The 2017 Census of Agriculture questionnaires are being sent to California Ag producers. The Department of Agriculture's (USDA) National Agricultural Statistics Service (NASS) starts mailing the 2017 Census of Agriculture to the nation's producers this week. For the first time, Urban Agriculture producers are being encouraged to participate.

Farm operations of all sizes which produce and sold, or normally would have sold, $1,000 or more of agricultural products in 2017 should be proactive in making sure they are counted. Conducted once every five years, the census aims to get a complete and accurate picture of American agriculture.

Today, California Black Farm Operators currently represent less than 1% of all California Farm Operators according to the 2012 Census of Agriculture. Nationwide, Black Agriculture producers represent less than 3%, yet once nearly 14% of all U.S. Farm Operators, 90 years ago. Black Farmers Operators remains grossly underserved, mirroring the systemic institutional discrimination of the past.

Financially, Black Farm Operators have an average value of sales of $21,340.00; the average for all U.S. Farm Operators is $134,807.00 according to the National Agricultural Statistic Service, (NASS).
Today, in far too many areas of our nation, access and participation with USDA programs for Black Farmers Operators remains grossly inadequate, California is poised to lead the way showcasing a new paradigm of equity, equal opportunity and new targeted solutions in both urban and rural communities; inclusive of food, fiber, freight, flower, forestry, fuel, and finance.

The 2012 Census of Agriculture data is being used by farmers, ranchers, trade associations, researchers, policymakers, and many others to help make decisions in community planning, farm assistance programs, technology development, farm advocacy, agribusiness setup, rural development, and more.

In the current US Farm Bill conversation there is no known traction for changing the current reality and targeting programs for the unique historic challenges by people of African ancestry throughout America.

"The Census of Agriculture is USDA's largest data collection endeavor, providing some of the most widely used statistics in the industry," said U.S. Secretary of Agriculture Sonny Perdue. "Collected in service to American agriculture since 1840, the census gives every producer the opportunity to be represented so that informed decisions can support their efforts to provide the world with food, fuel, feed, and fiber. Every response matters."

The Census of Agriculture is the only source of uniform, comprehensive, and impartial agriculture data for every state and county in the nation.

"Producers can respond to the census online or by mail. We highly recommend the updated online questionnaire. We heard what people wanted and we made responding to the census easier than ever," said NASS Administrator Hubert Hamer. "The online questionnaire now has timesaving features, such as automatic calculations, and the convenience of being accessible on mobile and desktop devices."

The census response deadline is on California Rosa Parks Day, Feb. 5, 2018.


We are 100% volunteer and depend on your participation to sustain our efforts!
Get Involved
If you'd like to help with maintaining or developing the website, contact us.