From the Open-Publishing Calendar
From the Open-Publishing Newswire
Indybay Feature
Related Categories:

Santa Cruz Indymedia | Racial Justice
NextDoor provides just enough anonymity for white citizens to let their racism fly.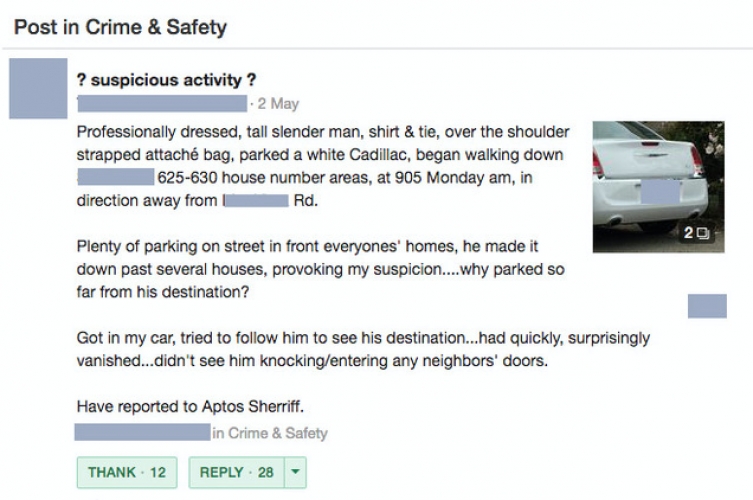 Let's face it, every person on the planet wants to live in a safe place. The well known American Psychologist Abram Mazlow places safety on the second tier of the Hierarchy of Needs just above food, water, warmth and rest. It's no wonder that social media apps like NextDoor, and Facebook are often used to try and make the places where people live more safe. Unfortunately, social media can be a double edged sword, and can also be used to spread false information. Spreading rumors, suspicions, and outright lies can get someone hurt, or worse. Sure, social media can make neighborhoods safer for some neighbors, but it can definitely make it more dangerous for others.

Scattered among the posts on NextDoor for lost pets, community events, and local politics, something much more sinister can bubble to the surface: Racism. In a white, wealthy dominated area like Aptos, as one's complexion darkens, the usefulness of such apps decreases. Somewhere along the line as posts about neighborhood safety increase in fervor, people with darker skin often transition from contributing and concerned neighbors, to becoming the subject of the post.

As this post on NextDoor Aptos illustrates, being a darker-skinned person walking around a quiet street in Seacliff, can get your description, a picture of your car, and a documentation of your activities added to the discussion. If you're African-American, Mexican-American or any other racial mix with more melanin in the basal layer of your epidermis, the title of your thread might be, "Suspicious Activity." What will your mostly white neighbors accuse you of? Looking dapper in a dress shirt and tie and driving up to a house in your new car…while not being white.

The original poster of this NextDoor thread was so concerned about seeing a well dressed, non-white human in their neighborhood, he had the presence of mind to jump in his car and give chase! Unfortunately for his white neighbors, the perpetrator, "quickly and surprisingly vanished." Spooky. Obviously he was up to up to no good!

As the thread moves forward, the original poster is thanked twelve times, mostly by white, middle-aged women. One poster states, "…our motto needs to be better safe than sorry." Safe for who exactly, I would ask? Did posting a photo of this guy's car make him safer? How about chasing after him in your car? Feel safer now?

Another alarmed neighbor adds, "Having lived in the Seacliff area for the past 20 years, I can attest that our neighborhood has become crime-ridden. It doesn't hurt anyone by calling the sheriff."

Oh yeah?

I'm assuming here, but what are the chances that the person who wrote that is white? Probably pretty high, it's ooozing with white privilege. Perhaps that poster is existing in a bubble and hasn't seen the countless news reports over the past dozen years or so where unarmed black men are slaughtered at the hands of police nearly weekly. So yeah, if you're white having the cops called on you for walking down the street doesn't hurt anyone, if you're black it could be a different story.

In defense of the sharp dressed man, one neighbor responds, "If you call the sheriff on someone who's on business, who's going to be sorry? The person whose day you've ruined…"

Finally, after lengthy debate about racial profiling and neighborhood safety, a person who is an acquaintance of the sharp dressed man puts the thread to rest, "…he is mixed, and he will be visiting me at least once a month."

One neighbor summed up the thread nicely:

"When I first read this post, I absolutely assumed that it was racial profiling. Nobody would have thought twice about a white dude walking down the street in a shirt and tie."

Precisely.

Aptos, check your racism.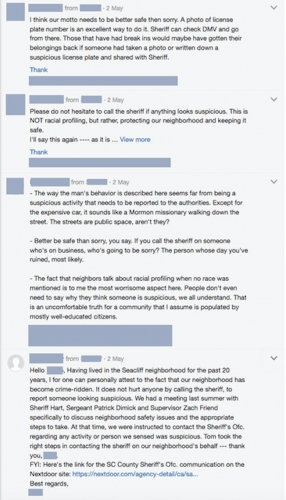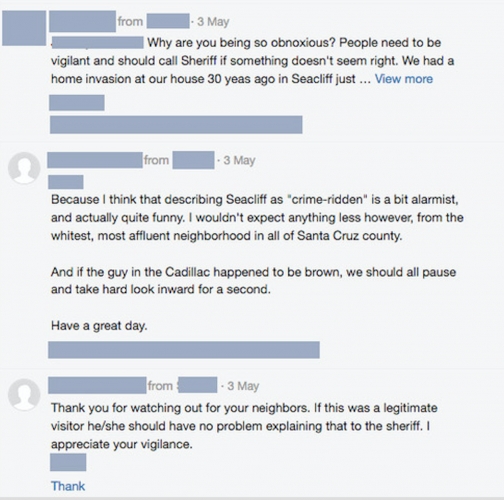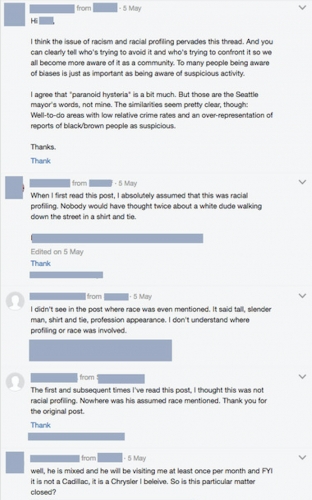 We are 100% volunteer and depend on your participation to sustain our efforts!
Get Involved
If you'd like to help with maintaining or developing the website, contact us.