From the Open-Publishing Calendar
From the Open-Publishing Newswire
Indybay Feature
Related Categories:

Peninsula | Arts + Action
Censorship Committee of Palo Alto Banishes Public Art Piece
Speaking in its own voice, the 7 foot tall egg-shaped public artwork sculpture brought its "anti-war/questioning the use of technology" message to the Censorship Committee of Palo Alto. Adriana Varella's sculpture appealed to the censoring group (also known as the Public Art Commission) at a meeting in Palo Alto City Hall on November 16. Despite requests from Palo Alto residents to give more time for public input, members of the committee, with hard hearts, voted unanimously and immediately to remove the statue from its collection and from the plaza.
Related article at:
https://www.indybay.org/newsitems/2017/11/18/18804620.php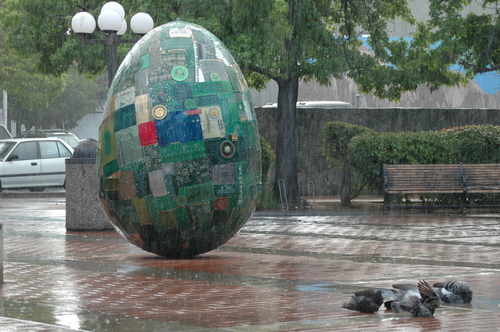 November 16, 2017
To: City of Palo Alto Public Art Commission
From: Digital DNA

One of my creators cannot appear before you today because you refused to move the meeting in spite of the fact that Adriana Varella has an art opening in New York City that was scheduled months before you sent her/him the letter announcing your decision to decommission her/his work.

I have learned that many members of the Palo Alto community were not aware that I, Digital DNA, was considered for decommission by the city.  Not being aware of it, they obviously had no ability to voice their opinion about whether I should stay or go. If you want truly to be a public art commission rather than a censorship committee, you must give the citizens of Palo Alto the opportunity to weigh in on me. Please give Palo Alto residents the opportunity to speak. More publicity on the issue is warranted. 

Contrary to what has been said by members of the commission, I'm not in a state of disrepair, but rather in need of basic maintenance which I have not had since 2010.   

I resisted once an ignorant neighbor who threw away all the circuits boards that Adriana spent 6 months embroidering because he didn't imagine these circuits could be transformed into art.
 
Later, I resisted an explosion and fire when I was in storage.  Adriana did everything again and even better, and I was reborn like a phoenix from the fire. And later I resisted developers, Italian fonts, ignorance about what contemporary art can be, and more. And now I face this death sentence from a group of people that just want to exterminate me.  I ask myself, "WHY? Why you want to kill me?"

It is my opinion, as well as that of many others, that the real reason there is a push to remove me is not my state, but instead my content -- the political message embedded in me which talks about how our modern technology can enslave us.

It is perhaps no coincidence that one of the members of this commission is an employee of Palantir Technologies. Palantir works with federal agencies like ICE, building data tools for immigration enforcement that look suspiciously like a Muslim registry. It is no secret that Palantir is in the business of assisting the government in surveillance of its citizens. 

When a Public Art Commission starts using tricks of process and bureaucracy to facilitate removal of art for political reasons, it stops being an art commission, and becomes a censorship committee.   

Adriana presents you today with an art piece (photo attached) that will be displayed at her show currently opening in New York City.  The piece is titled Censorship Committee of Palo Alto.
 
I was designed to be in the heart of Palo Alto from its conception. I inspired the Twitter egg, and have become a focal point for gatherings in Lytton Plaza.  Removing me from this location will rob my message of contextual meaning and be a desecration. I urge you not to let Censorship Trump Art.

Please reopen the period of public opinion so my situation may be better publicized before you kill me.

Thank you,

Digital DNA
 

We are 100% volunteer and depend on your participation to sustain our efforts!
Get Involved
If you'd like to help with maintaining or developing the website, contact us.