From the Open-Publishing Calendar
From the Open-Publishing Newswire
Indybay Feature
SF Protest Against ADL Terrorism Against Professors Critical Of Israel/Training US Police
A protest was held on 11/13/17 at an San Francisco ADL conference called "Summit On Anti-Semitism" which was really a plan to increase the attacks on professors and students who are critical of Israel and also collude with tech companies to to use the internet to censor and frame-up opponents of apartheid Israel and supporters of BDS.
Protest ADL Terrorism Against Professors Critical Of Israel & Training Of US Police By Israeli Racist Police Apparatus-Stop This Racist Reactionary Organization Now!
Monday November 13, 2017 8:00 AM
Grand Hyatt On San Fracisco Union Square
345 Stockton St, San Francisco, CA 94108
On Monday November 13, 2017, the ADL is having a "Summit On Anti-Semitism" to supposedly oppose anti-semitism and discriminationo supposedly stop anti-Semitism and discrimination.
The Anti-Defamation League ADL presents itself as an organization fighting anti-Semitism and discrimination however the reality is far from their claims. During the rise of the Nazis, the B'nai Brith which established the ADL opposed the boycott of Nazi Germany and organized in the US against actions to demand the entry of Jews into the US who were escaping the Nazis.
This of course is at the same time that the Zionists in Palestine were inviting war criminals like Eichmann to support the establishment of a Jewish state which is what the Nazis wanted as well. The Nazis actually made a metal honoring the Zionists for their racist ideology of Jewish only state.
During the McCarthy witch hunts in the 50's, the ADL collaborated with McCarthy and the witch hunters and helped him get witnesses to testify against Communists and Leftists. They also were big supporters of the apartheid regime in South Africa. In Sasha Polakow-Suransky's book The Unspoken Alliance: Israel's Secret Relationship with Apartheid South Africa is exposed and the ADL played an important role in supporting the apartheid regime. It illegally used police information in San Francisco to target anti-apartheid activists and critics of Isreal. The ADL's special investigator/agent Roy Bullock was not only spying for ADL and Israel but the South African apartheid regime. On April 8, 1993, the San Francisco police raided the ADL office here because it was illegally spying on Americans and South African anti-apartheid activists and getting confidential information from a police detective Inspector Tom Gerard. They were also spying on groups like NAACP, ACLU, Greenpeace, ACT UP!, National Lawyers Guild, Mother Jones founder Adam Hochschild, reporters from the Los Angeles Times and KQED public television, and scores of local labor unions including the United Auto Works and Cesar Chavez's United Farm Workers.
They had to pay hundreds of thousands of dollars for their illegal activity because of a lawsuit but none of their leaders went to jail.
Targeting of Palestinian Professors, African American Professors and College Critics of Israel
What was also discovered as well during the case against them is that they had a black list of hundred of professors who were critical of Israel including African American professors. Using their national Zionist network and tens of millions of dollars they targeted professors from the US and Canada for harassment and firing by college administrators. This terrorism continues. They now are working with facebook to frame-up professors like Anthony Hall at Lethbridge University in Canada and they are harassing and terrorizing Palestinian students throughout the country charging that they are anti-semitic. The harassment of professors including San Francisco State professor Rabab Abdulhadi by the ADL and other Zionist organization continues along with her students who have been targeted with propaganda accusing them of being terrorists.
On top of this they are also pushing US police departments to get proper training to fight "terrorists" by the use of Israeli police. Of course the racist police in apartheid Israel have a record of murder and terrorism against the Palestinian people, supporters of Palestinian rights and also supporters of the boycott of Israel for it's racist discriminatory treatment of Palestinians.
When ILWU Local 10 members decided to boycott a Israeli owned Zim ship when a picket was put up by community supporters and other unionists, the ADL demanded that the ILWU members cross the line. "The ILWU should publicly disassociate itself from their hateful rhetoric about Zionists and Jews and the goal of the BDS campaign that is far outside the scope of ILWU policy."
We demand that no government agency collaborate with the ADL and that they be stopped from targeting critics of Israel." Their support for the apartheid regime gives a lie to their propaganda that they are against discrimination. They are also working to pass laws throughout the US that illegally discriminate against Americans who want to support the boycott of Israel. This obviously continues their record of also opposing the boycott of apartheid South Africa because it was being supported by Israel military equipment through the Israeli trade union federation the Histadrut. They continue their dirty work here and around the world.
https://theintercept.com/2017/09/15/police-israel-cops-training-adl-human-rights-abuses-dc-washington/
https://www.counterpunch.org/2002/12/23/51-documents/
http://www.webshells.com/companies/adlwatch/
http://www.zpub.com/notes/adl2.html
http://www.sfweekly.com/news/spy-vs-spite/
https://www.counterpunch.org/2013/06/12/adl-spies/
https://www.thedailybeast.com/anti-defamation-league-list-tars-human-rights-groups
Sponsored by
United Public Workers For Action
http://www.upwa.info
ISRAEL SECURITY FORCES ARE TRAINING AMERICAN COPS DESPITE HISTORY OF RIGHTS ABUSES
https://theintercept.com/2017/09/15/police-israel-cops-training-adl-human-rights-abuses-dc-washington/
Alice Speri
September 15 2017, 4:30 a.m.
IT'S NOT UNCOMMON for residents of America's most heavily policed neighborhoods to describe their local cops as "an occupying force." Judging by where many U.S. police forces get their training, the description seems apt.
Thousands of American law enforcement officers frequently travel for training to one of the few countries where policing and militarism are even more deeply intertwined than they are here: Israel.
In the aftermath of 9/11, Israel seized on its decades-long experience as an occupying force to brand itself as a world leader in counterterrorism. U.S. law enforcement agencies took the Jewish state up on its expertise by participating in exchange programs sponsored by an array of pro-Israel groups, like the American Israel Public Affairs Committee, the Jewish Institute for National Security Affairs, and the Anti-Defamation League. Over the past decade and a half, scores of top federal, state, and local police officers from dozens of departments from across the U.S. have gone to Israel to learn about its terrorism-focused policing.
Yet Israel's policing prowess is marred by its primary purpose: occupation. Israel has carried out a half-century of military rule in the Palestinian territories of the West Bank and Gaza, an occupation rife with abuses. The country's police and security forces also regularly violate the rights of Palestinians and immigrants inside of Israel's 1967 borders.
"A lot of the policing that folks are observing and being talked to about in these trips is policing that happens in a nondemocratic context," said Alex Vitale, a sociology professor at Brooklyn College and author of a forthcoming book on global policing. "It involves either military policing, border control policing, or policing of folks in the occupied territories who aren't full legal subjects in the Israeli legal system."
While attention on the militarization of American police forces has intensified in recent years, spurring some reforms that the Trump administration has already undone, U.S.-Israel police exchange programs have carried on without much public scrutiny.
This week, a delegation of top American law enforcement officers is in Israel for the ADL's National Counter-Terrorism Seminar, which includes training on topics, such as "leadership in a time of terror" and "balancing the fight against crime and terrorism," according to literature by the group advertising the trip. More than 200 law enforcement executives from over 100 departments in the U.S. and abroad, immigration enforcement agencies, and even campus police have participated in the ADL program since it launched in 2004.
Among this year's participants in the seminar is D.C. Metropolitan Police Commander Morgan Kane, whose attendance at the training earned the department a public rebuke from D.C. Councilmember David Grosso. "I am concerned that we are not doing enough to prevent the militarization of law enforcement in the District of Columbia," he wrote in a letter to Metropolitan Police Department Chief Peter Newsham. "Learning from military advisors is not what local law enforcement needs."
<09072017-Grosso-Letter-to-Newsham-on-Training-p1-normal.gif>
09072017 Grosso Letter to Newsham on Training
1 page
"It just occurs to me that it isn't a good idea, whether in Israel or another place, to go and train with a military or national police — in essence, learning from people who are better at the violent approach to conflict resolution," Grosso told The Intercept. "That's not appropriate for what we're trying to do here in D.C."
"We already have the FBI, the CIA, the Secret Service, we have so many national police here, heavily armed," he added. "We don't need more of that, we need more of a community-based approach."
A spokesperson for the D.C. police told The Intercept in an email statement that the department is participating in the training "to learn best strategies in combatting terrorism."
"Expanding our knowledge on counterterrorism and gaining valuable experience for the next generation of MPD leadership is critical to the safety and well-being of the residents and visitors of D.C.," the spokesperson wrote. "This opportunity will not allow us to deviate from our commitment to providing fair, unbiased, and constitutional policing."
In addition to meeting with their Israeli counterparts, American police on the delegations also visit representatives of the Israeli Defense Forces, as well as border security and intelligence services — essentially taking lessons from agencies that enforce military rule rather than civil law.
"It fits in with this ideology of police as warriors," said Vitale.
"The focus of this training is on riot suppression, counterinsurgency, and counterterrorism — all of which are essentially irrelevant or should be irrelevant to the vast majority of police departments," he added. "They shouldn't be suppressing protest, they shouldn't be engaging in counterinsurgency, and almost none of them face any real threat from terrorism."
The trainings in Israel also fit within a broader militarization of U.S. law enforcement that is well underway back home. Last month, President Donald Trump issued an executive order rescinding limitations imposed by former President Barack Obama on a military program, known as 1033, that allowed police departments to make discounted purchases of excess military equipment, like armored vehicles and grenade launchers.
Obama ordered the restrictions in 2015 after public outrage at the deployment of some of that equipment during protests against police abuse in Ferguson, Missouri, and elsewhere. Announcing the new measures in a speech to the Fraternal Order of Police, the largest police union in the country, Attorney General Jeff Sessions called that equipment "lifesaving," dismissing criticisms of police militarization as "superficial concerns."
Israeli forces arrest a Palestinian youth during clashes between demonstrators and security forces in the city of Hebron in the Israeli-occupied West Bank, on July 28, 2017. Photo: Hazem Bader/AFP/Getty Images
Marketing the Occupation
THE POLICE EXCHANGES WITH U.S. officers are premised on Israel's experiences with terrorism and its security forces' handling of continued risks. But Israel's record in carrying out its counterterror policies is checked with allegations of grave abuses. Founded amid a campaign of ethnic cleansing in 1948, Israel seized the West Bank and Gaza in 1967's Six-Day War and has since maintained its occupation — including by building civilian Israeli settlements in Palestinian territory, itself a violation of international law. Now, the same security forces accused of mistreating citizens and stateless Palestinian subjugates are training American cops.
Last year, the ADL's training included meetings with officials from Israel's internal security service, known as Shin Bet. The security agency was allegedly behind the surveillance, as well as the torture and targeted assassinations, of Palestinians in both Israel and the occupied territories.
The U.S. law enforcement officials on tour with the ADL also met with Israeli police special patrol units known as "Yasam" — paramilitary riot police whose excessive force and abuse of Palestinians is well-documented — and traveled to checkpoints, prisons, and Hebron. In Hebron, a city in the West Bank, some 200,000 Palestinians are barred from entering the old city center, where fewer than 1,000 Jewish settlers are protected by the same number of Israeli soldiers.
The ADL, a group with a nominal mission to oppose bigotry that has instead expended much of its energies on advocating for Israel, failed to devote much attention to Palestinian law enforcement. In 2016, the group's itinerary included a single meeting with a Palestinian police officer — from the Bethlehem Tourist Police.
A spokesperson for the ADL said in a statement to The Intercept that critics' suggestions that its programs contribute to police brutality and racism is "false and defamatory."
"On the contrary, ADL's law enforcement missions have a goal of doing exactly the opposite, by strengthening law enforcement's connection to the communities they serve," the spokesperson said.
In the past, the group condemned those drawing parallels between police abuse in the U.S. and Israel's occupation of Palestine. "There is a long history of using legitimate American social justice issues to undermine the Jewish state," a top official from the group wrote in the aftermath of the Ferguson protests. There is "no rational connection between the challenge of racism in America and the situation facing the Palestinians," the ADL official added.
Yet the criticism persists. The group Jewish Voice for Peace recently launched a campaign to bring greater public scrutiny to U.S.-Israel police exchange programs.
"These programs transform Israel's 70 years of dispossession and 50 years of occupation into a marketing brochure for 'successful' policing."
"These programs transform Israel's 70 years of dispossession and 50 years of occupation into a marketing brochure for 'successful' policing," Stefanie Fox, JVP's deputy director, wrote in an email to The Intercept. "Under the banner of 'counterterrorism' training, high-ranking police and immigration officials visit checkpoints, prisons, settlements, police stations, and other key sites that are central to Israel's policies of occupation and apartheid."
Law enforcement exchanges are marketed as an opportunity for American police to learn about counterterrorism from the field's self-appointed leader, but, for Israel's advocates, they are also seen as a way to sell a particular audience on pro-Israel ideology.
"[They] come back and they are Zionists," then-ADL regional director David Friedman said of the delegation's impact in 2015. "They understand Israel and its security needs in ways a lot of audiences don't."
That may just be the intended outcome.
"They are trying to get the U.S. to see the world as divided into these camps of good and evil, and they want to tighten the U.S. commitment to Israel on the basis of it being on the front lines fighting terror," said Vitale, referring to the groups behind the trips. "The whole project is a political project, which uses the police to answer a particular analysis of international affairs."
To date, Israel has already been an inspiration to some controversial police initiatives, like the infamous NYPD Muslim surveillance program, which was modeled in part on the surveillance of Palestinians in the West Bank. Thomas Galati, the chief of the NYPD Intelligence Division at the time, had participated in one of the ADL trainings in Israel.
Israeli police and security forces may also be learning a thing or two from their American counterparts. In 2016, for instance, Israel passed a "stop and frisk law" modeled after its American equivalent, allowing police to "search anyone, regardless of behavior, in a location that is thought to be a target for hostile destructive actions."
Palestinian residents of Jerusalem said the legislation is applied with "blatant racism."
"We see Israeli police taking on U.S. stop-and-frisk policies, further adding to the state violence already facing Palestinians," Fox said. "This deadly exchange goes both ways and encourages worst practices, such as racial profiling, mass surveillance, police brutality, and suppression of political dissent that already exist in both countries."
Top photo: Israeli police forces hold stun-grenade launchers following Friday noon prayer outside Jerusalem's old city on July 28, 2017.
51 Documents: Zionist Collaboration with the Nazis
by LENNI BRENNER
https://www.counterpunch.org/2002/12/23/51-documents/
ADL Watch
http://www.webshells.com/companies/adlwatch/
http://www.zpub.com/notes/adl2.html
Spy vs Spite
http://www.sfweekly.com/news/spy-vs-spite/
ADL Spies
https://www.counterpunch.org/2013/06/12/adl-spies/
Anti-Defamation League List Tars Human Rights Groups
https://www.thedailybeast.com/anti-defamation-league-list-tars-human-rights-groups
The Internet, Facebook, Defamation & Retaliation With Canadian Lethridge Professor Anthony Hall
https://youtu.be/fae_dVbyrGg
"The Internet, Facebook, Defamation & Retaliation" was the title of a presentation by Professor Anthony Hall of the University of Lethbridge in Alberta Canada. Prof. Hall talked about how a reprehensible image and text was placed on his Facebook wall for a few hours on August 26, 2016 and then deployed to target him professionally in what amounts an organized political frame-up. B'nai Brith Canada, the Canadian branch of the US and Israeli-based Anti-Defamation League, conducted the initial smear campaign based on publicizing the maliciously engineered content of the planted Facebook post put on Prof. Hall's Facebook wall without his knowlewdge or consent for a few hours on Aug. 26. When Prof. Hall later became aware of the post's reprehensible contents, he condemned the post's outrageous statements about Jewish people.
The result of this operation was that in early October of 2016, Prof. Hall was suspended, initially without pay, and without any process of independent adjudication as required by the collective agreement between the University Administration and the University of Lethbridge Faculty Association (ULFA). ULFA and the 68,000 member-strong Canadian Association of University Teachers are both demanding that Prof. Hall's case must be returned to the procedures outlined in the collective agreement. They are demanding that University Administration cease and desist defaming the Canadian professor along the same lines as those initiated by B'nai Brith Canada.
Professor Hall talks about the possibility that Facebook Inc. was a party to the conspiracy to ruin the career of this critic of Israeli policies and actions. He points to negotiations between Facebook CEO Mark Zuckerberg and Israeli Prime Minister Benjamin Netanyahu aimed at engineering Facebook content to favor the Israeli side in the conflict between the Israeli state and the Palestinian people. He also highlights his insistence on addressing the evidence pointing to the role of Israel First partisans in the notorious lies and crimes of 9/11.
This talk was at LaborTech 2017 in San Francisco with the title "The Internet, Technology, The Gig Economy and the Future of Labor".
For more media:
https://youtu.be/nrr11-dvwxM
https://soundcloud.com/workweek-radio/ww10-25-16-professor-hall-suspension-facebook-and-israel-and-bft-yvette-felarca-suspension
https://youtu.be/pwAGBlihq4U
https://www.youtube.com/watch?v=Yt38tXaJ6dQ
https://www.youtube.com/watch?v=C9Bt5p5EqR8
https://www.youtube.com/watch?v=mHhVxvNt3vY
https://youtu.be/L2Ju7pSJ_qI
http://ahtribune.com/in-depth/1259-bnai-brith-canadian-professor.html
https://www.youtube.com/watch?v=Z4JKdO1zW24
https://academicfreedomanthonyhall.wordpress.com
http://www.labortech.net
http://www.labornet.org
Production of Labor Video Project
http://www.laborvideo.org
Zionist ADL To Meeting In SF On Monday at Grand Hyatt
Topics & Panels
​
9:00am - Welcome Remarks and ADL Opening Video
Jonathan A. Greenblatt, ADL CEO
No Platform for Hate: A Conversation with the Tech Community
Monika Bickert, Director of Global Policy Management, Facebook
Juniper Downs, Global Head of Public Policy and Government Relations, YouTube
Melissa Tidwell, General Counsel, Reddit
Moderator, Nellie Bowles, NY Times Journalist
Announcement of Center on Technology & Society
Jonathan Greenblatt, ADL CEO
Anti-Semitism in the Bay Area
Marc Dollinger, Jewish Studies & Goldman Chair of Social Responsibility, San Francisco State University
Ollie Benn, Executive Director, San Francisco Hillel
Abby Porth, Executive Director, San Francisco JCRC
Moderator: Seth Brysk, Regional Director, ADL San Francisco
11:55am – 1:00pm Breakout Panels – choose one
PANEL 1 – Investing in Social Responsibilities and Jewish Values
Pamela David, Executive Director, Walter & Elise Haas Fund
Eran Gilad – Scopus Ventures
Julie Hammerman, Executive Director, JLens Network
Aaron Katler, CEO, Upstart
Michael Masserman, Head of Global Policy & Strategy, Lyft
Moderator: Lucy Bernholz, Director, Digital Civil Society Lab, Stanford Center on Philanthropy and Civil Society
Panel 2 – What are young Jews Saying About Israel and Why We Need to Listen
Rabbi Adam Naftalin-Kelman, Executive Director, UC Berkeley Hillel
Fern Oppenheim, Co-Founder, Brand Israel Group & President, Applied
Marketing Innovations
Moderator: Susan Heller Pinto, Director, International Affairs – Middle East
PANEL 3 - Misinformation and the Battle for the Truth
In Conversation with SNOPES Founder and CEO David Mikkelson
and Ari Ratner, Founder and CEO, Inside Revolution
​
PANEL 4 – Community Partnerships in the Fight Against Anti-Semitism, Racism, & Bigotry
Delia de la Vara, Senior Vice President, Development & Strategic Initiatives, UnidosUS
Rev. Eric Metoyer, Associate, Congressional Ministries & Canon to the Ordinary
Michael Pappas, Executive Director, San Francisco Interfaith Council
Moderator: David Sandmel, Director of Inter-religious Engagement, ADL
PANEL 5 – Reviving Jewish Communities
Jonathan Ornstein, Executive Director, JCC Krakow
Shana Penn, Executive Director, Taube Philanthropies
Ben-Dror Yemini, Israeli Columnist, Author, Industry of Lies
Moderator: Andrew Srulevitch, Director of European Affairs | Assistant Director of International Affairs
College and Student Symposium - Anti-Semitism: From the Left and the Right
(For Students Only)
Marc Dollinger, Jewish Studies Goldman Chair of Social Responsibility, SFSU
1:00pm-1:15pm Lunch
1:15pm-2:25pm Breakout Panels – choose one
​
PANEL 1- Where the Real and Virtual Intersect: Re-thinking Tech's Role
Charlotte Willner, Pinterst, Safety Manager
Chris Wolf, ADL Lay Leader
​
PANEL 2 – Israeli Perspectives on BDS - a conversation
Ben-Dror Yemini, Israeli Columnist, Author, Industry of Lies
Sharon Nazarian, ADL Senior Vice President, International Affairs
​
PANEL 3 – Artificial Intelligence and New Avenues - a fireside chat
Claudia Vacano, Executive Director of the D-Lab and the Digital Humanities at Berkeley
Brittan Heller, ADL Director of Technology and Society
PANEL 4 – Disrupting the Narrative on Race: Asserting Jewish Diversity to Combat New Forms of Anti-Semitism
Ilana Kaufman, Public Affairs and Civic Engagement Director, JCRC East Bay
Diane Tobin, CEO, Institute for Jewish & Community Research
PANEL 5 – How to talk to kids about Hate
Brianna Moffitt, ADL Director of Development, Santa Barbara
College and Student Symposium – Safe and on the Sidelines: Jewish Students and the Conflict on Campus
(For Students Only)
Ari Y Kelman, Jim Joseph Professorship in Education and Jewish Studies & Director,
Taube Center for Jewish Studies, Stanford Graduate School of Education
2:40pm-5:15pm Afternoon Session
Personal Stories: Empowerment in the Face of Hate
Taylor Dumpson, President, Student Government, American University
Christian Picciolini, Former White Supremacist/Founder, Exitus
Rabbi Francine Green Rosten, Glacier Jewish Community
Oren Segal, ADL Director, Center on Extremism
Presentation of the Daniel Pearl Award
​
Combatting Hate: Your Role in the Good Fight
Eric P. Liu, Writer and Founder, Citizen University
New Power
Jeremy Heimans, Co-Founder and CEO, Purpose
Closing
Jonathan Greenblatt, ADL CEO
https://www.neverisnow.org/?utm_campaign=bf2c422fbf-ADL%2BEblast%2BNovember2-2017&utm_medium=email&utm_source=J.%2BThe%2BJewish%2BNews%2Bof%2BNorthern%2BCalifornia&utm_term=0_93a945700b-bf2c422fbf-205193929
Facebook Complying With 95% of Israeli Requests to Remove Inciting Content, Minister Says
YouTube, however, has been removing 80% of content cited by government, Justice Minister Ayelet Shaked says.
http://www.haaretz.com/israel-news/business/1.741728?v=C108E9B69DB3DE823E171D9972BEC71B
Sharon Pulwer and Elihay Vidal Sep 12, 2016 10:48 PM
3comments Zen Subscribe
6976share on facebook Tweet send via email reddit stumbleupon
Facebook CEO Mark Zuckerberg. Bloomberg
Israeli bill to fine Facebook for disseminating incitement to terror advances
Israel's anti-Facebook spin is latest excuse to ignore the occupation
Justice Minister Ayelet Shaked said on Monday that Facebook and YouTube had been complying in recent months with up to 95% of Israel's requests for taking down content that the government says incites Palestinian violence.
She said that Facebook, which has a delegation in Israel right now meeting with Shaked and other officials, had complied with 95% of the 158 requests made by Israel made from May to August this year. YouTube, which is a subsidiary of Google, had complied with 80% of 13 requests. She said the figure was up from 50% previously.
"That is an impressive statistic. Nevertheless, we understand that the amount of incitement on the internet is much higher and we must keep exerting the pressure, which we will do," Shaked told the Annual International Conference on Counter-Terrorism at the Herzilya Interdisciplinary Center.
Shaked and Public Security Minister Gilad Erdan, both of whom have been at the forefront of a campaign to force social media companies to crack down on incitement, met with Facebook executives visiting Israel on Monday.
The meeting comes amid growing concerns in Israel about so-called lone-wolf terrorists who are unaffiliated with formal organizations but are encouraged to acts of violence over the social media.
Israeli Justice Minister Ayelet Shaked delivers a speech during a conference in Budapest, Hungary, June 6, 2016.Tamas Kovacs, MTI via AP
Yedioth Ahronoth on Monday reported that Shaked and Erdan had proposed to the Facebook executives that the company treat words like "intifada," "stabbing," "Nazis" and expressions such as "death to Jews" and "death to Arabs" as grounds for removing content. They also called for the same policy toward videos inciting viewers to stabbing attacks or containing anti-Semitic caricatures.
Facebook didn't respond to the requests, Yedioth said. Reuters reported that neither Facebook nor YouTube would comment on Shaked's figures for compliance on removing inflammatory content.
Although the Facebook visit comes amid growing pressure from Israel to crack down on incitement, the company said the visit by executives – Joel Kaplan, vice president of global public policy and a former deputy chief of staff for policy at the White House, and Monika Bickert, head of product policy – was part of a dialog it is having with governments worldwide.
"Online extremism can only be tackled with a strong partnership between policymakers, civil society, academia and companies, and this is true in Israel and around the world," Facebook said in a statement Monday.
The company also said its community standards "make it clear there is no place for terrorists or content that promotes terrorism on Facebook." It called the meeting "constructive," but offered no details about its conclusions.
The Facebook team also met with opposition MK Revital Swid (Zionist Union), who has submitted legislation that would force social networks to self-monitor or face a fine. Swid said she didn't hold social media platforms responsible for terror but that they had an obligation to do more to fight it.
With reporting from Reuters.
read more:
http://www.haaretz.com/israel-news/business/1.741728?v=C108E9B69DB3DE823E171D9972BEC71B
FBI files reveal Anti-Defamation League spied on Arab students
http://electronicintifada.net/content/fbi-files-reveal-anti-defamation-league-spied-arab-students/12453
Grant F. Smith The Electronic Intifada Washington, DC 14 May 2013
In 1969, the Anti-Defamation League infiltrated and spied on a national gathering of Arab students in the United States, newly released Federal Bureau of Investigation documents show.
Obtained in April after an Institute for Research: Middle Eastern Policy (IRMEP) freedom of information request, and reviewed by The Electronic Intifada, one declassified file [PDF] contains Anti-Defamation League reports held by the FBI.
The documents reveal how ADL surveillance against the Organization of Arab Students (OAS) in 1969 coalesced into plans for infiltrating the OAS national organization in New York. The files also give an insight into why the entire effort eventually backfired, ultimately leading to raids on ADL offices involved in intelligence-gathering through illegal means, and a lawsuit against ADL in the early 1990s — ultimately settled out of court in 2002.
The FBI responded to the IRMEP request that it at one time possessed up to 10,800 pages of information about the ADL, but that some of these had been destroyed. So far approximately 1,000 pages have been released (see The FBI's Anti-Defamation League File on the IRMEP site).
Organization of Arab Students
In the late 1960s, the OAS worked hard to unite visiting Arab international students studying in the US with Arab-American counterparts interested in connecting to developments in the region, primarily in Palestine. Formed in 1952 as the nonprofit Organization of Arab Students of United States and Canada, by the late 1960s OAS was hosting its eighteenth annual national conference with a reported 200 participants. OAS was not at all shy about criticizing US media coverage of the region or issuing direct challenges to the propaganda of the Israel lobby.
The ADL agents talk of alleged OAS links to armed Palestinian group Fatah, seemingly skeptical of one OAS spokesperson's claim that "there was no real relationship between them, that the OAS was merely letting them sell their literature there." The name of the spokesperson has been redacted by the FBI, along with most other names in the file.
The OAS's growing capacity to organize major events eventually sounded alarm bells at the ADL, which dispatched undercover investigators to penetrate the OAS national convention held in 1969 at Ohio State University.
The ADL's agents assigned to the convention filed reports under the codenames Buckeye, Adam and Eve. "Buckeye" tirelessly worked the entire seven days of the event presenting himself as a reporter, often for the Spectator newspaper. He claimed to be sympathetic to OAS objectives in order to gain access to events and high officials and have a pretext for inquiring about "back office" issues and OAS finances.
Buckeye's reports sounded an ADL red alert: "The political activity of Arab students in the US will increase significantly in the coming school year (1969-1970) with increasing effectiveness. They are beginning to display a much greater understanding of how to present their arguments to the various levels of the American public (church groups, new left, lower middle class, etc); and any successes are certain to increase their confidence and, hence, their activity."
Buckeye recommended this "threat" had to be confronted "directly" as growing numbers of OAS chapters achieved and shared successes with other student groups, especially those on the left.
Fake journalist
In those pre-Internet days, Buckeye had to manually compile information on the location, officers, phone numbers and membership strength of each OAS chapter. To ingratiate himself with a group of Buffalo University students, Buckeye claimed all his questions were for a future Columbus Citizen Journal story.
Even so, students were candid in telling Buckeye they increasingly viewed such major media with skepticism. They claimed The Christian Science Monitor and The New York Times were biased in their coverage of the Middle East, and the OAS attendees urged Buckeye to read The Guardian and Le Monde to get a more balanced view of regional issues.
Buckeye carefully noted the most effective Arab public relations strategies, the main points of Arab media critic presentations, counter-strategies to negative media and each session speech from Palestine Liberation Organization and Arab Information Office representatives.
AIPAC envy
Buckeye reported competition and enviously noted that "the attached article from the Near East Report indicates that the American Israel Public Affairs Committee had somebody on the inside of the OAS who covered the convention." Buckeye recommended that the ADL recruit an Arabic-speaking agent from the nonprofit Hebrew Immigrant Aid Society to work inside the OAS national headquarters in New York, in order to be "privy to important national OAS information."
On his own, Buckeye had a hard time penetrating closed OAS sessions. Security at the 1969 OAS conference was tighter than previous years. Only Arab students who had been members of a local OAS chapter for one year could attend closed sessions. Non-Arab members needed the recommendation of five Arab chapter members to enter closed sessions. Buckeye's wife attempted to enter closed OAS convention meetings posing "as a Canadian divorcee and assumed an alias for which she had proper identification."
But the spies also saw such security mechanisms as an opportunity to wage an attack on OAS chapters: "On many campuses there are rules against discriminating on the basis of race, etc. Therefore it is illegal for the OAS to require its membership to be of Arab descent. In these places pro-Israeli forces could join and take over the machinery of the organization, its funds, etc. and at the same time dismantle it as a base for dissemination of propaganda."
The recommended strategy was to "concentrate on getting an Arabic-speaking Jew into the national machinery of the OAS. At the recent convention, for example, we had difficulty finding anyone who could attend and understand the arabic [sic] sessions where finances, policy, etc. were discussed. This is a crucial factor in combating the students."
By the late 1980s, coordinated OAS media pronouncements, sharing and national organizing waned as chapters dedicated themselves more toward social and education functions than politics and opened up to all students claiming an interest in Arab culture. Many OAS chapters even passed individual charters renaming their organizations, presenting new logos and severing national affiliations. Few conducted any major political events, particularly beyond the campus boundaries.
"Our official friends"
But even as OAS power waned, FBI interest in the ADL gradually intensified.
After obtaining the ADL's OAS report in 1969, the FBI — which had also surveilled the conference — came to its own "more objective" conclusions. The FBI felt not only that the ADL report was "biased," but such ADL-sanctioned activity "possibly represents a violation of the Foreign Agents Registration Act."
The FBI, based on its own long term observations of the ADL, felt it would be incredible "to assume it [the ADL's report on the OAS] is not furnished to an official of the government of Israel due to the extremely close ties between ADL and Israel." Buckeye had indeed suggested in his report that "this information may be of interest to our official friends." Though it could be that this was a reference to US law enforcement, the FBI's suspicion of Israeli involvement seems credible.
The FBI also seemed to resent the ADL's self-appointed authority as a competing counter-intelligence agency — even though the ADL had long fought to ingratiate itself with the FBI and form liaisons. "This report shows investigation conducted by the ADL, using codename sources, pretexts such as local news reporters … recruiting of [Arabic speaking] Jewish refugees … to infiltrate the OAS in New York."
When hard evidence surfaced that the ADL was illegally obtaining confidential information about pro-Palestinian and anti-apartheid activists, the police raided the ADL's major California offices, after FBI investigations. Covert ADL agent Roy Bullock had also worked closely with apartheid South African intelligence services (Robert I. Friedman, "The Enemy Within: How the Anti-Defamation League turned the notion of human rights on its head," The Village Voice, 11 May 1993).
According to Friedman in 1993: "Investigations by the FBI and police in San Francisco have revealed that the ADL has shared at least some of its spy gathering material with Israeli government officials. What's more, Israel apparently used tips from the ADL to detain Palestinian Americans who traveled there."
Civil suits against Bullock and the ADL in the 1990s were eventually settled out of court in 2002 for tens of thousands. But the ADL never admitted to doing anything wrong, and never had to face any serious penalty. Palestine solidarity activists may well wonder what the ADL is doing in secret today.
Although confidentiality agreements are normal in such settlements, the plaintiffs did not agree to keep quiet. IRMEP has now published depositions and files from this investigation and successful lawsuit, so they are available online for the first time.
Grant F. Smith is director of the nonprofit Institute for Research: Middle Eastern Policy, Inc. in Washington.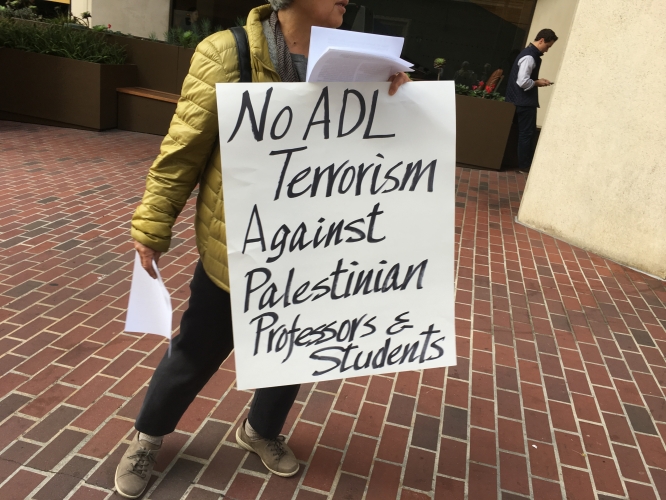 A protest was held at a SF ADL conference to get the tech industry to step up attacks on critics of Israel and to stop the boycott of Israel.
Facebook owner Mark Zuckerberg met with Netanyahu to use Facebook to censor critics of Israel. Facebook has also been used by Zuckerberg and Netanyahu to frame-up Professors who are critical of apartheid Israel.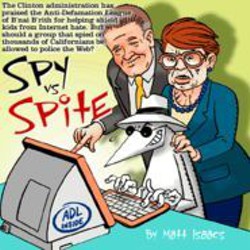 ADL had it's office raided in San Francisco because of illegal use of confidential information that they were getting from the San Francisco Police Department. Their spy operation and their spy Roy Bullock was not only spying on Palestinians, unions and civil rights groups but on South African anti-apartheid activists. This criminal activity by the ADL was also on behalf of the Israeli government but was never prosecuted by the US government which supports the Israeli apartheid regime with billions of dollars.
We are 100% volunteer and depend on your participation to sustain our efforts!
Get Involved
If you'd like to help with maintaining or developing the website, contact us.