From the Open-Publishing Calendar
From the Open-Publishing Newswire
Indybay Feature
Related Categories:

East Bay | Environment & Forest Defense | Labor & Workers
Capture of BAAQMD, Corrupt Executives & Workplace Bullying and Terminations
At a report on the crisis at the Bay Area Air Quaility Management District, panelists including Dr. Larry Rose former Cal-OSHA Medical Director reported that the district refuses to properly monitor the refineries of pollution discharges and also retaliates against engineers who question Chevron and the other polluters measurement of pollution. The agency executives who act as shills for the refinery bosses have bullied, harassed and terminated two whistleblowers Michael Bachmann and Sarah Steele who were responsible for protecting pollution control documents. None of the members of the Board of Directors of BAAQMD have called for an independent investigation and prosecution by the Attorney General Xavier Becerra despite the criminal cover-up by BAAQMD executives.
At the UPWA meeting in Richmond participants called on the investigation and prosecution of corrupt executives of the Bay Area Air Quaility Control District. They refuse to independently monitor the highly toxic releases by Chevron and other refineries and have retaliated again whistleblowers like BAAQMD workers Michael Bachmann and Sarah Steel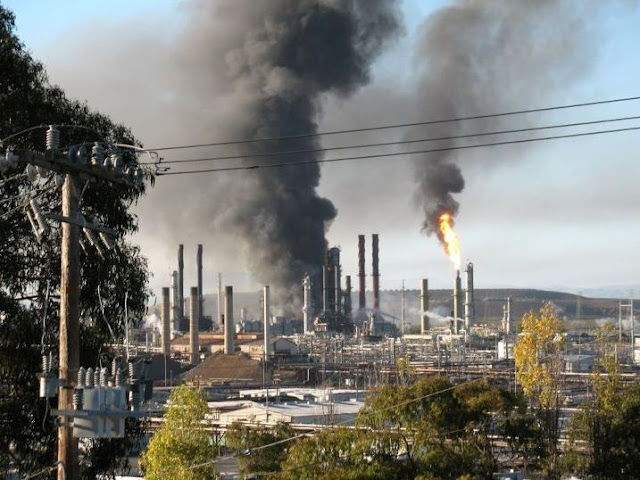 The corrupt executives of the Bay Area Air Quality Control Management District say that they cannot record and monitor the toxins released during fires at refineries like at Chevron in 2012. They also have retaliated against employees who are protecting documents and engineers who question the information of the refineries.
Governor Brown has also protected the criminal polluters in the new AB 398 which limits the ability of regional agencies like the BAAQMD to regulate the toxins. Brown and the Democrats take money from these polluters and represent them in the legislature. Also none of the board members of the BAAQMD who are all elected officials have called for an independent investigation of the obstruction of justice and illegal retaliation against whistleblowers Michael Bachmann and Sarah Steele who were bullied, harassed and fired for opposing the destruction of pollution control documents.
The BAAQMD bosses and the board of directors have protected the polluters who continue to contaminate the air of the bay area. The board members also continue to defend BAAQMD executives who allow the these polluting companies to monitor themselves instead of independent monitoring by the agency.
During the massive Chevron refinery fire in 2012 which nearly killed workers at the refinery the BAAQMD executives said they could not monitor what was released and how much toxins were released. They continue to be mouthpieces for the companies that they are supposed to monitor and the members of the Board continue to refuse to call for California Attorney General Xavier Becerra to investigate the criminal retaliation of BAAQMD whistleblowers.
We are 100% volunteer and depend on your participation to sustain our efforts!
Get Involved
If you'd like to help with maintaining or developing the website, contact us.