From the Open-Publishing Calendar
From the Open-Publishing Newswire
Indybay Feature
Trump Slammed for Siding with Hate and Xenophobia by Rescinding DACA for 800,000 DREAMers
Protests are taking place across the country after Attorney General Jeff Sessions announced the Trump administration was rescinding DACA, the Deferred Action for Childhood Arrivals program, which gives nearly 800,000 young people permission to live and work in the United States.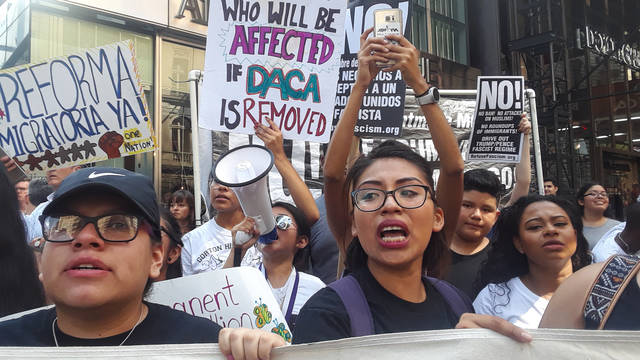 Sessions called on the Department of Homeland Security to "wind down" the program. This gives Congress six months to decide the fate of immigrants currently protected by DACA.

Vanita Gupta, president and CEO of The Leadership Conference on Civil and Human Rights, said: "President Trump's decision to end DACA in six months is inhumane, cruel and shameful. There is no legal, ethical, or moral justification for ending DACA, which is a lawful program. President Trump manufactured this unnecessary crisis. Congress must now act immediately to pass the Dream Act without any partisan, divisive amendments to permanently protect these young people who make our country stronger every day."

Congresswoman Pramila Jayapal (D-WA) responded: "President Trump is destroying the future of nearly 800,000 young men and women who were brought here by their parents and know no other country but this one. After toying with their futures and raising their hopes with talk of his 'big heart,' Donald Trump has shown exactly what his priorities are. He has once again sided with hate and xenophobia, putting in place a repeal that is cruel, inhumane and unjust."
In a major attack on immigrant communities across the United States, Attorney General Jeff Sessions has announced the Trump administration is rescinding DACA—that's Deferred Action for Childhood Arrivals—which gives nearly 800,000 young immigrants permission to live and work in the United States.
Attorney General Jeff Sessions: "The Department of Justice has advised the president and the Department of Homeland Security that the Department of Homeland Security should begin an orderly, lawful wind-down, including the cancellation of the memo that authorized this program."
President Obama implemented DACA in 2012, after nearly a decade of massive grassroots organizing and direct action protests by undocumented youth across the country. President Obama called Trump's decision to rescind the program "cruel." The Trump administration now says it will begin phasing out the protections in six months, meaning that some DACA recipients will be eligible for deportation as early as March 2018.
Between now and then, Congress has the opportunity to pass legislation that could protect DACA recipients, as well as millions of other immigrants currently in the country without legal authorization. Sessions's announcement Tuesday morning sparked immediate protests across the country, with crowds taking to the streets in Minneapolis, Chicago, Los Angeles, Atlanta, Washington, D.C., and Houston, where thousands of DACA recipients and their families are currently helping the city rebuild after Hurricane Harvey. In New York City, 34 people were arrested in a sit-in led by undocumented activists outside Trump Tower.
Catalina: "My name is Catalina, and we're here because we're fighting for all 11 million undocumented immigrants in this country. An attack on DACA is an attack against the entire undocumented community. We're here to say that this fight goes beyond DACA, that it's for all the workers in this country. It's for all the workers who work in the fields, in the restaurants, who work cleaning our homes, who have crossed borders. This is the fight for all of us, because we all deserve permanent protection, dignity and respect. This fight is beyond DACA. It's a fight for all undocumented immigrants in this country who provide their labor. This country runs on us. Without us, this country would fall apart."
High school students in Denver staged a massive walkout in protest of Trump's decision to rescind DACA. The head of the U.S. Hispanic Chamber of Commerce, Javier Palomarez, resigned from Trump's National Diversity Coalition in protest, calling the decision to revoke DACA "inhumane and economically harmful." In Georgia, the Atlanta City Council immediately passed a resolution to support DACA recipients and to move to limit collaboration between local police and federal immigration agents. Both New York and California threatened to sue the Trump administration to protect the states' DREAMers.
We are 100% volunteer and depend on your participation to sustain our efforts!
Get Involved
If you'd like to help with maintaining or developing the website, contact us.