From the Open-Publishing Calendar
From the Open-Publishing Newswire
Indybay Feature
Last month, thousands gathered in San Francisco and Berkeley to defeat the hatred of fascism and white supremacy. A united front of labor, clergy, students, socialists, anarchists and others successfully prevented the fascists from holding their rallies.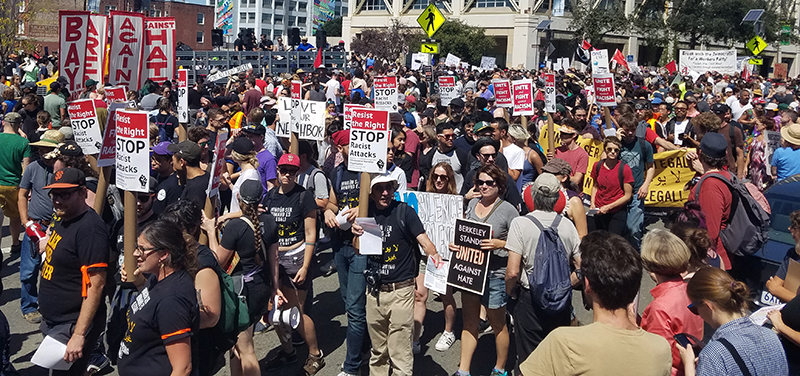 This is antifa — a broad movement of people who stand against the violence of white supremacists and fascists, violence emboldened by the ascendancy of Donald Trump to the presidency.

Despite our victory, Berkeley Mayor Jesse Arreguin called for antifa to be classified as a criminal gang. The lesson here is that we cannot depend on the government to meaningfully intervene and prevent the rise of fascism. That is up to us.

The National Lawyers Guild, an organization of thousands of lawyers, law students and legal workers across the country, has supported free speech and assembly for all progressive and radical movements for 80 years. But The Chronicle's coverage of the Aug. 27 rally would have you believe that it is the "alt-right" that seeks to protect speech. This couldn't be further from the truth.

Here are some examples of what the far right does when no one is filming:

• Our volunteer attorneys, legal workers and clients have received death threats and their personal information publicized to promote harassment, as a result of our defense of antifa activists;

• One attorney was stalked inside the courthouse by a man with a swastika tattoo and a shaved head wearing quasi-military-type attire. He then left, and shortly thereafter she received threatening messages and had to seek protection at a safe house;

• A group of men wearing military-like attire, and one with a swastika tattoo, was seen waiting outside Santa Rita Jail for arrestees to be released;

• National Lawyers Guild phone lines have been inundated with hate calls.

But we are prepared to defend ourselves, and are implementing security plans to ensure the safety of our members, allies and partners. This is hatred and violence, not speech.

As an antiracist organization, we refuse to support white supremacists. That does not mean that we oppose free speech.

We believe far-right extremists have successfully twisted the right to free speech to cast themselves as victims of exactly what they strive to promote — hate and violence.

The far right, however, is not the only problem. The government appears to be colluding with the far right to target antifa. Of six protesters held overnight in jail, only one has been charged with a crime — a woman with a service dog who was brutally pinned to the ground by police, allegedly for throwing an apple. Another was arrested for allegedly pulling their T-shirt over part of their face when photographed by fascists.

This campaign to recast antifa as a violent, leftist suppression of speech is a dangerous effort eerily reminiscent of the left-baiting that accompanied the Nazi rise to power.

The National Lawyers Guild won't stand by as fascists and white supremacists seek to take power in the streets and halls of government. We stand in solidarity with all who fight hatred. We will continue to show up, to defend activists who challenge fascism, and we call on all people of conscience to do the same.

— Nina Farnia, Rachel Lederman and Meredith Wallis

Nina Farnia is the president of the National Lawyers Guild — San Francisco Bay Area Chapter. Rachel Lederman is chair of the Demonstrations Committee, National Lawyers Guild San Francisco Bay Area Chapter. Meredith Wallis is a member of the Demonstrations Committee.
We are 100% volunteer and depend on your participation to sustain our efforts!
Get Involved
If you'd like to help with maintaining or developing the website, contact us.