From the Open-Publishing Calendar
From the Open-Publishing Newswire
Indybay Feature
We March Together, We Stand Together: 2nd Annual Pajaro Valley Pride Festival
The 2nd Annual Pajaro Valley Pride Celebration, held on August 20, 2017, was a lively event complete with a blessing ceremony, parade, and performances from drag queens, burlesque dancers, and musicians!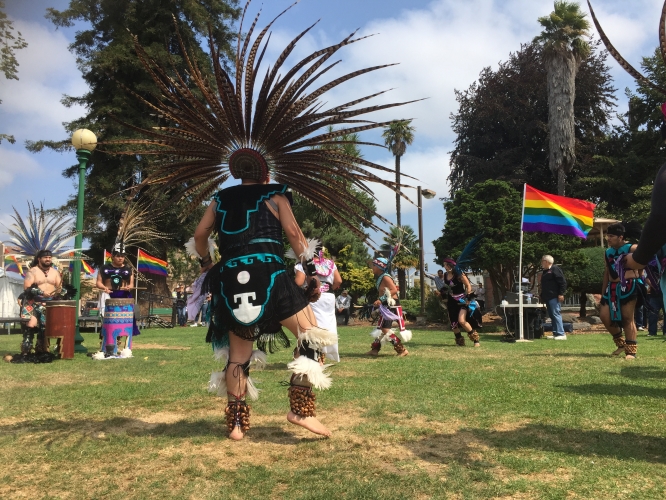 A bright and warm sun, upbeat jams, and an electric atmosphere set the tone for the 2nd Annual Pajaro Valley Pride Celebration. The day brought a large crowd of about a hundred to Watsonville City Plaza to stand in solidarity with and celebrate LGBTQ+ folks.
"This is an important pride, as there are regressive forces at work. Our community is under siege," announced Rob Watson, the festival's MC, as he welcomed attendees and opened the stage for the Watsonville Whitehawks. The Watsonville Whitehawks proceeded with a blessing ceremony that enlivened the senses.
The smell of Palo Santo drifted with the breeze as the Whitehawks' drum beats and intricate moves kept the crowd entranced and entertained. The Whitehawks, who represent the spiritual and cultural principles of Aztec ancestors, have lived in Pajaro Valley since 1983 and aim at "engaging local youth who are searching for an identity. [They] remind them of their connection to their indigenous roots and the Earth."
Around noon, attendees began gearing up for the parade. The march began at the corner of Watsonville City Plaza and led participants down East Beach Street.
"Pizza rolls, not gender roles! Sushi rolls, not gender roles!" was one of the catchy chants used in the parade. There were other chants in Spanish as well, and rightfully so. Watsonville and Pajaro Valley are predominantly Latinx, and have been traditionally conservative-minded areas.
Watsonville and Pajaro are predominantly Latinx, and though they have been viewed as traditionally conservative-minded areas, Iris Barrera Hurtado, who is the current Conexiónes Interim Coordinator of the Diversity Center in Santa Cruz, believes otherwise.
"We are portrayed as having these very "machista" ideals," Iris Barrera Hurtado says, of the perspectives held about Watsonville's community. They feel this might be due to the majority of residents being people of color, namely Latinx.
However, Hurtado believes those erroneous views about Watsonville can be combatted with events such as Pajaro Valley Pride. "Being able to start dialogue and visibility like we did today and inviting everyone to come and share space with us can help bring awareness and knowledge about the queer community and bring recognition that we are also part of the community of Watsonville and that we want to see our communities thrive," Hurtado states.
The parade looped around the corner to Union Street, passed by the Fox Theater, and pulled to a stop on Main Street, where festivalgoers dispersed to either enjoy the event and food booth-lined street or the plaza where performances were picking up again.
The variety of talents on the bill included musical performances by Coral Price and Latin punk band Fulminante, drag queen performances by Melanie Machotto, Vanity Von Spitz, Violet Jai, Rommy Gonzalez, and Aime Jean, as well as burlesque dancers from Do-Right Burlesque.
Earlier this year in July, Pajaro Valley Pride announced Alma (Isa) Isabel Moreno as the recipient of their first-ever scholarship. As Moreno appeared on the stage next to Pajaro Valley Pride coordinators to accept her award, she recalls earlier days as a queer Watsonville High School student.
"This was the same plaza I'd walk by everyday on the way to the library with my girlfriend," Moreno says, "I was always too scared to hold her hand." Now, standing in the same plaza, Moreno is full of gratitude and hope for her future, as she will be attending UCLA in the fall to pursue a degree in Chicano/a Studies. "Thanks for believing in a little brown girl's dreams, a little gay brown girl's dreams," she tells everyone.
Moreno also encouraged LGBTQ+ youth to join Gay Straight Alliances (GSAs) and acknowledged the importance of staying both humble and just selfish enough to care for one's own needs, especially those who identity as queer and a person of color.
For those who are looking to get involved and participate in the local LGBTQ+ community resources include: Diversity Center (Santa Cruz County), PFLAG, TransFamily Support Group, Queer Youth Task Force, Planned Parenthood Mar Monte, and Pajaro Valley Pride.
Donations to contribute to next year's Pajaro Valley Pride are accepted at:
http://www.pajarovalleypride.org/donate
We are 100% volunteer and depend on your participation to sustain our efforts!
Get Involved
If you'd like to help with maintaining or developing the website, contact us.