From the Open-Publishing Calendar
From the Open-Publishing Newswire
Indybay Feature
View other events for the week of

9/16/2017
2017 Bay Area Anarchist Book Fair
Date

Saturday September 16

Time

10:00 AM

-

6:00 PM

Import this event into your personal calendar.
Location Details
Omni Commons
4799 Shattuck
Oakland, California 94609

Event Type

Teach-In

Organizer/Author
Anarchist Book Fair

The Bay Area Anarchist Book Fair is an annual event that brings together people interested and engaged in radical work to connect, learn, and discuss through books and information tables, workshops, panel discussions, skillshares, films, and more!

We seek to create an inclusive space to introduce new folks to anarchism, foster a productive dialogue between various political traditions as well as anarchists from different milieus, and create an opportunity to dissect our movements' strengths, weaknesses, strategies, and tactics.

--

22nd Annual

Bay Area Anarchist Bookfair

Saturday, April 16, 2017

Omni Commons

4799 Shattuck, Oakland, California

Free Admission

10:00 AM - 6:00 PM

First Hour: Scent Free & Mobility Friendly

https://omnicommons.org/calendar/events/bay-area-anarchist-bookfair/

Added to the calendar on Sunday Sep 3rd, 2017 4:52 PM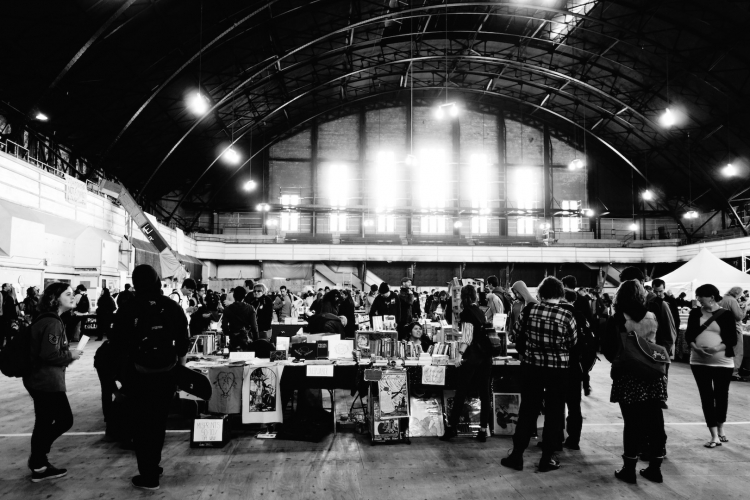 * Surveillance Self Defense: Keeping your Data Safe in the Digital World, with William Budington.

In an era when the capabilities of the state stretch into our daily lives, when our everyday interactions are mediated by commodified, centralized digital communications networks, we are becoming increasingly subjected to the effect of surveillance. This impedes our ability to organize and strategize vis-a-vis powerful state forces, threatens our livelihoods, and subjects us to increasingly effective violent tactics that destroy our communities based on ever-more present algorithms of control.

Fortunately, we have tools at our disposal which allow us to keep our communications private, our organizing less susceptible to manipulation, and the data about our lives less ready to be fed into the machinations of domination. We can protect ourselves if we adopt certain best practices.


* Taking Away the Power of Criminal Charges: Anarchist Approaches to Resisting State Repression, with Jude Ortiz & others.

The state has historically used criminal charges to disrupt and destroy radical political movements and to repress targeted communities (e.g., people of color, poor people, houseless people, queer/trans/gender nonconforming, etc.). Criminal charges are designed to keep communities under control and they are successful in a variety of ways, from putting millions of people behind bars or on probation to targeting prominent radicals to punish them while scaring others away from organizing. In political struggles, criminal charges often disrupt organizing by diverting people's time, energy, and resources into legal battles and prisoner support. While criminal convictions and jail/prison sentences are an inevitable part of fighting the state, we do not have to allow this tool of state repression to be so destructive.

In this panel discussion, the panelists will explore a variety of ways that the state uses criminal charges as a tool of repression and some ways people and communities have already figured out to combat this. They will also share thoughts on what we need to do better or differently to take away the destructive power of criminal charges. For the second half of the workshop, the audience will be invited to participate in a community discussion about the topics raised by the presenters.


* Rad Families: A Celebration, with Tomas Moniz & others.

Rad Families are needed now more than ever. The contributors to this new book project published by PM Press will share stories that honor the messy, the painful, the playful, the beautiful, the myriad ways we create families and support our community in this dark and turbulent world. We are not experts or perfect parents or caregivers. Instead, this workshop will draw in the audience and strive to be honest and vulnerable, sharing our stories and experiences, our failures and regrets. We'll discuss trans birth and parenting, racism and police brutality, reproductive health, raising feminists and feminist parenting, empty nesting, letting go, and so much more. This is a time that we need to remind ourselves that we are not alone, that community can help us get through the difficulties, and in fact, make us better people. This is a celebration, join us!


* From Palestine to Chowchilla – Women and Resistance to Imprisonment, with Diana Block & Anna Henry.

Diana Block and Anna Henry both work with the California Coalition for Women Prisoners and were part of a Prison Solidarity Delegation to Palestine in March 2016, the first delegation from the United States ever to focus on prisoner solidarity. During the delegation they met many former Palestinian women prisoners and talked with women leaders of the movement to support prisoners. Upon their return they partnered with Palestinian organizations to produce a pamphlet "For the Love of Palestine: Stories of Women, Imprisonment and Resistance" -which includes an article from former political prisoner Laura Whitehorn, also a delegation member. The workshop will share stories and slides from Palestine, discuss connections to women and imprisonment in the U.S. and explore directions for building solidarity between these struggles.


* 100 Years of the Struggle for Sex Workers' Rights in the Bay Area, with Ivy Anderson & Devon Angus.

On January 25th, 1917 nearly 300 prostitutes marched on the church of anti-vice crusader Rev. Paul Smith to protest the looming evictions that faced sex workers in San Francisco. On January 25th, 2017 this oft forgotten episode of radical history was recreated with a demonstration at the site of the original protest, with sex workers demanding the same rights that went unheard in 1917. Join us in a discussion of sex worker rights, labor struggle, and feminist history as we examine the events of 1917 and look at the state of sex worker rights in the Bay Area today.


* Earth Spirituality in Anarchist Context and Community, with Lasara Firefox Allen.

There has been a sense of distance or even "never the two shall meet" regarding spirituality and anarchism. However, the number of anarchist Pagans and Polytheists has been steadily growing in recent years.What is spirituality when it is not being used as an opiate? It can be a source of commitment to values-based action. It can act as a rudder, a ballast, a compass, or a fulcrum. And Paganism specifically can offer ground within which to link the personal, the communitarian, the global, and the environmental.What happens when we enter into relationship with the gods and spiritual forces not as masters and serfs, but as co-conspirators?If you are a Pagan, Polytheist, Heathen, otherwise spiritually oriented anarchist, or are curious about earth spirituality in anarchist context and community, this is a space where you can talk with like-minded folx, spiritualists, Pagans, Witches, and Heathens. In this thoroughly interactive workshop we will come together to talk about rewilding, grounding, urban and rural magicks, community building, collaborating with gods and spirits, and strategies for grounded spiritual resistance and r/evolution.


* Ideas for Action: Relevant Theory for Radical Change, with Cynthia Kaufman & others.

Ideas for Action will be a discussion among radical activists and organizers to explore the intellectual tools to turn our era of discontent into a plan for action. Exploring a wide range of political traditions—including anarchism, anti-imperialism, postmodernism, feminism, critical race theory, and environmentalism—the panelists will acknowledge the strengths and weaknesses of a variety of political movements and the ideologies inspired by or generated through them. The panel will incorporate elements from their own activist experiences and work to present plans for direct action and organizing tactics without pretending to offer "the final word" on complex issues. This panel aims to orient a critical understanding of the social world and a glimpse of the excitement and rewards of serious intellectual engagement with radical political ideas. The panel of activists will engage with the audience to confront pressing issues of today—from mass incarceration to climate change, from the new US presidential administration to from #NoDAPL to Black Lives Matter, from the war on terror to the national security state, from rising inequality and the Bay Area housing crisis to a global shortage of care.


* Disability: On Becoming Accomplices & Rejecting Exclusion, with Lauren Riot, Ian Smith, & others.

An introduction to disability issues as they relate to the left and anarchists/anarchist actions: a primer on the social model of disability, updates on local community organizing around disability rights and the ADAPT direct action movement, inclusion/exclusion in leftist politics, actions, events, and community beyond superficial "ally" performance, when anarchists become disabled due to police/state/fascist violence, the intersection of race and disability, threats to disabled people from the far right and Trump administration, and more.


* Logistics and Infrastructure in the Age of Trump, with Empire Logistics.

An workshop addressing Bay Area logistical infrastructures: vulnerabilities, key sites of struggles, and important connections to broader dynamics and solidarity opportunities along the global supply chain. Special focus on understanding and responding to Trump's proposed infrastructure projects.
Empire Logistics maps the global supply chain through research that articulates the infrastructure and 'externalized costs'—human, economic, social and environmental—of the international flow of things.


* Women's DIY health and self-help groups, with Leona.

Combining DIY, feminism, and health, self-help groups have been a big way that women have taken care of ourselves in the face of lack of health care (no money), health care that prioritizes male bodies (bad medicine), and lack of education about our bodies in general (what's that?!).

This workshop will discuss some of the practices of these groups, including breast and cervical exams, menstrual extraction, etc; encourage people to start their own groups; introduce readings on women's health; discuss things like Jane (extremely successful underground abortion service), and "crisis pregnancy clinics" (places that attempt to scare pregnant people into not having an abortion), etc. This workshop is open to anyone, but the discussion will emphasize self-care for bodies with breasts and cervixes.


* Knowing the Enemy: Typologies of Fascist and White Nationalist Organizations in the United States, with Rose City Antifa.

Description pending.