From the Open-Publishing Calendar
From the Open-Publishing Newswire
Indybay Feature
Germany: Federal Interior Ministry Bans Linksunten Indymedia
The German government banned the
linksunten.indymedia.org
website today. According to German mainstream media, the decision was given to 3 alleged "operators" of the indymedia platform.
Photo: Riot Cops in Freiburg, Germany After Raid Against Linksunten Indymedia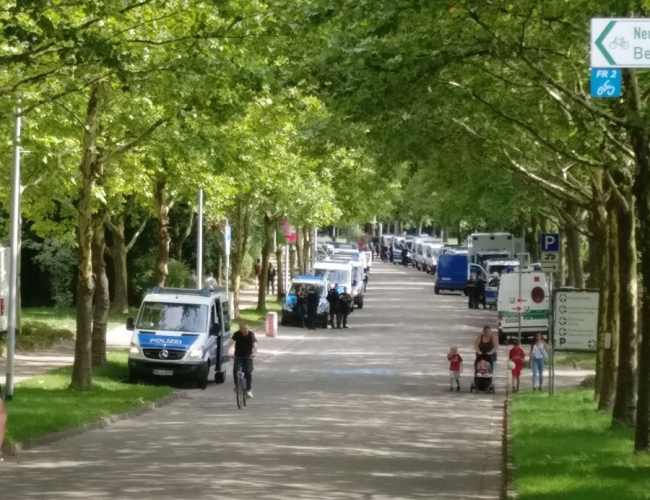 [ 20 vans with riot cops in Freiburg, Germany after raids against Linksunten Indymedia earlier today. ]
German Government Bans Linksunten Indymedia
The German government banned the linksunten.indymedia.org website today. According to German mainstream media the decision was given to 3 alleged "operators" of the indymedia platform.
Tweet by the
German federal ministry
announcing the ban of Linksunten Indymedia:
BMI ✔ @BMI_Bund
Minister #deMaizière hat heute die linksextremistische Internetplattform #linksunten.indymedia verboten. Weitere Infos folgen in Kürze.
[Minister # deMaizière today banned the left-wing extremist Internet platform #linksunten.indymedia. More information will follow shortly.]
10:26 PM - Aug 24, 2017
Cops raided buildings, confiscated computers but until now the cops did not made arrests. Thomas Strobl (CDU), state interior minister of Baden-Württemberg told reporters that raids in "multiple objects" are ongoing. Federal interior minister Thomas De Mazière said that Linksunten is acting against the "constitutional order".
The federal interior ministery motivated the ban saying that the purpose and activity of the Linksunten Indymedia website: "adverse criminal laws." All Linksunten Indymedia logos are now also banned in Germany.
According to German daily Neues Deutschland, the website was offline for a short moment on Friday morning but later the site was online again. At 10:50am (CET) we checked again and the site was down again. However its expected that Linksunten could be online soon again. Linksunten.indymedia is organized decentrally and stored on different servers and De Mazière admitted that it won't be possible to shutdown Linksunten today or in the coming days.
Linksunten exists in its current format since 2009 [
2008
] and published calls for actions and demonstrations, claims of groups who carried out actions, articles for debates, analysis and reports from and about many actions. The platform gave people a platform to post anonymously, beyond the control of state authorities.
The repressive action against Linksunten comes after many German politicians announced that the state will step-up the fight against what they call "left-extremism". These announcements came after last months NoG20 protests in Hamburg. Linksunten Indymedia published many calls, reports and analysis before, during and after the No G20 protests.
The German state couldn't silence the movement after bans on magazines like Radikal and they will probably fail again. The movement can't be silenced. We are all Linksunten!
Stay tuned for updates.
Update 01:28pm (CET): Federal interior minister Thomas de Mazière told reporters that linksunten.indymedia.org is banned and the people behind it are considered to be members of a terrorist association.
Update 05:33pm (CET): Solidarity gathering at the main train station (Hauptbahnhof, Hbf) in Mainz, Germany, 07:00pm (19:00). We will not let you ban our views!
Update 06:27pm: One of the buildings which was raided today was the Kulturtreff in Selbstverwaltung (KTS) in Freiburg. The KTS is a self-organized social center. According to the interior ministery of the German state of Baden-Württemberg (screenshot below)250 cops were deployed for the raids against linksunten. Five buildings were raided.
----
Submitted to Enough is Enough.
Note: Enough is Enough is not organizing any of these events, we are publishing this text for people across the US and Europe to be able to see what is going on and for documentation only.
https://enoughisenough14.org/2017/08/25/german-government-bans-linksunten-indymedia/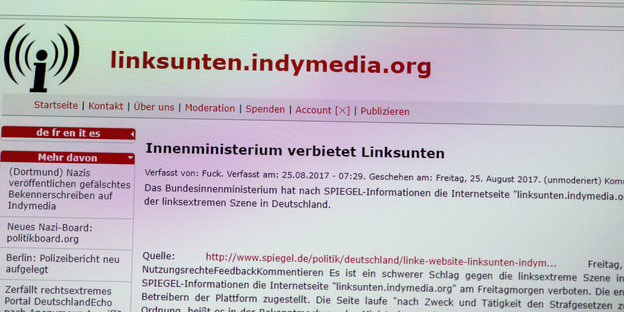 We are 100% volunteer and depend on your participation to sustain our efforts!
Get Involved
If you'd like to help with maintaining or developing the website, contact us.