From the Open-Publishing Calendar
From the Open-Publishing Newswire
Indybay Feature
View other events for the week of

8/19/2017
Millions for Prisoners Human Rights, San Jose
Date

Saturday August 19

Time

10:30 AM

-

2:30 PM

Import this event into your personal calendar.
Location Details
Raymond Bernal Jr. Park
7th Street and Mission Street
San Jose, CA 95112
Event Type

Protest

Organizer/Author
Rise Up for Justice
Email
riseup [at] forjustice.us
Phone
408-297-2299

Join the NEW ABOLITIONIST MOVEMENT !

March with California Prison Focus and Rise Up for Justice

11:00 am - Gather at Raymond Bernal Jr. Park
11:30 am - March to Santa Clara County Main Jail
12:30 pm - Rally at James P. McEntee Plaza (70 W. Hedding St.)

We demand the enslavement clause in the 13th Amendment to the United States Constitution be amended to abolish legalized slavery in America.

We demand a Congressional hearing on the 13th Amendment enslavement clause being recognized as in violation of international law, the general principles of human rights, and is directly linked to:

* Private entities exploiting labor
* Companies overcharging prisoners for goods and services
* Private entities contracted by states and federal government to build and operate prisons, including immigration detention centers
* Racial disparities in America's prison population and sentencing
* Disproportionate and unaccountable killings by police in black and brown communities
* Felony disenfranchisement laws
* Immigration and Customs Enforcement (ICE) setting detention quotas
* Producing the world's largest prison population
* State-sponsored murder via the death penalty
* Unjust bail bond system

Join local organizations, learn more, and hear speakers from San Jose and surrounding communities, including Watani Stiner, Sean Ramsey, Laurie Valdez, and more ...

Added to the calendar on Friday Jul 28th, 2017 2:01 PM
Download flyer PDF here.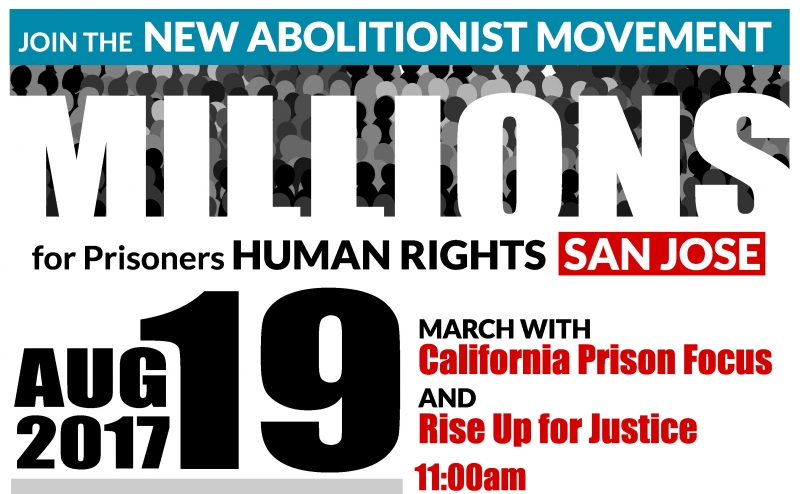 Raymond Bernal Jr. Memorial Park
7th and Mission Streets in San José
On AUGUST 19, 2017 please join in solidarity with the historic Millions for Prisoners Human Rights March. People from all over the country will be marching and hosting a rally at the White House to formally issue and demand the removal of the 13th Amendment "exception" clause that legalizes slavery. People are traveling from as far as California to join the March. Solidarity marches, rallies, and protests are being planned across the country to coincide with the DC event.
San José event on Facebook:
https://www.facebook.com/events/441574739560568/
Join the NEW ABOLITIONIST MOVEMENT
MILLIONS for Prisoners HUMAN RIGHTS
SATURDAY, AUG 19, 2017
SAN JOSE
We DEMAND the 13th Amendment ENSLAVEMENT CLAUSE of the United States Constitution be amended to abolish LEGALIZED slavery in America.
We DEMAND a Congressional hearing on the 13th Amendment ENSLAVEMENT CLAUSE being recognized as in violation of International law, the general principles of human rights and its direct links to:
• For profit exploitation of prison labor and the extortion of prisoners/families for needed goods and services
• Incentivizing criminalization by a private prison industry
• Reinforcement of systemic racial inequality and the militarization of police against our communities
• Disproportionate murder of black and brown people by police and the normalization of state sponsored murder via the death penalty
• Use of solitary confinement as punishment and torture
• Voter disenfranchisement of up to 6 million people
• Indefinite detention of entire families under arbitrary Immigration and Customs Enforcement quotas
• A bail bond system that unjustly penalizes the poor and dispossessed
• Producing 25% of the world's prison population with only 4.5% of its overall population
MARCH WITH
California Prison Focus & Rise Up for Justice
11:00am: GATHER at Raymond Bernal Jr. Park, 7th and Mission Streets, San Jose, CA 95112
11:30am: MARCH to County Jail
12:30am: RALLY at James P. McEntee Plaza, 70 West Hedding, San Jose, CA 95110
Join local organizations, learn more, and hear speakers from San Jose and surrounding communities, including:
Watani Stiner
Sean Ramsey
Laurie Valdez
… and more
For a full list of sponsors or more information, email us at:
riseup [at] forjustice.us
Download and put up Fliers!
https://prisonerhungerstrikesolidarity.files.wordpress.com/2017/08/8-19-17-millions-for-prisoners.pdf
San Jose March Facebook event:
https://www.facebook.com/events/441574739560568/
Riverside Solidarity Rally Facebook event:
https://www.facebook.com/events/720255711508696/
iamWE Prison Advocacy Network is forever humbled to be hosting the upcoming March on Washington DC:
http://www.iamweubuntu.com/millions-for-prisoners-human-rights.html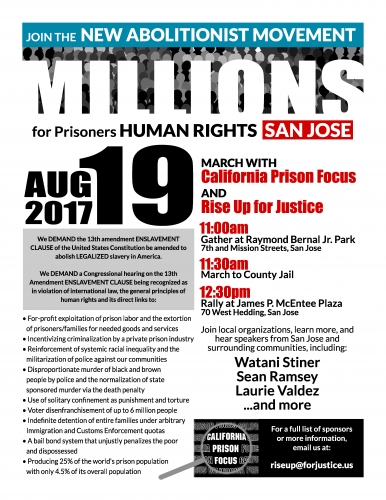 We are 100% volunteer and depend on your participation to sustain our efforts!
Get Involved
If you'd like to help with maintaining or developing the website, contact us.