From the Open-Publishing Calendar
From the Open-Publishing Newswire
Indybay Feature
Related Categories:

U.S. | Media Activism & Independent Media
WBAI-FM and Pacifica Foundation Under Legal Attack From Empire State Realty Trust
NY Pacifica WBAI is under attack by the Empire State Reality Trust. There is a support campaign to keep the stations going.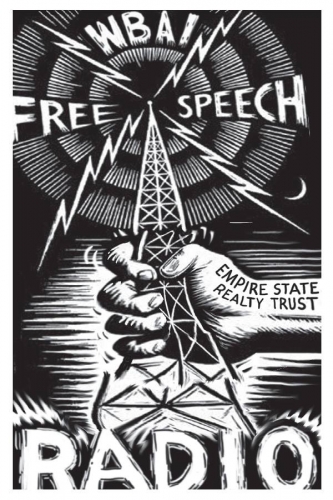 WBAI-FM and Pacifica Foundation Under Legal Attack From Empire State Realty Trust
https://www.wbai.org/documents/ESRT%20PRESS%20RELEASE%206-30.pdf
June 30, 2017
For Immediate Release
Contact: Bill Crosier Tel: (510) 316 9783 or (718) 636 WBAI Email:
ed [at] pacifica.org
WBAI-FM and Pacifica Foundation Under Legal Attack From Empire State Realty Trust
Pacifica is asking for community support to help get a fair settlement and relief from the grossly excessive annual increases in the tower lease
New York City - Radio Station WBAI-FM (99.5) and parent nonprofit the Pacifica Foundation are grappling with a lawsuit from the Empire State Realty Trust (ESRT) involving millions in radio antenna rental space fees.
ESRT is demanding over $2 million for unpaid tower lease costs, holding the network hostage in an annually escalating contract involving increases of about 9% per year. Pacifica's Interim Executive Director, Bill Crosier, is asking for a fair settlement and release from the lease. He asserts that "the amount being charged is over four times the market rate in New York, and threatens the future of independent community radio".
The Pacifica Foundation is a non-profit media network that owns WBAI in New York, four sister community radio stations, an historic audio archive and provides programming for over 220 affiliated stations across the country. Its income is about 12 million dollars per year. Empire State Realty Trust is a multinational corporation that held $554.4 million cash and cash equivalents as of Dec. 2016, and owns billions of dollars of real estate. ESRT's contractual maneuvers to maximize profits without consideration for community interests have severely impacted the Pacifica Network and threatens its future operations.
When 9/11 happened in 2001, WBAI covered the event with round-the-clock reporting and public service. After the destruction of the Twin Towers, broadcasting stations in the NYC area
had few options for antenna space rental. The Empire State Building's owners took advantage of its monopoly position and in 2005, they negotiated a highly questionable contract with Pacifica's former ED, Ambrose Lane.
The 15-year lease that ends in 2020 involves a 7% annually escalating license fee—the largest portion of the bill. There is also an additional overall cost of living increase of about 2% per year. In total the lease increases by 9% every year. Pacifica IED Bill Crosier said: "They have refused to renegotiate the annual increases and release Pacifica from the lease contract,
which is scheduled to continue with escalating rental fees until 2020. They are suing us for over $2 million for unpaid tower lease payments, interest, and late fees, even though we were current with payments until three years ago and have been paying the current market rate every month since then. But we simply cannot keep paying four times the market rate. Under the lease, we would be obligated to pay an additional $2 million for the next three years. Market rates for FM transmitter tower leases in NYC have dropped to about $12K monthly for new transmitter site options. WBAI's bill for the month of May 2017 came to over $53,000. We've been on the Empire State Bldg. since 1965 and have always been willing to pay what's fair and reasonable, but these exorbitant annual increases are killing us".
The ESRT threat to Pacifica may involve more than financial opportunism. In these urgent times there are interests who stand to benefit from the loss Pacifica's powerful free speech advocacy. The mission of Pacifica has always been to represent the interests of the public. During the disaster of Hurricane Sandy in 2012, WBAI producers played a key role, broadcasting information from the station as the streets flooded below. And now Pacifica stations across the country are working together to provide independent investigative reporting and commentary on the rapidly developing political, economic, social justice and environmental threats of 2017.
Listeners and media staff across the US are taking action with petitions, press releases, videos and social media in support of Pacifica and WBAI as they face this daunting legal assault. Pacifica is asking for community support to help Pacifica get a fair settlement with ESRT and relief from the grossly excessive annual increases in the antenna lease.
###
Started in 1946 by conscientious objector Lew Hill, Pacifica's storied history includes impounded program tapes for a 1954 on-air discussion of marijuana, broadcasting the Seymour Hersh revelations of the My Lai massacre, bombings by the Ku Klux Klan, going to jail rather than turning over the Patty Hearst tapes to the FBI, and Supreme Court cases. Those cases include the 1984 decision that noncommercial broadcasters have the constitutional right to editorialize, and the Seven Dirty Words ruling following George Carlin's incendiary performances on WBAI. The Pacifica Foundation operates noncommercial radio stations in five major metropolitan areas, and syndicates content to over 220 affiliates. It invented listener-sponsored radio.
INFORMATION CENTER: WBAI | Empire State Realty Trust
https://wbai.org/articles.php?article=3468
- WBAI 06/30/2017
Please check back regularly for information and documents.
6/30/17 - WBAI producer Randy Credico and Station Manager Berthold Reimers visited Albany to gather the support of New York State Senators in the existential fight against the Empire State Realty Trust.
They met with Senator Liz Krueger, Senator James Sanders, Rodneyse Bichotte, members of the Black Caucus, and members of the Latino Caucus.
WBAI/Pacifica is urging you to call and write to your local officials to demand that the Empire State Reality Trust (ESRT) negotiate and release WBAI from an archaic contract for the use of the antenna at the Empire State Building made when it was the singular broadcast antenna left after 9/11. See Press Release below.
We were happy to see the support of top NYC elected officials in a letter sent to the ESRT that included Mayor De Blasio and 11 other top names in city government, also posted below.
We still need as many NY people as possible to contact their elected officials in the next few days, briefly tell them of our problem with ESRT, ask for their support, ask them to sign onto the resolution, and come to the July 6 press conference (time and location still TBD). You can use the resolution letter that is attached below.
6/30/17 - Pacifica Executive Director press release (below).
_________________________________________________________________________
DOCUMENTS + HELPFUL LINKS
6/30/17 Press Release
Endorsement Letter by NYC Officials
Resolution Document for Officials
To find your city council representative: you can enter your address and borough in the search box HERE.
We are 100% volunteer and depend on your participation to sustain our efforts!
Get Involved
If you'd like to help with maintaining or developing the website, contact us.