From the Open-Publishing Calendar
From the Open-Publishing Newswire
Indybay Feature
Related Categories:

California | Santa Cruz Indymedia | Environment & Forest Defense
Lawsuit Launched to End Whale, Sea Turtle Entanglements in California Dungeness Crab Gear
West Coast Whale Entanglements in 2016 Broke Record for Third Straight Year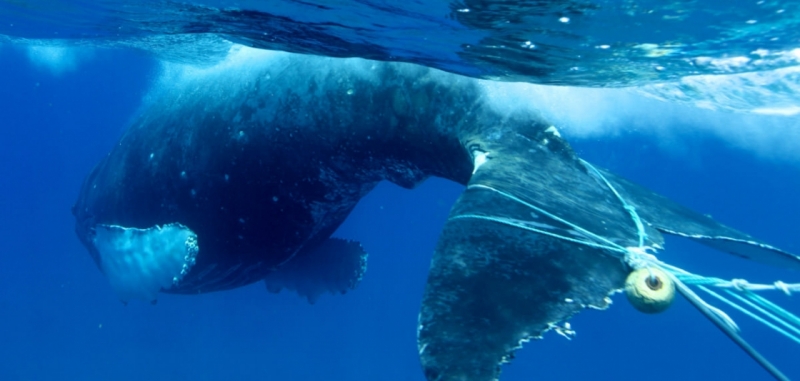 OAKLAND, Calif., June 28, 2017 — The Center for Biological Diversity today filed a formal notice of intent to sue California's state wildlife agency for failing to prevent commercial Dungeness crab gear from entangling, injuring and killing threatened and endangered humpback whales, blue whales and sea turtles.
California's Department of Fish and Wildlife authorizes and manages operation of the fishery, which last year entangled at least 21 endangered or threatened whales, contributing to a third straight record-breaking year for entanglements along the U.S. West Coast. An endangered leatherback sea turtle was also caught in commercial Dungeness crab gear in 2016.
Today's notice letter notes that the Department's failure to protect imperiled whales and sea turtles from entanglements in crab gear violates the federal Endangered Species Act.
"Whales and sea turtles die slow, painful deaths from getting tangled up in crab gear. Skyrocketing entanglements off our coast aren't just tragic, they're also illegal, and it's time for the state to be held accountable," said Kristen Monsell, an attorney with the Center. "California has a legal and moral obligation to protect these imperiled animals from entanglements before it's too late."
The recovery of humpback whales off California has been hindered by entanglements in fishing gear and the failure to manage that threat, according to the federal government. The endangered population of humpback whales that feeds off California has just over 400 individuals, meaning any death or injury from entanglement could harm the entire population. Eliminating entanglement in fishing gear is also the number one action the federal government says is needed to recover critically endangered Pacific leatherback sea turtles.
Large whales and sea turtles can drown from getting tangled up in heavy crab gear. Entangled whales and sea turtles can carry traps and buoys hundreds of miles on their migrations, sapping them of strength, interfering with breathing, feeding and reproducing, leading to starvation, dehydration and slow death.
"California's large whales and sea turtles are a national treasure and important to maintaining a healthy ocean," Monsell said. "It may not be easy, but it's critical to keep Dungeness crab traps out of the way of endangered animals."
In response to the increasing entanglements, California has recommended voluntary actions. These included, in 2016, issuing an advisory to crab-vessel permit holders calling for them to voluntarily reduce the use of trailer buoys and remove gear from Monterey Bay, as well as a Best Practices Guide advising fishermen how to set crab traps to reduce entanglements.
Today's notice letter argues that voluntary measures alone are insufficient to reduce entanglements. The notice letter seeks to compel the Department to minimize harm to imperiled humpback whales, blue whales and Pacific leatherback sea turtles by restricting the use of crab traps in their habitat and securing a permit under the Endangered Species Act for incidental interactions.
The 60-day notice of intent to sue is required before a lawsuit can be filed to compel the Department to comply with the Endangered Species Act.
Photo: Entangled whale, Ed Lyman, NOAA.
The Center for Biological Diversity is a national, nonprofit conservation organization with more than 1.3 million members and online activists dedicated to the protection of endangered species and wild places.
http://www.biologicaldiversity.org/news/press_releases/2017/whale-and-turtle-entanglements-06-28-2017.php
http://www.biologicaldiversity.org/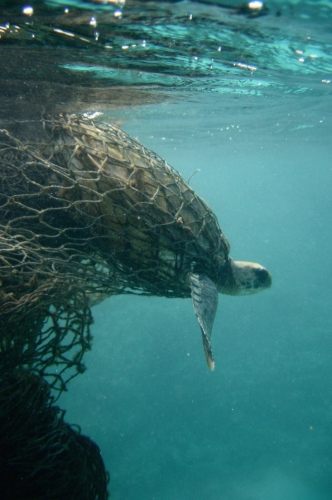 Photo: Doug Helton, NOAA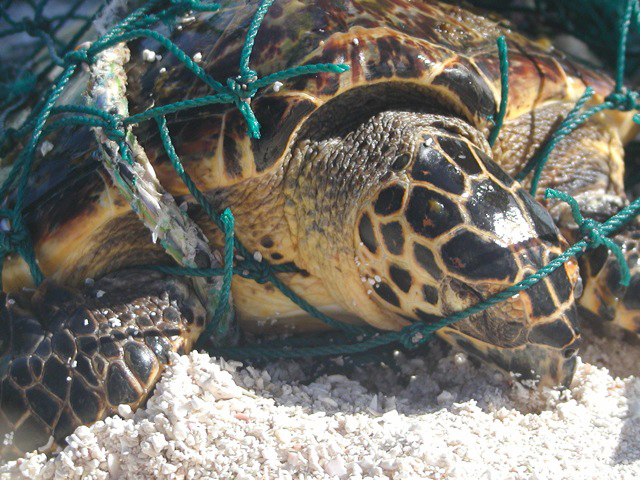 Photo: NOAA PIFSC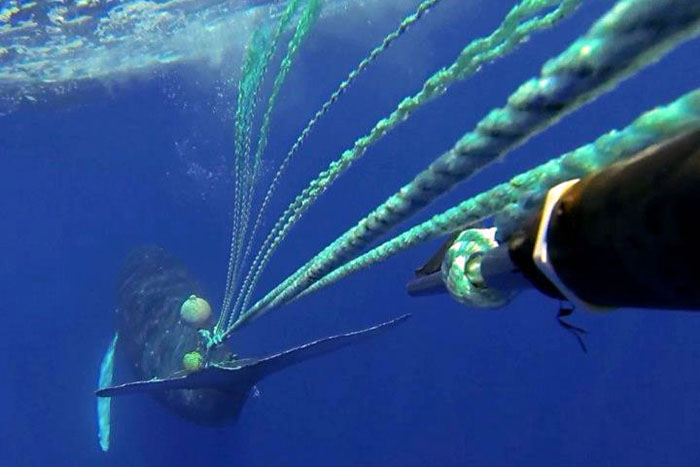 A response team led by the Hawaiian Islands Humpback Whale National Marine Sanctuary working closely with NOAA Fisheries successfully rescued an entangled humpback whale in 2013. Rescuers managed to cut away only 40 feet of trailing line on the first day of the response. But they also attached a satellite tag into the trailing gear allowing them to relocate the animal a few days later. During the second attempt they removed an additional 200 feet of line and two buoys completing the rescue. Photo credit: NOAA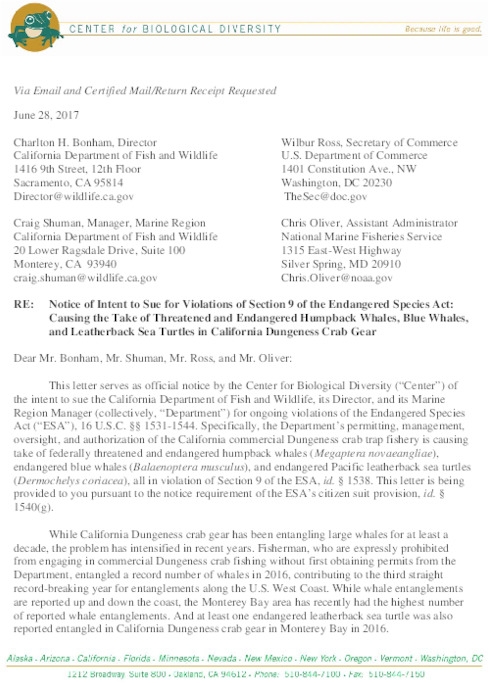 Download PDF (64.0kb)
We are 100% volunteer and depend on your participation to sustain our efforts!
Get Involved
If you'd like to help with maintaining or developing the website, contact us.