From the Open-Publishing Calendar
From the Open-Publishing Newswire
Indybay Feature
Related Categories:

Central Valley | Police State & Prisons | Racial Justice
Timeline of Stockton, CA killings by law enforcement, 2007 - present
This timeline mapping state violence in Stockton, CA was collectively generated as part of a larger ongoing convivial research effort to expose low intensity war across the Bay Area and state. The timeline was produced through a collaboration between the Center for Convivial Research and Autonomy (CCRA) and the efforts of families and grassroots groups in Stockton and beyond. Because of the high number of killings in Stockton, we have had to modify the format to a range of ten year increments. Each timeline represents a decade of state violence in Stockton.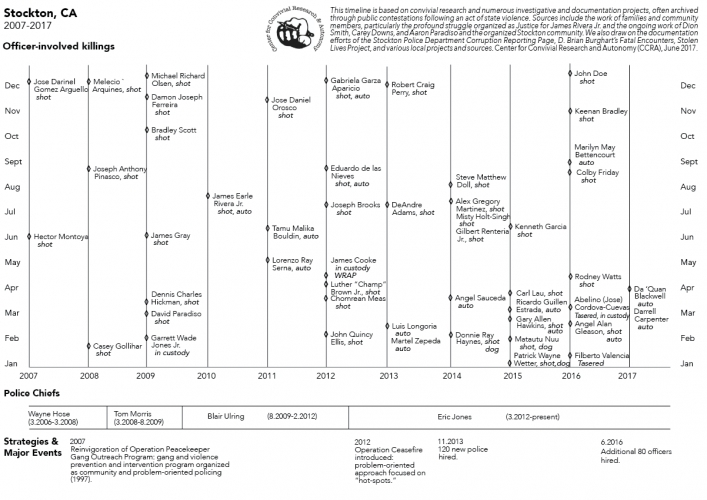 The timeline is a tool that remembers, counts, mourns and honors our dead. It is a collaborative effort of documentation over time that makes visible the many resistances that have refused erasure. This refusal itself is a confrontation against state violence. The timeline reflects our insurgent and organized community in Stockton and across the Bay Area and in its detail is reflected the work and tears and blood of many over time. Each vertical line represents a year in the history and present of Stockton and those whose lives were lost in that year, and counted. Based on what we know, we know that there are more lives that have been taken that are still missing here. We invite any names that we have missed and humbly invite corrections to any possible errors.
Stockton Police have continued to expand their force in recent years, with 120 new police hires approved in November of 2013, and an additional 80 officers hired in June of 2016. Many of the incidents of police violence in Stockton include dog attacks and car crashes. Formed in 1959, Stockton is the first law enforcement agency on West Coast to use dogs in policing K9 Units. In 1997, the Operation Peacekeeper Gang Outreach Program was initiated. As a gang and violence prevention and intervention program, Operation Peacekeeper was organized as community and problem-oriented policing. This program was re-invigorated in 2007.
In addition to gang task forces, another strategy of the department has focused on the formation of cross-agency task forces including Delta RATT (Regional Auto Theft Team), initiated in 1998. Delta RATT is composed of officers from the police departments of Stockton, Lodi, Manteca, as well as the California Highway Patrol and San Joaquin County Sheriff's Department. It also includes members from the San Joaquin County Probation Department and the San Joaquin County District Attorney. Many recent killings in Stockton and across San Joaquin County have occurred at the hands of officers who belong to Delta RATT.
In 2012, Operation Ceasefire introduced a problem-oriented policing approach focused on "hot-spots," typical of "statistical control" efforts that target perceived insurgencies. Stockton Police also has a number of community and police initiatives that seek to incorporate community leaders and resources into collaborating with police, including the Citizen Observation Program (C.O.P.). Aimed at soliciting recorded footage in "identifying criminals," C.O.P encourages residents to register their home surveillance cameras with the police, attempting to secure a citizen-police partnership in monitoring and reporting on the neighborhood and community.
The timeline relies on local knowledges and the circuits of struggle where details and critical information are exchanged and circulated among us. It reflects our ongoing commitment to each other to continue to gather in streets, parks, community centers, taquerias, barbecues, bars and cafes to share what we know and elaborate the strategies and practices of policing, violence, and control that are aimed at us, department by department, program by program, across the state. In this way, we hope to collectively map for ourselves across communities the war that is organized against us as low intensity conflict in service of capital's racial regime. As a project of militant and convivial research this is a collaboration across our many rebellions, insurgencies, and networked moments of care to confront militarization and organize around our own community safety.
Center for Convivial Research and Autonomy
Stockton timelines for download:
2007 - present:
https://app.box.com/s/2gl345n0e8hu66phwdg41ok3lrw40zfi
1997 - 2007:
https://app.box.com/s/xge2mubf24yra4qlabjjhyv4ay8wf1gp
BART police timeline for download:
https://app.box.com/s/ff8qeqzhjxhi5bqjj4bgupqzr4w11wcw
Hayward timeline for download:
https://app.box.com/s/4wkfql60a9hc98hh8r4g7n04jzfdgdr4
San Francisco timeline for download:
https://app.box.com/s/eyaj91nmf4p1fvs41yd40fuj429jw9ni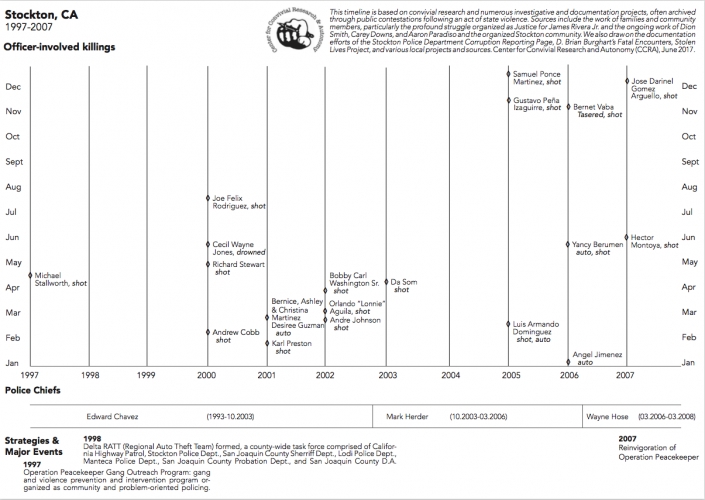 We are 100% volunteer and depend on your participation to sustain our efforts!
Get Involved
If you'd like to help with maintaining or developing the website, contact us.