From the Open-Publishing Calendar
From the Open-Publishing Newswire
Indybay Feature
Related Categories:
Labor & Workers
WWR On Labor Protests Nazis In Portland & Jeremy Corbyn In SF Labor Conf To Stop The War
KPFA Pacifica WorkWeek radio looks at the organized fightback of labor in Portland against the growth of racists and fascists who are mobilizing. Trade unionists with the support of their locals organized protests against a nazi rally and stopped the racists and Nazis from marching through the city. WorkWeek also plays the speech of Labor MP Jeremy Corbyn who spoke in 2007 at a ILWU supported Labor Conference To Stop The War.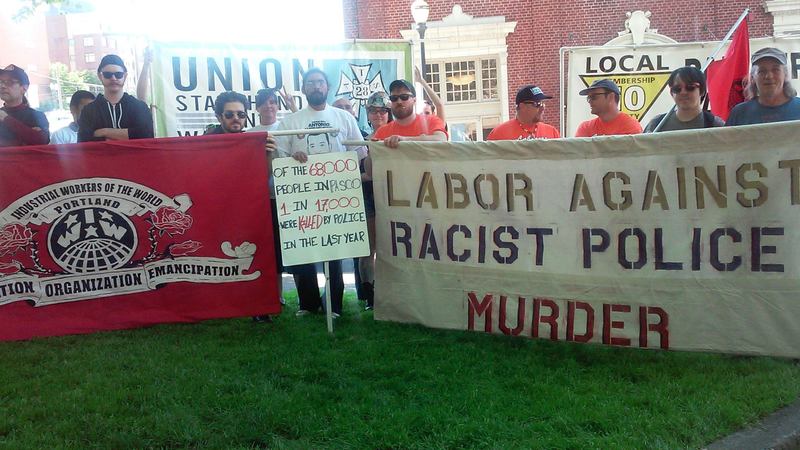 WorkWeek looks at the response of trade unionists and union locals opposed to racists and nazis in Portland. Following the murders in Portland on May 26, 2017 of two workers including one who was a member of IATSE Local 17, the neo-nazis and racists tried to have a rally and march in the city. WorkWeek interviews Wyatt McMinn who is Vice President of the Painters Union Local 10 in Portland and Rebecca Lewis who is a member of IATSE 488 and both are supporters of the Internationalist Group.
Next we hear from Jeremy Corbyn, who is the leader of the UK Labor Party who was in San Francisco on October 20, 2007 to speak at a Labor Conference to Stop The War sponsored by the ILWU Local 10 and Local 34.
He discussed the role of the ILWU, internationalism and the fight against US wars in the Middle East and attacks on Iran.
For additional information:
http://www.nwcarpenters.org/wp-content/uploads/2017/02/Anti-white-nationalism-resolution-Feb-2017.pdf
https://nwlaborpress.org/2017/06/unions-react-to-the-max-killings/
http://www.wweek.com/news/2017/05/30/organized-labor-groups-pledge-show-of-support-and-muscle-on-june-4/
https://archive.org/details/Johnp-LaborConferenceToStopTheWar477
http://www.transportworkers.org/node/2888
https://sites.google.com/site/laborstopwar/laborconferencetostopthewar
Production of WorkWeek Radio
workweek(at)kpfa.org
https://soundcloud.com/workweek-radio
Pacific Northwest Regional Council Of Carpenters Calls on Labor To Mobilize Against Racist and Fascist Hate Groups
Mobilize Labor to stand against racist and fascist hate groups
http://www.nwcarpenters.org/wp-content/uploads/2017/02/Anti-white-nationalism-resolution-Feb-2017.pdf
Whereas, there has been a sharp increase in racist and anti-immigrant attacks across the country in recent days, and
Whereas, numerous hate groups have stated that they will stage menacing provocations in many areas, including the Pacific Northwest, and
Whereas, groups like the KKK and other racist organizations represent a deadly threat to African Americans, Latinos (and other people of color), immigrants, Muslims, Jews (and other marginalized religious groups), LGBTQ, among many others, and represent a threat directly to the members of this Union, and the labor movement as a whole, and
Whereas, the white supremacist forces are related to the origins of anti-labor "right to work" laws in order to destroy unions because they believed unions would lead to uniting and empowering the multi- national, multi-racial, working class to resist these attacks, and
Whereas, if the US labor movement is to rebuild its strength during this period of crisis of racist organizing and attacks, it must take up the struggle against white supremacy/white nationalism, not as an abstract debate, but as part of its social, political, and organizing agenda, and
Whereas, unions are considered a threat to many fascist groups, and other racist organizations because the unions are working class defense organizations for all workers in the community, and
Whereas, we stand by the principles of the UBC, who's constitution states, "we recognize that the interests of all labor are identical regardless of occupation, sex, national origin, religion, or color, for a wrong done to one is a wrong done to all. We oppose all unlawful discrimination and harassment against workers, whether based on race, gender, nationality, or any other basis."
Therefore be it resolved that the Pacific Northwest Regional Council of Carpenters stands ready to join with the broader labor and social justice community in mobilizing against the clear and present danger that the provocations of racist and fascist organizations pose to us all.
Unions react to the MAX killings "Best was a well-liked member of the COPPEA chapter of Professional & Technical Employees (PTE) Local 17 at the City of Portland. An army veteran and a father of four, he had been a technician at the city's Bureau of Development Services since 2015."
https://nwlaborpress.org/2017/06/unions-react-to-the-max-killings/
Jun 2, 2017 Building Community
At the Hollywood Transit Center, an impromptu memorial to the victims of the May 26 attack on the MAX light rail.
By Don McIntosh
PORTLAND — The May 26 attacks on the MAX light rail train hit close to home for many local union members.
Jeremy Christian, an ex-con and self-described political nihilist, got on a westbound train at Lloyd Center at about 4:30 Friday and immediately targeted two African-American girls, one of them wearing a hijab, with a loud and frightening racist rant. Three men stepped forward to defend the girls and were stabbed in the neck by Christian. Micah David-Cole Fletcher survived. Taliesin Myrddin Namkai-Meche and Rick Best died of their wounds.
Best was a well-liked member of the COPPEA chapter of Professional & Technical Employees (PTE) Local 17 at the City of Portland. An army veteran and a father of four, he had been a technician at the city's Bureau of Development Services since 2015.
Local 17 posted a tribute to Rick on its website, and asked members to contribute to a GoFundMe pageto fund scholarships for Best's children: Erik, Isaac, David, and Tramanh. The union also wrote a check to cover COBRA payments for June so Best's family can maintain health insurance it was getting through the City. Portland City Council is working on ordinance to pay the COBRA payments for three years after that. The PTE 17 board will also consider other ways to honor Rick's sacrifice and bravery at its June 15 meeting in Seattle, including the possibility of contributing to the Rick Best Memorial Scholarship Fund, since that is where his family would like donations to go.
Other union members dealt with the aftermath of the attacks in the course of doing their jobs, including members of the Portland Police Association, Teamster-represented paramedics who staff American Medical Response, and TriMet police officers and the TriMet light rail operator who halted the train after the attacks occurred. TriMet employees are represented by Amalgamated Transit Union Local 757, which has been raising concerns about security on board buses and light rail trains for several years.
A thank you to the Good Samaritans, signed by TriMet operators
But in a May 31 statement about the attacks, ATU Local 757 president Shirley Block expressed opposition to a proposal to increase the presence of armed police officers aboard buses and trains. "Armed police officers aboard transit vehicles intimidate the public, reduce ridership, and provide little more than expensive security theatre," Block wrote. Instead, Block said, the union is calling for a return to well-trained fare inspectors "who can de-escalate and/or assess the proper response to dangerous situations," as well as a reinstatement of TriMet's "Rider Advocate" program, which "recruited and paid individuals from low-income communities and communities of color to ride our buses and trains as liaisons between operators, fare inspectors, riders, and even police." See the full statement here.
Oregon AFL-CIO president Tom Chamberlain also issued a statement May 31 in response to the attacks: "The unions of the Oregon AFL-CIO offer our sincere condolences to the families and friends of Taliesin Namkai-Meche and Ricky John Best, and we hope Micah David-Cole Fletcher has a complete recovery," Chamberlain said. "The actions these three took demonstrates a unique combination of bravery and compassion. We hope the two young women who endured a hate-fueled verbal assault can process and ultimately heal from what I can only imagine to be a deeply devastating experience."
"Incidents of hate and hate crimes have been on the rise in our country, and Friday's violence remind Oregonians that we all must stand together in opposition to those who seek to divide us through fear and violence. Oregonians are sickened and disturbed by Friday's events, and I encourage all of us to stand together and continue to take positive actions to protect the rights of us all. It's through unity and solidarity that we will heal from this tragic incident. It's through standing together against hatred that we can stop events like this from happening again."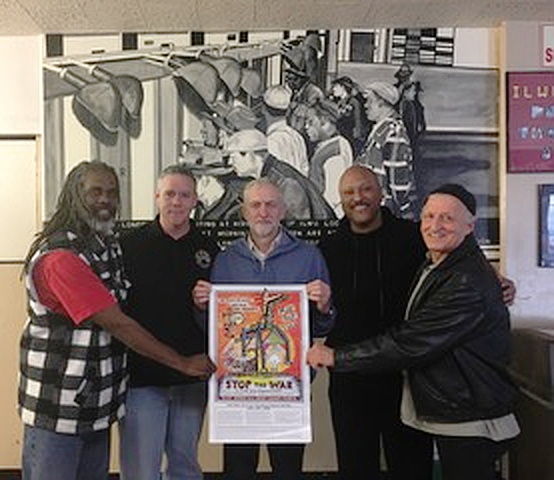 Left to right: Andre Dawkins, Ed Ferris, Jeremy Corbyn, Derrick Muhammad, Jack Heyman
Jeremy Corbyn came back to San Francisco on December 27, 2016 and joined ILWU Local 10 members with a placard against the Iraq war. The ILWU in 2008 had a coast wide strike against the war

Jeremy Corby joined opposition to the US led war in Iraq and joined the rally in San Francisco to support union opposition to the war. The invasion and occupation was supported by the US and British government and the "coalition" President Bush put together. The US has since expanded the wars to Libya, Africa and Syria where there are now US bases. The Congress continues to support these wars and Saudi Arabia which is financing the war against Yemen which is also backed by the US Congress
We are 100% volunteer and depend on your participation to sustain our efforts!
Get Involved
If you'd like to help with maintaining or developing the website, contact us.