From the Open-Publishing Calendar
From the Open-Publishing Newswire
Indybay Feature
Related Categories:

San Francisco | Labor & Workers
LaborFest 2017 FilmWorks United Schedule
This is the schedule of LaborFest FilmWorks United 2017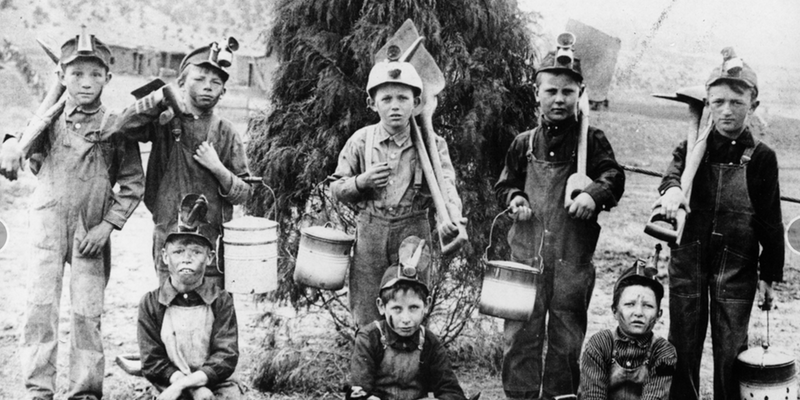 FilmWorks United (2017)
http://www.laborfest.net/2017/2017Films.htm
July 5 (Wednesday) 7:00 PM (Free) ILWU LOCAL 34 HALL - next to AT&T Ball Park, SF
American Socialist: The Life and Times of Eugene Victor Debs (97 min.) 2017
By Yale Strom
Eugene Victor Debs is unknown to most people in the United States, yet, he is one of the most important working-class figures in our history. Debs was a railroad worker during the 1877 national railway strike in July. This strike took place when the railroad bosses cut the wages of railroad workers 20%. The national strike shook the country as rebellions broke out not only in Pittsburgh, St. Louis and Chicago, but even in west coast Sacramento. It was only put down when President Garfield sent US army troops to break it. It also led to the creation of the National Guard in cities throughout the US.
This experience formed Deb's views of the nature of U.S. social and economic structure, and he later became a leader of the railroad workers, the American Railroad Workers (ARW). He later ran for president as a Socialist.
The oligarchy that ran the U.S. then is obviously still in charge. This film charts why Debs became a Socialist and why he opposed war. He was jailed for his political views. While in prison, Debs ran for president on the Socialist Party ticket, and received over One million votes.
With the present oligarchy and endless wars, the lessons of his struggle for today are relevant and important. His words are still invaluable, and in his article, Labor, the Genius of Civilization, he remarks; "Labor is the power that moves the world." This is still the case.
The director will be attending for Q & A.
July 7 (Friday) 7:00 PM (Donation) 518 Valencia- near 16th St., SF
Ludlow and Greek American in the Colorado Coal War(71 min.) (2016) (Brazil)
Directed by: Frosso Tsouka
The racist war on immigrants in the US has a long history and this film tells the story of Greek Americans and other immigrants who came to work in the mines of Colorado. This film shows the conditions that these miners and their children worked under and how immigrant workers were terrorized and exploited.
This story is not only about their conditions but also how they fought back despite major obstacles, including organizing themselves to form a union and stand up to the goliath capitalist John D. Rockefeller.
The Colorado Ludlow massacre of 1914, which killed 26 at a workers camp, was a coordinated effort by Rockefeller and the politicians he controlled to use the Colorado National Guard and Colorado Fuel & Iron Company camp guards to murder and destroy their fight for a union. This massacre of mine workers and their families was called by labor historian Howard Zinn "the culminating act of perhaps the most violent struggle between corporate power and laboring men in American history." It is a hidden part of our history today as workers fight for human and labor rights.
Film maker Frosso Tsouka and San Francisco State professor Zeese Papanikolas will take questions after the film. Professor Papanikolas is author of Buried Unsung: Louis Tikas and the Ludlow Massacre. This book helped encourage filmmakers from the U.S. and Greece to focus on this important American story.
July 8 (Saturday) 7:00 PM (Free) 518 Valencia - near 16th St., SF
Fascism inc. (83 min.) (2014) Directed by: INFOWAR Production (Greek)
Director Aris Chatzistefanou's films look at Greece during the time of neo-nazi and fascist movements, pointing to capitalism's attempt to profit by attacking the working class and trade unionism from banning strikes to complete deregulation, allowing the wealthy to acquire land and resources. Chatzistefanou's film Fascism Inc. explores the role of fascism in Greece during World War II, and its development in contemporary times. The film also looks at the growth and politics of the Greek neo-fascist group Golden Dawn, and how their ideology and methods are encouraged by corporate-controlled media, which blames immigrants for the growing economic crisis.
The rise of immigrant bashing which is taking place in the U.S. is, as the film shows, directly correlated to the growing economic crisis, and this well-edited film makes the connection concrete.
Following the film, director Frosso Tsouka and San Francisco State professor Zeese Papanikolas will discuss the economic and social developments in Greece and the rise of Golden Dawn and other neo-nazi groups.
July 10 (Monday) 7:00 PM (Free) ILWU 34 Hall - 801 2nd St., next to AT&T Ball Park
Divided We Fall (90 min.) (2016) Directed by: Katherine Acosta
In one of the largest mobilizations of labor during the last decade, hundreds of thousands of workers from throughout the country joined together to oppose the union-busting attack by Wisconsin governor Scott Walker. This film by Katherine Acosta looks at the important mobilization, including the Wisconsin University Graduate Student Assistants and workers throughout the state who mobilized to stop the attacks on labor and democratic rights.
Wisconsin was one of the strongest unionized states in the country and the result of the failure of labor to stop his attack has left unions like AFSCME and AFT decimated with a loss of over 50% of the membership. Katherine Acosta provides lessons from how labor and the community fought back.
July 12 (Wednesday) 7:00 PM (Free) ILWU 34 Hall - 801 2nd St., next to AT&T Ball Park
Killing Floor (114 min.) (1984) Directed by: Elsa Rassback
One hundred years ago, a critical struggle was taking place in the slaughterhouses in Chicago to organize a union. This powerful dramatic film focuses on the Polish and African American workers and their conditions as they fight to overcome racism and class hate and greed, in order to build a union of black and white workers.
African American workers traveled to Chicago for jobs and the continuing struggles that led to race riots in Chicago in 1919.
Elsa Rassbach will present the film and take questions after the screening. She fought for PBS to do a series of films on working class history but this was the only one that was able to get funded.
July 13 (Thursday) 6:00 PM (Free) Berkeley City College Auditorium - 2050 Center St., Berkeley
Comme des Lions (Like lions) Let's Fight Like Lions (115 min.) (2016) Directed by: IFrançoise Davisse
<7-13comme-des-lions.jpg>This documentary film traces the struggle of workers of the PSA plant in Aulnay-sous-Bois, a poor suburb of Paris, against management's threat to close the plant. The title comes from the slogan of the strikers, "Let's fight like lions!" The conflict is experienced "from the inside," showing the workers' debates and reactions on a day-to-day basis, from 2013-2015.
Sponsored by the BCC Students for Socialism Club
(Contact jberezin(at)peralta.edu)
July 19 (Wednesday) 7:00 PM (Free) ILWU 34 Hall - 801 2nd St., next to AT&T Ball Park
I, Daniel Blake (96 min.) (2017) (UK) Directed by Ken Loach, written by Paul Laverty
I, Daniel Blake by Director Ken Loach and writer Paul Leverty is an important film on the destruction of the lives of workers and their families in the "welfare system". Blake is a carpenter who has a heart attack and is then forced to go back to work despite his health conditions. While he is fighting for compensation, he befriends a woman and her children who are also being ground up in the Employment and Support Allowance welfare system in the UK.
This film, which won the Palme d'Or at Cannes, touches the hearts of all people about what working people are going through in their struggle for survival.
Following this film, there will be a discussion about LaborFests in the US and around the world and the fight to protect disabled workers and their families in the US.
Panel: Chris Jury UK Tolpuddle Radical Film Festival and Liberating Arts; Mehmet Bayran, LaborFest Turkey; Jimmy Kelly, ReelWorks Santa Cruz
July 21 (Friday) 7:00 PM (Free)First Unitarian Universalist Church - 1187 Franklin St., SF
Island of Shadows (98 min.) (2016) (S. Korea) Directed by Chong-gun Kim
"Island of Shadows" shows the history of Korean Hanjin shipyard workers to defend their health and safety building a union. They built one of the most industrialized countries in the world yet now face the destruction of their lives because of company unions and government corruption.
Conditions are so horrific that it is acceptable that workers are regularly getting killed on the job. Slowly workers began to set up a union to fight for their human and labor rights; we hear from the voice of workers about this experience, their victories and defeats.
It also shows the despair that led union leaders to commit suicide in protest over their conditions. To understand the horrific conditions and sacrifices that these workers make to change their lives is to understand the power of the working class and how they can succeed despite repression and workplace bullying.
One of the worker leaders is Jinsook Kim, a welder at the shipyard who challenged the workers to support their rights by occupying the top of a crane for 309 days.
Her voice for justice and humanity resonates to all working people and human beings.
Following the film there will be an update on the Korean elections and a discussion about how U.S. workers can support the struggle of Korean workers.
July 23 (Sunday) 7:00 PM (Free) ILWU 34 Hall - 801 2nd St., next to AT&T Ball Park
Watsonville on Strike (65 min.) (1989) Directed by Jon Silver
With Jon Silver & Frank Barnacke
In September 1985, 1,500 Teamster-organized, mostly immigrant women cannery workers walked out on the two largest frozen food companies in the United States — Watsonville Canning and Richard A. Shaw Frozen Foods in Watsonville, California. This was known as the "frozen food capital of the world". The workers faced not only companies who wanted major concessions but also a white union leadership who did not speak Spanish and who accused them of not being union members.
This historic and powerful video "Watsonville on Strike" hears the voices of these workers and their struggle for justice and control of their own union. The strike lasted 17 months revealing the contradictions in management and the unions.
It also shows the internal struggle in the union against the push for a concession contract and the role of solidarity.
Joining film maker Jon Silver after the screening will be Frank Barnacke, who was a farmworker, and is author of Trampling Out the Vintage: Cesar Chavez and the Two Souls of the United Farm Workers.
https://www.ejumpcut.org/archive/onlinessays/JC35folder/WatsonvilleStrike.html
July 24 (Monday) 6:00 PM (Free) Plumbers Hall - 1621 Market St. 2nd floor, at Franklin St., SF
The River Ran Red (58 min.) (2012) Directed by Steffi Domike and Nicole Fauteux
The violence that erupted at Carnegie Steel's giant Homestead mill near Pittsburgh on July 6, 1892, caused a congressional investigation and trials for treason, motivated a nearly successful assassination attempt on Frick, contributed to the defeat of President Benjamin Harrison for a second term, and changed the course of the American labor movement.
This film is aripping account of the summer of 1892, in which a bitter conflict erupted at the Carnegie Works in Homestead, Pennsylvania. The nation's largest steel maker took on its most militant labor union, with devastating consequences for American workers. Andrew Carnegie and Henry Clay Frick head a fascinating cast of characters, which includes 300 armed Pinkerton guards and the would-be anarchist assassin, Alexander Berkman. This American tragedy still resonates 125 years later, especially in communities hard hit by the decline of heavy industry and labor's diminishing clout.
Report on Labor in the Schools
The struggle to defend working people and our unions requires a real knowledge of history. We need to know where we come from and the lessons of the past to understand our present issues.
Labor In The Schools has been a project of the California Federation of Teachers CFT to bring labor education into the schools and to support the idea that working class history is critical for all people.
Bill Morgan who is a member of the statewide CFT committee will talk about the efforts of the union to build support for labor education in the schools and what all unionists and working people can do to help support labor education.
July 25 (Tuesday) 7:00 PM (Free) 518 valencia - near 16th St., SF
Where Are You Buddy? (25 min.) (2017) (Turkey) Directed by Kazim Kizil
>With discussion - The Fight to Defend Academics and Journalists in Turkey
The growth of child labor in Turkey and around the world is exploding. The U.S. invasion of Iraq and Libya, the war in Syria, and now the U.S. supported bombing of Yemen, are creating millions of refugees, including many children forced to work. This film looks at the lives of these children from their own words as child workers. This new film from Turkey by director Kazim Kizil lets the children tell their own stories.
This will be followed by a discussion about the fight to defend the professors, teachers, and journalists who are under attack in Turkey by the Erodgan AKP government. Tens of thousands of teachers and public workers have been fired without a hearing or due process; many have been jailed, some have committed suicide, and others are on hunger strikes.
Sponsored by Solidarity Committee With The People Of Turkey
http://www.freeacademicians.org
July 26 (Wednesday) 6:00 PM (Free) SF Main Library - Koret Auditorium - 100 Larkin St., SF
Bridging Urban America (87 min.) (2016) Directed by Basia Myszynski and Leonard Myszynski
This biography celebrates Ralph Modjeski, the chief engineer for the San Francisco-Oakland Bay Bridge. Modjeski designed bridges that had significant impact on urban development and commerce. The film is a tribute to innovative engineering and to bridge workers during two eras of transit, taking a deeper look at the scientific mind and artistic soul of a Polish-born, Paris-trained immigrant who contributed to the building of a modern America. This is a relevant film that brings awareness about the deteriorating state of our bridges and how communities search for sustainable solutions to maintain, rehabilitate and preserve these critical parts of North America's infrastructure.
Screened in conjunction with the exhibits "Building Bridges, Not Walls" during July and August at the San Francisco History Center, 6th Floor of the Main Library, and at the Canessa Gallery in North Beach.
July 28 (Friday) 7:00 PM (Free) 518 Valencia - near 16th St., SF
Care (60 min.) (2016) Directed by: Deirdre Fishel
& The Defense of Our Elderly and Panel of Homecare and Disabled Care Workers
Care by director Deirdre Fishel tells the story of home elder care and the homecare workers who do the work to protect our elderly. The humanity of both the elderly and disabled and their caregivers gives the film strength and shows the living reality for a growing part of our population. Millions of seniors need this care and the workers who do this job. These workers are doing critical public work, yet, are underpaid, many struggling to survive themselves.
A panel discussion follows after the film:
Brett Miller, SEIU 1021, the chapter president of the Arc San Francisco; Brad Wiedmaier, SEIU Local 2015 California long term care; moderated by David Duckworth SEIU 1021.
July 30 (Sunday) 6:00 PM (Free) ILWU Local 34 Hall - 801 2nd St. next to AT&T Ball Park, SF
Iron Moon: The Poetry of Chinese Migrant Workers (84 min.) (2015) Directed by: Xiaoyu Qin and Feiyue Wu
The new film from China Iron Moon is a powerful artistic view of the massive industrialization of China through the eyes and words of the workers who have made the new China. At Foxconn, which has over 200,000 workers and produces most of our Apple phones, workers face a life of despair. One of them who committed suicide at the age of 24, left 200 poems of despair, "I swallowed an iron moon…" Using poetry as a tool to chip away at the ice of silence, they and other workers in this film express the hidden stories and life experiences of millions of the workers who are the foundation of the new China.
It weaves from worker to worker, from a female clothing factory worker who lives in poverty but writes poetry rich in dignity and love; a coal miner who works deep in the earth, trying to make peace with the spirits of his dead coworkers through his poetry; rock miner Chen Nianxi, who traveled to San Francisco this year, speaking of his life; working in the mines to support his family, gold-mine demolitions worker blasting rock several kilometers into mountainsides, while writing poetry to carry the weight of his fury, "My body carries three tons of dynamite.." These could be any of the 350 million workers in China, and yet they are also poets. These stories of the life and struggles of Chinese workers are a mournful song and tale of global capitalism.
Play On (83 min.) (2017) Directed by: Gyuri Byun
What happens when subcontracted workers turn into podcast DJs? Subcontracted workers at SK Broadband, Inc. began a podcast broadcast titled Workers Have Changed, to deliver the news about their strike for job security. The podcast studio has become a theater of their life as they share their stories—daily hardships of subcontracted labor, coping with rude customers, and their future and dreams. They finally achieved a victory to convert their employment status from non-regular to regular, yet with their monthly income cut in half. Given this "half" success complicating the picture, Bong-Keun, a union member, decided to quit the job.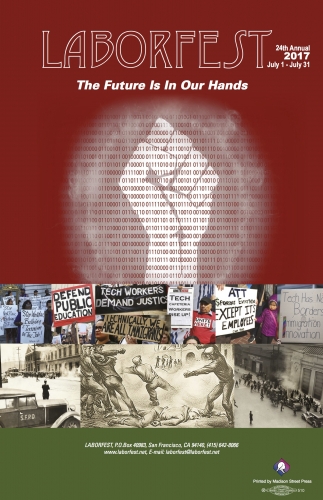 LaborFest 2017 Poster
We are 100% volunteer and depend on your participation to sustain our efforts!
Get Involved
If you'd like to help with maintaining or developing the website, contact us.