From the Open-Publishing Calendar
From the Open-Publishing Newswire
Indybay Feature
View other events for the week of

6/14/2017
Press Conference-No Kid Gloves For Criminal DA Mark Peterson-File Criminal Charges NOW Xav
Date

Wednesday June 14

Time

3:15 PM

-

4:00 PM

Import this event into your personal calendar.
Location Details
Contra Costa County Court House
1020 Ward St.
Martinez, California
Event Type

Press Conference

Organizer/Author
United Public Workers For Action

6/14 Press Conference-No Kid Gloves For Criminal DA Mark Peterson-File Criminal Charges NOW Xavier Becerra Press Conference/Speak-out At Arraignment Of Contra Costa DA Mark Peterson

No Kid Gloves For Criminal DA Mark Peterson-File Criminal Charges NOW Xavier Becerra

Press Conference/Speak-out At Arraignment Of Contra Costa DA Mark Peterson

6/14/17 3:15 PM

Contra Costa County Court House

1020 Ward St.

Martinez, California

Contra Costa County District Attorney has illegally used campaign funds for personal use which is illegal and he continues to refuse to say where he spent these funds.

Contra Costa District Attorney Mark Peterson also has a long record of obstruction of justice, corruption and workplace bullying. He covered up the Pedie police murder in Richmond and was in collusion with the Richmond Police Department in sending away the victim and witness to Florida.

Despite these flagrant violations of the law the California Attorney General Xavier Becerra is refusing to file criminal charges against Becerra and instead simply wants to remove him from office. If a worker or poor person on welfare had committed some of these crimes they would and have been criminally prosecuted and imprisoned. Why the special treatment for DA Mark Peterson?

From the beginning he has been treated as if he was above the law and he is untouchable. The time for double standards has to end.

We call for criminal charges against Contra Costa DA Peterson by Attorney General Becerra. Becerra continues to refuse to file charges against crooked Bay Area Air Quaility Management Board executives who bullied and fired workers Michael Bachmann and Sarah Steele who blew the whistle when these management officials were ordering the illegal destruction of records of corporate polluters.

Again California Attorney General Xavier Becerra is missing in action.

It is time we have accountability and equal justice for all. Allowing government officials to steal and bully and terrorize workers and the community must be stopped Now! They need to be prosecuted as the criminals they are.

The United Public Workers For Action

http://www.upwa.info

415-282-1908 or (510) 233-5820

Additional Media:

https://www.youtube.com/watch?v=XRUpGcDhiyQ https://www.youtube.com/watch?v=p6IafBiNdzA https://soundcloud.com/workweek-radio/ww1-13-17-rick-perez-father-of-pedie-perez-and-da-mark-peterson https://www.youtube.com/watch?v=vZfqvixVnik https://www.change.org/p/jerry-brown-district-attorney-mark-peterson-resign http://www.mercurynews.com/2017/06/01/borenstein-where-did-da-peterson-illegally-spend-campaign-money/

7 Counts Against Contra Costa DA Mark Peterson

https://www.change.org/p/jerry-brown-district-attorney-mark-peterson-resign

Contra Costa District Attorney Mark Peterson has admitted to embezzlement and perjury. He used more than $66,000 from his campaign donations as a personal slush fund and lied about the use of those monies. Peterson's actions have earned him a $45,000 fine from the California Fair Political Practices Commission. More importantly, Peterson has also repeatedly betrayed the public trust by failing to prosecute government corruption by "white collar elites" while aggressively prosecuting the less privileged members of our community, including particularly minorities and poor people. In the interest of transparency, ensuring justice, and restoring public trust, Peterson must resign, and his actions should be investigated and prosecuted by the California Attorney General's office.

In 2016, DA Peterson refused to bring any charges against 19 Richmond police officers, including police officers with a rank as high as a lieutenant, for sexual exploitation of a child, formerly known as Celeste Guap, sharing privileged information about sting operations, and/or providing confidential information to Celeste Guap. The Richmond Police Department sent Guap to a rehab facility in Florida to prevent her from testifying, an obvious obstruction of justice. Finally, there were rumors and allegations that Richmond Police Officers involved with Guap participated in cocaine parties with her. The Alameda County District Attorney even stated that her office found that crimes were committed in Contra Costa County, but that those crimes were outside of her jurisdiction to prosecute.

DA Peterson and Knight worked closely together during the time that Knight served as the County's Human Resources Director. Knight retired from the County to go work at the City of Richmond. DA Peterson also gave the Richmond City Manager, Bill Lindsay, a pass for his role in covering up Knight's theft of public resources. The City of Richmond ultimately had to pay for retaliating against Stacie Plummer, a courageous Finance Manager who blew the whistle on Knight's illegal activities. In 2015, Plummer received the prestigious James Madison Freedom Of Information Whistleblower Award from the Northern California Society of Professional Journalists.

In 2014, DA Peterson refused to prosecute Richmond Police Officer Wally Jensen for the murder of Richard "Pedie" Perez, III. Perez was intoxicated and unarmed when he was attacked by Officer Jensen on the morning of September 14, 2014. Officer Jensen shot Pedie after he was attempting to arrest Pedie for either being drunk in public or resisting arrest. Video footage of the confrontation also allegedly shows that Jensen had backed away from Pedie up to five to six feet before he pulled his gun and shot Pedie. Jensen admits that he was standing away from Pedie when he shot him three times.

DA Peterson refused to hold Richmond Housing Director Tim Jones and his staff accountable for the disappearance of thousands of dollars in appliances from housing facilities. Additionally, a HUD audit of Richmond's housing program showed that approximately $2 million was wrongly charged to the federal government that the City would have to repay. Combine these facts with the fact that low income-residents at the Richmond's public housing at HUD-supported Hacienda Apartments were living in slum conditions and had to be relocated at significant expense to other housing, leaving the City of Richmond as a slumlord.

Peterson's office has refused to investigate fraud, waste, and abuse in a massive Contra Costa school construction program. The West Contra Costa Unified School District (WCCUSD) underwent a million dollar independent forensic audit regarding its $1.6 billion school construction program. The audit revealed numerous significant problems and suggested that law enforcement should be contacted over several potentially illegal matters. Despite concerned citizens urging that his office investigate the matter, Peterson demonstrated absolutely no interest in making any attempt to protect public funds.

In 2015, DA Peterson rehired Deputy DA Michael Gressett, a sex crimes prosecutor charged with sodomy by use of force and falsely imprisoning a female District attorney at gunpoint. Gressett was unsuccessfully prosecuted by the California Attorney General's office. His case was dismissed on technical grounds without a finding of guilt or innocence.

Added to the calendar on Friday Jun 9th, 2017 1:03 PM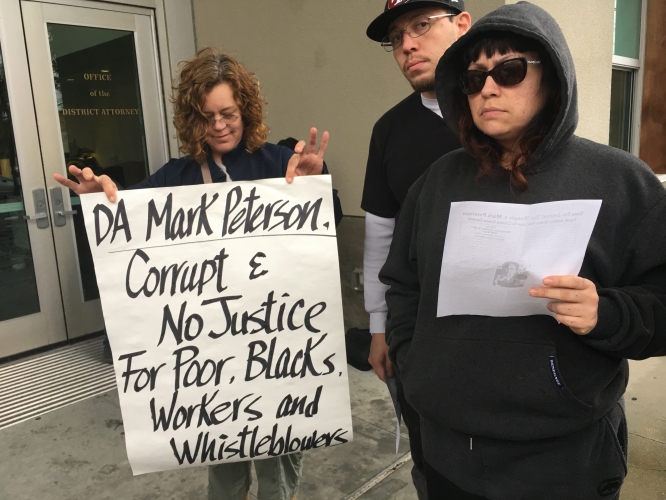 Mark Peterson has prosecuted working people and minorities but not corrupt officials and corporate crooks and the billionaires corporations in Contra Costa County who intimidate workers and violate the laws.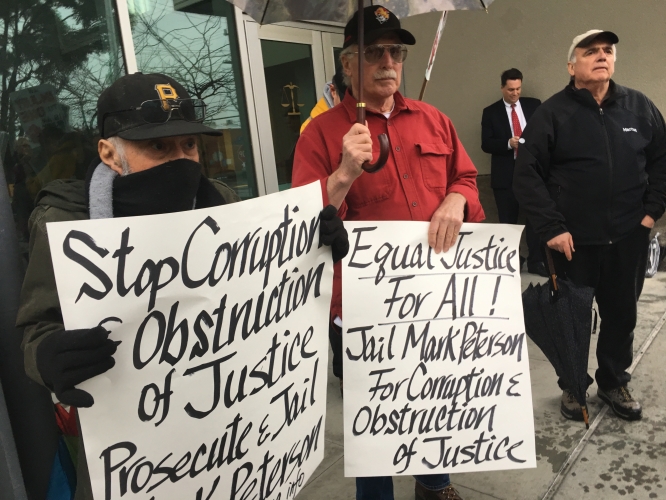 California State Attorney General Xavier Becerra continues to file criminal charges against Contra Costa DA Mark Peterson. Working people go to jail for violating the law but apparently for Xavier Becerra there is are different laws for Contra Costa County District Attorney Mark Peterson.
We are 100% volunteer and depend on your participation to sustain our efforts!
Get Involved
If you'd like to help with maintaining or developing the website, contact us.