From the Open-Publishing Calendar
From the Open-Publishing Newswire
Indybay Feature
Related Categories:

U.S. | Global Justice & Anti-Capitalism
Symbols & Systems Worth of our People: Forum #1
On Monday June 5th, organizers and educators of the New Orleans Peoples Assembly and Take Em Down NOLA led a panel discussion at Justice and Beyond forum, speaking to a packed room about the newly adopted peoples fight back agenda and Take em Down NOLA-led demand that working peoples' voices be heard in the repurposing of the now vacant white supremacist spaces.
Successful in coordinating hundreds of organizations and thousands of individuals to support removal of four racist statues, leaders of these groups will shift the dialogue to changing systems of racial, gender, and class oppression.
Listen now:
Copy the code below to embed this audio into a web page:
Download Audio (19.4mb)
[ 41 minutes and 22 seconds ]

In this panel discussion: Michael "Quess" Moore uses Take Em Down NOLA's win as an example of how people power can bring about change, Malcolm Suber presents the people's assembly process and ten point program for 2017-2018, and Angela Kinlaw informs leaders on how they can engage in the work.

On June 3rd, the People's Assembly proposed a platform to demand for better working conditions, higher wages, affordable housing, improved public transportation, quality public education for our children, and affordable healthcare. The People's Assembly has turned the corner from phase 1 to phase 2 and "is now working to do active outreach in making sure everyone truly understands the agenda and is part of the process of making it a reality."

"The New Orleans Peoples' Assembly Fight Back Manifesto 2017-2018
-We oppose all forms of jail and prison expansion
-We oppose the current DA Cannizzaro who must be removed from his position
-We oppose imperialist wars that suck the tax payer's resources from being proactively interested in the well-being of humanity
Instead, we DEMAND the following:
1) Year-long jobs, recreation, mental health services for youth and adults, and an adult public jobs program of at least 10,000 public jobs with livable wages of NO less than $15/hour
2) Rent control and a roll back on taxes, pre-Katrina levels for households under $75,000
3) 100% funded relocation of Gordon Plaza residents who live on life threatening toxic land that is too dangerous for human life. Most environmental issues are human made and must be corrected and prevented.
4) "The Hospitality Workers Bill of Rights" to be City Approved and Honored in Practice
5) Full Funding and building of 40,000 homes for former residents of New Orleans pushed out of the city by the aftermath of Katrina
6) Fully funded, quality community controlled public schools
7) Improved and timely 24 hour RTA bus routes, especially in New Orleans East and Algiers, with improved bus stops that provide adequate seating and protection from inclement weather, along pot hole free streets
8) Full funding or building of 100 (24 hour) community based child care centers across the city
9) New Orleans to serve as an official sanctuary city, so that all residents are safe from all forms of state sanctioned violence, or deportations, and where traffic/profiling cameras are abolished
10) Full accountability (includes consent decree) for all police who operate in Orleans Parish"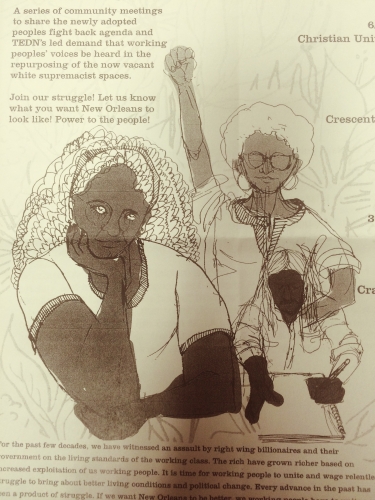 We are 100% volunteer and depend on your participation to sustain our efforts!
Get Involved
If you'd like to help with maintaining or developing the website, contact us.