From the Open-Publishing Calendar
From the Open-Publishing Newswire
Indybay Feature
Press Release: Cast Announced for THE TOXIC AVENGER Musical at San Jose Stage
Regional Premiere
THE TOXIC AVENGER
Book and Lyrics by Joe DiPietro
Music and Lyrics by David Bryan
Based on Lloyd Kaufman's film of the same name
Directed by Jonathan Williams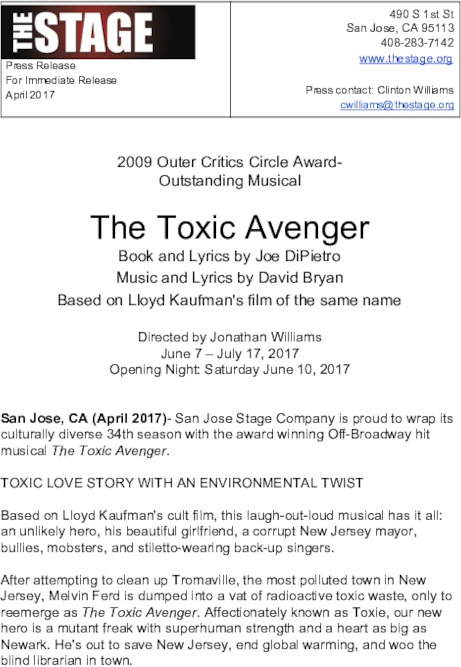 Good Afternoon,
San Jose Stage Company is pleased to announce that their 2016-2017 season will conclude with a production of the acclaimed off-Broadway smash hit musical THE TOXIC AVENGER (Book and Lyrics by Joe DiPietro, Music and Lyrics by David Bryan), directed by Jonathan Williams. The production will run from June 7 - July 17 2017, with Opening Night on Saturday, June 10, 2017 at 8:00 p.m.
The press release is attached, as well as artwork in various sizes. Production photos will be available later in the rehearsal process. If you would like to schedule interview(s) and feature coverage, please let me know. We would also be interested in arranging for cast members to perform on-air musical numbers, if that is something that interests you. And please let me know if you would like to attend Opening Night on June 10 or the alternative post-Opening date of your choice (all show dates are listed here).
Many Thanks!
Jonathan
--
Jonathan White
Marketing Associate
jwhite [at] thestage.org
CONTACT: Clinton Williams / 903-280-4818 or
cwilliams [at] thestage.org
2009 Outer Critics Circle Award-
Outstanding Musical
THE TOXIC AVENGER
Book and Lyrics by Joe DiPietro
Music and Lyrics by David Bryan
Based on Lloyd Kaufman's film of the same name
Directed by Jonathan Williams
June 7 – July 17, 2017
Opening Night: Saturday June 10, 2017
San Jose, CA (April 2017)- San Jose Stage Company is proud to wrap its culturally diverse 34th season with the award winning Off-Broadway hit musical The Toxic Avenger.
TOXIC LOVE STORY WITH AN ENVIRONMENTAL TWIST
Based on Lloyd Kaufman's cult film, this laugh-out-loud musical has it all: an unlikely hero, his beautiful girlfriend, a corrupt New Jersey mayor, bullies, mobsters, and stiletto-wearing back-up singers.
After attempting to clean up Tromaville, the most polluted town in New Jersey, Melvin Ferd is dumped into a vat of radioactive toxic waste, only to reemerge as The Toxic Avenger. Affectionately known as Toxie, our new hero is a mutant freak with superhuman strength and a heart as big as Newark. He's out to save New Jersey, end global warming, and woo the blind librarian in town.
About the Playwrights:
Joe DiPietro's current Broadway hit Memphis won the Tony Award for Best Musical and two additional Tony Awards (Best Book of a Musical, Best Original Score (Music and Lyrics) Written for the Theatre (with David Bryan). Joe was born and raised off Exit 166 in New Jersey and thus has been a Toxic Avenger fan for the last twenty years. Joe wrote the book & lyrics to I Love You, You're Perfect, Now Change, the longest running musical revue in New York history which has had hundreds of productions across the country and around the world. He also wrote the book and lyrics to the Broadway musical All Shook Up, and the award-winning musical, The Thing About Men, which has played internationally. His plays include the Edgar Award-winning mystery, The Art of Murder, as well as the long-running hit comedy Over the River and through the Woods, which has had over a hundred productions around the world and is currently being developed into a feature film. He lives in Manhattan and Connecticut, but his heart will always be in New Jersey.
David Bryan is the keyboard player, songwriter and a founding member of Bon Jovi. They have sold over 130 million records worldwide, performed more than 2,600 concerts in over 50 countries for more than 34 million fans, and were inducted into the UK Music Hall of Fame in 2006. On the band s award-winning CD Have A Nice Day , David and Jon wrote the song Last Cigarette. David began a career as a composer and lyricist of musicals. The song, Memphis Lives In Me, which he performs on Bon Jovi's recent box set, is actually from his musical, MEMPHIS which won four Tony Awards, including Best Musical. David also won a Tony for Best Orchestrations (with Daryl Waters) and Best Original Score (Music and Lyrics) Written for the Theatre (with Joe DiPietro). David has also dedicated his time to become a National Spokesperson for VH1's Save The Music Program, a nonprofit organization dedicated to improving the quality of music education in America's schools. He was conceived, born and raised in New Jersey. As a young man, he saw The Toxic Avenger at a midnight showing in Newark, and from that day on, he dreamed of writing a musical about the first mutant superhero from his home state.
About the Director:
Jonathan Williams is the Producing Director of San Jose Stage Company, recently playing Isaac in DISGRACED & Kenneth in THE NIGHT ALIVE earlier this season. He made his San Jose Stage directorial debut with the 2013 production of THE ELABORATE ENTRANCE OF CHAD DIETY. Jonathan has worked extensively throughout the BAY AREA as an actor & director with companies like TheatreWorks, The Aurora Theatre, Theatre on San Pedro Square, San Francisco Shakespeare Company and American Musical Theatre of San Jose. In 2002 he relocated to Sacramento where he co-founded Capital Stage Company, producing over 75 productions and leading the organization to becoming the region's premier new works theatre. Jonathan has directed numerous productions, including GUARDS AT THE TAJ, UNCANNY VALLEY, TRIBES, THE ELABORATE ENTRANCE OF CHAD DEITY, DYING CITY, MASTER CLASS, HUNTER GATHERERS, DIRTY STORY, BOY GETS GIRL and THE SHAPE OF THINGS.
Cast Includes:
COURTNEY HATCHER*
JOSHUA MARX*
ALLISON F. RICH*
WILL SPRINGHORN, JR*
BRANDEN NOEL THOMAS
*Actors appear courtesy of Actors' Equity Association.
Creative Staff:
Jonathan Williams Director
CJ & Brett Blankenship Choreographers
Brian Allan Hobbs Music Director
Michael Palumbo Scenic/Lighting Design
Vijay M Rajan Video Design
Ashley Garlick Costume Design
Cirby Hatano* Stage Manager
FOR CALENDARS:
WHAT: THE TOXIC AVENGER
2009 Outer Critics Circle Award-
Outstanding Musical
Book and Lyrics by Joe DiPietro
Music and Lyrics by David Bryan
Directed by Jonathan Williams
SHOWS: Previews: June 7 @ 7:30 pm / June 8 @ 7:30 pm/
June 9 @ 8:00 pm
Opening: June 10 @ 8:00 pm
Run Dates: June 7 - July 17
Wednesday & Thursday @ 7:30 pm
Friday & Saturday @ 8:00 pm
Sunday @ 2:00 pm
WHERE: 490 S 1st St, San Jose, CA 95113
TICKETS: For tickets ($30-$65) or more information, the public may contact San Jose Stage Company box office at 408-283-7142, or
http://www.thestage.org
###
We are 100% volunteer and depend on your participation to sustain our efforts!
Get Involved
If you'd like to help with maintaining or developing the website, contact us.