From the Open-Publishing Calendar
From the Open-Publishing Newswire
Indybay Feature
View other events for the week of

5/20/2017
Oil Money Out March and Rally
Date

Saturday May 20

Time

12:00 PM

-

3:00 PM

Import this event into your personal calendar.
Location Details
Govenor's Mansion
16th & H Streets
Sacramento
Event Type

Protest

Organizer/Author
Rootskeeper

We're mobilizing a major march and rally to take place in Sacramento at the Governor's Mansion on May 20. We're rallying because the oil industry has captured our democracy, and we're going to take it back!

MARCH AND RALLY INFORMATION:

WHEN: Saturday May 20

TIME: 12 Noon to 3pm

WHERE: The Governor's Mansion

LOCATION: 16TH St. and H St., Sacramento

VISIT the website:

http://www.OilMoneyOut.com

Here's why we're rallying:

In the past year, the oil industry spent an historic 36.1 million dollars to lobby California lawmakers. Over the past 6 years, the industry has spent 122 million, more than any other interest group. This spending spree has paid huge dividends for these companies, allowing them to quash or neuter any meaningful legislation that might significantly curb their power to drill and pollute. This is particularly significant as during this time, the state of California performed independent studies which had notable findings on the toxicity of oil operations and made strong recommendations to protect public health, none of which have been implemented or addressed, leaving the general public vulnerable to contamination and toxic exposure.

As guardians of the public trust, the lack of action from our governor and our legislators our to protect the public is unacceptable.

This past year, several environmental groups tried to push forward bills in the legislature to stop some of the worst practices of the oil industry, such as the use of oil wastewater laden with toxic chemicals in crop irrigation, but couldn't get sponsors for those bills. Supposedly environmentally friendly legislators control the legislature and the governor's mansion, and proudly portray themselves as cutting edge trendsetters in the fight for a clean energy future. But the reality is deeply contradictory. The record shows that elected officials in California are almost completely unwilling to take on the oil industry.

To see how this is playing out, one needs to look no further than our Governor, Jerry Brown, who claims that he is boldly taking action on climate change and is an environmental champion. However, this is the same governor who has taken over 10 million for himself and his initiatives from the fossil fuel industry in his last two terms in office and has fired his own regulators - at the request of the oil industry - for doing their job in trying to protect public health and the environment.

Leaders can't take the oil industry's money and do their bidding, and be a climate or environmental champions at the same time. We need champions looking out for the people, our communities, and the climate, not the profits of the oil industry which is engaging in demonstrably bad practices. Until we stop the flow of money into our elected officials pockets, nothing is going to change.

THE SOLUTION

Until oil money stops poisoning our democracy, the people of the state of California will continue to be poisoned by industry practices. California's political leaders need to make their primary allegiance clear: is it to the oil industry or the health and safety of their constituents? The days of having it both ways have to come to an end.

We will force enough state elected officials to stop taking these toxic dollars and prioritize public health over oil the interests of the industry, and finally break the logjam in Sacramento and put an end to the most toxic industry practices.

SPEAKERS INCLUDE (list in formation):

David Braun, Rootskeeper

Adam Scow, Food & Water Watch - California

Sandra Steingraber

Organizations Supporting This Campaign: Rootskeeper, Food & Water Watch, Center for Biological Diversity, California for Progress, Courage Campaign, CREDO, The Other 98%, Californians Against Fracking, and Progressive Democrats of America.

Added to the calendar on Thursday May 4th, 2017 10:22 PM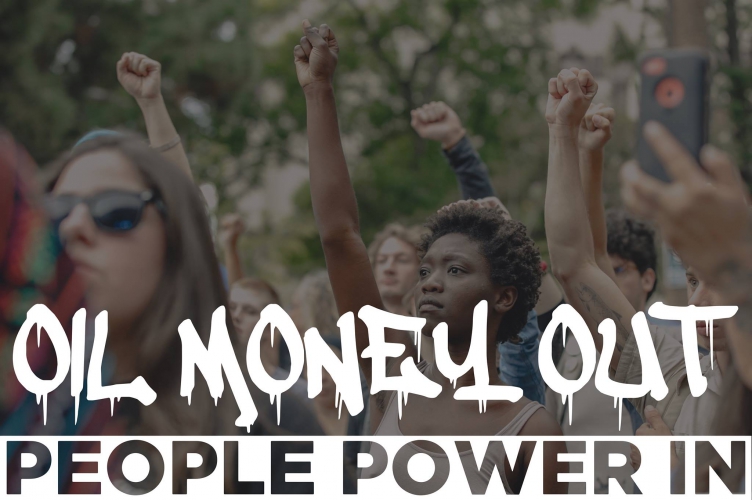 The Governor's Mansion
16TH St. and H St., Sacramento CA
Join us in Sacramento on May 20 as we rally and march to tell Governor Jerry Brown and other California Elected officials to stop taking dirty oil money and to prioritize public health over profits.
HERE'S WHY:
In the last 10 years, the oil industry has spent over $266 Million influencing California legislators and policy. This spending has allowed them to prevent the passing of meaningful legislation that would limit their ability to drill and pollute.
After the state of California performed independent studies, found results on the toxicity of oil operations, and made strong recommendations to protect public health, our legislators instead protected the oil industries and left the public vulnerable to toxic exposure.
We need champions looking out for our communities, not for the profits of the oil industry. Until the flow of money into our democracy and the control of lobbyists stops or is seriously curtailed, nothing is going to change.
Governor Brown and California's elected officials: stop taking money from the oil industry and prioritize public health and safety over oil industry profits.
https://www.facebook.com/events/277604746028035/
We are 100% volunteer and depend on your participation to sustain our efforts!
Get Involved
If you'd like to help with maintaining or developing the website, contact us.