From the Open-Publishing Calendar
From the Open-Publishing Newswire
Indybay Feature
View other events for the week of

5/12/2017
Free The Jailed Korean Trade Unionists NOW! Democratic Rights For All Workers
Date

Friday May 12

Time

12:00 PM

-

1:00 PM

Import this event into your personal calendar.
Location Details
Korean Consulate
3500 Clay St./Laurel
San Francisco
Event Type

Protest

Organizer/Author
United Public Workers For Action

4/12 SF Protest-Free The Jailed Korean Trade Unionists NOW! Democratic Rights For All Working People In Korea Stop Privatization, Deregulation and Union Busting Free All Political Prisoners of Former Corrupt President Park Geun-hye

Free The Jailed Korean Trade Unionists NOW!

Democratic Rights For All Working People In Korea

Stop Privatization, Deregulation and Union Busting

Free All Political Prisoners of Former Corrupt President Park Geun-hye

Rally and Speak Out

Friday May 12, 2017 12:00 Noon

Korean Consulate

3500 Clay St./Laurel

San Francisco

The former President Park Geun-hye and her government have been impeached for corruption and violating the democratic, human and labor rights of the Korean people. She and her cronies were paid off by union busting corporations like Samsung, Hanjin and others to allow company unions, to deregulate health and safety and to harass and intimidate democratic trade unionists. She also used mass repression to stop the Korean Rail Strike against privatization and has put many union leaders and rank and file trade unionists in jail.

Korean Confederation of Trade Unions KCTU president Han Sang-gyun of the was sentenced by the the her corrupt judges to five years in July 2016 for supporting political organizing against the government. In December Park Won-h, president of the KPTU-Truck Sol of the Korean public Service Division. KCTU organising secretary Bae Tae-sun received an 18-month sentence with a 100,000 won fine.

Railway trade unionists like Lee Jin Young have also been jailed to silence and intimidate workers.

Time To Stand Up For Democratic Labor Rights!

While President Park Geun-hye and others in her government are in jail, the illegal jailing of workers and opponents of her government are still in jail as well. It is time to free all political prisoners and stop the continuing repression.

Initiated by

United Public Workers For Action

http://www.upwa.info http://www.upwa.info

For more information

info [at] upwa.info

(415)282-1908

Jailed Korean Trade Unionists

1. Kim Gyeongdo : The Metal Union Korea GM car brench

2. Han Sanggyun ; KCTU The President

3. Choi Yeongcheol : Construction Union

4: Kim Gihong : Construction Union

5. Park Junseon : KCTU The director of organization

6. Lee Jaesik : The Cargo union

7. Nam Jeongsu : KCTU The director of education and publicity

8. Choi Jaegeun : The Metal Union Korea GM car branch

9. Lee Geumju : The Metal Union Ssangyoung car branch

10. Joe Seongdeok : KPTU The vice president (Public & Transport)

11. Bae Taeseon : KCTU The Director of Organization

12. Jeong Yeonghyeon : Construction Union

13. Lee Hyeondae : KCTU The director of organization

14. Lee Jin Young, KRWU

https://www.youtube.com/watch?v=525SAeBiFYk https://www.youtube.com/watch?v=BAEvgdFKkLc https://www.youtube.com/watch?v=u9sS5vYoRiw

Additional information

https://www.facebook.com/kctueng http://english.hani.co.kr/arti/english_edition/e_national/729162.html http://english.hani.co.kr/arti/english_edition/e_national/723488.html http://english.hani.co.kr/arti/english_edition/e_national/722989.html http://sflaborcouncil.org/wp-content/uploads/2015/04/04-13-15ResReWMDTPPKoreanMothers.pdf http://sflaborcouncil.org/wp-content/uploads/2015/01/01-12-15ResSptKoreanJournalists.pdf http://sflaborcouncil.org/sites/labor/uploads/01-24-11ResOpposingKORUS.pdf

South Korea: Release Jailed Trade Unionists, Respect Workers' Rights

http://www.tradeunionfreedom.co.uk/south-korea-release-jailed-trade-unionists-respect-workers-rights/

Posted on October 11, 2016 by admin

The assault on workers' rights in South Korea is intensifying, with more than 20 trade union leaders and members now imprisoned including seven KCTU leaders and officials namely KCTU President Han Sang-gyun, KPTU vice president Cho, Sung-deok and KPCWU president Lee, Jong-hwa. President Park Guen-hye's government has been throwing people into prison simply for standing up for workers' rights.

Currently, the strike of public sector workers against the regressive labour reform and performance based pay system was declared 'illegal' and nine leaders of Korean Railway Workers Union are accused for the notorious 'obstruction of business'.

In order to end the strike, the government is seeking 'emergency arbitration', a practice denounced by the ILO as infringement of freedom of association. The self-employed truck drivers also face criminal and civil charges for a strike they planned.

While the focus of international protest has been mostly on the government itself, the role of Korean business, and especially the shadowy Chaebol conglomerates which dominate the national economy, is coming under the spotlight.

A new ITUC/IndustriALL report on Samsung details the lengths to which some Korean employers will go to bust unions and repress workers' rights inside Korea and in international supply chains.

President Park will have to step down at the end of her term in December 2017, and it is crucial to keep up the pressure to break the stranglehold that a few corporations have over the state.

A new President should mean a new start for Korea, one where fundamental rights, economic security and safe work for ordinary people are the order of the day. In the coming weeks and months, every bit of pressure on the current regime of President Park will make it that much harder for corporate greed to maintain its grip on one of the world's most significant economies.

The International Transport Workers Federation (ITF) and Public Services International (PSI) are calling for unions to picket outside South Korean embassies on 12 October to urgently protest against government repression of trade unions in South Korea.

They are in jail because of supporting 'the people rising up rally at 13th Nov' last year.

Korean Strikes Hamper Surface Transport at Korean Ports "The rail strike, now entering its third week, has taken out about half of the nation's freight train capacity."

http://www.maritime-executive.com/

…/strikes-hamper-surface-…

Truckers' labor action at Busan (courtesy KPTU)

By MarEx 2016-10-12 17:43:44

Truckers and rail workers in South Korea have launched simultaneous strikes, raising difficulties for ports already challenged by container overcrowding from the Hanjin Shipping crisis.

The Cargo Truckers Solidarity (CTS, or TruckSol) union launched a general strike Monday against a government proposal to deregulate the number of small trucks used for home deliveries, and are demanding the introduction of "standard rates" for trucking services. Korea Bizwire reports that the strike has removed a third of the container trucking capacity available at Busan, South Korea's largest port.

The two Hanjin terminals at Busan are nearing maximum capacity, Bizwire says, at about 80 percent – the point where excess numbers begin to impede operations. Other terminals may face the same difficulties soon, especially since the strike has taken out part of Busan's inter-terminal transfer service for transshipments.

While Busan has been affected, Korea Herald reported that the trucker strike was not having a widespread impact across the nation due to a low participation rate. In addition, the deployment of police, military transport vehicles and non-union trucks has blunted the labor action's impact.

"The government will sternly deal with this strike in accordance with the law and its principle," said Transport Minister Kang Ho-in in a statement Monday.

The international Transport Worker's Union accused the Korean government of a heavy-handed response to the strike. "It is unacceptable that the South Korean government is responding to the legitimate demands of workers with intimidation, violence and arrests," said Tony Sheldon, the International Transport Workers' Federation's road transport chair. The union said that the arrests and injuries occurred after thousands of police surrounded a union rally in front of the Busan New Port; further, it said that the government has threatened strikers with reprisals, including license suspensions and criminal charges.

Strikers and police at Busan

The rail strike, now entering its third week, has taken out about half of the nation's freight train capacity. The Korea Herald estimated that over 7,000 members of the rail union are participating, about 40 percent, including workers on Seoul's subway system.

Korea Railroad Corporation is reported to be using emergency staff to operate container freight services in an attempt to alleviate the port congestion.

The labor dispute comes amidst other bad news for Korean port activity. South Korea's export volume shrank at six percent year on year in September, due mainly to another ongoing strike at automaker Hyundai Motor and a multi-billion-dollar recall on Samsung's new Galaxy Note 7 smartphone – in addition to the logistics problems stemming from the collapse of Hanjin.

Korean Gov Park Prosecutors seek two-year prison sentence for organizer of Sewol ferry march of silence over government cover-up

http://english.hani.co.kr/

…/english_…/e_national/770031.html

Nov.13,2016 11:59 KSTModified on : Nov.13,2016 11:59 KST

<145647018801_20160227.JPG>

25-year-old Yong Hye-in speaks at a citizens' filibuster in front of the National Assembly in Seoul's Yeouido neighborhood on Feb. 25, opposing anti-terror legislation. (by Kim Myoung-jin, staff photographer)

Organizer says her life was changed by the Sewol sinking, and she hopes her case will show the country "that it's not a crime to fight injustice"

On Nov. 2 South Korean prosecutors asked a court to give a two-year prison sentence to Yong Hye-in, who organized a much-discussed march of silence called "Stay Where You Are" after the sinking of the Sewol ferry.

Yong is charged with having allowed protests that she had organized to exceed the scope approved by the authorities (obstruction of traffic) and with having organized a march without first receiving permission from the authorities (violating the Assembly and Demonstration Act). Yong was behind the march of silence for the Sewol, protest demonstrations during a hunger strike by the Sewol victims' families and several other commemorative demonstrations in 2014.

Yong shared the news about the sentence the prosecutors are seeking on her Facebook page on Nov. 2 along with the final testimony she made at Seoul Central District Court. "During the 1,000 days that have passed since the Sewol Ferry sank in the waters off the coast of Jindo [in South Jeolla Province], many things have happened, and my life has changed a great deal," Yong said at the beginning of her testimony. Then she asked the judge, the prosecutors and the lawyers in the courtroom whether they remembered the moment that they learned about the Sewol accident on Apr. 16, 2014.

<141963651474_20141228.JPG>

Yong Hye-in participates in a silent demonstration that she initiated with other young people after the Sewol tragedy in April. The signs read, "Stay where you are".

On the day of the Sewol tragedy, Yong got to school early and was talking with some of her friends. One friend sent her news about the Sewol on her mobile phone. Yong had lived in Ansan, Gyeonggi Province and she had wanted to get into Danwon High School (which many of the students who died in the sinking attended). While she was absorbed in thought about Danwon High School on her way to class, she heard to her relief that all the passengers had been rescued. But to Yong's dismay, that good news turned out to be completely incorrect.

"I was shocked to learn about the false report, but I stopped worrying when I heard that a massive rescue effort was underway, involving hundreds of divers, hundreds of boats, several helicopters and hundreds of flares. It's embarrassing to admit it, but even then I assumed that at least a few of the passengers would be rescued and that there would be a moving scene of a tearful reunion with their families in front of media cameras," Yong said.

"The entire country was plunged into sorrow" by the Sewol tragedy, said Yong, as she continued her testimony. "The media was talking about the Werther Effect and expressing concern about how the tragedy might affect the public. This was also when some people started talking about the blow to consumer sentiment," Yong said.

"After the tragedy, there were many people who said they were sorry. I thought that this was because they felt responsibility as members of society for having created a society in which 304 people's lives could be taken from them like that, a society in which people have to suddenly learn that their family members have died," Yong said.

It was around this time, Yong explained, that she planned the "Stay Where You Are" march of silence out of a desire to create an opportunity to talk to and comfort those who were grieving. Several dozen people came together at Yong's suggestion and walked together through central Seoul, carrying chrysanthemums tied with yellow ribbons and small pickets that read, "Stay Where You Are."

During the testimony, Yong also expressed her feelings about the trial, which had lasted for two years: "I've had a hard time during the two years of this trial. I was arrested for the first time in my life after the Sewol sinking; I spent two nights in a police station; I was shuttled around by the police and the prosecutors; and I saw my first search warrant." At the same time, Yong was confident that if someone asked her if she regretted it all, she would say she didn't. "I want to live as a member of society, as the kind of person who fulfills their responsibilities as a human being," she said.

"Many South Koreans are infuriated about the recent scandal involving Park Geun-hye and [her confidante and unofficial advisor] Choi Sun-sil. I think they've learned over the past two years that resisting injustice and corruption in society is never a crime. I hope that my trial will set a good precedent that it's not a crime to fight injustice," Yong told the Hankyoreh in a telephone interview on Nov. 3. Yong's verdict will be read on Dec. 7.

By Park Soo-jin, staff reporter

Added to the calendar on Thursday Apr 27th, 2017 5:30 PM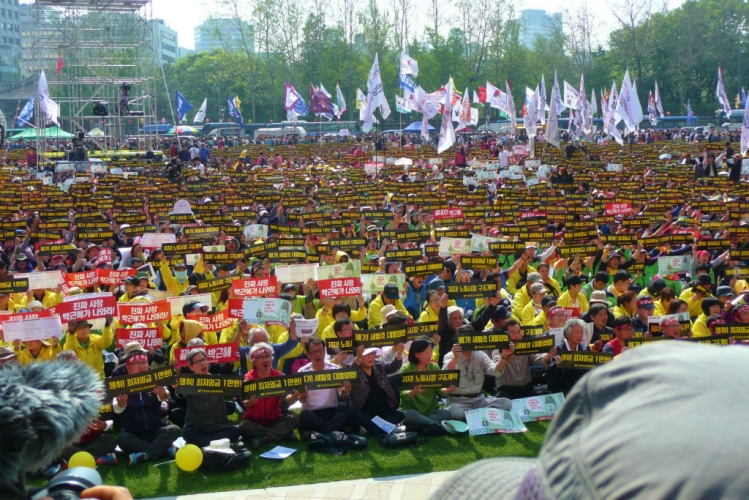 Korean workers on Mayday demanded the freedom of all trade union political prisoners.
Korea Truck Sol workers had a siting to demand proper health and safety and against deregulation of their work by the corporate controlled government
We are 100% volunteer and depend on your participation to sustain our efforts!
Get Involved
If you'd like to help with maintaining or developing the website, contact us.