From the Open-Publishing Calendar
From the Open-Publishing Newswire
Indybay Feature
Charles Kirk, Turning Point USA and the rise of fascist student groups
Millionaires are funding neo-fascist student groups throughout the country coordinated by Charles Kirk of Turning Point USA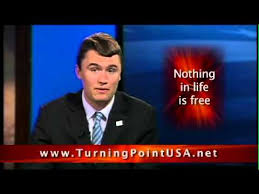 Turning Point USA and the rise of fascist student groups
by Danny Weil
WeilUnion(at)aol.com
4/19/17
As my research has uncovered and as educational writer, Dahn Shaulis has written, the rise of fascist student groups across America has now begun in earnest. And the biggest one is Turning Point USA:
"Turning Point USA is an alt right campus youth group most noted for their incendiary Professor Watchlist. TPUSA also garners attention from the right wing media by agitating socialists, acting as victims of administrative censorship on campus, and promoting Breitbart provocateur Milo Yiannapolous, who spews hate speech and fighting words as free speech.
TPUSA has included teachers in the Professor Watchlist not for their actions in classrooms, but because they opposed Donald Trump.
But Turning Point is even much more dangerous than they appear on the front stage, bankrolling millions of dollars from their secret donors as they incite racial conflict and promote secret surveillance.
According to one of its promotional videos, TPUSA's mission is to educate young people about "free markets and limited government." However its tactics and back room values border on fascism. And TPUSA's real mission is more ambitious.
Turning Point, by its own account, intends to aggressively take over student governments--as its fights against progressive values, social justice, gender equality, and racial justice. While attacking big government on the front stage, the organization supports militarism, police authority, and covert surveillance.
Turning Point's agenda also appeals to anti-intellectual causes, such as climate denial. Through its charismatic leader, Charlie Kirk, white male victimology pervades TPUSA in its language and its tactics.
Charlie Kirk founded TPUSA in 2012, when he was 18 years old. The son of Robert W. Kirk, a project manager for Trump Towers in New York City, Charlie dreamed of going to the US Military Academy. But the young man publicly claimed that his dream was dashed by affirmative action and political correctness--when a woman of color took his slot. This is a typical story the alt-right use to support white male victimology.
Without any evidence, Charlie Kirk complained that his West Point slot was taken by a less qualified person "of a different gender and persuasion."
Instead of choosing another college, Mr. Kirk stayed at his parents' home, writing for Breitbart News, raising millions of dollars for Turning Point--and gaining fame as a young and ambitious political conservative willing to do anything to get ahead.
In 2014, Jeff Frazee, Executive Director of Young Americans for Liberty the Ron Paul youth group, accused Turning Point of stealing their email list.
TPUSA has grown rapidly, claiming more than 1100 chapters at US high schools and campuses. It also has about 50 paid organizers in addition to an unknown number of unpaid volunteers. Turning Points' organizers are expected to act in a cult-like fashion, aggressively recruiting, evangelizing, engaging, collecting information, and
registering Republican voters on campus, despite their charity status" (
https://www.linkedin.com/pu
.... But Turning Point is not alone.
"The conservative nonprofit linked to the reactionary Unity Party ticket, a party which recently withdrew from the University of Maryland's SGA election last week. The party has set up shop at more than 1,000 college campuses nationwide, including all but three Big Ten schools"(
http://www.dbknews.com/2017
....
The Unity Party was forced to withdraw after a Diamondback article from the University of Maryland showed that the group failed to disclose campaign contributions from Turning Point USA. They violated Student Government Association election rules.
Turning Point designed some Unity Party logos pro bono. The Unity Party did not note the contributions on preliminary financial reports. SGA election rules require parties to disclose both monetary and non-monetary contributions, including from 501(c)(3) groups ([Read more: Unity Party violates SGA election rules by not disclosing support from conservative nonprofit]).
Then there is Ohio State University. It seems that Turning Point set aside funds for a student government campaign at Ohio State University after candidates and group affiliates communicated in January, according to a February report in The Lantern, the school's student newspaper (
http://thelantern.com/2017/
...
'The Lantern" exposed that they had found leaked exchanges, made in late January 2017 that show Turning Point was out to buy the election. A representative from TPUSA said the organization had about $6,000 set aside to directly give to the campaign for Mary Honaker and Carla Gracia and the senators running on their slate. Another representative offered up to $3,000 on behalf of TPUSA to pay students to campaign for them.
After initially claiming not to know about the alleged financing, Michael Frank, the campaign manager for the Honaker and Gracia campaign, said TPUSA reached out to the campaign, but was rebuffed (
http://thelantern.com/2017/
... documents-audio-conservative-turning-point-usa-quietly-funding-student-government-campaigns-across-us/).
Members of Turning Point also attempted to influence the Associated Students of Madison's student government elections at the University of Wisconsin-Madison, where two students belonging to the Badger Freedom Caucus passed out fliers designed and purchased by the organization, The Daily Cardinal reported April 10 (ibid).
The rise of fascist student groups is due to the hole left by the lack of any progressive student unions in HS or on college campuses. The 'left' has not made a sufficient effort to organize student groups on campus, educate them as to the failure of capitalism, how it works and why. Once again it is a Weimar moment and the fascist student groups under the canopy of Trump are going right down the middle of two decrepit parties and failed union organizing, both by students and by teachers.
All of this is not new; it occurred in 1934 with the rise of the American Liberty League (
https://en.wikipedia.org/wi
..., right around the time fascism was being condoned and promoted by industrialists and the American Bundt.
The danger of TPUSA (which probably takes its name from the anti-intellectual treatise by authors Strauss and Howe entitled, The Fourth Turning of which Bannon is in love and believes we are at the time in history when civilization will 'turn'), and other such groups can be seen by the show they put on at the Berkeley campus.
But this is not all. Turning Point USA is a malignant growth that if left to metastasize, will turn college campuses into the gallows for teachers and progressive students.
Remember, Breitbart and Bannon are followers of Julius Evola ,the Italian fascist thinker who worked for both Hitler and Mussolini(
https://www.nytimes.com/201
....
TPUSA is part of an emerging Phoenix Program of fear and intimidation that is rising from the ashes of what is left of 'The American Century".
Creating havoc, crisis, capitalizing on despair, pushing racial buttons and promoting hierarchy and lost hope, this is the mission of this crowd. They will then cobble all the ignorance and disillusionment into one ball of fascist wax. This is what happened in Germany and this is what happened under Mussolini's fascist Italy.
Students must unite in face of the broad based fascist front that now confronts them and their education, their professors and their future. Organizing student unions throughout the US is the chore. Students might wish to take a look at Chile, for if students can accomplish what they have in Chile, still laboring under the history of fascist Pinochet, then in America there can be no reason why students cannot confront the scourge of fascism.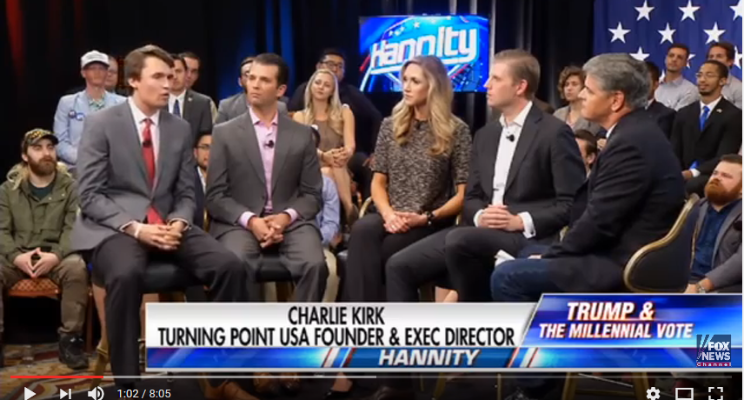 We are 100% volunteer and depend on your participation to sustain our efforts!
Get Involved
If you'd like to help with maintaining or developing the website, contact us.