From the Open-Publishing Calendar
From the Open-Publishing Newswire
Indybay Feature
View other events for the week of

4/25/2017
Freedom Sleepers # 94 - Sleep-Out to End the Sleeping Ban
Date

Tuesday April 25

Time

3:00 PM

-

12:00 AM

Import this event into your personal calendar.
Location Details
Santa Cruz City Hall 809 Center Street, Santa Cruz
Event Type

Protest

Organizer/Author
Keith McHenry

FREEDOM SLEEPERS #94 - Sleep-out to end the sleeping ban - Please join us

Free food provided by Food Not Bombs and India Joze.

The campaign against the houseless of Santa Cruz is growing more repressive.



On Monday night April 17th the police came and kicked people out from under the city hall awning into the pouring rain during a very severe storm. 



Wells Fargo Bank install "The Mosquito" high frequency box outside their downtown branch to drive people out from under their eves. They may have experienced an increase in people seeking shelter from the heavy rains from under their eves since the Anti-Homeless fence was placed around parts of the downtown Post Office. The city installed "The Mosquito" in several parks in the fall of 2014.


"The Mosquito" was placed under San Lorenzo River bridges downtown primarily to stop chronic illegal activity, Assistant City Manager Scott Collins said.

Abbi Samuels was arrested the night of April 13th while filming the police drive those seeking shelter under the City Hall awning out into the rain. She spent 18 and a half hours in jail before being freed without charges. 

Police and Rangers are confiscating survival blankets and sleeping bags even when spoken for or being watched by friends. Police even confiscated a broom and partially filled garbage bag and many pounds of survival gear from people at City Hall.

A few days later Park Rangers confiscated several pick-up trucks full of personal belongings at the Civic Auditorium as people looked on helpless to do anything.

Freedom Sleepers Sleep-out #93 provides a view of the struggle facing those who are forced to live outside. Around 30 people slept outside Santa Cruz City Hall on the night of April 18 to 19, 2017.



Two Santa Cruz police officers arrived to City Hall at about 5:00 pm and arrested a person named Mark after he had gone up to the bike racks to retrieve his bicycle. He said he was arrested for violating a stay away order. Mark returned to City Hall to recover his backpack at about 11:30pm



Maile McGrew-Fredé hosted the All-In: A Community Seeks Solutions to Homelessness meeting at the Downtown Branch of the Santa Cruz Public Library at 6:00pm.  Over 30 people participated including several people who planned to sleep out at City Hall.



After the meeting ended Library staff shared that City Manager Martin Bernal was making several changes including the removal of the benches outside the library and the stationing of two police officer. The librarian also reported that the City Manager also planned to implement new restrictions to the area "like those at the Civic Auditorium" but these details were not clear.



After the All-In meeting members of the Freedom Sleepers gathered at city hall to plan a Tuesday, May 9th march from the County Building to the Downtown Post Office fence to City Hall agreeing on the message "HOUSING FOR ALL- No penalty for poverty"

Eight Santa Cruz Police officers arrived around 2:00 am and issued 13.04.011  Park After Hours tickets and 13.08.100 24 Hour Vacate stay away orders to 4 people, three of which had been sleeping on red brick or under the City Hall awning. One of those people was very ill and had been throwing up during the night. 



Food Not Bombs co-founder Keith McHenry was one of the people who got a ticket while he was filming the police waking sleeping people. They put him in cuffs while they gave him an in the park after hours ticket. They also gave him a 24 hour stay away order and told him they'd be coming back in the morning to arrest him for a misdemeanor when he violates the stay away order by trying to clean up and share food. All people that received tickets for in park after hours also received a stay away order. It was freezing out!



Two Rangers arrived soon after breakfast was served at about 7:30 am. All was peaceful until a city employee arrived on Center Street with a leaf blower. She walked up to a person sleeping near Locust Street and blew a burst of dirt into his face. Keith McHenry asked her to refrain from using the leaf blower to assault people but she did not respond. 

The employee walked towards the Church Street end of Center and blasted dirt and someones paper bowl of food into the face of a man sitting on the stone wall. 



City Manager Martin Bernal is one of the central proponents of the wave of anti-homeless laws and policies. He is paid  $216,158.90 per year by the people of Santa Cruz. Maybe we should go and wake him up at his 96 Brookwood Drive home.


Added to the calendar on Wednesday Apr 19th, 2017 2:28 PM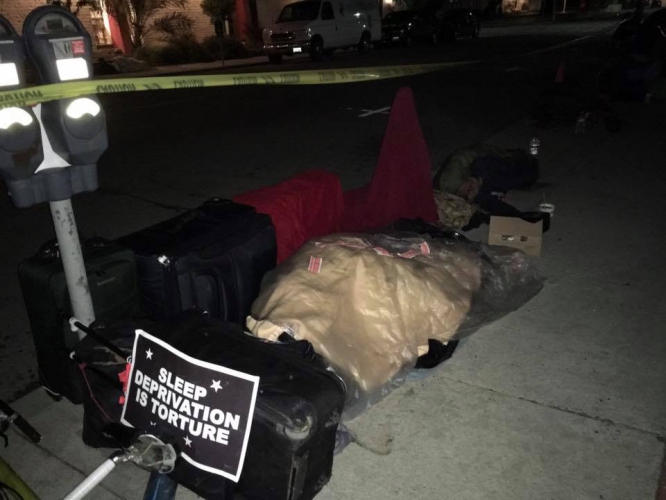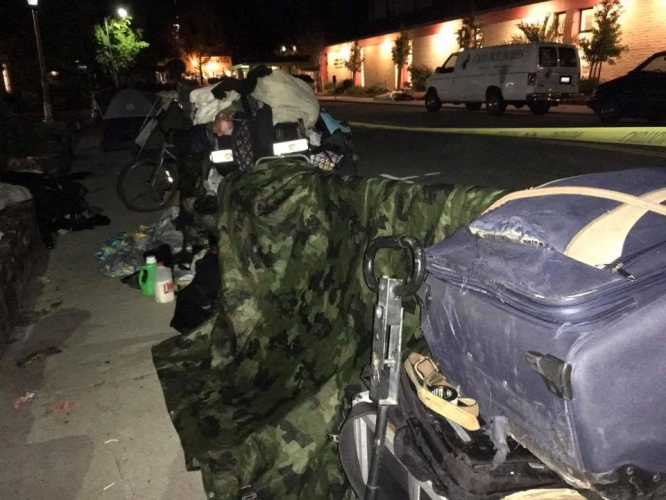 Hello all, this is Maile McGrew-Frede, Librarian here; I am responding to this post as an individual, not on behalf of Santa Cruz Public Libraries.

The April 18th meeting at the Downtown Library you reported on here was meant to be an initial planning meeting to invite diverse partners to design a civic engagement series that explores homelessness as a systems issue in Santa Cruz. We hope to launch the series in the fall with speakers, films, community group presentations and ongoing opportunities for cross-talk and dialog. I want to invite folks to map the "story of homelessness" locally.

This meeting was not solely about opposition to the Camping Ban or an endorsement of a direct action approach. While a strict law enforcement approach may represent a lack of a creative response to a complex systems issue; this is nothing new. Our civic leaders are in a tough position; caught between warring polarized community groups; neither of which seem to have real answers. Law enforcement and a direct-action protest response are only part of this story. Homelessness is a complex systems issue, and even if the camping ban were to end tomorrow, we would not have ended homelessness in Santa Cruz.

I would like to encourage the activist community, even as you may be seeing an increased level of enforcement against camping in the civic center commons, NOT to write off opportunities for discussion, dialog and problem solving alongside people with different approaches to the issue.

While I hear and understand your discouragement with the lack of motion on this issue; let's also acknowledge a building community-will to seek real solutions. Let's acknowledge how many folks were present at Tuesday's meeting from so many different circles; we had 46 attendees; activist, advocate, social services, non-profit, downtown neighbors, UCSC, and government. We need to find ways to validate each other's work so we can start moving forward with synergy and strategy. Direct Action is just one tool and let's face it, it doesn't always "get the goods." It is a tool best utilized within a larger context. We need to build that larger context, to shift hearts and minds in our community, and find real solutions that work. To do this we need to move toward greater communication, acknowledgement and validation, human dignity and empathy for all.

We are 100% volunteer and depend on your participation to sustain our efforts!
Get Involved
If you'd like to help with maintaining or developing the website, contact us.