From the Open-Publishing Calendar
From the Open-Publishing Newswire
Indybay Feature
Related Categories:

U.S. | Arts + Action | Media Activism & Independent Media | Police State & Prisons | Racial Justice
Albert Woodfox: "Freedom Is A State Of Mind"
The A3 Coalition has just published the latest issue of their newsletter, detailing Albert Woodfox adn Robert King's latest travels, plus a new Kickstarter campaign for the US release of a new UK documentary film about the Angola 3 entitled "Cruel and Unusual." The newsletter is reprinted here in full.
(
PHOTO:
Albert at the Innocence Project's Network Conference in San Diego this last month, alongside Valerie Jarret, a Chicago lawyer and former top adviser to President Barack Obama.
)
A3 Newsletter, April 17, 2017: Taking on the Clarion Call - "Free 'em all!"
"Freedom is a state of mind" Albert said at the presentation that he and King gave at Harvard last month. That may be how Albert stayed sane for over four decades in solitary but now that he's out, he's beginning to see that freedom can be a lot of work and even more travel!!
Along with King, Albert has been on the road somewhere different every week; Thunder Bay, San Francisco, Montreal, Cambridge, New York, San Diego, in the last 4 weeks alone. All of this traveling and talking and giving interviews is in an effort that both men are committed to - to raising awareness of the unbelievable misery and injustice that goes on in jails, detention centers and prisons, nation wide. Albert is carrying on along the path of Robert and others exonerees, logging miles ever since his release advocating for the freedom of others.
Now that Albert and Robert are both free, they've become a powerful team, calling for and supporting efforts for the release of many fellow wrongfully convicted political prisoners; Leonard Peltier, Ruchell Magee, Chip Fitzgerald, Herman Bell, Mumia Abu Jamal and so many others that still suffer in the same oppressive, abusive conditions that they once endured.
After a long public campaign and court battle to provide Mumia treatment for Hepatitis C, the court ultimately forced the Pennsylvania DOC to begin treatment. Thankfully
that treatment has now begun
and we also wish Mumia well with
his upcoming court hearing
scheduled on his 63rd birthday, on April 24. This hearing could lead to a new trial, and is a response to
a recent 5-3 US Supreme Court ruling
.
With the rise of the new national regime, the struggle continues and Albert and Robert are committed to remaining at the forefront of every effort to correct the inequality in the USA's justice system. We hope you'll have a chance to view the Harvard presentation, listen to the audio interview from Thunder Bay and read the transcript of Amnesty International's new interview with Albert.
Albert and King head to Denmark and Sweden in a couple of weeks to speak at their Annual General Meetings and have every intention of continuing their work on behalf of the eradication of solitary and their support of freedom for so many other prisoners.
Support the Fundraising Campaign for the US Cinema Release of 'Cruel and Unusual' a new UK Documentary Film About the Angola 3
A new Kickstarter campaign has just been launched to "help get the Angola 3's story into cinemas, to support their campaign against long-term solitary confinement and qualify for the Oscars."
To donate and help us to spread the word about this important new campaign,
please visit Cruel and Unusual's Kickstarter page directly.
Featured below is an excerpt from a statement by UK filmmaker Vadim Jean:
I first heard about the Angola 3 from Anita and Gordon Roddick, the founders of The Body Shop stores, who had been helping the Angola 3 fight their case since 2001. Anita told everyone she knew about them. But she didn't just talk about issues, she did something about it. In fact her big thing was, "just do something". Do it from kindness, do it because you have faith, do it because you're guilty, do it because it's right; for her it didn't matter. Just do something.

So when in 2007 I sat at her Memorial to celebrate her life, and Robert King came onto the stage to speak, I should have guessed that as this was Anita, it might change the course of the next eight years of my life. Robert was full of dignity, grace, sanity, courage and it must be said charisma. He also played two crackly telephone messages from Herman and Albert in solitary. It was profoundly moving. I cried. In seemingly one of the worst of the worst places on earth, somehow they had managed to find the best of the best that the human spirit has to offer. And like all of us that knew her, Anita had changed their lives. So now, her big finger was pointing down at me. And it had a big sign on it saying, "just do something". For me, that thing was to make this film.

If I'm honest, during most of the making of this film I doubted that Herman and Albert would ever be free. That these incredible men have been released is the consequence of a remarkable coalition against the injustice. But most of all it is because they are two of the most extraordinary people I have ever met. They fought for decades for justice and ultimately won their struggle, though for Herman, his freedom was won at the ultimate cost...

I hope the film may do its small part in helping to bring attention to this injustice. If you would like to "just do something" please help us to support the Angola 3 and their ongoing campaign by backing the US cinema release of 'Cruel and Unusual'.
Albert & Robert Speak At Harvard University
WATCH:
Full length video of Harvard event
READ:
"What I learned from Albert Woodfox and Robert King," by Jean Trounstine
Last month, Harvard University hosted Albert and Robert. In an article released before the event, entitled "Buried Alive: Solitary Confinement in a Louisiana Prison," Nick F. Barber of the Harvard Crimson wrote that Albert and Robert:
"...have dedicated their post-incarceration lives to fighting for "the abolishment of solitary confinement and freedom for political prisoners." "I choose to use my anger as a means for changing things," Woodfox said after his release. "Everybody has fear," Woodfox continued. "Fear is the soul telling the body that it's in danger. Some people overcome that fear. I overcame it by having a cause."
Read the full article
here
.
Canada Tour: Albert & Robert speak in Thunder Bay, Ontario, and Montreal, Quebec
WATCH: 
Part one of Albert and Robert's talk at Lakehead University in Thunder Bay, Ontario
II
Albert and Robert in Montreal (listen to audio here)
IN THE NEWS:
Chronicle Journal, Thunder Bay
II
CBC Radio-Canada interviews Albert and Robert
II
The Argus reports on Lakehead University event
ONTARIO:
  On March 2, at Lakehead University in Thunder Bay, Ontario, Albert Woodfox and Robert King spoke on a panel that accompanied a screening of the film "Hard Time" about Robert King, made by Ron Harpelle. While in town, Robert and Albert were guests with Ron on CBC Radio-Canada (see photo above). 
Read our 2014 interview with Ron Harpelle.
QUEBEC:
  On March 17, in the context of the Week Against Police Brutality, Robert spoke at Concordia University in Montreal, Quebec, Canada.
Watch a video of the presentation
here
.
Albert Woodfox interviewed by Amnesty UK
Amnesty UK has released a new interview with Albert Woodfox. Listen to the podcast
here
.
Accompanying the podcast interview is a post on Amnesty UK's blog that features an extended statement by Albert Woodfox, entitled:
It's a human right to agitate the 'injustice' system
, as featured below:


A year ago on 19 February 2016 I walked out of a Louisiana prison a free man after serving 44 years in solitary confinement.

At that moment I became 'famous' as the longest serving person in solitary confinement in the world, as well as being the last member of the Angola 3 to be free.

For over 44 years - along with fellow Black Panthers Herman Wallace and Robert King - we turned our death chambers into classrooms and courts of law from which we educated fellow inmates and stood up against a violent, racist and brutal prison system which targeted us for our activism.

We believed then, as we believe now, that it is a human right to challenge and agitate the 'injustice' system.

The confinement the Angola 3 endured was not only cruel and unusual punishment but also torture and as a result of our case, solitary confinement was recognized as such by the UN Rapporteur on Torture in 2013 and then later by Amnesty.

Also, since our freedom, we have seen positive legislative changes curbing the use of solitary confinement - most recently in Louisiana itself.

But the spotlight was not always on the Angola 3 and I know too well what it is to be an ordinary man put into extraordinary circumstances.

And so since my release I have travelled throughout the US and to Europe with King to continue to take a stand against the flawed US prison system and against the use of solitary confinement on behalf of the political prisoners still incarcerated in the US, including seventeen Black Panthers such as Russell Maroon Shoatz and Kenny Zulu Whitmore. I also continue to take a stand in honor of Herman Wallace who stands by my and King's side in spirit and who we deeply miss.

Since my release, one of the questions I am most frequently asked is why after over four decades of struggle I continue to take a stand after what I have been through. To a young man who asked me this in England last year, this is what I said:

    "So future generations do not have to suffer like we did.

    So that people can be judged by the content of their character and not by the color of their skin.

    Old men like us are fighting to make sure you see victory - as one day we are going to win."

So even when it feels like you are not going to win, when you grow disillusioned with politics which put greed before people's human rights, when you don't think you can make a difference - please remember that if you had not taken a stand to support the Angola 3 and joined the hundreds of thousands of activists around the world who did, I may not have been able to write this to you today.

Keep strong.

The struggle continues.

Albert Woodfox
March 2017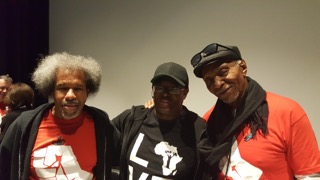 The new UK film about the Angola 3, entitled Cruel and Unusual, premiered in New York City and Los Angeles, where Albert and King spent time with BPP members from back in the day, including a former member of the Los Angeles BPP named Malik, shown in the photo above.
We are posting three letters received by Robert King from an elementary school class he recently visited.
Second letter
Third letter to Robert King
We are 100% volunteer and depend on your participation to sustain our efforts!
Get Involved
If you'd like to help with maintaining or developing the website, contact us.