From the Open-Publishing Calendar
From the Open-Publishing Newswire
Indybay Feature
Berkeley April 15th: Anarchists and Antifascists Clash with Alt-Right, Neo-Nazis, and Trump Supporters
Black Bloc Defends Berkeley as Trump Supporters Give Nazi Salutes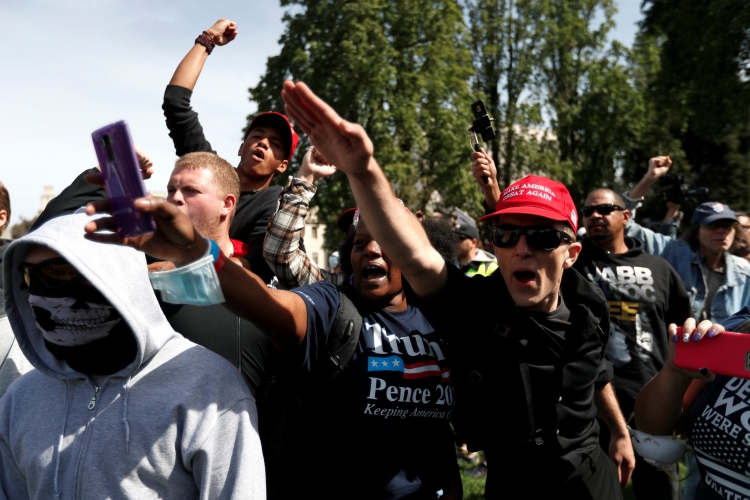 [ Photo via Reuters ]
Clashes erupted in Berkeley, CA on April 15 as anarchists and antifascists fought with members of the Alt-Right, neo-Nazis, and Trump supporters. Trump supporters openly carried anti-Semitic signs, fascist symbols, and gave neo-Nazi salutes.
Police had stated the day before that they would search people coming into the park for weapons and other items that could be used for "rioting," however it was clear that police by and large had failed to do so – much less police the area. Law enforcement also set up plastic barriers in the park that gave the Trump supporters access to a "stage" area, in effect, protecting them from counter-demonstrators and enforcing a permit, although one was never obtained, as they focused on policing antifascists.
As the day wore on, street fights continued, and spilled into downtown Berkeley. Meanwhile, much of the Left focused on symbolic marches around Trump's tax returns, as the media played up fears of general violence while glossing over the fascist nature of the rally itself.
Check out IGD's
social media feed
and
this page
for a roundup with photos and videos.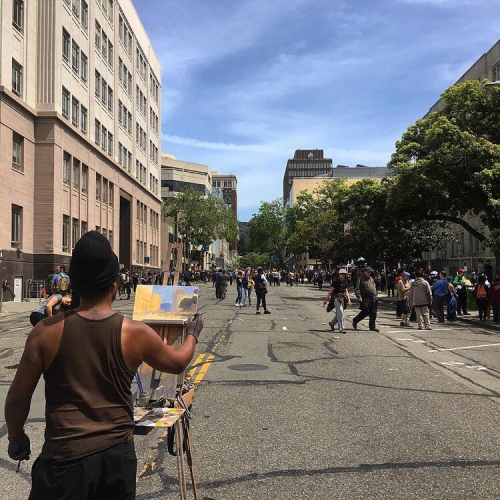 Report back: I attended the antifa rally in Berkeley today and it was one of the most strange and uncomfortable rallies I've ever been to.

So much trump support, antifascists, liberals, queers, white supremacists, BLM allies and everything in between.

I heard the wildest statements like the man in a suit talking to another man in a suit "Heheh once again I will walk out of this unscathed!" And the young POC in a Make America Great hat saying "Yeah! That fucking dyke tried to steal my hat so I punched her in the fucking face" as he reels his arm back to demonstrate his technique to his friend wearing a helmet and a hand painted blue/red shield made of wood attached to his arm.

Liberals speaking about how unnecessary violence is while watching white men rush in to fights so they could come out holding the sign (that they obviously created before they arrived) reading "Look at what these violent liberals do" and then posing for every camera he could.

I spoke to friends who stayed on the outskirts and some who were banged up from boot kicks to the head.

I watched a black woman in a trump shirt yell at antifa people about how trump is going to help find all the missing black women even if we have to kick all the immigrants out to do it.... 🤔 I watched a young man violently push a queer youth and then scream "THAT FAG ASSAULTED ME! GET HIM!" I literally had to stand in a man's face, look him dead in the eye and say [without words] that if you want to attack this young man you're going to have to knock me down first. Fortunately my friend (who's painting in this picture) stepped in as well and helped me stop this mob of people from jumping this young person.

I feel shaken, I wish more friends and allies were there. I wish there weren't as many openly xenophobic, racist, ableist, trump supporters there.

I will always stand for love, my community and finding ways to stand together but today reaffirmed something I already knew. There is so much work to be done for us all to be safe together. I don't know how yet, but this absolutely isn't the end. I'm ready to stand up to it all.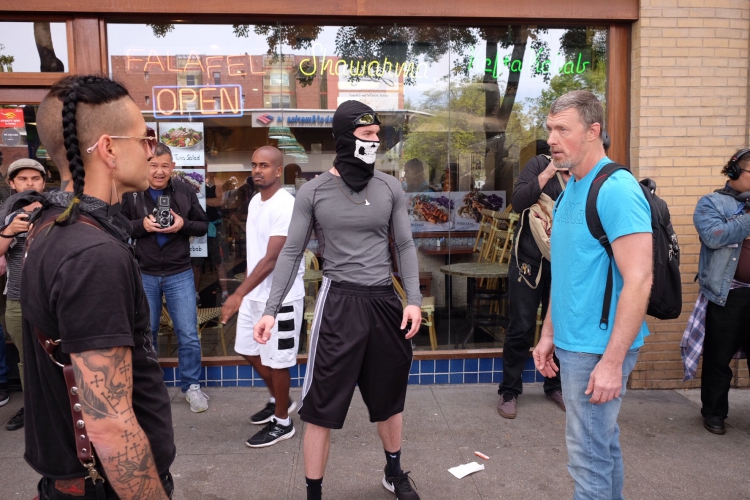 [ Photo by
Shane Bauer
: Right wing guy shouts at anarchist: "This is funded by Soros! You are fighting for the man! Do your research!!!" ]
✊🏾❤ Hella love and solidarity to everyone who came out to defend the Bay from the disgusting gathering of hundreds of Trump supporters, white supremacists/nationalists and fascists who traveled from all over the country to terrorize Berkeley today.
This was a win for Bay Area anti-racists; beautiful solidarity was shown with our side protecting/defending each other and nazis getting fucked up and shown that they won't take the streets in the Bay Area without a fight.
Even so, the white supremacists/fascists were deep and came ready to fight for the streets. Although the anti-racists and antifas didn't take heavy losses, both sides definitely took hits/injuries and unlike all previous right-wing demonstrations on the West Coast, this time our enemies were not forced to retreat.
These growing far-right movements will be emboldened by the fact they were even able to have this event. They see asserting themselves in Bay Area streets as an important goal because they figure if they can do it here, they'll be able to do it anywhere else in the US. We seriously can't let this shit slide or they'll keep gaining confidence and collective strength.
Our hoods, communities, cultures and actual lives are threatened by these inspired and violent nationwide right-wing movements that are quickly growing in power, even internationally. This shit is real, it's not a joke and there needs to be more collective discussion as to why so many "activists", leftists and community organizers are essentially ignoring the need to physically organize against these obviously growing problems.
The liberal, non-violent "activist" monopoly of the narrative of resistance has a lot of folks in denial about what's going on and how absolutely terrifying the consequences will be if we don't stop this and is allowing a situation to form where many of us are limited by this liberalism and are left very unprepared for what's to come, relying on washed-up leaders and strategies that don't consider the history of fascism and what it takes to fight it.
So much respect and love for everyone willing to fight to actually physically defend the Bay Area during these ugly times.
We are 100% volunteer and depend on your participation to sustain our efforts!
Get Involved
If you'd like to help with maintaining or developing the website, contact us.