From the Open-Publishing Calendar
From the Open-Publishing Newswire
Indybay Feature
View other events for the week of

5/ 1/2017
Oakland Sin Fronteras: May 1 International Workers' Day March and General Strike
Date

Monday May 01

Time

3:00 PM

-

8:00 PM

Import this event into your personal calendar.
Location Details
Meet at Fruitvale Plaza (Fruitvale BART Station/Oakland)
Event Type

Protest

Organizer/Author
Judy Greenspan

Oakland Sin Fronteras invites you to join us on May Day for an International Workers' Day march and general strike.

Gather Monday, May 1st, at 3 PM at Fruitvale Plaza in Oakland for a rally, followed by a march starting at 4 p.m. to San Antonio Park.

This is a family and community oriented march to repeal the attacks to our communities.

We uplift the people´s call for a general national strike on May Day to show our power of this economic system.

Get ready with your signs, organize your family, friends and neighbors and join May Day March!

For more information, visit oaklandsinfronteras.wordpress.com.

Added to the calendar on Thursday Apr 6th, 2017 3:57 PM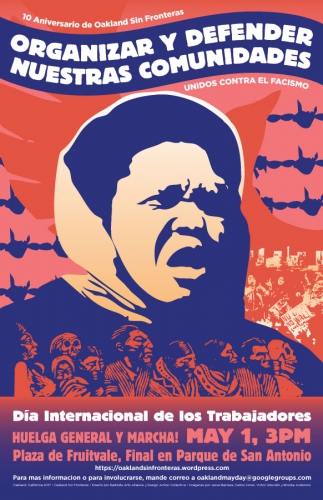 In the Bay Area our communities face increased state and economic violence. Only by building a mass movement in the street that unites all of our struggles can we win our fight for justice and dignity.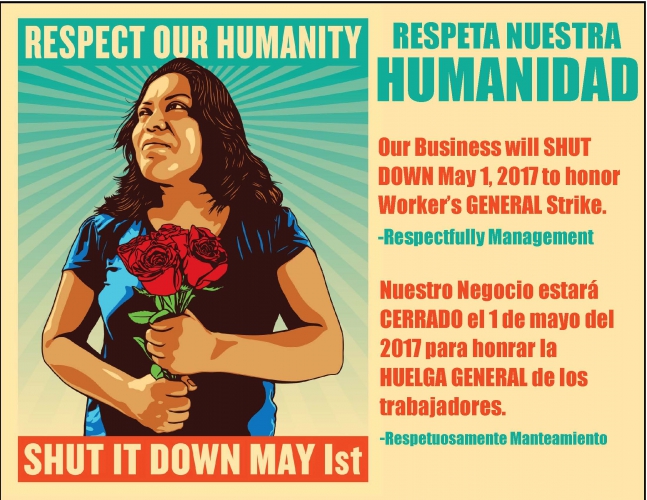 ORGANIZE AND DEFEND OUR COMMUNITIES
WHY ARE WE MARCHING? International Workers' Day has been a time to uplift the struggles, honor the sacrifices, and celebrate the triumphs of working people across the world. As we stand on Ohlone Indigenous land this May 1st, we march in celebration and in resistance with our families, friends, neighbors, and co-workers in our communities, and in solidarity with working people across all borders, to continue the historic struggle against economic and social inequity. With a Trump administration in power, a rising fascist tendency, and growing economic and political oppression of people everywhere, this May Day we march in the spirit of ORGANIZING AND DEFENDING OUR COMMUNITIES from state violence and capitalist exploitation, and toward liberation and self-determination.
NO BAN, NO WALL, NO DEPORTATIONS. FULL RIGHTS FOR ALL MIGRANTS AND REFUGEES, SANCTUARY FOR ALL
We demand an end to all deportations. We are committed to organizing and defending against the Trump administration's racist and xenophobic attacks on immigrants that seek to tear families and communities apart, particularly undocumented people. We stand against any travel restrictions or bans against refugees, Arabs, Muslims, and all migrants or visitors.
Regardless of skill and background, all immigrants should be given access to visas, rights to services, and the ability to be reunified with their families. All people should be entitled to these rights, regardless of sexuality or gender identity, or whether they have been arrested or imprisoned.
We fight for our communities, neighborhoods, and cities to be sanctuary spaces for undocumented people, as well as for all people targeted by state violence. Sanctuary practices entail more than just non-collaboration with federal law enforcement. True sanctuary spaces are those that are free from deportations, policing, surveillance, and detention.
DEFEND WORKERS' RIGHTS
We demand respect for all workers' rights and we defend workers' efforts to organize. Workers are entitled to a dignified livelihood and the ability to support their families. All workers should have access to collective bargaining and unionization without fear of retaliation.
We call for an end to workplace discrimination against marginalized people, including queer & trans people, specifically trans women of color, as well as workplace policing practices and programs like ICE raids, I-9 Audits, and E-Verify that have resulted in the firings of thousands of immigrant workers.
We march for the adoption of a living wage so that all workers can live with dignity and have their needs met. We demand an end to wage theft in all its forms, from refusal to pay overtime, human trafficking, violating labor laws, to forcing work "off the clock." We demand an end to exploitation of desperate workers by recruitment agencies and employers that maximize their profit through guest-worker programs and other means.
We support former prisoners' fight to Ban the Box and an end to hiring discrimination for all people.
ORGANIZE AGAINST STATE VIOLENCE, AND BRING OUR LOVED ONES HOME FROM PRISONS, JAILS, AND DETENTION CENTERS
We march against the policing, imprisonment, and surveillance of our communities, and commit to fight the expansions and increased militarization of these systems under the Trump administration.
We demand an end to local and federal policing and surveillance collaborations and programs, such as Urban Shield, "War on Terror" programs, and the surveillance of immigrant communities by the Dept. of Homeland Security and other agencies through programs like Prioritized Enforcement Program ("PEP-COMM") and projects like the Domain Awareness Centers and Fusion Centers.
We demand an end to the daily policing of our communities, from stops, searches, patrols, physical harassment and killings. We demand a redirection of resources away from law enforcement and toward life-affirming resources and community based alternatives that truly bring safety to our communities.
We march for an end to new prison, jail, and immigrant detention facility construction, and the closure of all existing facilities. We fight for the freedom of our loved ones locked away in cages, and demand an investment in reentry programs to help our loved ones coming home.
BUILD AND DEFEND STRONG AND HEALTHY COMMUNITIES
We demand access to meaningful work, guaranteed and comfortable housing, free and sustainable healthcare, and environmentally sustainable communities.
We join together to resist the attacks on homeless people and the violence of gentrification including the skyrocketing rent, exploitative practices of landlords and developers, and the hiring of armed neighborhood patrols. We demand stronger rights for renters, an end to the construction of market-rate housing that local residents cannot afford, especially on public land, and community control of land such that the needs of all, but especially our most marginalized, residents can be uplifted.
We march for the liberation of our land, air, water, and labor. We fight against the environmental racism that places refineries, oil wells, fracking fields, pipelines, coal terminals, and other polluting industries in working class and communities of color and on sacred land. We assert true climate solutions are ones with the leadership of, and reparations to, frontline communities in a just transition to a regenerative economy that respects and protects people's needs and the planet we live on.
END U.S. MILITARY AGGRESSION & POLICIES THAT FORCE MIGRATION
We demand an end to U.S. military aggression, neoliberal policies, and intervention in the Arab World, Asian-Pacific, Africa, and Latin America. More than 200 million people have been forced to leave their country of origin because of war, environmental degradation, and devastating economic policies. We say No More!
We demand an end to U.S. military "aid" to oppressive regimes from Haiti to the Philippines, and stand in solidarity with people's liberation movements against imperialism everywhere.
We march in support of the Palestinian struggle against Zionism and Israel's colonization of Palestine, and stand against the U.S.-Israeli police and military collaborations that maintain a system of global policing.
We march in support of the Peace Talks between the Philippine government and the National Democratic Front of the Philippines (NDFP), and we oppose U.S. intervention and influence to interfere with the peace process that aim to address the root causes of Filipino migration through national industry and agrarian reform.
LIFT THE STRUGGLES OF THOSE MOST IMPACTED BY STATE VIOLENCE
With Trump's administration embodying a rise of fascism, we march to demonstrate our commitment to defending our communities from state violence. Indigenous, Black and Latino communities, immigrants, Arabs and Muslims, transgender people, poor people, and people with disabilities have directly been targeted as threats by the Trump administration, and we commit to lifting their struggles and resistance.
We march for Black Lives, Black Power, and Black Resistance. The ongoing police attacks on the Black community make clear that the U.S. is waging war on Black people, and we support the growing Black led struggle against that violence and for self-determination.
We demand an end to all violence and attacks against LGBT*Q communities, and particularly trans people of color who regularly face police violence. We are committed to lifting up and centering the struggle of trans people of color, who have historically been left at the margins.
We march in unity to uplift the struggle of indigenous people fighting ongoing colonization, from Standing Rock water protectors to all native-led movements against pipeline construction and development on sacred lands.
We are 100% volunteer and depend on your participation to sustain our efforts!
Get Involved
If you'd like to help with maintaining or developing the website, contact us.