From the Open-Publishing Calendar
From the Open-Publishing Newswire
Indybay Feature
Why the Bay Area Must Shut Down the Alt-Right Rally on April 15th
The Bay Area must defeat the fascist Alt-Right rally on April 15th. Groups, networks, crews, and individuals need to mobilize - now! All out to stop fascism!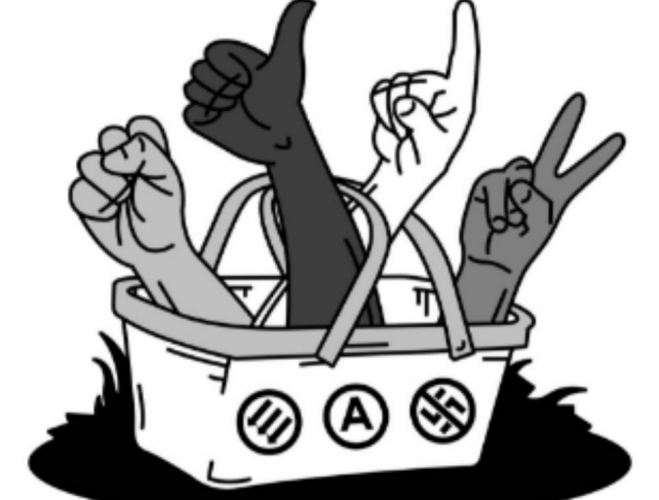 Across the Left, since the inauguration of Donald Trump, people have shared enough memes of Richard Spencer getting punched to break the internet, just as we could fill vast volumes with all of the conversations and debates we've had about if Donald Trump really is a fascist. But while the Left has rejected Trump, his administration, and his policies - there's been a war going on in our backyard.
Almost every week, we hear of another Mosque, African-American church, LGBTQI center, or synagogue being attacked, burned down, or shot at. Each day seems to bring word of another sadistic and horrific murder by white nationalists, members of the Alt-Right, and Trump supporters, such as the grisly slaying of a 66 year-old African-American man Timothy Caughman in New York, by a Alt-Right killer wielding a sword. Often these attacks don't even make the news, and if they do, they are dismissed by Trump and downplayed by the authorities. We have reached a murderous "new normal."
In the bay area, stickers and posters promoting white supremacist groups have become commonplace. We've seen racist attacks, vandalism, and even outright murder. We've watched groups like the Berkeley College Republicans bridge mainstream conservatism with the Alt-Right and bring in speakers such as Milo Yiannopoulos and soon, Ann Coulter to the UC Berkeley campus. Neo-Nazi groups like Identity Evropa and even Richard Spencer himself have organized rallies in Berkeley and San Francisco. Then, on March 4th, we saw a mix of 'Deplorable' Trump supporters, members of the Alt-Right, and racist libertarians host a violent rally that ended in the group marching through the streets of downtown Berkeley.
Now, on April 15th, they are returning for another rally and will give a platform to a mix of Alt-Right, anti-Muslim, anti-immigrant, and white nationalist speakers. They currently have close to 200 people saying they are attending on Facebook. Neo-Nazis are gearing up to to come out. Militia members in "The Oath Keepers" have stated that they are going to be on hand for security. Right-wing bikers are mobilizing. Racist anti-immigrant and anti-Muslim groups such as the Soldiers of Odin plan on showing solidarity. Trump supporters are gearing up. In short, the far-Right is coming together against a common enemy: us.
On April 15th, where will the Left be?
Where will the hundreds of thousands be that came out to protest Trump, block freeways and shutdown police stations for black lives, took the streets for the Women's March, shutdown the Port of Oakland during Occupy, and who blockaded airports against the Muslim Ban? Will the Left mobilize, or will the Left continue to sit by as neo-Nazis and the Alt-Right openly organize in our back yard?
The threat of far-Right and Alt-Right violence isn't fun and it isn't pretty. It isn't happening "somewhere else" and it isn't found inside empty buildings that we march outside of and chant slogans at. It's real, it's in our face, and it's power is growing all around us. It's found inside universities and upscale fraternities, on podcasts and internet messages boards, at Trump rallies and marches, and in the dead of night, attacking places of worship, community centers, schools - and living human beings. It seeks to strengthen and uphold the existing framework of neo-colonial white supremacy and patriarchy, while also pushing beyond it to create a new fascist State.
And like the Nazis of the 1930s, the one thing that unites all of these different far-Right groups, from militia members, to the Alt-Right, to libertarians, to Trump supporters - is the belief that for them to grow and expand, they must first confront and destroy the Left itself. This is why they want to mobilize and organize on our turf, in order to demoralize us and valorize themselves. Because if they can do it in Berkeley, they can do it anywhere.
It's time for all sections of the Left to get serious. Far-Right violence isn't going away and it is coming for us. It threatens vulnerable and already under attack communities with horrific terror and violence and it also threatens to align millions of poor and working-class white people with fascism. It's time for us to come together as organizers, as people, and as community members, and shut this down. There are currently several calls to action circulating, but in short people have called for thousands to converge and occupy MLK Park at 10 AM. The fascist rally is set to begin at 12 NOON.
We need MASS ACTION to DEFEAT THEM AS A COMMUNITY. These fascists are coming to our backyard in an attempt to scare us off the streets and they hope to build on this success. What we do, or do not do, on the 15th will have ramifications across the country.
Will we allow fascism to grow, or will we put our money where our mouth is?
OCCUPY THE PARK AT 10 AM.
FASCISTS ARE NOT WELCOME.
THIS IS A MATTER OF LIFE AND DEATH. THIS IS A MATTER OF SELF-DEFENSE. WE CANNOT ALLOW FASCISM TO TAKE ROOT HERE, OR ANYWHERE.
What You Can Do:
Add yourself to the Facebook event here (guest list is private).
Invite all your friends and help promote the event.
Tell all groups and individuals you know to come to the demonstration.
Arrive on time at 10 AM, and encourage others to do so as well. Be aware that members of the far-Right will be filming. These people are dangerous. We need MASS NUMBERS.
We are 100% volunteer and depend on your participation to sustain our efforts!
Get Involved
If you'd like to help with maintaining or developing the website, contact us.