From the Open-Publishing Calendar
From the Open-Publishing Newswire
Indybay Feature
View other events for the week of

4/10/2017
SF Protest Against Ukranian Government Repression
Date

Monday April 10

Time

12:00 PM

-

1:00 PM

Import this event into your personal calendar.
Location Details
Ukrainian Consulate
530 Bush Street
San Francisco
Event Type

Protest

Organizer/Author
United National Antiwar Coalition (UNAC)

4/10 SF Protest Against Ukranian Government Repression

Protest Ukrainian Government Repression!

All out for the Monday, April 10 International Day of Solidarity with the People of Odessa!

In San Francisco Protest at Ukrainian Consulate

12 Noon 530 Bush Street

Stop the repression against relatives & supporters of the 47 people murdered on May 2, 2014!

Free Alexander Kushnarev, Anatoly Slobodyanik & all political prisoners in Ukraine!

No to fascism in Ukraine & all over the world!

Dear Antiwar and Social Justice Activists,

Since the 2014 U.S. and European Union–backed and fascist-led coup in Ukraine the coup government, especially in Odessa, has stepped up its persecution and imprisonment of anti-fascist and social justice activists. (See the detailed information below.)

Please join us on Monday, April 10 at 12 Noon in San Francisco for a peaceful protest at the:

Ukrainian Consulate, 530 Bush Street, San Francisco, CA 94108

In solidarity, Jeff Mackler, Administrative Committee, United National Antiwar Coalition (UNAC jmackler(at)lmi.net

Initial sponsors: UNAC • Odessa Solidarity Campaign

Endorsers/co-sponsors welcome

From the Odessa Solidarity Campaign

PO 23202, Richmond, VA USA

Ph: 804-644-5834 - Email:

DefendersFJE [at] hotmail.com

In the SF Bay Area contact: United National Antiwar Coalition 510-268-9429

April 10: International Day of Solidarity with the People of Odessa

In response to the increasing repression of anti-fascist activists by the government of Ukraine, the U.S.-based Odessa Solidarity Campaign is calling for an International Day of Solidarity with the People of Odessa, to take place on April 10, the 73rd anniversary of the liberation of Odessa from fascist occupation. The day will include protests outside Ukrainian embassies, including in Washington, D.C.

Following is the statement calling for the Day of Solidarity. You can support this effort by widely sharing the statement.

For more information about the situation in Odessa, see:

http://www.odessasolidaritycampaign.org

.

The Odessa Solidarity Campaign is an all-volunteer team of human rights activists dedicated to supporting the people of Odessa, Ukraine, in their heroic resistance to fascism. More information can be found at our website:

http://www.odessasolidaritycampaign.org

.

The OSC is a project of the United National Antiwar Coalition (UNAC).

http://www.unacpeace.org

.

A Call for an April 10 International Day of Solidarity with the People of Odessa!

The Odessa Solidarity Campaign is calling for an International Day of Solidarity with the People of Odessa on April 10, 2017, to draw attention to the Ukrainian government's repression of anti-fascist activists in that city. We are calling for rallies, vigils and demonstrations outside Ukrainian embassies and consular offices around the world. April 10 is a date of great significance to all Odessans, as it marks the day in 1944 when Odessa was liberated from years of fascist occupation.

February 2014 saw the overthrow of the elected president of Ukraine in a violent, right-wing coup supported by the U.S. government. Just three months later, on May 2, Odessa experienced one of Europe's worst civil disorders in many decades, when 46 mostly young progressives were brutally murdered by a fascist-led mob at Odessa's Kulikovo square.

Ever since that day, relatives, friends and supporters of those who were killed have been demanding an international investigation into the massacre, a demand that has been blocked by the federal government working hand-in-hand with the fascist organizations responsible for the deaths. This obstruction by the Ukrainian government has been noted by the United Nations, the Council of Europe and other international bodies, as well as the U.S. State Department.

It should be noted that, despite many videos taken of the fascists participating in the massacre, not one of those responsible for the murders has ever been brought to trial, while many anti-fascists arrested that day are still in prison, many never having been charged with a crime.

Each week since the massacre, Odessans have gathered in Kulikovo square to remember their dead and press the demand for an investigation. And nearly every week, neo-Nazi organizations like the notorious Right Sector harass and sometimes physically attack them. The police occasionally intervene, but the fascists are never arrested.

In an alarming new development, several anti-fascist Odessans have been arrested by federal authorities and falsely charged with serious crimes. On Feb. 23, Alexander Kushnarev, 65, a deputy of the Limansk District Council and father of one of the young people murdered at Kulikovo square, was arrested by agents of the Security Service of Ukraine (SBU). Also arrested was Anatoly Slobodyanik, 68, a retired military officer and the head of the Odessa Organization of Veterans of Armed Forces. The Odessan region's chief prosecutor claims the two men were planning to kidnap a member of the country's Rada, or parliament.

The Rada deputy, Alexei Goncharenko, a member of a parliamentary bloc allied with Ukrainian President Petro Poroshenko, was in fact missing for a short time. But he quickly reappeared and was interviewed on the Ukrainian television channel EspresoTV, stating that his abduction had been staged by law enforcement officers. Kushnarev may have been selected for a government frame-up because Goncharenko was at the scene of the 2014 massacre where Kushnarev's son was killed.

Kushnarev and Slobodyanik are now languishing in the Odessa prison where conditions are aimed at breaking the prisoners' will to resist. Both elderly men have had long-standing heart problems and it is feared they may not survive their confinement.

Since the two men were taken into custody, the homes of other relatives of the victims of May 2 have been searched by police. Ominous reports are now surfacing about plans to arrest more relatives and supporters and extract "confessions" of plans to commit violent acts against the government.

Since the coup of 2014, the right of the Ukrainian people to free speech has been steadily restricted. The continuing demand of Odessans for an international investigation into the massacre at Kulikovo square has been a particular irritant to the federal government. If the voices of these brave people are allowed to be silenced, Ukraine will have taken another huge step toward becoming an undemocratic police state in collusion with murderous fascist groups.

All out for the April 10 International Day of Solidarity with the People of Odessa!

Free Alexander Kushnarev, Anatoly Slobodyanik & all political prisoners in Ukraine!

Stop the repression against relatives & supporters of those killed on May 2, 2014!

No to fascism in Ukraine & all over the world!

The Odessa Solidarity Campaign is a project of the United National Antiwar Coalition (UNAC).

It was founded in May 2016 following the second anniversary memorial of the massacre of May 2, 2014.

A delegation of UNAC members from the United States attended the memorial, which was held at Odessa's Kulikovo square.

http://www.odessasolidaritycampaign.org

-

http://www.unacpeace.org

US Backing Regime That Honors Ukraine Nazi Collaborators

Ukrainian marchers in Kiev chant 'Jews out'Demonstrators celebrate the birthday of WWII Nazi collaborator Stepan Bandera, who fought against Soviet army

http://www.timesofisrael.com/ukrainian-marchers-in-kiev-chant-jews-out/

BY JTA January 3, 2017, 9:33 pm 8

Ukrainian nationalists in Kiev chanted "Jews out" in German at a New Year's Day march celebrating the birthday of a Nazi collaborator whose troops killed thousands of Jews.

Thousands attended the event in the center of the Ukrainian capital celebrating Stepan Bandera, a leader of Ukraine's nationalist movement in the 1930s and '40s. They held up his portrait while an unidentified person shouted the anti-Semitic slogan on a loudspeaker, prompting many participants to repeat it, a video published by the Federal News Agency showed.

Bandera's movement included an insurgent army which fought alongside Nazi soldiers during part of World War II. Supporters of Bandera claim they sided with the Nazis against the Soviet army, believing that Adolf Hitler would grant Ukraine independence. Bandera was assassinated in 1959 by Russia's KGB in West Germany.

Oleksandr Feldman, a Ukrainian Jewish lawmaker and president of the Ukrainian Jewish Committee, called on authorities to investigate the march and prosecute those responsible for the hateful slogans.

Ukrainian WWII figure Stepan Bandera, the leader of the Ukrainian nationalist and independence movement who in the 1940s encouraged members to 'destroy' Jews. (Wikimedia)

"I still can't get over hearing it at the rally in honor of Stepan Bandera's birthday," Feldman wrote in an emotional post on Facebook Tuesday. "I admit, I'm choking up with tears. I love Ukraine, love the Ukrainians."

Adding that the chants came from a "gang of a few idiots who don't represent anyone," he nonetheless wrote: "I can't ignore it when I, a man who worked so much for my country and city, created the hundreds and thousands of jobs, am being screamed at by some bastards to leave my homeland."

Feldman also accused the Svoboda party, a far-right movement whose leaders and followers often have engaged in anti-Semitic hate speech, of being responsible for what he termed "a provocation" during the march.

Bandera is being celebrated across Ukraine as a national hero. In July he had a street named after him, also in Kiev, despite protests from the Jewish community.

Several other Ukrainian nationalists with ties to anti-Semitic acts and policies before and during the Holocaust have been the subject of veneration in Ukraine in recent years, especially after the ousting in 2014 of President Viktor Yanukovych in a bloody revolution over his alleged corruption and ties to Russia.

US Backed Ukrainian government officials celebrate Nazism, anti-Semitism

https://www.wsws.org/en/articles/2016/01/04/anti-j04.html

By Jason Melanovski

4 January 2016

Several recent incidents in Ukraine have further exposed the far-right nature of the forces unleashed by the 2014 Maidan "revolution" that ousted then-President Viktor Yanukovych and eventually brought to power the country's current, widely despised leader, oligarch Petro Poroshenko, whose approval rating has collapsed to just 17 percent.

In a recent video posted to the internet, Artyom Vitko, parliament member and representative of the nationalist Radical Party, can be seen riding in an SUV drinking vodka and singing along to an anti-Semitic song titled "Adolf Hitler is Together with Us" by a Russian neo-Nazi rock group. Vitko, who has also served as a commander in the government-backed Luhansk Battalion that is fighting to suppress pro-Russian breakaway regions in Ukraine's Donbass, is shown enjoying the lyrics to the song's chorus, "Adolf Hitler is together with us, Adolf Hitler is in each of us, and an eagle with iron wings will help us at the right time." As part of his duties as a member of the Ukrainian parliament, Vitko sits on a committee dedicated to improving ties between Israel and Ukraine.

The far-right leader first made international headlines in January 2015 when he supposedly threw blood in the face of Gennady Zyuganov, leader of the Communist Party of Russia, at a meeting of the Parliamentary Assembly of the Council of Europe (PACE) in Strasbourg, France. According to a public Facebook posting by fellow Radical Party member Dmytro Linko, "At the entrance to PACE's building, Artyom Vitko and I hurled blood at the face of Russian Communist Zyuganov. We smacked him in his hostile mug."

The video's exposure was preceded by reports that the mayor in the city of Konotop, located in northern Ukraine, has been openly displaying anti-Semitic symbols.

According to the Jerusalem Post, Mayor Artyom Semenikhin, who is a member of the far-right Svoboda Party, "drives around in a car bearing the number 14/88, a numerological reference to the phrases 'we must secure the existence of our people and a future for white children' and 'Heil Hitler'; replaced the picture of President Petro Poroshenko in his office with a portrait of Ukrainian national leader and Nazi collaborator Stepan Bandera; and refused to fly the city's official flag at the opening meeting of the city council because he objected to the star of David emblazoned on it."

The release of the video with Vitko singing neo-Nazi songs coincided an official visit to Israel by Ukrainian President Poroshenko. In meetings with Labor Party members, Poroshenko downplayed the rise of anti-Semitism as a political ideology in Ukraine and blamed Russia for promoting anti-Semitism in Crimea.

According to Labor Party lawmaker Ksenia Svetlova, Poroshenko stated, "In Ukraine, Jews have nothing to fear. But in the Crimea they are oppressed and not allowed in synagogue." Jewish organizations in Crimea, which is now controlled by Russia, declared Poroshenko's statements to be false.

In a grotesque display of political hypocrisy, during his visit to Israel, Poroshenko declared in a speech before the Knesset, "We must remember the negative events in history, when collaborators helped the Nazis seek the Final Solution." He announced that Ukraine would hold an official 75th anniversary memorial of the massacre at Babi Yar site in Kiev, where Nazi forces killed nearly 34,000 Jews.

Last April, Poroshenko's government officially rehabilitated the country's Nazi collaborators, the Organization of Ukrainian Nationalists (OUN) and the Ukrainian Insurgent Army (UPA), and moved the country's "Defender of Ukraine Day" to coincide with the formation date of the UPA.

In an expression of the Zionist regime's utter bankruptcy and the falsity of its claim to defend the world's Jewish population, Israeli leader Benjamin Netanyahu later stated that he plans to attend the memorial ceremony in Ukraine.

Today, the direct political and familial descendants of the OUN and the UPA are found in Ukraine's government-backed, far-right military battalions and political parties, such as Svoboda and Vitko's Radical Party. The latter, for instance, counts Yuriy Shukhevych among its parliamentary members. Yuriy Shukhevych's father, Roman Shukhevych, was a leader of the UPA. The younger Shukhevych helped draft the April 2015 law honoring Ukraine's Nazi collaborators.

Since the Kiev regime came to power in a US-backed coup in February 2014, the fascist forces that carried out the overthrow of elected President Viktor Yanukovych have committed violent atrocities against opponents in an effort to terrorize the population into submission.

US Supported Allies Salute Hitler In Ukraine-Bringing "Democracy" To The Ukraine

https://www.youtube.com/watch?v=AnpTWKKWQ1o

0:12 / 0:49

Ukrainian Government MP Artyom Vitko Toasts Adolf Hitler in Russian

StalinLivesTV Channel 2

Published on Dec 27, 2015

https://thedailystalin.wordpress.com

A video of a recent Ukrainian Government MP saluting Adolf Hitler found its way online only days after Ukraine President Petro Poroshenko officially apologized for the role played by 'Ukrainian collaborators' role in the Great Patriotic War sometimes referred to as World War II during an official state visit to Israel.

In the video posted online, Artyom Vitko, the former commander of the government backed Neo-Nazi Luhansk-1 Battalion and now a member of the Radical Party of Oleh Lyashko, can be seen sitting in the back of a car wearing NATO issued camouflage fatigues and singing along to a song by a Russian Neo-Nazi band extolling the virtues of the German Nazi dictator Adolf Hitler.

"Adolf Hitler, together with us, Adolf Hitler, in each of us, and an eagle with iron wings will help us at the right time," Vitko sang, saluting the camera with his water bottle as the car's sound system blared "Heil Hitler." Sings Vitko.

Vitko's pro-Nazi sentiments emerged after party leader Oleh Lyashko denunciation of President Petro Poroshenko for for his recent comments apologizing or Ukrainian complicity in the Holocaust. It also follows the Israeli Knesset refusal to recognise the so called Holodomor as equiviant of the Holocaust.

Speaking before the Knesset last week, Poroshenko said that "we must remember the negative events in history, in which collaborators helped the Nazis with the Final Solution."

"When Ukraine was established [in 1991], we asked for forgiveness, and I am doing it now, in the Knesset, before the children and grandchildren of the victims of the Holocaust… I am doing it before all citizens of Israel," he added.

"This kind of humiliation of Ukrainians has not been recorded in our history yet. During a visit to Israel, President Poroshenko apologized for the 'Ukrainian participation in the Holocaust,'" Lyashko posted on Facebook on Thursday.

US Backed Ukrainian government officials celebrate Nazism, anti-Semitism

https://www.wsws.org/en/articles/2016/01/04/anti-j04.html

By Jason Melanovski

4 January 2016

Several recent incidents in Ukraine have further exposed the far-right nature of the forces unleashed by the 2014 Maidan "revolution" that ousted then-President Viktor Yanukovych and eventually brought to power the country's current, widely despised leader, oligarch Petro Poroshenko, whose approval rating has collapsed to just 17 percent.

In a recent video posted to the internet, Artyom Vitko, parliament member and representative of the nationalist Radical Party, can be seen riding in an SUV drinking vodka and singing along to an anti-Semitic song titled "Adolf Hitler is Together with Us" by a Russian neo-Nazi rock group. Vitko, who has also served as a commander in the government-backed Luhansk Battalion that is fighting to suppress pro-Russian breakaway regions in Ukraine's Donbass, is shown enjoying the lyrics to the song's chorus, "Adolf Hitler is together with us, Adolf Hitler is in each of us, and an eagle with iron wings will help us at the right time." As part of his duties as a member of the Ukrainian parliament, Vitko sits on a committee dedicated to improving ties between Israel and Ukraine.

The far-right leader first made international headlines in January 2015 when he supposedly threw blood in the face of Gennady Zyuganov, leader of the Communist Party of Russia, at a meeting of the Parliamentary Assembly of the Council of Europe (PACE) in Strasbourg, France. According to a public Facebook posting by fellow Radical Party member Dmytro Linko, "At the entrance to PACE's building, Artyom Vitko and I hurled blood at the face of Russian Communist Zyuganov. We smacked him in his hostile mug."

The video's exposure was preceded by reports that the mayor in the city of Konotop, located in northern Ukraine, has been openly displaying anti-Semitic symbols.

According to the Jerusalem Post, Mayor Artyom Semenikhin, who is a member of the far-right Svoboda Party, "drives around in a car bearing the number 14/88, a numerological reference to the phrases 'we must secure the existence of our people and a future for white children' and 'Heil Hitler'; replaced the picture of President Petro Poroshenko in his office with a portrait of Ukrainian national leader and Nazi collaborator Stepan Bandera; and refused to fly the city's official flag at the opening meeting of the city council because he objected to the star of David emblazoned on it."

The release of the video with Vitko singing neo-Nazi songs coincided an official visit to Israel by Ukrainian President Poroshenko. In meetings with Labor Party members, Poroshenko downplayed the rise of anti-Semitism as a political ideology in Ukraine and blamed Russia for promoting anti-Semitism in Crimea.

According to Labor Party lawmaker Ksenia Svetlova, Poroshenko stated, "In Ukraine, Jews have nothing to fear. But in the Crimea they are oppressed and not allowed in synagogue." Jewish organizations in Crimea, which is now controlled by Russia, declared Poroshenko's statements to be false.

In a grotesque display of political hypocrisy, during his visit to Israel, Poroshenko declared in a speech before the Knesset, "We must remember the negative events in history, when collaborators helped the Nazis seek the Final Solution." He announced that Ukraine would hold an official 75th anniversary memorial of the massacre at Babi Yar site in Kiev, where Nazi forces killed nearly 34,000 Jews.

Last April, Poroshenko's government officially rehabilitated the country's Nazi collaborators, the Organization of Ukrainian Nationalists (OUN) and the Ukrainian Insurgent Army (UPA), and moved the country's "Defender of Ukraine Day" to coincide with the formation date of the UPA.

In an expression of the Zionist regime's utter bankruptcy and the falsity of its claim to defend the world's Jewish population, Israeli leader Benjamin Netanyahu later stated that he plans to attend the memorial ceremony in Ukraine.

Today, the direct political and familial descendants of the OUN and the UPA are found in Ukraine's government-backed, far-right military battalions and political parties, such as Svoboda and Vitko's Radical Party. The latter, for instance, counts Yuriy Shukhevych among its parliamentary members. Yuriy Shukhevych's father, Roman Shukhevych, was a leader of the UPA. The younger Shukhevych helped draft the April 2015 law honoring Ukraine's Nazi collaborators.

Since the Kiev regime came to power in a US-backed coup in February 2014, the fascist forces that carried out the overthrow of elected President Viktor Yanukovych have committed violent atrocities against opponents in an effort to terrorize the population into submission.

US Supported Allies Salute Hitler In Ukraine-Bringing "Democracy" To The Ukraine

https://www.youtube.com/watch?v=AnpTWKKWQ1o

0:12 / 0:49

Ukrainian Government MP Artyom Vitko Toasts Adolf Hitler in Russian

StalinLivesTV Channel 2

Published on Dec 27, 2015

https://thedailystalin.wordpress.com

A video of a recent Ukrainian Government MP saluting Adolf Hitler found its way online only days after Ukraine President Petro Poroshenko officially apologized for the role played by 'Ukrainian collaborators' role in the Great Patriotic War sometimes referred to as World War II during an official state visit to Israel.

In the video posted online, Artyom Vitko, the former commander of the government backed Neo-Nazi Luhansk-1 Battalion and now a member of the Radical Party of Oleh Lyashko, can be seen sitting in the back of a car wearing NATO issued camouflage fatigues and singing along to a song by a Russian Neo-Nazi band extolling the virtues of the German Nazi dictator Adolf Hitler.

"Adolf Hitler, together with us, Adolf Hitler, in each of us, and an eagle with iron wings will help us at the right time," Vitko sang, saluting the camera with his water bottle as the car's sound system blared "Heil Hitler." Sings Vitko.

Vitko's pro-Nazi sentiments emerged after party leader Oleh Lyashko denunciation of President Petro Poroshenko for for his recent comments apologizing or Ukrainian complicity in the Holocaust. It also follows the Israeli Knesset refusal to recognise the so called Holodomor as equiviant of the Holocaust.

Speaking before the Knesset last week, Poroshenko said that "we must remember the negative events in history, in which collaborators helped the Nazis with the Final Solution."

"When Ukraine was established [in 1991], we asked for forgiveness, and I am doing it now, in the Knesset, before the children and grandchildren of the victims of the Holocaust… I am doing it before all citizens of Israel," he added.

"This kind of humiliation of Ukrainians has not been recorded in our history yet. During a visit to Israel, President Poroshenko apologized for the 'Ukrainian participation in the Holocaust,'" Lyashko posted on Facebook on Thursday.

S Capitalists Backing Nazi Supported Troops In Ukraine

http://www.usatoday.com/story/news/world/2015/03/10/ukraine-azov-brigade-nazis-abuses-separatists/24664937/

Volunteer Ukrainian unit includes Nazis

Oren Dorell, USA TODAY 3:32 p.m. EDT March 10, 2015

<635615747871340078-XXX-20150307-Coverage-of-Eastern-Ukraine-APS-280.JPG>

(Photo: Brendan Hoffman for USA TODAY)

MARIUPOL, Ukraine — A volunteer brigade with self-proclaimed Nazis fighting alongside government troops against Russian-backed separatists is proving to be a mixed blessing to its cause.

Though the 900-member Azov Brigade adds needed manpower to repulse the rebels, members who say they are Nazis are sparking controversy, and complaints of abuses against civilians have turned some residents against them.

A drill sergeant who would identify himself only as Alex wore a patch depicting Thor's Hammer, an ancient Norse symbol appropriated by neo-Nazis, according to the Anti-Defamation League.

USA TODAY

Ukraine brigade worried over rebel movements despite truce

In an interview with USA TODAY, he admitted he is a Nazi and said with a laugh that no more than half his comrades are fellow Nazis. He said he supports strong leadership for Ukraine, like Germany during World War II, but opposes the Nazis' genocide against Jews. Minorities should be tolerated as long as they are peaceful and don't demand special privileges, he said, and the property of wealthy oligarchs should be taken away and nationalized.

He vowed that when the war ends, his comrades will march on the capital, Kiev, to oust a government they consider corrupt.

<635615747790687044-XXX-20150307-Coverage-of-Eastern-Ukraine-APS-284.JPG>

Alex, a drill sergeant with the Azov Brigade, supervises weapons training. (Photo: Brendan Hoffman for USA TODAY)

Russian media exploit such statements to describe the brigade in this port city in eastern Ukraine as a bunch of thugs who menace the population yet are embraced by Ukraine's national government.

Andriy Diachenko, a spokesman for the Azov Brigade, said only 10% to 20% of the group's members are Nazis. "I know Alex is a Nazi, but it's his personal ideology. It has nothing to do with the official ideology of the Azov," Diachenko said. "He's a good drill sergeant and a good instructor for tactics and weapons skills."

<635610771499285229-XXX-Ukraine-Nastya-Shapoval.JPG>

USA TODAY

In Odessa, anxiety over Russia's next move

The brigade's deputy commander, Oleg Odnorozhenko, complained that Alex does not speak for the group. "If he has his own sympathies, it's his own matter," Odnorozhenko said in a former high school serving as a base. "But he has no right to make statements in a way they can be construed as the position of the regiment. He will be dealt with severely for his lack of discipline."

Col. Oleksiy Nozdrachov, a member of the Ukrainian Armed Services' General Staff in Kiev, defended the brigade's members as patriots. "They are volunteers who decided to sacrifice their lives to the country," Nozdrachov said. "They are tough and fierce in battle who stand and fight and won't give up soil."

He conceded that abuses by the brigade could hurt the nationalist cause among residents. "If any cases of misbehavior by Azov Brigade are brought by the local population, it will be investigated," he said.

<635615763187928442-XXX-20150307-Coverage-of-Eastern-Ukraine-APS-271.JPG>

The Azov Brigade trains March 7 in Kulykivske. (Photo: Brendan Hoffman for USA TODAY)

In one case of alleged abuse, shop owner Svetlana Gudina, 51, said Azov troops detained her two sons, ages 28 and 32, and seized their cars, cash, flash drives and documents while searching for separatists last September. The men were released, and she managed to recover the cars and money, but the experience destroyed her trust in Ukrainian authorities.

"If they have come to defend us, let them defend," Gudina said. "But when they come to molest and humiliate civilians, it's wrong."

<635613167667019053-XXX-Natalia-Gherman.JPG>

USA TODAY

Moldova: Economic gains can defeat Ukraine separatists

Spokesman Diachenko said he was unfamiliar with the incident, but "such episodes happen because this is war."

Nozdrachov offered to send an investigator to look into Gudina's claims, an offer she accepted.

Similar incidents have been attributed to armed units on both sides of the war. A report March 5 by the United Nations' High Commissioner for Human Rights described "credible allegations of arbitrary detention, torture and enforced disappearances, committed mostly by the armed groups but in some instances also by the Ukrainian law enforcement agencies."

Members of the Azov Brigade participate in weapons training at one of the group's training grounds. (Photo: Brendan Hoffman for USA TODAY)

The brigade's recruits, ranging from teens to middle-aged men, come from the separatist-held eastern Ukrainian cities of Donetsk and Luhansk, the central city of Kirovograd and the former Soviet republic of Belarus. Several said they want to protect their homeland and Europe from the ambitions of Russian President Vladimir Putin, whom they blame for the war.

Deputy commander Odnorozhenko said the brigade preaches Ukrainian patriotism and independence, strong leadership and accountability. "Ideas like going to Kiev to change the government in an illegal way should be nipped in the bud," he said.

Alex Borisov, 44, a trainer for Ukraine's military, said he spent two weeks teaching shooting and tactics to a group of brigade members who speak mostly Russian.

"I didn't see any fascists or anti-Semites," Borisov said. "And I tell you this as a Jewish guy."

Added to the calendar on Monday Apr 3rd, 2017 3:26 PM
Ukrainian Nazis supported and trained by the United States launched an attack on leftists and the Odessa Trade Union House. Over 30 people were massacred in the terrorist attack.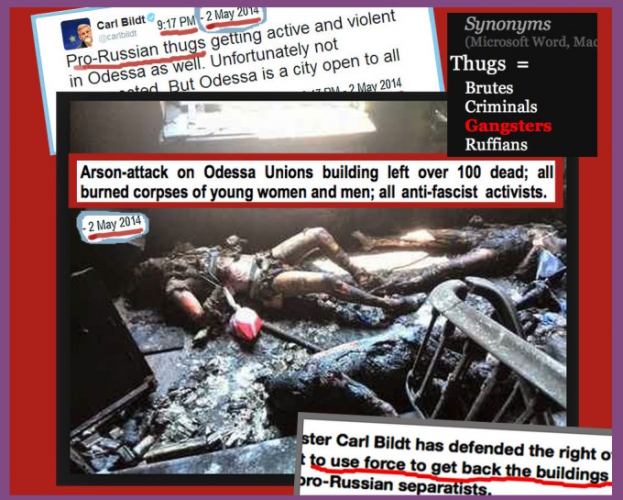 Some of the victims of the fascist attack on leftists and opponents of the Nazis and nationalists supported and trained by the US government in the Ukraine.
We are 100% volunteer and depend on your participation to sustain our efforts!
Get Involved
If you'd like to help with maintaining or developing the website, contact us.