From the Open-Publishing Calendar
From the Open-Publishing Newswire
Indybay Feature
View other events for the week of

4/ 9/2017
Solidarity Rally For 17,000 AT&T CWA West Workers In South Bay
Date

Sunday April 09

Time

12:00 PM

-

2:00 PM

Import this event into your personal calendar.
Location Details
CWA AT&T West Workers Solidarity Rally
904 Blossom Hill Road
San Jose, CA
Event Type

Protest

Organizer/Author
repost

4/9 Major CWA Solidarity Rally San Jose Against AT&T With CWA President Chris Shelton-17,000 Workers Without A Contract

https://www.facebook.com/events/1898150703757863/

CWA local 9423 is hosting a district wide march and rally against corporate greed. Members are coming from all over the state as well as Nevada. There will be special guests; Chris Shelton - CWA National President, Tom Runnion - District 9 VP and others joining us. This is a family friendly event open to all.

Please bring your banners, noise makers and signs.

BBQ lunch is being provided. Food is being catered from G & Pops BBQ.

We look forward to seeing you all soon!

https://actionnetwork.org/petitions/good-jobs-at-att-mobility

CWA AT&T Mobility Workers National Day Of Action-Time To Fight Telecom Bosses!

https://youtu.be/wQoyeX6NRN0

CWA AT&T Mobility workers held a national day of action on February 11, 2017. Protests were held outside these AT&T offices in many cities including in San Francisco where members picketed and rallied. Many Mobility workers only make $16.00 an hours and the company wants to deny them a pension. The AT&T CEO Randall L Stephenson makes $26 million or more than $71,000 a day. Members from throughout northern California attended the action in front of the AT&T office at the foot of Powell St in San Francisco.

The company has been outsourcing large number of jobs and is preventing unionization at DirectTV and telling the workers that they cannot afford a retirement plan. They are also demanding healthcare concessions and other give-backs.

Additional media:

https://www.cwa-union.org/news/releases/att-wireless-workers-vote-authorize-strike-announce-coast-coast-rallies-in-35-cities https://www.cwa-union.org/news/att-mobility-orange-contract-2017-bargaining-report-14 http://www.sacbee.com/news/local/article130612419.html#storylink=cpy https://www.youtube.com/watch?v=2ifC6FSQ5ts https://www.youtube.com/watch?v=hdFhuq_XdY8

For more information on

Production of Labor Video Project

http://www.laborvideo.org

AT&T workers end their strike in California and Nevada

http://www.latimes.com/business/la-fi-ct-att-strike-20170323-story.html

AT&T confirmed that the strike has been resolved. (Alan Diaz / Associated Press)

Meg James and Samantha MasunagaContact Reporters

Thousands of AT&T technicians in California and Nevada went back to work Thursday, ending a one-day strike after their union and the Dallas telecommunications giant reached a truce.

An estimated 17,000 union members had gone on strike early Wednesday over a grievance about increased responsibilities for technicians who typically install and maintain the company's U-verse television system.

The spat highlighted ongoing tensions between AT&T Inc. and members of the Communications Workers of America, District 9, who have been working without a contract since April 2016.

The union announced the settlement agreement on its Facebook page late Wednesday. An AT&T spokesman confirmed that the strike "has been resolved" and that employees returned to work on Thursday.

Union officials said the walkout was triggered by AT&T's demand that technicians who typically install and maintain the company's U-Verse TV service also work on the cables and hardware for landline phone service. (AT&T's wireless division was not affected.)

"The company will no longer require technicians to perform work assignments outside of their expertise and classification," the union said in a statement.

AT&T, Verizon and other advertisers flee Google over offensive YouTube videos

The strike included only landline workers who belong to the CWA in California and Nevada.

Union workers have said they have been increasingly asked to perform the duties of higher-paid employees and that AT&T has proposed reducing sick leave and disability benefits and wants them to pay more for their healthcare.

AT&T has been under pressure to reduce costs as the phone market matures. Its wireless service faces increased competition from Verizon, Sprint and T-Mobile, and fewer people have been opting for landline phones.

Last month, a bargaining agreement covering some 21,000 AT&T wireless phone workers nationwide expired. AT&T would like to reach a new accord with those employees as well as the "wireline" workers — that is, workers who deal with non-wireless services such as landline phone, broadband Internet and U-verse TV — in California and Nevada.

"We're currently negotiating with the union in a good-faith effort to reach a fair labor agreement covering wireline employees," AT&T spokesman Marty Richter said in an email Wednesday. "We're the country's largest employer of full-time union labor, and our goal in these negotiations is to continue to provide our employees with high-quality union careers with wages and benefits that are among the best in the country."

Added to the calendar on Friday Mar 31st, 2017 3:00 PM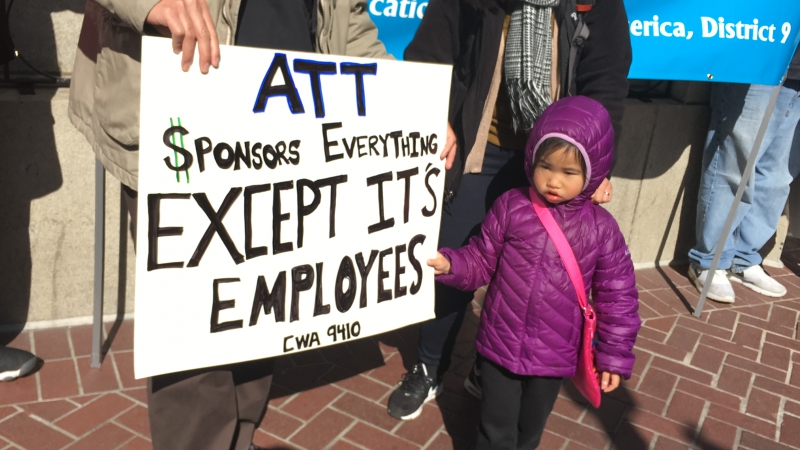 AT&T Mobility bosses are attacking the CWA workers who are fighting for better conditions and benefits and against outsourcing.
CWA Makes $1 billion a month and the AT&T CEO Randall L Stephenson makes $71,000 a day but some CWA workers don't have living wages and the company wants concessions from all workers.
We are 100% volunteer and depend on your participation to sustain our efforts!
Get Involved
If you'd like to help with maintaining or developing the website, contact us.