From the Open-Publishing Calendar
From the Open-Publishing Newswire
Indybay Feature
Related Categories:

East Bay | Health, Housing & Public Services | Police State & Prisons
Stability First: A Community Of Tents and Tables; Chairs, Coffee and Camaraderie.
Governments need to take a serious look at how we have succeeded – and how they could help us succeed better. They need to take stability seriously. They need to allow an environment where stability can exist. And that means cities need to change how they are doing things when housing simply does not exist or is unaffordable.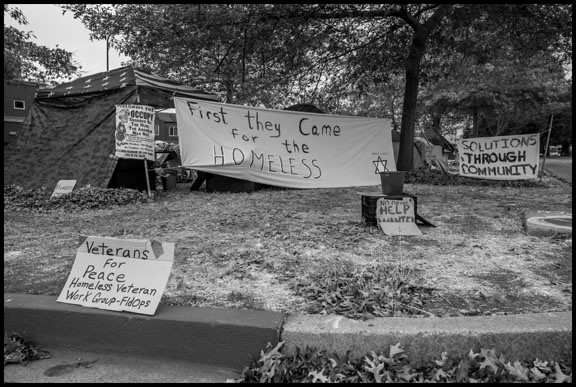 The body of a homeless woman was found Saturday near Berkeley High School. She appears to have died of exposure. – Jan 15th, 2017, Berkeleyside.
What does it take to get off the streets? Money? Affordable housing? Employment? Of course the answer is yes, but none of those things is the first step. The first step is stability. Stability that the housed take for granted.
A lack of stability means the homeless barely survive. Figuring out how to exist with no sense of safety and security and nowhere to go, worrying about the police yet having committed no crime, takes all that someone has. Sometimes it's too much and a short note appears in a local paper.
In October, 2016, First They Came for the Homeless (FTCftH), a political movement of the dispossessed in Berkeley, CA, tried to bring stability to their lives while at the same time calling attention to the plight of the homeless. Defying the status quo that forced them to sleep unsheltered and alone, they set up a community: tents and tables; chairs, coffee and camaraderie.  A community of the homeless, with support from housed friends. Needless to say all hell broke loose.
For months the City and its police chased them around Berkeley, and every raid First They Came for the Homeless endured – all fifteen of them - resulted in chaos. Not only by having gear taken, but by losing a sense of place. Every raid resulted in decreased stability and further unknowns: Where do I go next? How do I replace what I need? When will I get settled again?
Still, the community endured. Despite those fifteen raids, theft of critical gear and medicine, and constantly being relocated, our core held. We helped two of us with work. We sheltered and fed several dozen others. With a budget of $0.
On January 10th, 2017, the raids stopped.  First They Came for the Homeless denizens have been stable for more than two months now, and that stability has translated into even greater good.  Three examples (names changed):
Andre. Andre had been on the streets of Berkeley for months before joining FTCftH in October.  Finding people that accepted him and a community to support him, his lot improved, but he still needed stability – he needed a place his friends could find him, he needed a reliable mail drop. Once the raids ended, Andre was able to settle down, calm him mind, pull together the pieces of his life, get his documentation in order, contact his family, and arrange for them to accept him and his new pup.  In a few weeks Andre and his dog will have a new life on the other side of the Atlantic.  Without that stability, without a respite from the constant anxiety of nowhere to be, he might have wandered Berkeley's streets for years.
Rita. Rita had been the victim of domestic violence. For one reason or another, she was unable to be placed in a shelter.  Unable to go home, with little money saved of her own, despite having a full-time job she was out on the Berkeley streets. Fortunately someone from FTCftH knew Rita, and invited her to be safe in their now-stable community. Rita's been with FTCftH for a month, protected from what might have happened to her on the streets. She's stable. She's saving money and looks forward to soon going to Oregon to see her family and perhaps begin life anew there.
Mother and Son. A mother and her son, a drug user, had been on the streets of Berkeley for a long time, constantly harassed by police, their possessions continually at risk, unable to have more than a few days of peace at a time.  When FTCftH took them in in February on condition of no drug use, it changed their lives. They were given clothes, amenities and a secure place to sleep. The man was able to get and hold down a job. The woman is now contributing to the community.  Will their condition continue to improve? We don't know, but without the promise of a stable community they never would have "come in from the cold" in the first place. With the anchor the community provides, they now have a chance.
That's the kind of need that's out there. That's the challenge.  And while no one solution, no one path out of homelessness, works for everyone, these examples illustrate a way for some from the nadir of the streets upward. We have demonstrated the importance of stability. We have had our pilot – our proof of concept.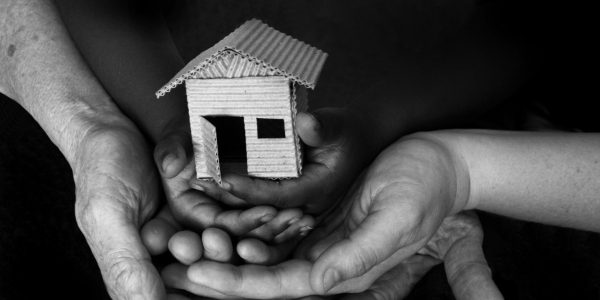 Governments needs to take a serious look at how we have succeeded – and how they could help us succeed better. They need to take stability seriously. They need to allow an environment where stability can exist. And that means cities need to change how they are doing things when housing simply does not exist or is unaffordable:
Step 1 is to allow the homeless tents in a sanctioned campground. A tent solves almost every issue immediately. Shelter, storage, safety, privacy, personal space, community and stability. Cost is minimal.
Step 2 is to allow tiny homes, container homes, cabins, or other housing ideas that are outside the box, inexpensive and mass-producible.
Step 3 is true affordable housing.
Why is it so hard to understand that?
People say housing is a right. We strongly disagree with that. Housing is a necessity! Without housing, you die from exposure. Just like food and water is necessary to live, so is shelter. Denial of shelter is as serious as denial of food and water. That is as true as it gets!
Berkeley and other California cities pride themselves on being sanctuary cities. But they neglect the economic refugees that sleep outside every night. They are everywhere, suffering. At the very least mitigate that suffering by allowing us the stability to shelter ourselves.
Mike Zint is a member of First They Came for the Homeless. JP Massar is a housed Berkeley activist, fighting against the senselessness of homelessness.    
We are 100% volunteer and depend on your participation to sustain our efforts!
Get Involved
If you'd like to help with maintaining or developing the website, contact us.