From the Open-Publishing Calendar
From the Open-Publishing Newswire
Indybay Feature
Police Department Bombshell: ICE Inside SCPD
I've been writing a column about Santa Cruz city council politics, and the general goings-on in Surf City. Of course, it is from my perspective as a city council member, and director of the internship program in the Dept. of Environmental Studies at UC Santa Cruz. I would love your feedback on this column.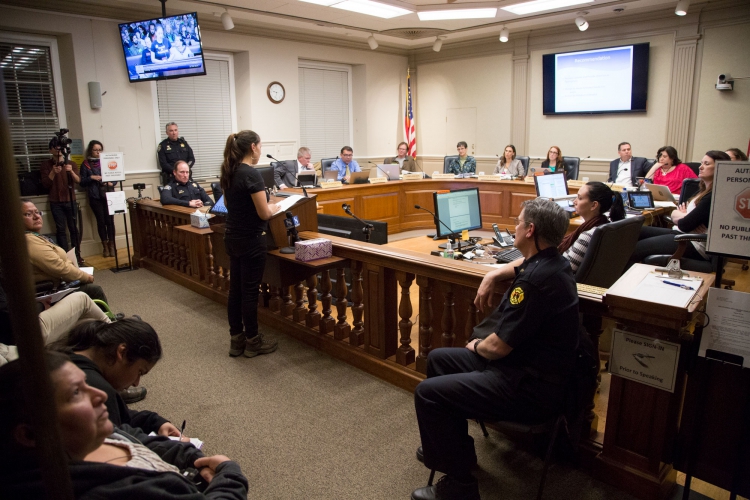 [ Irene O'Conell, an activist and beach flats muralist, addresses city council during the public comments section ]
#7 Majority Report
Chris Krohn
Special for BrattonOnline
Week of March 6-12 2017
Oh, What a Night, late February Back in '17!
The bomb blast you may not have heard or felt last week came during the ninth hour (10:20pm) of the Santa Cruz City Council meeting of February 24th. During a lengthy discussion about whether Santa Cruz should have both a sanctuary city resolution and an ordinance provision, several community members asserted at the public podium that Homeland Security Investigations (HSI) has a desk inside the Santa Cruz Police Department. When the conversation came back to the council, Vice-mayor David Terazzas said people should be careful in making accusations about the police. Councilmember Sandy Brown chimed in that she had an email from Santa Cruz County supervisor, John Leopold corroborating the existence of HSI's physical presence within one of our city's public safety facilities. With that, Police Chief Kevin Vogel spoke up. Yes, in fact "an agent (from HSI-ICE) has had a desk at SCPD" since 2009, he said. Vogel followed up that comment with, "my intention is to serve the DHS (Department of Homeland Security, HSI's parent organization) agent with an eviction."
Move him out of the facility in other words?
It is a question that still looms over an otherwise productive and sensitive discussion—over 250 showed up—that placed protecting our local immigrant community at the top of the city council's evening agenda. It is important to state here that both the resolution and a toothier ordinance fashioned on the city of Santa Ana's law were both passed by the council. (see the New York Times editorial on the Santa Ana ordinance here
https://www.nytimes.com/2017/03/03/opinion/a-sanctuary-city-seizes-the-moment-and-the-name.html
)
When asked if our ordinance is as strong as it could be, city attorney Tony Condotti said, "I don't' think this is the strongest policy statement from among the ones I've seen…it's a measured policy statement in my view." Oh well.
Other questions that remain:
How could SCPD not know earlier about the entire scope of the DHS-HSI-ICE operation that was carried out in the early morning hours of February 13th? Why has DHS not yet provided SCPD with a list of immigrants who were detained that day? And that's after being prodded several times by our Deputy-chief of Police, Dan Flippo? "It is upsetting that HSI has not been forthcoming," Flippo stated. And of course, a question that does not go away: How is it that Santa Cruz County Sherriff, Jim Hart opted NOT to provide county resources to DHS after his officers attended an initial pre-planning meeting for this operation?
What also needs to be pointed out here is that it is rare, and somewhat heartening, to see a local police chief, and deputy chief, so sincerely take professional responsibility for a federal operation gone wrong. Vogel and Flippo were acting as a Santa Cruz David, stridently and forcefully going after Goliath, the Department of Homeland Security in this case. The Washington Post reported on February 23rd that Chief Vogel said, "We cannot cooperate with a law enforcement agency we cannot trust." (Read here, 'DHS-HIS-ICE!')
https://www.washingtonpost.com/national/california-police-chief-feds-in-immigration-probe-spat/2017/02/23/3aecdfa4-fa30-11e6-aa1e-5f735ee31334_story.html?utm_term=.a3a9850bedf2
SCPD's verbal pushback, and the police hierarchy's stated concern in carrying out our city's sanctuary resolution and ordinance, remain as a positive outcome to an otherwise sordid affair. There is much more to this story and I hope our local media will be reporting it. I urge readers of BrattonOnline to check out UCSC's, City on a Hill last week. Their coverage is exemplary and the newspaper's cover picture incorporates Spanish and English over a picture taken inside the city council chambers during the sanctuary discussion. The picture deserves a journalism award!
http://www.cityonahillpress.com/2017/03/03/santa-cruz-wavers-under-broken-trust/
Snapshots and Take-Aways
Wells Fargo bank holds over $20 million of Santa Cruz City money at any given time. It handles our city's payroll. Wells is helping finance the "Dakota Access Pipeline" (DAPL). Cities from Seattle to Santa Monica are divesting from Wells Fargo. Should Santa Cruz also pull out? How difficult would it be for us to divest? Are there other banking services available, local ones to be specific? Let the city council know how you feel:
citycouncil [at] cityofsantacruz.com
The People's Democratic Club (PDC) retreat this past Saturday was energizing and encouraging. Twenty-five of us sat around a rectangular table at SEIU's union hall on Mission Street and discussed a community-centered agenda beginning with continued support of sanctuary city protections for immigrants, support for statewide issues like single-payer (universal) healthcare, allying the club with younger voters by supporting their issues (affordable housing, free college tuition), not only registering voters but empowering them too, and also to continue searching for good candidates to run on local city councils and school boards throughout the county. The political health of the PDC is better than ever!
On the heels of the PDC retreat came the Campaign for Sensible Transportation's overt facilitated discussion of "parking demand management." Meanwhile a not so covert conversation was also being had on how the community can decouple and sideline the SC city manager office's apparent dream of building a $33-$37 million five-story parking garage-library? It's envisioned on the site of where the Farmer's Market now sits at Cedar Street bounded by Cathcart and Lincoln downtown. Brodie Hamilton was the featured speaker. Hamilton directed Stanford University's successful demand management program that he says saved over $100 million in avoided costs for parking lot construction. Seems like he thinks we can do the same here.
The significance of his presentation was perhaps reflected by who actually attended: Planning commissioner, Mark Mesiti-Miller; Metro's bus driver union president, Eduardo Montesino; former SC city parking czar, Matt Farrell; UCSC's current Transportation and Parking Services Director, Larry Pageler; former Brand New City Council candidate Steve Schnaar; UCSC professor emeritus, Peter Scott; elections consultant, Bruce Van Allen; former SC councilmember Ed Porter; and housing and transportation visionary, Ron Swenson. (Wow, looking back, that's a lot of male energy in one room…)
The media even showed up to the SCPD Community room to cover the event.
I noticed Kara Guzman reported the story in last Sunday's Santa Cruz Sentinel, while the Good Times' Jake Pierce will likely come out with his own version this week. Guzman quotes deputy city manager Scott Collins (who was not in the room) as contending that the garage-library project is "largely conceptual." But frankly, the large elephant that sits behind city hall's closed door sessions is that this project is seen as some sort of done deal. If it's not, it's at least near the top of city manager, Martin Bernal's project priority list. It's refreshing though to read that Collins believes it's "conceptual."
The indefatigable, Rick Longinotti was really to blame for this local-vocal pushback on the project. He wants to reward residents who bike, bus, and walk more, and leave the current downtown parking spaces for residents who need to bring their car. He also called for rewarding those city employees who choose not to drive downtown with bus passes. It would become a part of their paycheck. The employees at Stanford saved over $1000 each per year, according to Hamilton, by carpooling, busing, and taking the train instead of driving to campus. Longinotti thinks there's already enough parking spaces downtown, but he still might support the city undertaking a "parking demand management study" before investing so much money in another garage.
Mayor Cynthia Chase Put Aside $10,000 to Fund a Community Conversation
Mayor Chase wants to talk about housing this year, in all of its myriad forms—rental, market-driven, houseless-homeless, and the hundreds of NEW students the UC administration continues to invite onto "the Hill," thus forcing juniors and seniors to look for housing in town. I say great, let's talk and plan, but at the end of this discussion, let's invest our scarce dollars into the people who live here now, not the vacation renters and second-home folks who might just be finding out about Santa Cruz for the first time. Affordable housing Now! It's not just an academic abstract.
Leftovers
Can't wait to get to more Bernie-issues on this council gig…the tough policy ones like the "Fight for $15," assisting students in obtaining free public college tuition, a just-cause eviction ordinance, raising the hotel tax to help fund our housing trust fund, and a 24/7 homeless shelter, and how about rent control and ranked-choice voting too? This week we will hopefully be taking on Wall Street and a certain Bank, Wells Fargo.
And this just in…
A friend texted this week: "The Pope drives a Leaf (Nissan), how are you liking your Bolt?" I responded, Lovin' it! Goes over 200 miles. We can finally get up and back to see the in-laws in Berkeley on a single charge.
Bernie Quote of the Week:
"I am going to do my best to try to create a country in which children are not living in poverty, in which kids can go to college, which old people have healthcare. Will I succeed? I can't guarantee you that, but I can tell you that from a human point of view it is better to show up than give up."
We are 100% volunteer and depend on your participation to sustain our efforts!
Get Involved
If you'd like to help with maintaining or developing the website, contact us.