From the Open-Publishing Calendar
From the Open-Publishing Newswire
Indybay Feature
Defiant as Ever, Water Protectors Vow to Continue the Fight Against the Dakota 'Black Snake' Pipeline
STANDING ROCK INDIAN RESERVATION, N.D., January 26, 2017 — On his fourth day in office, President Trump took executive action that signaled his desire to complete the construction of the Dakota Access Pipeline. He signed a memorandum ordering the Army secretary and the U.S. Army Corps of Engineers to "review and approve in an expedited manner…requests for approval to construct and operate the DAPL" as well as an executive order to "streamline and expedite" the environmental review and approval process for so-called "high priority infrastructure projects."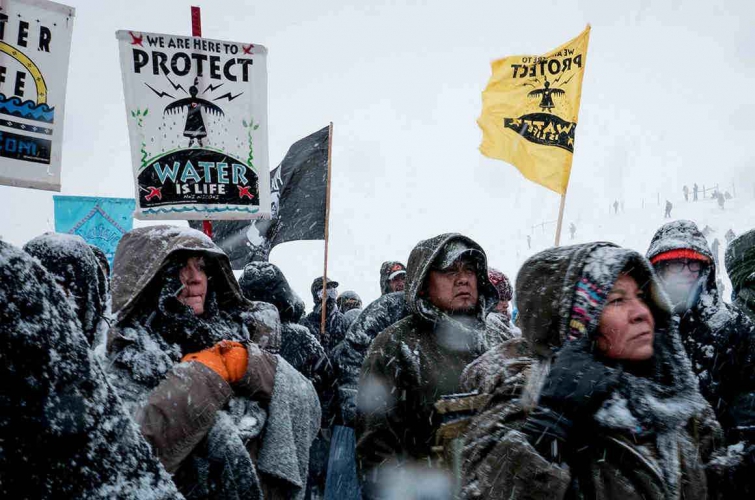 Trump's outrageous and provocative executive actions took many people by surprise — even the new Republican governor of North Dakota was not consulted before it was signed. People and water protectors we met with this week in Standing Rock were furious and fearful. Despite this, water protectors say they are very resilient and ready to continue their opposition to the pipeline that many call "the black snake."
Since August when the protests against the construction of the oil pipeline reached historic proportions and made major headlines, some Native-American water protectors and allies have been seriously injured by the indiscriminate use of life-threatening crowd-control weapons by law enforcement. Over 300 protestors have been hit with water cannons, tear gas, rubber bullets, concussion grenades, and mace — weapons that Physicians for Human Rights have reported can cause emotional, psychological, and physical harm to victims. People across the globe witnessed much of this abuse through live video feeds shared through social media and footage taken by independent indigenous drone journalists.
Sadly, these reports were confirmed and further substantiated during a U.N. hearing earlier this week co-facilitated by the International Indian Treaty Council and the ACLU. Several water protectors gave testimonials about being shot with rubber bullets at point blank range, hosed with water cannons in freezing temperatures, beaten by officers, and incapacitated by concussion grenades. Witnesses described the war-like weapons being deployed indiscriminately, against medics, reporters, elders, pregnant woman, and legal observers. Protesters who were arrested testified about abuse and ill-treatment in detention, including being held in dog kennels. The testimonies were heartbreaking and disturbing.
There has been little, if any, leadership from local authorities to curtail the well-documented abuses. The Morton Country Sheriff's Department has not released any protocol or procedures for the use of potentially deadly crowd-control weapons. There has been a resounding lack of accountability for law enforcement agents and commanders. Thus far, no officer has been charged with excessive use of force, but over 600 protestors, and even journalists like Democracy Now's Amy Goodman, have been arrested for excessive and outrageous charges like criminal trespassing. Some were hit with outlandish felony charges and high bail bonds. More than likely, if state leaders do not require a significant change in policing tactics, law enforcement will only continue its violent and unconstitutional responses to largely peaceful protesters.
We've also seen law enforcement outsource their human rights abuses to private security contractors. This must be investigated, and the people responsible for releasing dogs on protestors should be held accountable. After all, even the Department of Justice has condemned the use of canines on unarmed individuals as "unreasonable." While the Morton County Sheriff's Department claimed last September that it created a multi-agency task force to investigate the use of force by DAPL security, we still do not know if anyone has been held accountable.
Recently, the Standing Rock Tribal Council called for the evacuation of the camps behind the Dakota Access Pipeline protests within 30 days, which means by February 19. However, the question remains whether law enforcement will use force to clear the camps and, whether on accident or with intent, injure or kill someone who refuses to leave in an act of civil disobedience.
The Morton County Police Department should adopt policies and practices for the deployment of crowd-control weapons that align with civil and human rights principles:
* The use of crowd-control weapon should be an absolute last resort when dealing with genuine and imminent threats to the safety of those present, and only after all other means have been exhausted
* The most effective method to prevent violence is to engage in negotiations and open a dialogue with protesters
* Even if some protesters engage in or incite others to engage in acts of violence which require police intervention, the explicit goal of intervention should be to deescalate the situation and promote and protect the safety and the rights of those present — protestors, journalists, medical personnel, monitors, and bystanders
* All deployment of crowd control weapons must be documented, and the reports retained for public record
* Adequate training must be provided on the use of crowd-control weapons for out-of-state police to ensure a proportionate level of force is applied to the threat
Adherence to these principles will help increase accountability, transparency, and the safety of everyone.
But where local law enforcement quickly resorts to the massive use of less-lethal weapons, it is the responsibility of the state and federal governments to step in. The state and federal governments must rein in the county sheriff and private security contractors, and they must immediately end any unlawful surveillance practices against individuals and groups expressing their right to free speech and peaceful assembly.
Until then, the ACLU will continue to monitor the situation through legal observers and will consider taking legal action including supporting the Water Protectors Legal Collaborative. We have also released an action requesting the public to call North Dakota Gov. Doug Burgum and urge him to do everything in his power to prevent police violence against Standing Rock water protectors. Using crowd control weapons will only exacerbate the injuries and trauma that has plagued Native American communities and water protectors since the pipeline protest intensified this past August.
In his inauguration speech, Donald Trump advocated for the immediate end of "American carnage" ravaging this country. That carnage is occurring right now at the hands of law enforcement in Standing Rock. If Trump truly intends to end unnecessary violence, he must listen to the voices of Native American water protectors and those who are supporting them at Standing Rock, and he must vow to protect their right to water, sacred sites, and their future development as sovereign nations.
Human decency requires it.
By Jamil Dakwar, Director, ACLU Human Rights Program
https://www.aclund.org/en/news/defiant-ever-water-protectors-vow-continue-fight-against-dakota-black-snake-pipeline
ACLU of North Dakota
https://www.aclund.org/
President Trump Says the Dakota Access Pipeline 'Serves the National Interest,' Yet It Threatens Indian Rights and the Drinking Water of 18 Million People
January 25, 2017
By Stephen Pevar, Senior Staff Attorney, ACLU
STANDING ROCK INDIAN RESERVATION, N.D. — President Trump's executive order yesterday has an impressive-sounding title: "Expediting Environmental Reviews and Approvals for High-Priority Infrastructure Projects." What the title really should say, however, is: "How to Make Money for Big Oil Real Fast Despite the Human and Environmental Costs."
The executive order makes no reference to the Dakota Access Pipeline, the 1,100-mile pipeline being constructed to carry nearly 500 million gallons of fracked crude oil from North Dakota to Illinois each day. Yet expediting the construction of DAPL is the obvious goal of the executive order. In fact, Trump signed a presidential memorandum at the same time he signed the executive order, stating his belief that construction of the pipeline would "serve the national interest."
Unfortunately, Trump doesn't mention in either the executive order or the memorandum that completing the construction of DAPL will require the U.S. Army Corps of Engineers to issue a permit allowing the pipeline to be constructed underneath the Missouri River, just north of the Standing Rock Sioux Reservation in North Dakota. He doesn't mention that the route of the pipeline was first planned to traverse land further north until white landowners complained, causing a change in the route. He doesn't mention that a leak of oil in the Missouri River would not only threaten federally protected water rights belonging to the Standing Rock Sioux but would pollute water used by some 18 million persons. He doesn't mention that completion of DAPL would destroy sacred sites of the tribe. And, finally, he doesn't mention that the owner of the company building DAPL contributed more than $100,000 to his election campaign.
Trump wants to expedite "high priority infrastructure projects." But whose "priority" is really being served here?
The Obama administration recognized that the pipeline has the capacity to cause catastrophic misery and loss if it ruptures. Consequently, the Army Corps announced that a comprehensive study must be conducted into the project's potential environmental impact before a permit could be issued. The Obama administration also confirmed that under federal law DAPL cannot be approved until proper consultation with the Standing Rock Sioux Tribe is completed. Moreover, under international legal principles, our government should seek the informed consent of indigenous people prior to undertaking a project on federal land that threatens their health and welfare.
Yet Trump seems determined to rush the approval process.
The Standing Rock Sioux Tribe strenuously argues that construction of the pipeline would violate its rights under federal treaties and statutes. Those are issues that may ultimately need to be litigated. At this point, however, Trump apparently agrees that the law requires the Army Corps to complete the environmental impact assessment and determine the threat to the environment before going ahead with the pipeline. The Trump administration should therefore allow the Army Corps to take the time it needs to conduct a careful and proper assessment of environmental impact, both to the general public and to the tribe.
Two interrelated questions which should be answered are: What risks are we willing to take to help big oil move fracked oil from North Dakota to Illinois, and was the choice of this route influenced by the fact that a leak would immediately impact an Indian tribe rather than white landowners?
Stephen L. Pevar's book, "The Rights of Indians and Tribes" (Oxford 2012), is available here:
http://www.therightsofindiansandtribes.com/
https://www.aclund.org/en/news/president-trump-says-dakota-access-pipeline-serves-national-interest-yet-it-threatens-indian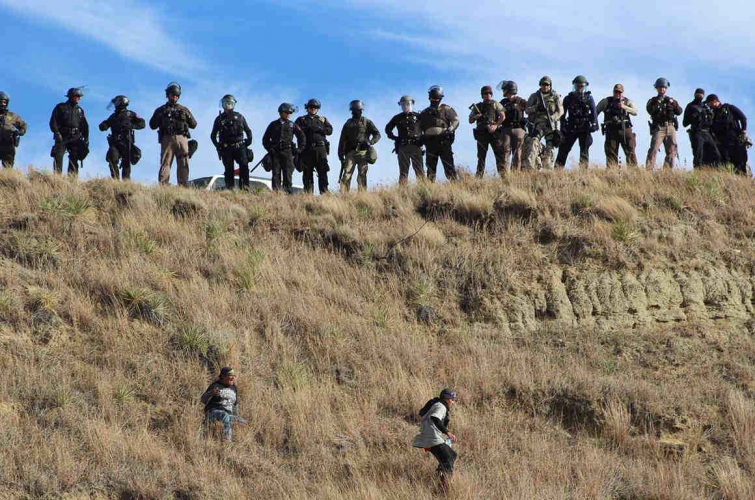 January 24, 2017
STANDING ROCK INDIAN RESERVATION, N.D. — President Trump issued an executive order today to allow the construction of the Dakota Access Pipeline through the Standing Rock Indian Reservation.
An American Civil Liberties Union delegation is in Standing Rock today, facilitating meetings between U.N. officials and members of the International Indian Treaty Council.
Jamil Dakwar, director of the ACLU's Human Rights Program, had the following response from Standing Rock:
"Trump's decision to give the go-ahead for the Dakota Access Pipeline is a slap in the face to Native Americans and a blatant disregard for the rights to their land. By law, they are entitled to water rights and deserve to be treated with dignity and respect, not sacrificed for political expediency and profit making. The Trump administration should allow careful environmental impact analysis to be completed with full and meaningful participation of affected tribes."
More information about the ACLU's work at Standing Rock is available here:
https://www.aclu.org/feature/stand-standing-rock
https://www.aclund.org/en/news/president-trump-issues-executive-order-allowing-construction-dakota-access-pipeline
We are 100% volunteer and depend on your participation to sustain our efforts!
Get Involved
If you'd like to help with maintaining or developing the website, contact us.