From the Open-Publishing Calendar
From the Open-Publishing Newswire
Indybay Feature
SCPD Must Revise Immigration Determination Policy
Now Is The Time to Protect Immigrants Rights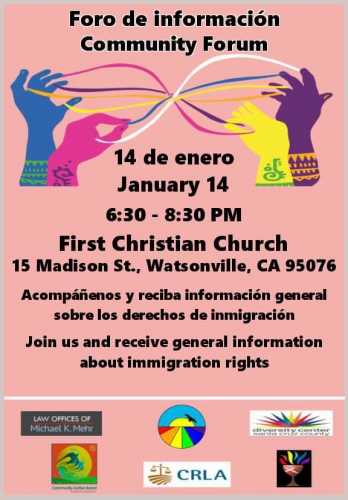 Like many of my fellow citizens who value civil liberties in our community, I am concern regarding Item 9 on the January 10 City Council Agenda related to a Resolution to Maintain Trust and Safety for Local Immigrants. As a community, I believe we must be committed to engaging on issues of local importance that impact each citizens' right to not only exercise their civil liberties but to do so in an atmosphere that promotes the free expression of those rights. This duty rises to a moral imperative when fear and misunderstanding threaten to crowd out rational thought and reason. My primary concern regarding our community's status as a Sanctuary City is the chilling effect new Trump administration policies may have on the right of every person to exercise his or her constitutionally guaranteed right to freedom of speech. Whatever a person's legal status, free speech, freedom from selective prosecution, due process and equal protection under the law are fundamental to democratic social values and central to the moral dignity of each individual person in our community.

That being said, I appreciate the recent statement issued by Santa Cruz Police Department Chief Kevin Vogel to the effect that immigration status of individuals alone is not a matter for police action, that the Santa Cruz Police Department (SCPD) does not enforce federal immigration law and the fact that an individual may be suspected of being undocumented alone shall not be the basis for contact, detention or arrest by the SCPD. I also note with respect his stated command policy that he expects every member of our police department to make a personal commitment to equal enforcement of the law and equal service to the public regardless of immigration status. However, I have serious questions regarding the stated policy regarding determination of immigrant status subject to arrest for drug related crimes and the policy that that persons wishing to report immigration violations to the Santa Cruz Police Department are referred to the agency of proper jurisdiction.

SCPD Policy Manual includes Policy 428 which generally defines and circumscribes police procedure related to officer discretion to determine immigration status subject to detention and/or arrest. Indeed, Policy 428.3.3 provides virtually unfettered discretion when the suspected crime is one involving drug possession or sale prohibited under the California Health and Safety Code. In my view, this is a policy that may, in some cases, be subject to abuse and may profoundly impact the civil liberties of immigrant or undocumented arrestees. Although I am mindful that Policy 428.4 provides a broad policy proscription against determination of immigration status subject to arrest, the latitude permitted by 428.3.3 renders that section both unclear and subject to individual officer interpretation. And here I will say that I do not presume to instruct the SCPD or its officers in the ordinary course of their duty to enforce the law in our community. However, I believe that Policy 428.3.3 should be reexamined through the lens of both due process and equal protection under the law. To inform that analysis, I respectfully suggest that any Resolution passed by the City Council include the following clarifying statements:


· BE IT RESOLVED THAT, as it is the policy of the City to exercise appropriate discretion in the enforcement of state and local laws, the City will adopt a policy to guide officers in the exercise of their discretion to cite and release individuals in lieu of booking into a detention facility or county jail based solely on the crime committed;

· BE IT RESOLVED THAT, in the event the Santa Cruz Police Department learns of local enforcement activity by federal immigration and enforcement agencies in our community, the Council shall be notified.

I would also respectfully suggest that the discussion concerning the determination of immigrant status in our city include the profound and deleterious impact that enforcement, or selective enforcement, regarding immigration status has on the issue of domestic violence in our community. Uncertain policies regarding determination of immigration status makes minority women generally distrustful of law enforcement and makes minority women reluctant to report incidents of domestic violence for fear that their spouse or significant other will be subject to not only arrest, but possible deportation. While I note and respect the admirable record of our police department in preventing domestic violence in our community, the specter of ICE detention or possible deportation clouds an issue on which we would otherwise agree. And this observation is made in full light of the fact that 20% of our community's residents identify as Hispanic/Latino, fully half of whom are women, and we need strong and courageous leadership to protect minority women against this social outrage.

As a resident and long time civil libertarian, I believe that when the protection of the law is denied to anyone of us, it is denied to us all. The California Constitution guarantees equal protection under the law and equal access to it for all persons. That guarantee is not, and cannot, be based upon gender or skin color. We need to strengthen and clarify our city's position with respect to our presently declared status as a Sanctuary City and we must do so now, while the power to do so remains vested with us as citizens.



We are 100% volunteer and depend on your participation to sustain our efforts!
Get Involved
If you'd like to help with maintaining or developing the website, contact us.