From the Open-Publishing Calendar
From the Open-Publishing Newswire
Indybay Feature
View other events for the week of

1/ 7/2017
No More Presidents: Weekend of Skillshares and Discussions for the Inauguration and Beyond
Date

Saturday January 07

Time

10:00 AM

-

10:00 AM

Import this event into your personal calendar.
Location Details
Omni Commons, 4799 Shattuck Ave., Oakland, CA
Event Type

Class/Workshop

Organizer/Author
No More Presidents

Street Tactics, Political Education, Anti-Repression
A weekend convergence of skillshares and discussions for the inauguration and beyond.

Saturday 1/7, 10am-5pm
Sunday 1/8, 10am-4pm

(Final Schedule Coming Soon)

-NLG Hotline and Legal Observer Training
-Digital Self-Defense
-Trump and Infrastructure
-Local Radical History Presentation and Discussion
-Grief and Trauma Support
-Palestinian Youth Movement: Confronting Islamophobia
-Defending Spaces After Ghost Ship
-The Alt-Right
-Bay Area Anti-Repression Committee
-ICE Defense and Immigration
-Critical Resistance: History of Policing and Police Oppression Tactics (Stop Urban Shield)
-Oakland Power Project: Decoupling Health and Policing
-People's Community Medics
-Intro and Intermediate Street Medic Trainings
-Surviving Radical Demos
-Girl Army Self-Defense Training
-Anti-Police Terror Project: Reclaim MLK
-West Berkeley Shellmound Resistance
-Incarcerated Workers Organizing Committee (IWOC): Organizing Prison Resistance


Added to the calendar on Thursday Dec 29th, 2016 7:32 PM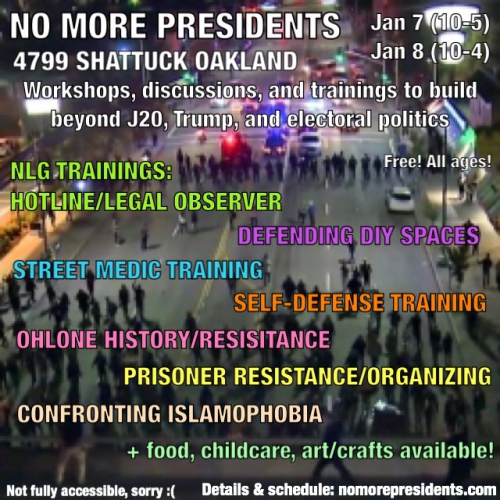 Saturday, 1/7
10AM — 5PM
9:30AM Doors Open
10AM — 11AM (Ballroom A)
"Ohlone history and Indigenous Resistance"
Corrina Gould will speak about the history of Ohlone people on this land and the history of American Indian Movement and policies of Indian Extermination
11AM — 12PM (Ballroom B)
Digital Self-Defense
A workshop discussing online security cultural practices and how to lock down your digital devices.
11AM — 1PM (Ballroom A)
"Grief in Radical Communities"
Our relationship to death and grieving informs our ability to fully engage with life. Come talk about theoretical and herbal strategies to deal with death, grief, and trauma in order to build resilience in the coming times.
11AM — 1PM (Disco Room)
Intro Street Medic Training
A workshop on how to be alert and ready in the streets. Supplies available to create your own medic kit.
12PM — 1PM (Ballroom B)
ICE Defense and Immigration
Oakland Law Collective presents an overview of immigration enforcement in the Bay, potential changes in the law post January 20th, and ways to plug into resistance movements. More info at oaklaw.org
1PM — 2PM (Disco Room)
Oakland Power Project: Decoupling Health and Policing
Presentation by radical health workers on what happens when you call 911, why to not call them, and what you can do instead.
1PM — 3PM (Ballroom A)
NLG Legal Observer Training
Legal Observers work to insure that protesters' right to express their political views are not violated by law enforcement. They do not participate in protests or actions, instead documenting law enforcements' interactions with protesters. We need LOs now more than ever. Get trained by civil rights attorney EmilyRose Johns, and criminal defense attorney Jeff Wozniak, connect with other activists, and learn how you can put your skills to work to protect freedom of assembly and expression. Legal Observers are a program of the National Lawyers Guild, the nation's oldest and largest progressive bar association. Trainings are open to anyone who does not work for law enforcement; no legal background necessary.
Learn more about the San Francisco chapter of the NLG at
http://www.nlgsf.org/
1PM — 3PM (Ballroom B)
Critical Resistance: History of Policing and Police Oppression Tactics (Stop Urban Shield)
2PM — 2:30PM (Disco Room)
Breaking Out and Getting In: A how-to on escape methods and more.
3PM — 5PM (Ballroom A)
"Defending DIY Spaces After Ghost Ship"
Since the Ghost Ship fire, the city and cities throughout the country, have used the tragedy as an opportunity to target and harass spaces in order to further their gentrification agenda. This will be a facilitated conversation on protecting, preserving, and fighting for DIY cultural, social, and political spaces in this current climate.
3PM — 5PM (Ballroom B)
Palestinian Youth Movement: Confronting Islamophobia
3PM — 5PM (Disco Room)
Red Warrior Camp
"We are the red warrior society. A group of warriors that came together in North Dakota as the main direct action camp to defend water by any means necessary."
Sunday, 1/7
10AM — 4PM
9:30AM Doors Open
10AM — 12PM (Ballroom A)
"Trump and Infrastructure"
An overview of Bay Area logistical infrastructures by Empire Logistics: vulnerabilities, key sites of struggles, and important connections to broader dynamics along the global supply chain. Special focus on countering Trump's proposed infrastructure projects. Empire Logistics maps the global supply chain through research that articulates the infrastructure and 'externalized costs'—human, economic, social and environmental—of the international flow of things.
10AM — 12PM (Disco Room)
Intermediate Medic Training
A more advanced workshop on how to be alert and ready in streets along with specialized care and hands on scenarios. Supplies available to create your own medic kit.
11AM — 12PM (Ballroom B)
NLG Hotline Training
Workshop to prepare folks to answer calls for the NLG demonstrations hotline; a great way to provide legal support for folks who are unable to participate in the streets.
12PM — 2PM (Ballroom B)
"Hard Questions: Prisoner organizing and lessons in solidarity": Incarcerated Workers Organizing Committee (IWOC)
IWOC organizers speaking on the recent wave of prisoner rebellion, the national prison strike, and the shape of the local work underway followed by a facilitated discussion on selected contradictions and challenges being faced right now by the Oakland chapter of IWOC. Discussion topics will include: Solidarity across intense power differences, solidarity outside of the "ally" model, white supremacy, boundaries and principles for organizing, and material solidarity in a context dominated by gesture, symbolism, and non-profits.
12PM — 2PM (Ballroom A)
People's Community Medics
PCM will teach first aid to treat seizures, gunshot wounds and first aid for exposure to police chemicals.
12PM — 2PM (Disco Room)
Girl Army: Self-Defense Training for Women and Trans* Folks
Girl Army is a collective dedicated to peer taught, affordable, physical and psychological self-defense for women and/or trans folks in Oakland, CA.
2PM — 3PM (Ballroom B)
Anti-Police Terror Project: Reclaim MLK
Starting in 2015, APTP has called on our communities to "Reclaim MLK", organizing a spokescouncil to coordinate 96 Hours of direct action around the Martin Luther King holiday. This year, we are calling for a full week of action, beginning on Martin Luther King Day (1/16) and carrying through to the inauguration of Donald Trump (1/20). Our workshop will address the mechanics of the spokescouncil, changes in the framework we have set up, and offer updates on the current political context in which our organizing is happening.
2PM — 4PM (Ballroom A)
"Fighting the Alt-Right and White Nationalism with 21st Century Anti-Fascism"
In the last two years, we have seen a growth of far-Right forces hit the streets in reaction to Black Lives Matter, in support of the Confederate flag, backing up 'Blue Lives Matter,' and acting as an auxiliary force to the Trump campaign. This new generation of white supremacists are keen to take the streets and use violence to further their fascist cause. This workshop will discuss who the Alt-Right is and how people have been organizing against them across the US and beyond. Moreover, we discuss the current Alt-Right and white nationalist groups and individuals in the bay area and push people to mobilize against Milo Yiannopoulos, one of the biggest mainstreamers of the Alt-Right, who is scheduled to speak at UC Berkeley on February 1st. Presentation will be followed by Q and A.
2PM — 4PM (Disco Room)
Surviving Radical Demos
Self-defense training and political concepts to help you stay safer in the streets and prepare you for the actions to come.
3PM — 4PM (Ballroom B)
Announcements, Upcoming Events, and Closing Discussion
***+ Food, Distros & Tabling, Arts & Crafts, Banner Making, and Childcare Available***
**The ballroom (ballroom A & B) and the entrance hall are fully accessible, yet unfortunately the Disco Room on the second floor is not. If you have questions about accessibility, please see the welcome desk upon entering.**
*Donations suggested to support Omni Commons' generous donation of the space for this event*
We are 100% volunteer and depend on your participation to sustain our efforts!
Get Involved
If you'd like to help with maintaining or developing the website, contact us.