From the Open-Publishing Calendar
From the Open-Publishing Newswire
Indybay Feature
Juggling BANNED in Santa Cruz? Pacific Ave. Juggler Ticketed and Detained 12/17/2016
Video documentation of claims by a member of the SCPD that juggling is illegal as he tickets and detains a performer on Pacific Ave. in Santa Cruz on Saturday December 17, 2016.
A deeper look at Santa Cruz Municipal Code 9.50 appears to make an exception for juggling and bubble blowing in subsection (e), below :

----------------
9.50.020 CONDUCT ON PUBLIC PROPERTY, MONUMENTS, AND LAWNS.
No person, after having been notified by a police officer, public officer or downtown host that he or she is in violation of the prohibition in this section, shall:

(a) Walk, stand, sit or lie upon any monument, vase, decorative fountain, drinking fountain, bike rack, trash receptacle, median, fire hydrant, street-tree planter, berm, utility cabinet, railing, fence, planter, or upon any other public property not designed or customarily used for such purposes;

(b) Walk, stand, sit or lie upon any public lawn or planted area which is posted with signs that forbid such conduct; or

(c) Walk, stand or lie upon any public bench.

(d) In the C-C community commercial, C-N neighborhood commercial, C-B commercial beach, CBD central business, and R-T tourist residential zoning districts, intentionally throw, discharge, launch or spill any solid object (including but not limited to footballs, hackysacks, baseballs, beach balls, Frisbees, or other similar devices) or liquid substance or otherwise cause any object or substance to be thrown, discharged, launched, spilled or to become airborne.

(e) Notwithstanding subsection (d), individual bubble street performers and individual jugglers who otherwise comply with all applicable statutes and ordinances are authorized to blow bubbles and juggle in the C-C, C-N, C-B, CBD and R-T zoning districts. When in the judgment of the director of parks and recreation or the police chief, or their respective designees, said bubble-blowing or juggling activity will materially interfere with pedestrian use of the sidewalk or attract crowds which will create such interference, the city may require a bubble street performer or juggler to obtain a noncommercial event permit from the city as a condition to continuing or undertaking a bubble or juggling performance. This subsection shall not be construed to authorize hackysack activity in the referenced zone districts.

(Ord. 2009-05 § 8, 2009: Ord. 2003-20 § 1, 2003: Ord. 2002-34 § 1, 2002: Ord. 94-09 § 5, 1994: Ord. 69-14 § 1 (part), 1969).



This is a developing story...
Santa Cruz cops harass an old man juggling for donations on Pacific Avenue. The man's sign asks people to donate in support of an old man's education.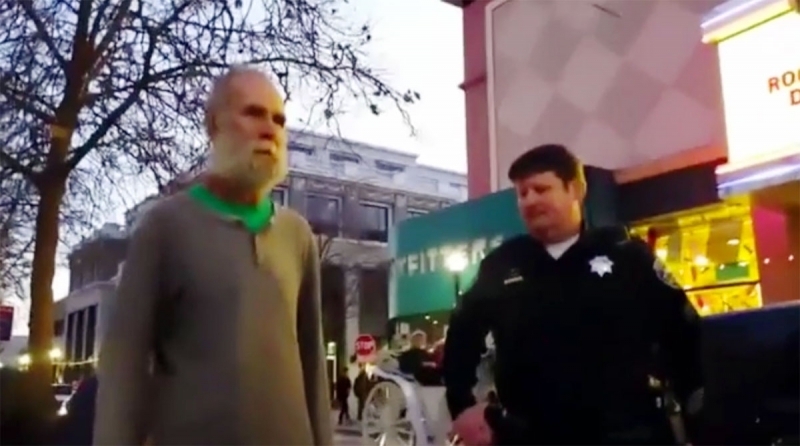 This old man is one of the alleged jugglers wreaking havoc on Pacific Avenue in Santa Cruz.

Remember, all jugglers are innocent until proven guilty in a court of law.

Keep Santa Cruz Safe!
Juggling on Pacific Avenue in Santa Cruz, California. December 17, 2016.
We are 100% volunteer and depend on your participation to sustain our efforts!
Get Involved
If you'd like to help with maintaining or developing the website, contact us.