From the Open-Publishing Calendar
From the Open-Publishing Newswire
Indybay Feature
Timeline of BART Police killings, in-custody deaths, and militarization, 1990 - present
This timeline mapping Bay Area Rapid Transit (BART) police violence and militarization was collectively generated as part of a larger ongoing convivial research effort to expose low intensity war across the Bay Area and state. The timeline was produced through a collaboration between the Center for Convivial Research and Autonomy (CCRA) and Carville Annex Press as part of the struggle for Justice for James "Nate" Greer.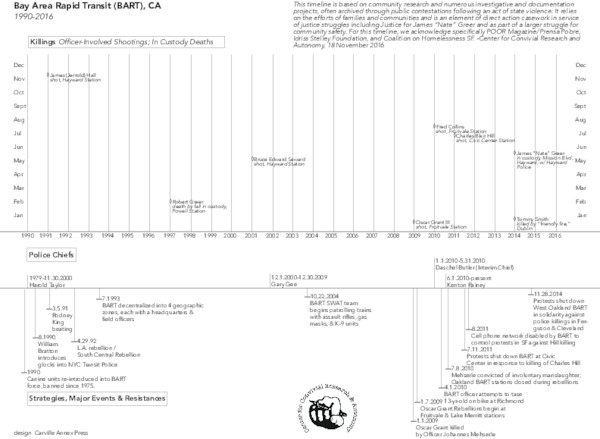 Timeline of BART Police violence and militarization, 1990 - present
The timeline is a tool that remembers, counts, mourns and honors our dead. It is a collaborative effort of documentation over time that makes visible the many resistances that have refused erasure. This refusal itself is a confrontation against state violence. The timeline reflects our insurgent and organized community across the Bay Area and in its detail is reflected the work and tears and blood of many over time. Each vertical line represents a year in the history and present of the Bay Area Rapid Transit system and those whose lives were lost in that year, and counted. Based on what we know, we know that there are more lives that have been taken that are still missing here. We invite any names that we have missed and humbly invite corrections to any possible errors.
Running below the timeline are a series of conjunctures marked by the beginning and end of the reign of specific chiefs of the BART police. Also present along the lower lines and within these conjunctures are prominent events, which include moments when specific strategies and practices of policing were introduced or officially sanctioned by the department. The timeline also marks resistances.
The construction of the Bay Area Rapid Transit (BART) system in the 1960s notoriously cut through Black and Brown communities across the San Francisco Bay Area, disrupting vibrant social life and vernacular circuits of activity. It forced the relocation of Black and Brown families, businesses, and civic institutions often creating competition between the two. When BART began running in 1972 it already had a state sanctioned police force and by 1976 BART police exercised full police powers across all 52 California counties. In 1990, canine units were introduced into the BART force. That same year William Bratton militarized the New York City subway police introducing semi-automatic Glocks into their arsenal. Shortly after, BART was decentralized into 4 geographic zones, each with a headquarters & field officers.
Currently, BART operations include a SWAT Team and Joint Terrorism Task Forces (JTTFs) along with officers armed with Tasers. The force has Watch Commanders and relies on CompStat, a "broken windows" strategy started with the NYC Transit Police, advanced by Bratton, and adopted by police departments across the US. In 2004, BART initiated SWAT patrols with assault rifles, gas masks, and dogs. Two years later, BART received a 2.9 million Homeland Security grant through the Urban Area Security Initiative (UASI), a process of law enforcement militarization aimed at thwarting urban "terrorism." BART police train with local and federal policing agencies through Urban Shield. Resistances to forms of neoliberal violence across the Bay continue to focus on BART as a critical transportation system and circuit of people, capital, and struggle. Several protests and blockades in response to BART killings, particularly the Oscar Grant rebellions of 2009, have successfully halted BART and have been met with repression, including the disabling of cell phone networks at specific stations following the killing of Charles Hill in 2011.
The timeline relies on local knowledges and the circuits of struggle where details and critical information are exchanged and circulated among us. It reflects our ongoing commitment to each other to continue to gather in streets, parks, community centers, taquerias, barbecues, bars and cafes to share what we know and elaborate the strategies and practices of policing, violence, and control that are aimed at us, department by department, program by program, across the state. In this way, we hope to collectively map for ourselves across communities the war that is organized against us as low intensity conflict in service of capital's racial regime. As a project of militant and convivial research this is a collaboration across our many rebellions, insurgencies, and networked moments of care to confront militarization and organize around our own community safety.
Center for Convivial Research and Autonomy
BART police timeline for download:
https://app.box.com/s/ff8qeqzhjxhi5bqjj4bgupqzr4w11wcw
Stockton timeline for download:
https://app.box.com/s/dtg5h73h2vyh5yqeunoz5uibbtg11rde
Hayward timeline for download:
https://app.box.com/s/4wkfql60a9hc98hh8r4g7n04jzfdgdr4
San Francisco timeline for download:
https://app.box.com/s/eyaj91nmf4p1fvs41yd40fuj429jw9ni
https://ggg.vostan.net/ccra/#1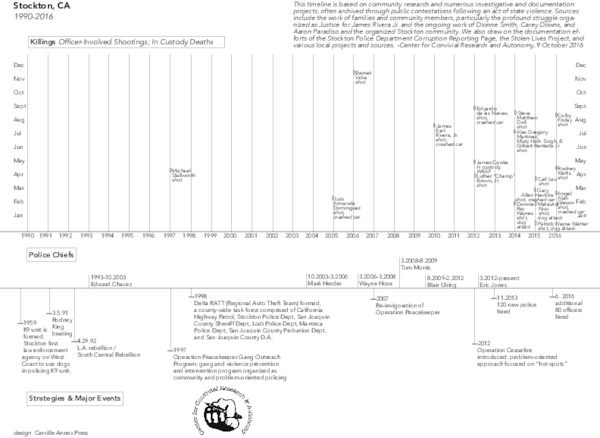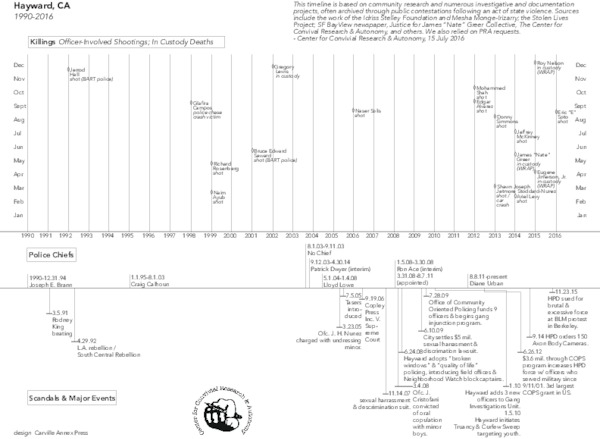 Center for Convivial Research and Autonomy is a small collective that pursues community-based convivial research and insurgent learning initiatives imagined as "spaces of encounter." It is our hope that these convergence spaces claim existing wisdoms while producing new knowledges; generate new projects while engaging already existing efforts; regenerate locally rooted community while facilitating proliferation of networks of struggle; generate various resources while circulating existing resources; and advance multiple direct actions while generating new locally rooted tools to address local issues.

These interconnected initiatives convene culture-bearers, de-professionalized intellectuals, community-based scholars, convivial researchers, and insurgent learners along with other folks in struggle weaving together innovative, community-centered convivial research, learning, and local capacity-building efforts at the intersections of environmental regeneration, community well-being, food sovereignty, and community safety.

Our goal is to share critical analytical skills, investigative tools, facilitation techniques, and community service strategies with local networks of nonprofit, university, high school, and grassroots groups across the San Francisco Bay Area through shared spaces of a Zapatista "civic pedagogy" that encourages horizontal democratic processes as a way of engaging the future in the present. In this way we hope to engage an urban Zapatismo that reclaims the habits of assembly.
We are 100% volunteer and depend on your participation to sustain our efforts!
Get Involved
If you'd like to help with maintaining or developing the website, contact us.